Abstract
Circular RNA (circRNA) has been shown to play an important function in the progression of human diseases, including sepsis with acute kidney injury (AKI). However, the role and mechanism of circ_0091702 in sepsis-induced AKI have yet to be confirmed. Lipopolysaccharide (LPS) was used to induce HK2 cells to construct AKI cell models in vitro. Quantitative real-time PCR was used to measure the expression of circ_0091702, inflammatory cytokines, microRNA (miR)-545-3p and thrombospondin 2 (THBS2). Cell counting kit 8 assay and flow cytometry were used to assess cell viability and apoptosis. Besides, the protein levels of apoptosis markers and THBS2 were evaluated by western blot analysis. In addition, the concentrations of inflammatory cytokines were detected by enzyme-linked immunosorbent assay (ELISA). Cell oxidative stress was determined by detecting the contents of oxidative stress markers. Dual-luciferase reporter assay and RIP assay were used to confirm the relationship between miR-545-3p and circ_0091702 or miR-545-3p and THBS2. Circ_0091702 was downregulated in septic AKI patients and LPS-induced HK2 cells. Circ_0091702 could attenuate LPS-induced HK2 cell injury, while its silencing had an opposite effect. In the terms of mechanism, circ_0091702 could act as a sponge of miR-545-3p, and miR-545-3p could directly target THBS2. Functional experiments revealed that miR-545-3p could reverse the alleviating effect of circ_0091702 on LPS-induced HK2 cell injury, and THBS2 knockdown also could overturn the suppressing effect of miR-545-3p inhibitor on LPS-induced HK2 cell injury. Additionally, we also suggested that circ_0091702 could sponge miR-545-3p to regulate THBS2 expression. In conclusion, our results showed that circ_0091702 could suppress LPS-induced HK2 cell injury via the miR-545-3p/THBS2 axis, indicating that circ_0091702 might be an important biomarker for relieving sepsis-related AKI.
Access options
Buy single article
Instant access to the full article PDF.
US$ 39.95
Tax calculation will be finalised during checkout.
Subscribe to journal
Immediate online access to all issues from 2019. Subscription will auto renew annually.
US$ 119
Tax calculation will be finalised during checkout.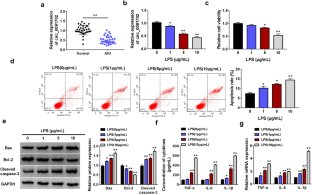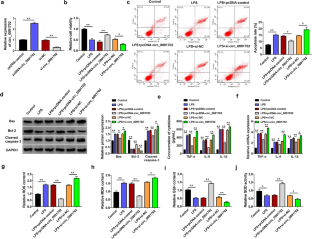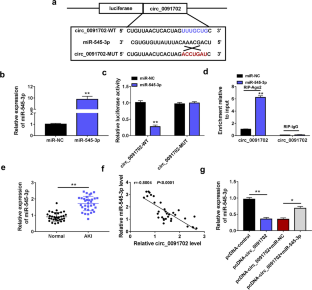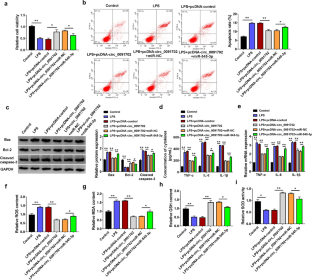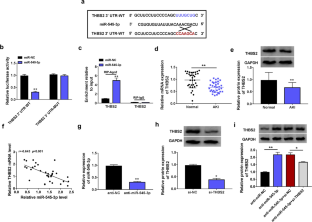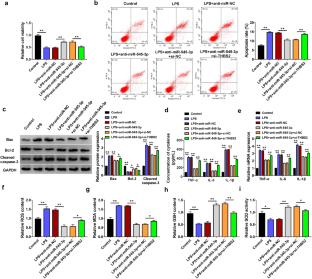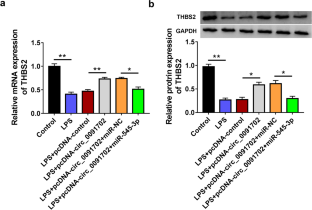 References
Agarwal V, Bell GW, Nam JW, Bartel DP (2015) Predicting effective microRNA target sites in mammalian mRNAs. eLife 4:e05005

Al-Harbi NO, Nadeem A, Ahmad SF, Alanazi MM, Aldossari AA, Alasmari F (2019) Amelioration of sepsis-induced acute kidney injury through inhibition of inflammatory cytokines and oxidative stress in dendritic cells and neutrophils respectively in mice: role of spleen tyrosine kinase signaling. Biochimie 158:102–110

Bellomo R, Kellum JA, Ronco C, Wald R, Martensson J, Maiden M, Bagshaw SM, Glassford NJ, Lankadeva Y, Vaara ST, Schneider A (2017) Acute kidney injury in sepsis. Intensive Care Med 43:816–828

Chen LL, Yang L (2015) Regulation of circRNA biogenesis. RNA Biol 12:381–388

Chen DZ, Chen LQ, Lin MX, Gong YQ, Ying BY, Wei DZ (2017) Esculentoside A inhibits LPS-induced acute kidney injury by activating PPAR-gamma. Microb Pathog 110:208–213

Cheng Q, Cao X, Xue L, Xia L, Xu Y (2019) CircPRKCI-miR-545/589-E2F7 axis dysregulation mediates hydrogen peroxide-induced neuronal cell injury. Biochem Biophys Res Commun 514:428–435

Dudekula DB, Panda AC, Grammatikakis I, De S, Abdelmohsen K, Gorospe M (2016) CircInteractome: a web tool for exploring circular RNAs and their interacting proteins and microRNAs. RNA Biol 13:34–42

Fei W, Chen L, Chen J, Shi Q, Zhang L, Liu S, Li L, Zheng L, Hu X (2017) RBP4 and THBS2 are serum biomarkers for diagnosis of colorectal cancer. Oncotarget 8:92254–92264

Forni LG, Ricci Z, Ronco C (2015) Extracorporeal renal replacement therapies in the treatment of sepsis: where are we? Semin Nephrol 35:55–63

Hamzic-Mehmedbasic A, Rasic S, Rebic D, Durak-Nalbantic A, Muslimovic A, Dzemidzic J (2015) Renal function outcome prognosis in septic and non-septic acute kidney injury patients. Med Arch 69:77–80

Hao R, Wang B, Wang H, Huo Y, Lu Y (2020) lncRNA TUG1 promotes proliferation and differentiation of osteoblasts by regulating the miR-545-3p/CNR2 axis. Braz J Med Biol Res 53:e9798

Jia Y, Li Z, Feng Y, Cui R, Dong Y, Zhang X, Xiang X, Qu K, Liu C, Zhang J (2018) Methane-rich saline ameliorates sepsis-induced acute kidney injury through anti-inflammation, antioxidative, and antiapoptosis effects by regulating endoplasmic reticulum stress. Oxid Med Cell Longev 2018:4756846

Liu N, Zhang Z, Hong Y, Li B, Cai H, Zhao H, Dai J, Liu L, Qian X, Jin Q (2019) Protocol for a prospective observational study on the association of variables obtained by contrast-enhanced ultrasonography and sepsis-associated acute kidney injury. BMJ Open 9:e023981

Liu S, Zhang D, Liu Y, Zhou D, Yang H, Zhang K, Zhang D (2020) Circular RNA circ_0001105 protects the intestinal barrier of septic rats by inhibiting inflammation and oxidative damage and YAP1 expression. Gene 755:144897

Livak KJ, Schmittgen TD (2001) Analysis of relative gene expression data using real-time quantitative PCR and the 2(− Delta Delta C(T)) Method. Methods 25:402–408

Lu HY, Ning XY, Chen YQ, Han SJ, Chi P, Zhu SN, Yue Y (2018) Predictive value of serum creatinine, blood urea nitrogen, uric acid, and beta2-microglobulin in the evaluation of acute kidney injury after orthotopic liver transplantation. Chin Med J (Engl) 131:1059–1066

Mattick JS, Makunin IV (2006) Non-coding RNA. Hum Mol Genet 15(Spec No 1):R17–R29

Patop IL, Wüst S, Kadener S (2019) Past, present, and future of circRNAs. EMBO J 38:e100836

Pinheiro KHE, Azedo FA, Areco KCN, Laranja SMR (2019) Risk factors and mortality in patients with sepsis, septic and non septic acute kidney injury in ICU. J Bras Nefrol 41:462–471

Poston JT, Koyner JL (2019) Sepsis associated acute kidney injury. BMJ 364:k4891

Riemondy KA, Jansing NL, Jiang P, Redente EF, Gillen AE, Fu R, Miller AJ, Spence JR, Gerber AN, Hesselberth JR, Zemans RL (2019) Single cell RNA sequencing identifies TGFbeta as a key regenerative cue following LPS-induced lung injury. JCI Insight 5(8):e123637

Shen Y, Yu J, Jing Y, Zhang J (2019) miR-106a aggravates sepsis-induced acute kidney injury by targeting THBS2 in mice model. Acta Cir Bras 34:e201900602

Shi J, Xu X, Zhang D, Zhang J, Yang H, Li C, Li R, Wei X, Luan W, Liu P (2020) Long non-coding RNA PTPRG-AS1 promotes cell tumorigenicity in epithelial ovarian cancer by decoying microRNA-545-3p and consequently enhancing HDAC4 expression. J Ovarian Res 13:127

Shi X, Ma W, Li Y, Wang H, Pan S, Pan Y, Xu C, Li L (2020) CircPRKCI relieves lipopolysaccharide-induced HK2 cell injury by upregulating the expression of miR-545 target gene ZEB2. Biofactors 46:475–486

Shi Y, Sun CF, Ge WH, Du YP, Hu NB (2020) Circular RNA VMA21 ameliorates sepsis-associated acute kidney injury by regulating miR-9-3p/SMG1/inflammation axis and oxidative stress. J Cell Mol Med 24:11397–11408

Uchino S, Bellomo R, Goldsmith D (2012) The meaning of the blood urea nitrogen/creatinine ratio in acute kidney injury. Clin Kidney J 5:187–191

Wang G, Guo X, Cheng L, Chu P, Chen M, Chen Y, Chang C (2019) An integrated analysis of the circRNA-miRNA-mRNA network reveals novel insights into potential mechanisms of cell proliferation during liver regeneration. Artif Cells Nanomed Biotechnol 47:3873–3884

Wei B, Yu L (2020) Circular RNA PRKCI and microRNA-545 relate to sepsis risk, disease severity and 28-day mortality. Scand J Clin Lab Investig 80(8):1–8

Weng TY, Wang CY, Hung YH, Chen WC, Chen YL, Lai MD (2016) Differential expression pattern of THBS1 and THBS2 in lung cancer: clinical outcome and a systematic-analysis of microarray databases. PLoS ONE 11:e0161007

Wu XG, Zhou CF, Zhang YM, Yan RM, Wei WF, Chen XJ, Yi HY, Liang LJ, Fan LS, Liang L, Wu S, Wang W (2019) Cancer-derived exosomal miR-221-3p promotes angiogenesis by targeting THBS2 in cervical squamous cell carcinoma. Angiogenesis 22:397–410

Yu L, Liu Y (2019) circRNA_0016624 could sponge miR-98 to regulate BMP2 expression in postmenopausal osteoporosis. Biochem Biophys Res Commun 516:546–550

Zhou Q, Dong J, Luo R, Zhou X, Wang J, Chen F (2019) MicroRNA-20a regulates cell proliferation, apoptosis and autophagy by targeting thrombospondin 2 in cervical cancer. Eur J Pharmacol 844:102–109

Zhuo C, Li X, Zhuang H, Tian S, Cui H, Jiang R, Liu C, Tao R, Lin X (2016) Elevated THBS2, COL1A2, and SPP1 expression levels as predictors of gastric cancer prognosis. Cell Physiol Biochem 40:1316–1324

Zou Z, Wang Q, Zhou M, Li W, Zheng Y, Li F, Zheng S, He Z (2020) Protective effects of P2 × 7R antagonist in sepsis-induced acute lung injury in mice via regulation of circ_0001679 and circ_0001212 and downstream Pln, Cdh2, and Nprl3 expression. J Gene Med 22(12):e3261
Ethics declarations
Conflict of interest
The authors declare that they have no financial conflicts of interest.
Ethical approval
Our study was approved by the Ethics Committee of People's Hospital of Tiantai County and was conducted in accordance with the Declaration of Helsinki.
Additional information
Publisher's Note
Springer Nature remains neutral with regard to jurisdictional claims in published maps and institutional affiliations.
Supplementary Information
Below is the link to the electronic supplementary material.
Supplementary Material 1 (TIF 244 kb) The expression of SCr and BUN in septic AKI patients and normal humans. The serum levels of SCr (a) and BUN (b) in septic AKI patients (n = 33) and normal humans (n = 33) were detected by ELISA assay. **P < 0.01
Supplementary Material 2 (TIF 262 kb) The effects ofsi-circ_0091702 andpcDNA-circ_0091702 on circ_0091702 and VMA21 expression. (a and b) The expression levels of circ_0091702 and VMA21 in HK2 cells transfected with si-circ_0091702 or pcDNA-circ_0091702 (n = 3) were determined using qRT-PCR. **P < 0.01
About this article
Cite this article
Tan, M., Bei, R. Circ_0091702 serves as a sponge of miR-545-3p to attenuate sepsis-related acute kidney injury by upregulating THBS2. J Mol Histol (2021). https://doi.org/10.1007/s10735-021-09991-z
Received:

Accepted:

Published:
Keywords
Sepsis

Acute kidney injury

LPS

circ_0091702
miR-545-3p
THBS2