Abstract
The present study evaluated the role of dietary folate modulations in the development of hepatocellular carcinoma (HCC) in a rat model. Male Wistar rats were given diethylnitrosamine (DEN) carcinogen for a period of 18 weeks in addition to different folate modulations. Biochemical parameters were assayed and liver tissues were examined using various histopathological stains viz. Hematoxylin and eosin (H&E), Masson's trichrome, Immunohistochemistry (IHC) staining for arginase-1 and α-smooth muscle actin (SMA). Serum folate and hepatic folate stores were decreased and increased in folate deficiency (FD) and folate oversupplemented (FO) group respectively. Analysis of serum liver function tests revealed deranged liver functioning in all the groups. H&E staining of rat liver demonstrated vague nodularity from 2nd to 8th week, fibrosis from 10th to 15th week, cirrhosis and HCC from 16th to 18th week. Combining the observations of H&E with IHC for arginase-1, 14 (50%), 11 (39.3%) and 17 (58.6%) rats showed HCC positivity in FN (folate normal), FD and FO diets respectively. IHC for α-SMA depicted increased staining with progression of the disease from fibrosis to cirrhosis in all the dietary groups. Collectively, findings of all the histopathological stains, revealed increase in the number of cirrhotic cases and decrease in the number of HCC cases in FD group, indicating delayed progression of HCC with FD. Moreover, FO led to more number of HCC and reduction in the number of cirrhotic cases, signifying early progression of HCC.
We're sorry, something doesn't seem to be working properly.
Please try refreshing the page. If that doesn't work, please contact support so we can address the problem.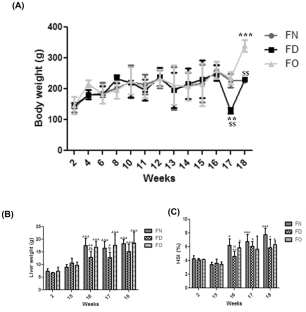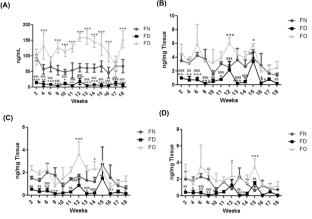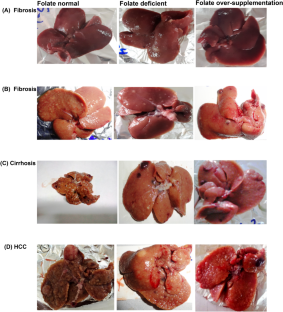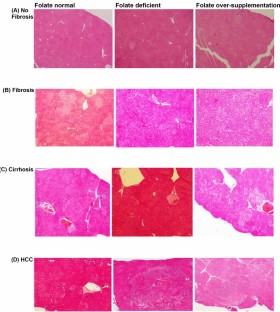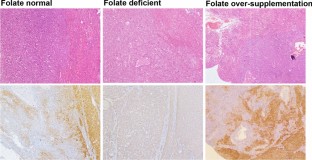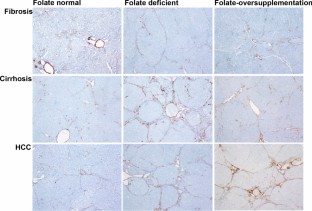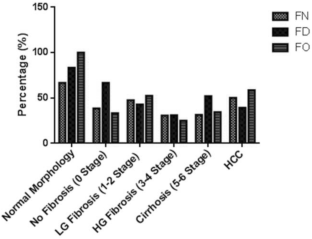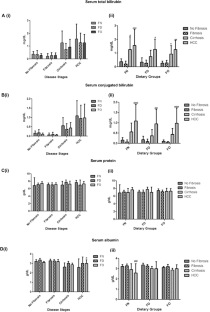 Abbreviations
FA:

Folic acid

FD:

Folate deficiency

FN:

Folate normal

FO:

Folate oversupplementation

HCC:

Hepatocellular carcinoma
References
Abe R, Okano JI, Imamoto R, Fujise Y, Murawaki Y (2012) Sequential analysis of diethylnitrosamine-induced hepatocarcinogenesis in rats. Exp Ther Med 3:371–378. https://doi.org/10.3892/etm.2011.419

Achon M, Alonso-Aperte E, Reyes L, Ubeda N, Varela-Moreiras G (2000) High-dose folic acid supplementation in rats: effects on gestation and the methionine cycle. Br J Nutr 83:177–183. https://doi.org/10.1017/S0007114500000222

Ahmad A, Afroz N, Gupta UD, Ahmad R (2014) Vitamin B12 supplement alleviates N′ nitrosodimethylamine-induced hepatic fibrosis in rats. Pharm Biol 52:516–523. https://doi.org/10.3109/13880209.2013.864682

Akesson B, Fehling C, Jägerstad M, Stenram U (1982) Effect of experimental folate deficiency on lipid metabolism in liver and brain. Br J Nutr 47:505–520. https://doi.org/10.1079/bjn19820063

Ambade A, Satishchandran A, Gyongyosi B, Lowe P, Szabo G (2016) Adult mouse model of early hepatocellular carcinoma promoted by alcoholic liver disease. World J Gastroenterol 22:4091–4108. https://doi.org/10.3748/wjg.v22.i16.4091

Bassett JK, Baglietto L, Hodge AM, English DR, Giles GG (2013) Dietary intake of B vitamins and methionine and breast cancer risk. Cancer Causes Control 24:1555–1563. https://doi.org/10.1007/s10552-013-0232-y

Bemeur C, Desjardins P, Butterworth RF (2010) Role of nutrition in the management of hepatic encephalopathy in end-stage liver failure. J Nutr Metab 2010:1–12. https://doi.org/10.1155/2010/489823

Carpino G, Morini S, Ginanni Corradini S, Franchitto A, Merli M, Siciliano M, Gentili F et al (2005) Alpha-SMA expression in hepatic stellate cells and quantitative analysis of hepatic fibrosis in cirrhosis and in recurrent chronic hepatitis after liver transplantation. Dig Liver Dis 37:349–356. https://doi.org/10.1016/j.dld.2004.11.009

Chandan VS, Shah SS, Torbenson MS, Wu T (2016) Arginase-1 is frequently positive in hepatoid adenocarcinomas. Hum Pathol 55:11–16. https://doi.org/10.1016/j.humpath.2016.04.008

Chen B, Ning M, Yang G (2012) Effect of paeonol on antioxidant and immune regulatory activity in hepatocellular carcinoma rats. Molecules 17:4672–4683. https://doi.org/10.3390/molecules17044672

Chen H, Hu M, Xu F, Xu H, She J, Xia H (2018) Understanding the inflammation-cancer transformation in the development of primary liver cancer. Hepatoma Res 4:1–15. https://doi.org/10.20517/2394-5079.2018.18

Cole BF et al (2007) Folic acid for the prevention of colorectal adenomas: a randomized clinical trial. J Am Med Assoc 297:2351–2359. https://doi.org/10.1001/jama.297.21.2351

Cui L, Quan Z, Piao J, Zhang T, Jiang M (2016) Plasma Folate and Vitamin B 12 levels in patients with hepatocellular carcinoma. Int J Mol Sci 17:1–10. https://doi.org/10.3390/ijms17071032

Ding Y, Wu Z, Wei Y, Shu L, Peng Y (2017) Hepatic inflammation-fibrosis-cancer axis in the rat hepatocellular carcinoma induced by diethylnitrosamine. J Cancer Res Clin Oncol 143:821–834. https://doi.org/10.1007/s00432-017-2364-z

Ebbing M et al (2009) Cancer incidence and mortality after treatment with folic acid and vitamin B12. JAMA 302:2119–2126. https://doi.org/10.1001/jama.2009.1622

Farber S, Cutler EC, Hawkins JW, Harrison JH, Peirce EC, Lenz GG (1947) The action of pteroylglutamic conjugates on man. Science 106:619–621. https://doi.org/10.1126/science.106.2764.619

Friso S, Choi S-W (2002) Gene-nutrient interactions and DNA methylation. J Nutr 132:2382S-S2387. https://doi.org/10.1093/jn/132.8.2382S

Fu Y, Chung F (2018) Oxidative stress and hepatocarcinogenesis. Hepatoma Res 4:39. https://doi.org/10.20517/2394-5079.2018.29

Fukuwatari T, Shibata K (2008) Effects of excess folic acid on growth and metabolism of water-soluble vitamins in weaning rats. Shokuhin Eiseigaku Zasshi 49:51–55. https://doi.org/10.3358/shokueishi.49.51

Garcia-Tevijano ER et al (2001) Hyperhomocysteinemia in liver cirrhosis: mechanisms and role in vascular and hepatic fibrosis. Hypertens 38:1217–1221. https://doi.org/10.1161/hy1101.099499

Halsted CH, Villanueva JA, Devlin AM, James SJ (2002) Interactions of ethanol and folate deficiency in development of alcoholic liver disease in the micropig. Trans Am Clin Clim Assoc 113:151–153

Heindryckx F et al (2010) Kinetics of angiogenic changes in a new mouse model for hepatocellular carcinoma. Mol Cancer 9:1–14. https://doi.org/10.1186/1476-4598-9-219

Huang RF, Hsu YC, Lin HL, Yang FL (2001) Folate depletion and elevated plasma homocysteine promote oxidative stress in rat livers. J Nutr 131:33–38. https://doi.org/10.1093/jn/131.1.33

Jane C et al (2009) Folic acid and risk of prostate cancer: results from a randomized clinical trial. J Natl Cancer Inst 101:432–35. https://doi.org/10.1093/jnci/djp019

Kelly KB et al (2016) Excess folic acid increases lipid storage, weight gain, and adipose tissue inflammation in high fat diet-fed rats. Nutrients 8:E594. https://doi.org/10.3390/nu8100594

Kim YI (1999) Folate and carcinogenesis: evidence, mechanisms, and implications. J Nutr Biochem 10:66–88. https://doi.org/10.1016/s0955-2863(98)00074-6

Kim Y (2003) Role of folate in colon cancer development and progression. J Nutr 133:3731S-S3739. https://doi.org/10.1093/jn/133.11.3731S

Kim Y-I (2004a) Folate and DNA methylation: a mechanistic link between folate deficiency and colorectal cancer? Cancer Epidemiol Biomarkers Prev 13:511–519

Kim YI (2004b) Will mandatory folic acid fortification prevent or promote cancer? Am J Clin Nutr 80:1123–1128. https://doi.org/10.1093/ajcn/80.5.1123

Kim YI et al (1994) Severe folate deficiency causes secondary depletion of choline and phosphocholine in rat liver. J Nutr 124:2197–2203. https://doi.org/10.1093/jn/124.11.2197

Kuo C, Lin C, Wu M, Lu C, Huang R (2008) Relationship between folate status and tumour progression in patients with hepatocellular carcinoma. Br J Nutr 100:596–602. https://doi.org/10.1017/S0007114508911557

Lefkowitch JH (2007) Liver biopsy assessment in chronic hepatitis. Arch Med Res 38:634–643. https://doi.org/10.1016/j.arcmed.2006.08.005

Li L et al (2019) Status of inflammation in relation to health related quality of life in hepatocellular carcinoma patients. Qual Life Res 28:2597–2607. https://doi.org/10.1007/s11136-019-02190-0

Ma E et al (2009) Dietary intake of folate, vitamin B6, and vitamin B12, genetic polymorphism of related enzymes, and risk of breast cancer: a case-control study in Brazilian women. BMC Cancer 9:122. https://doi.org/10.1186/1471-2407-9-122

Manshadi SD, Ishiguro L, Sohn KJ, Medline A, Renlund R, Croxford R, Kim YI (2014) Folic acid supplementation promotes mammary tumor progression in a rat model. PLoS ONE 9:e84635. https://doi.org/10.1371/journal.pone.0084635

Marsillach J, Ferre N, Camps J, Riu F, Rull A, Joven J (2008) Moderately high folic acid supplementation exacerbates experimentally induced liver fibrosis in rats. Exp Biol Med 233:38–47. https://doi.org/10.3181/0703-RM-59

Mulani M, Somani K, Bichu S, Billa V (2017) Tumor-induced hypophosphatemia. Indian J Nephrol 27:66–68. https://doi.org/10.4103/0971-4065.179302

Pieroth R, Paver S, Day S, Lammersfeld C (2018) Folate and its impact on cancer risk. Curr Nutr Rep 7:70–84. https://doi.org/10.1007/s13668-018-0237-y

Roncales M, Achon M, Manzarbeitia F, Maestro de las Casas C, Ramírez C, Varela-Moreiras G, Miguelsanz JP (2004) Folic acid supplementation for 4 weeks affects liver morphology in aged rats. J Nutr 134:1130–3. https://doi.org/10.1093/jn/134.5.1130

Sesay DF et al (2017) The effect of dietary folic acid on biochemical parameters and gene expression of three heat shock proteins (HSPs) of blunt snout bream (Megalobrama amblycephala) fingerling under acute high temperature stress. Fish Physiol Biochem 43:923–940. https://doi.org/10.1007/s10695-016-0311-6

Shuvalov O, Petukhov A, Daks A, Fedorova O, Vasileva E, Barlev NA (2017) One-carbon metabolism and nucleotide biosynthesis as attractive targets for anticancer therapy. Oncotarget 8:23955–23977. https://doi.org/10.18632/oncotarget.15053

Sid V, Siow YL, Karmin O (2017) Role of folate in nonalcoholic fatty liver disease. Can J Physiol Pharmacol 95:1141–1148. https://doi.org/10.1139/cjpp-2016-0681

Smith AD, Kim YI, Refsum H (2008) Is folic acid good for everyone? Am J Clin Nutr 87:517–533. https://doi.org/10.1093/ajcn/87.3.517

Stolzenberg-Solomon RZ et al (2006) Folate intake, alcohol use, and postmenopausal breast cancer risk in the Prostate, Lung, Colorectal, and Ovarian Cancer Screening Trial. Am J Clin Nutr 83:895–904. https://doi.org/10.1093/ajcn/83.4.895

Su Y-H et al (2016) Folate deficient tumor microenvironment promotes epithelial-to-mesenchymal transition and cancer stem-like phenotypes. Oncotarget 7:33246–33256. https://doi.org/10.18632/oncotarget.8910

Sun H, Yu L, Wei H, Liu G (2012) A novel antihepatitis drug, bicyclol, prevents liver carcinogenesis in diethylnitrosamine-initiated and phenobarbital-promoted mice tumor model. J Biomed Biotechnol 2012:584728. https://doi.org/10.1155/2012/584728

Talaulikar VS, Arulkumaran S (2011) Folic acid in obstetric practice: a review. Obstet Gynecol Surv 66:240–247. https://doi.org/10.1097/OGX.0b013e318223614c

Thakur S, Dev S (2014) Reduced expression of folate transporters in kidney of a rat model of folate oversupplementation. Genes Nutr 9:369. https://doi.org/10.1007/s12263-013-0369-z

Wald NJ, Law MR, Morris JK, Wald DS (2001) Quantifying the effect of folic acid. Lancet 358:2069–2073. https://doi.org/10.1016/s0140-6736(01)07104-5

Woo CWH, Prathapasinghe GA, Siow YL, Karmin O (2006) Hyperhomocysteinemia induces liver injury in rat: protective effect of folic acid supplementation. Biochim Biophys Acta 1762:656–665. https://doi.org/10.1016/j.bbadis.2006.05.012

Yoshida T, Taguchi D, Fukuda K, Shimazu K, Inoue M, Murata K, Shibata H (2017) Incidence of hypophosphatemia in advanced cancer patients: a recent report from a single institution. Int J Clin Oncol 22:244–249. https://doi.org/10.1007/s10147-016-1063-0

Yu E, Choe G, Gong G, Lee I (1993) Expression of alpha-smooth muscle actin in liver diseases. J Korean Med Sci 8:367–373. https://doi.org/10.3346/jkms.1993.8.5.367

Yu LX, Ling Y, Wang HY (2018) Role of nonresolving inflammation in hepatocellular carcinoma development and progression. NPJ Precis Oncol 2:6. https://doi.org/10.1038/s41698-018-0048-z
Funding
This research did not receive any specific grant from funding agencies in the public, commercial, or not-for-profit sectors. However, funding assistance provided by ICMR to the research fellow (Renuka Sharma) is fully acknowledged.
Ethics declarations
Conflict of interest
The authors report no conflict of interest.
Additional information
Publisher's Note
Springer Nature remains neutral with regard to jurisdictional claims in published maps and institutional affiliations.
Supplementary Information
Below is the link to the electronic supplementary material.
About this article
Cite this article
Sharma, R., Ali, T., Negi, I. et al. Dietary modulations of folic acid affect the development of diethylnitrosamine induced hepatocellular carcinoma in a rat model. J Mol Histol (2021). https://doi.org/10.1007/s10735-020-09955-9
Received:

Accepted:

Published:
Keywords
Folate

Folate deficiency

Folate oversupplementation

Fibrosis

Cirrhosis

HCC