Abstract
Quantum dots (QDs) are a new type of fluorescent label, which has been widely used in many biological and biomedical imaging applications. In this study, we used QDs-based immunofluorescence histochemistry (QDs-IHC) and conventional immunohistochemistry (IHC) techniques to perform a retrospective analysis on paraffin-embedded tissues of gastric biopsies in 203 patients (112 of which were HP positive and 91 were negative). The ability of QDs-IHC to detect Helicobacter pylori (HP) in gastric biopsies compared to IHC technology was evaluated. In our study, both methods showed consistent HP morphology and localization. The positive detection rate of HP for QDs-IHC in formalin-fixed and paraffin-embedded (FFPE) tissue was 54.7% (111/203), and the sensitivity and specificity reached 99.11% and 100%, respectively. However the positive detection rate of HP for IHC was 53.7% (109/203), with a sensitivity and specificity of 97.32% and 100%, respectively. Weak positives (1+) were detected in 2 case of QDs-IHC with negative in IHC, and moderate positives (2+) were detected in 3 case of QDs-IHC with weak positives (1+) in IHC. The consistency test showed that the two methods showed good agreement (κ = 0.980, P = 0.014), but the sensitivity of QDs-IHC was slightly higher than that of conventional IHC. Our results show that QDs-IHC has strong sensitivity and high specificity. It is superior to conventional IHC in detecting HP infection in FFPE tissues of gastric biopsy, especially in tissues with low HP content.
Access options
Buy single article
Instant access to the full article PDF.
US$ 39.95
Tax calculation will be finalised during checkout.
Subscribe to journal
Immediate online access to all issues from 2019. Subscription will auto renew annually.
US$ 119
Tax calculation will be finalised during checkout.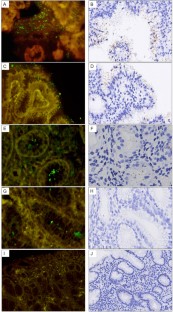 References
Batts KP, Ketover S, Kakar S (2013) Appropriate use of special stains for identifying Helicobacter pylori: recommendations from the Rodger C. Haggitt gastrointestinal pathology society. Am J Surg Pathol 37:e12–e22

Bruchez M, Moronne M, Gin P, Weiss S, Alivisatos AP (1998) Semiconductor nanocrystals as fluorescent biological labels. Science 281:2013–2016

Chen C et al (2009a) Quantum dots-based immunofluorescence technology for the quantitative determination of HER2 expression in breast cancer. Biomaterials 30:2912–2918. https://doi.org/10.1016/j.biomaterials.2009.02.010

Chen H, Xue J, Zhang Y, Zhu X, Gao J, Yu B (2009b) Comparison of quantum dots immunofluorescence histochemistry and conventional immunohistochemistry for the detection of caveolin-1 and PCNA in the lung cancer tissue microarray. J Mol Histol 40:261–268. https://doi.org/10.1007/s10735-009-9237-y

Dixon MF, Genta RM, Yardley JH, Correa P (1996) Classification and grading of gastritis. The updated Sydney System. International Workshop on the Histopathology of Gastritis, Houston 1994. Am J Surg Pathol 20:1161–1181. https://doi.org/10.1097/00000478-199610000-00001

Dubertret B, Skourides P, Norris DJ, Noireaux V, Brivanlou AH, Libchaber A (2002) In vivo imaging of quantum dots encapsulated in phospholipid micelles. Science 298:1759–1762. https://doi.org/10.1126/science.1077194

Goldman ER, Anderson GP, Tran PT, Mattoussi H, Charles PT, Mauro JM (2002) Conjugation of luminescent quantum dots with antibodies using an engineered adaptor protein to provide new reagents for fluoroimmunoassays. Anal Chem 74:841–847

Gu H, Zheng R, Zhang X, Xu B (2004) Facile one-pot synthesis of bifunctional heterodimers of nanoparticles: a conjugate of quantum dot and magnetic nanoparticles. J Am Chem Soc 126:5664–5665. https://doi.org/10.1021/ja0496423

Heintzmann R et al (2002) Quantum dot ligands provide new insights into erbB/HER receptor–mediated signal transduction. Nat Biotechnol 22:198–203

Nagy P, Johansson S, Molloy-Bland M (2016) Systematic review of time trends in the prevalence of Helicobacter pylori infection in China and the USA. Gut Pathog 8:8

Ono M, Murakami T, Kudo A, Isshiki M, Sawada H, Segawa A (2001) Quantitative comparison of anti-fading mounting media for confocal laser scanning microscopy. J Histochem Cytochem 49:305–312. https://doi.org/10.1177/002215540104900304

Tholouli E, Sweeney E, Barrow E, Clay V, Hoyland JA, Byers RJ (2008) Quantum dots light up pathology. J Pathol 216:275–285. https://doi.org/10.1002/path.2421

Weisong W, Le W, Yuchang H, Yufei L, Dongping Z, Qinglong H (2019) Comparative study of immunohistochemical stain and 14C urea breath test in the diagnosis of Helicobacter pylori associated gastritis. Chin J Clin Exp Pathol 35:51–54

Wu X et al (2003) Immunofluorescent labeling of cancer marker Her2 and other cellular targets with semiconductor quantum dots. Nat Biotechnol 21:41–46. https://doi.org/10.1038/nbt764

Xu J et al (2012) Comparison of quantum dot technology with conventional immunohistochemistry in examining aldehyde dehydrogenase 1A1 as a potential biomarker for lymph node metastasis of head and neck cancer. Eur J Cancer 48:1682–1691. https://doi.org/10.1016/j.ejca.2011.12.029
Ethics declarations
Conflict of interest
The authors declare that no competing financial interests exist.
Additional information
Publisher's Note
Springer Nature remains neutral with regard to jurisdictional claims in published maps and institutional affiliations.
About this article
Cite this article
Wan, W., Pu, Q., Huang, X. et al. Comparison of quantum dot immunofluorescence histochemistry with conventional immunohistochemistry in detecting Helicobacter pylori infection in paraffin-embedded tissues of gastric biopsy. J Mol Histol (2021). https://doi.org/10.1007/s10735-020-09954-w
Received:

Accepted:

Published:
Keywords
Helicobacter pylori

Immunohistochemistry

Quantum dot immunofluorescence histochemistry