Abstract
Chronic stress is regarded as a significant factor in the etiology of the many diseases. Numerous methods have been developed through which the effect of chronic stress is examined. The aim of this study is to demonstrate the new experimental model for analysis of immuno-suppression induced by chronic restraint stress, through challenge with conditionally tumorigenic cell line BHK-21/C13. 20 male NMRI mice were randomly divided into 2 groups—control and experimental. Each mouse was subcutaneously inoculated with BHK-21/C13 cells. Stress in the experimental group was induced for 20 days. After the experiment, tumor masses were removed, and analyzed using histology and immunohistochemistry techniques. We found a statistically significant difference (p = 0.034) in tumor expression and tumor volumes (p = 0.0061) between groups, as well as in immunopositivity on Ki67, cytochrome C and matrix metalloproteinase 9. Absence of immune infiltrate was noticed in experimental, and the presence of inflammatory infiltrate at tumor invasion front in control group.
Access options
Buy single article
Instant access to the full article PDF.
US$ 39.95
Tax calculation will be finalised during checkout.
Subscribe to journal
Immediate online access to all issues from 2019. Subscription will auto renew annually.
US$ 119
Tax calculation will be finalised during checkout.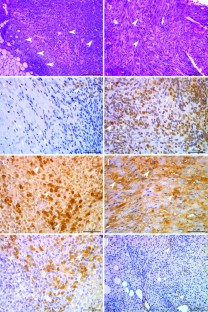 References
Antoni MH, Lutgendorf SK, Cole SW, Dhabhar FS, Sephton SE, McDonald PE, Stefanek M, Sood AK (2006) The influence of bio-behavioural factors on tumour biology: pathways and mechanisms. Nat Rev Cancer 6:240–248. https://doi.org/10.1038/nrc1820

Banović P, Stankov S, Vranješ N, Zurković O, Čapo I, Lalošević D (2018) Drug repurposing: mebendazole as effective antitumor agent. Are we seeing the whole story? J BUON Off J Balk Union Oncol 23:1904–1911

Bendrik C, Robertson J, Gauldie J, Dabrosin C (2008) Gene transfer of matrix metalloproteinase-9 induces tumor regression of breast cancer in vivo. Cancer Res 68:3405–3412. https://doi.org/10.1158/0008-5472.CAN-08-0295

Budiu RA, Vlad AM, Nazario L, Bathula C, Cooper K, Edmed J, Thaker P, Urban J, Kalinski P et al (2016) Restraint and social isolation stressors differentially regulate adaptive immunity and tumor angiogenesis in a breast cancer mouse model. Cancer Clin Oncol 6:12. https://doi.org/10.5539/cco.v6n1p12

Campos AC, Fogaca MV, Aguiar DC, Guimaraes FS (2013) Animal models of anxiety disorders and stress. Rev Bras Psiquiatr 35:S101–S111. https://doi.org/10.1590/1516-4446-2013-1139

Campos M, De Campos SGP, Ribeiro GG et al (2013) Ki-67 and CD100 immunohistochemical expression is associated with local recurrence and poor prognosis in soft tissue sarcomas, respectively. Oncol Lett 5:1527–1535. https://doi.org/10.3892/ol.2013.1226

Cimpean AM, Lalošević D, Lalošević V, Banović P, Raica M, Mederle O (2018) Disodium cromolyn and anti-podoplanin antibodies strongly inhibit growth of BHK 21/C13-derived fibrosarcoma in a chick embryo chorioallantoic membrane model. Vivo Athens Greece 32:791–798. https://doi.org/10.21873/invivo.11309

Coussens LM, Fingleton B, Matrisian LM (2002) Matrix metalloproteinase inhibitors and cancer: trials and tribulations. Science 295:2387–2392. https://doi.org/10.1126/science.1067100

Deyhimi P, Arefian MR, Mahzouni P (2019) Comparative analysis of the histopathologic features, β-catenin, and Ki67 expression between fibromatosis and fibrosarcoma. J Dent Shiraz Iran 20:255–263. https://doi.org/10.30476/dentjods.2019.44900

Dhabhar FS (2006) Acute stress enhances while chronic stress suppresses skin immunity: the role of stress hormones and leukocyte trafficking. Ann N Y Acad Sci 917:876–893. https://doi.org/10.1111/j.1749-6632.2000.tb05454.x

Drljača J, Vejnović AM, Miljković D, Popović M, Rakić D, Sekulić S, Čapo I, Petković B (2020) Changes in mouse thymus after exposure to tube-restraint stress. Arch Biol Sci 72:5–11

Eckstein C, Guscetti F, Roos M, Martín de las Mulas J, Kaser-Hotz B, Rohrer Bley C (2009) A retrospective analysis of radiation therapy for the treatment of feline vaccine-associated sarcoma. Vet Comp Oncol 7:54–68. https://doi.org/10.1111/j.1476-5829.2008.00173.x

Fedrigoli E, Bogdan D, Lalošević D, Banović P (2020) Proposition of a simplified protocol and new parameter introduction In NMRI mice anhedonia induction. Serbian J Exp Clin Res. https://doi.org/10.2478/sjecr-2020-0021

Folpe AL (2014) Fibrosarcoma: a review and update. Histopathology 64:12–25. https://doi.org/10.1111/his.12282

Frick LR, Barreiro Arcos ML, Rapanelli M, Zappia MP, Brocco M, Mongini C, Genaro AM, Cremaschi GA (2009) Chronic restraint stress impairs T-cell immunity and promotes tumor progression in mice. Stress 12:134–143. https://doi.org/10.1080/10253890802137437

Gómez-Crisóstomo NP, López-Marure R, Zapata E, Zazueta C, Martínez-Abundis E (2013) Bax induces cytochrome c release by multiple mechanisms in mitochondria from MCF7 cells. J Bioenerg Biomembr 45:441–448. https://doi.org/10.1007/s10863-013-9508-x

Jensen V, Sørensen FB, Bentzen SM, Ladekarl M, Nielsen OS, Keller J, Jensen OM (1998) Proliferative activity (MIB-1 index) is an independent prognostic parameter in patients with high-grade soft tissue sarcomas of subtypes other than malignant fibrous histiocytomas: a retrospective immunohistological study including 216 soft tissue sarcomas. Histopathology 32:536–546

Leifler KS, Svensson S, Abrahamsson A et al (2013) Inflammation induced by MMP-9 enhances tumor regression of experimental breast cancer. J Immunol 190:4420–4430. https://doi.org/10.4049/jimmunol.1202610

Limoge M, Safina A, Beattie A, Kapus L, Truskinovsky AM, Bakin AV (2017) Tumor-fibroblast interactions stimulate tumor vascularization by enhancing cytokine-driven production of MMP9 by tumor cells. Oncotarget 8:35592–35608. https://doi.org/10.18632/oncotarget.16022

Milijašević B, Stefanović D, Lalić-Popović M, Tomić Z, Kolarović J, Lalošević D, Mikov M (2014) Acute toxic effects of single dose dacarbazine: hematological and histological changes in an animal model. Biotech Histochem Off Publ Biol Stain Comm 89:583–590. https://doi.org/10.3109/10520295.2014.918653

Nowak M, Madej JA, Dziegiel P (2007) Expression of E-cadherin, beta-catenin and Ki-67 antigen and their reciprocal correlations in fibrosarcomas of soft tissues in dogs. In Vivo Athens Greece 21:751–756

Ozdemır O, Sarı ME, Sen E, Ilgın BU, Gurescı S, Atalay CR (2016) Primary ovarian fibrosarcoma: a case report and review of the literature. J Exp Ther Oncol 11:225–235

Peters S, Grunwald N, Rümmele P, Endlicher E, Lechner A, Neumann ID, Obermeier F, Reber SO (2012) Chronic psychosocial stress increases the risk for inflammation-related colon carcinogenesis in male mice. Stress 15:403–415. https://doi.org/10.3109/10253890.2011.631232

Popović DJ, Lalošević D, Miljković D, Popović KJ, Čapo I, Popović JK (2018) Caffeine induces metformin anticancer effect on fibrosarcoma in hamsters. Eur Rev Med Pharmacol Sci 22(8):2461–2467. https://doi.org/10.26355/eurrev_201804_14840

Popović KJ, Popović DJ, Miljković D, Lalošević D, Čapo I, Popović JK (2019) Physicochemical and pathohistological changes in experimental fibrosarcoma tumors of hamsters treated with metformin and itraconazole. Oncol Lett 18:1697–1712. https://doi.org/10.3892/ol.2019.10509

Porcellato I, Menchetti L, Brachelente C, Sforna M, Lepri E, Mechelli L (2017) Feline injection-site sarcoma: matrix remodeling and prognosis. Vet Pathol 54:204–211. https://doi.org/10.1177/0300985816677148

Regan PJ, Petricciani JC (1987) The approach used to establish the safety of veterinary vaccines produced in the BHK 21 cell line. Dev Biol Stand 68:19–25

Reiche EMV, Nunes SOV, Morimoto HK (2004) Stress, depression, the immune system, and cancer. Lancet Oncol 5:617–625. https://doi.org/10.1016/S1470-2045(04)01597-9

Salgado R, Denkert C, Demaria S et al (2015) The evaluation of tumor-infiltrating lymphocytes (TILs) in breast cancer: recommendations by an International TILs Working Group 2014. Ann Oncol Off J Eur Soc Med Oncol 26:259–271. https://doi.org/10.1093/annonc/mdu450

Stefanović D, Stefanović M, Lalošević D (2015) Use of eriochrome cyanine R in routine histology and histopathology: is it time to say goodbye to hematoxylin? Biotech Histochem 90:461–469. https://doi.org/10.3109/10520295.2015.1057765

Sutanto W, de Kloet ER (1994) The use of various animal models in the study of stress and stress-related phenomena. Lab Anim 28:293–306. https://doi.org/10.1258/002367794780745092

Sysel AM, Valli VE, Bauer JA (2014) Immunohistochemical quantification of the cobalamin transport protein, cell surface receptor and Ki-67 in naturally occurring canine and feline malignant tumors and in adjacent normal tissues. Oncotarget 6:2331–2348

Thaker PH, Han LY, Kamat AA et al (2006) Chronic stress promotes tumor growth and angiogenesis in a mouse model of ovarian carcinoma. Nat Med 12:939–944. https://doi.org/10.1038/nm1447

van Westerloo DJ, Choi G, Löwenberg EC, Truijen J, de Vos AF, Endert E, Meijers JC, Zhou L, Pereira MP, Queiroz KC, Diks SH, Levi M, Peppelenbosch MP, van der Poll T (2011) Acute stress elicited by bungee jumping suppresses human innate immunity. Mol Med 17:180–188. https://doi.org/10.2119/molmed.2010.00204

Wang H, Nie P, Dong C, Li J, Huang Y, Hao D, Xu W (2018) CT and MRI findings of soft tissue adult fibrosarcoma in extremities. BioMed Res Int 2018:6075705. https://doi.org/10.1155/2018/6075705

Webster Marketon JI, Glaser R (2008) Stress hormones and immune function. Cell Immunol 252:16–26. https://doi.org/10.1016/j.cellimm.2007.09.006

Wu X, Liu BJ, Ji S, Wu JF, Xu CQ, Du YJ, You XF, Li B, Le JJ, Xu HL, Duan XH, Dong JC (2015) Social defeat stress promotes tumor growth and angiogenesis by upregulating vascular endothelial growth factor/extracellular signal-regulated kinase/matrix metalloproteinase signaling in a mouse model of lung carcinoma. Mol Med Rep 12:1405–1412. https://doi.org/10.3892/mmr.2015.3559

Xie H, Li C, He Y, Griffin R, Ye Q, Li L (2015) Chronic stress promotes oral cancer growth and angiogenesis with increased circulating catecholamine and glucocorticoid levels in a mouse model. Oral Oncol 51:991–997. https://doi.org/10.1016/j.oraloncology.2015.08.007

Yahayo W, Supabphol A, Supabphol R (2013) Suppression of human fibrosarcoma cell metastasis by phyllanthus emblica extract in vitro. Asian Pac J Cancer Prev 14:6863–6867. https://doi.org/10.7314/APJCP.2013.14.11.6863

Zabielska-Koczywąs K, Wojtkowska A, Dolka I, Małek A, Walewska M, Wojtalewicz A, Żbikowski A, Lechowski R (2017) 3D chick embryo chorioallantoic membrane model as an in vivo model to study morphological and histopathological features of feline fibrosarcomas. BMC Vet Res. https://doi.org/10.1186/s12917-017-1114-4

Zhang Z, Wang Y, Li Q (2018) Mechanisms underlying the effects of stress on tumorigenesis and metastasis (Review). Int J Oncol 53:2332–2342. https://doi.org/10.3892/ijo.2018.4570

Zhao Y, Jing Z, Lv J, Zhang Z, Lin J, Cao X, Zhao Z, Liu P, Mao W (2017) Berberine activates caspase-9/cytochrome c-mediated apoptosis to suppress triple-negative breast cancer cells in vitro and in vivo. Biomed Pharmacother 95:18–24. https://doi.org/10.1016/j.biopha.2017.08.045

Zong L, Lin M, Fan X (2014) Mitotically active cellular fibroma of ovary should be differentiated from fibrosarcoma: a case report and review of literature. Int J Clin Exp Pathol 7:7578–7582
Additional information
Publisher's Note
Springer Nature remains neutral with regard to jurisdictional claims in published maps and institutional affiliations.
About this article
Cite this article
Smieško, G., Banović, P., Gusman, V. et al. Molecular evaluation of chronic restrain stress in mice model of non metastatic fibrosarcoma. J Mol Hist 51, 367–374 (2020). https://doi.org/10.1007/s10735-020-09886-5
Received:

Accepted:

Published:

Issue Date:
Keywords
Cytochrome C

Ki67

Fibrosarcoma

MMP9

Restrain stress