Abstract
Peripheral nerves, which consist of an axon and a unique glial cell called a Schwann cell, transduce signals from the brain and spinal cord to target organs. Peripheral nerve degeneration leads to distal motor or sensory disorders such as diabetic neuropathy, Charcot–Marie–Tooth disease, and Gullain–Barré syndrome, with symptoms such as dysesthesia, speech impairment, vision change, erectile dysfunction, and urinary incontinence. Schwann cells play an important role in peripheral nerve degeneration. Therefore, revealing the characteristics of Schwann cells will be essential in understanding peripheral neurodegeneration-related diseases for which there is currently no effective treatment. Trichostatin A (TSA) is a noncompetitive, reversible inhibitor of class I and II histone deacetylases (HDACs). HDACs have been shown not only to deacetylate histones but also to target non-histone proteins involved in diverse signaling pathways. Recent studies have revealed that diverse HDAC subtypes regulate peripheral neurodegeneration. Thus, regulating HDAC levels could be an effective strategy for the development of drugs targeting peripheral nerve-related diseases. In fact, the use of TSA has been investigated for the treatment of many diseases, including degenerative diseases of the central nervous system; however, the effects of TSA on peripheral neurodegeneration have not yet been well established. In this study, we revealed the effect of TSA on the process of peripheral neurodegeneration. TSA successfully inhibited myelin fragmentation, axonal degradation, and trans-dedifferentiation and proliferation of Schwann cells, which are essential phenotypes in peripheral neurodegeneration. Therefore, TSA could be a potential drug for patients suffering from peripheral neurodegeneration-related diseases.
Access options
Buy single article
Instant access to the full article PDF.
US$ 39.95
Tax calculation will be finalised during checkout.
Subscribe to journal
Immediate online access to all issues from 2019. Subscription will auto renew annually.
US$ 119
Tax calculation will be finalised during checkout.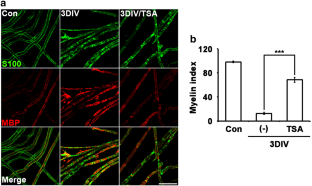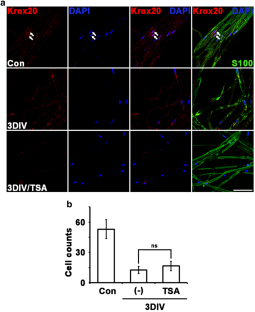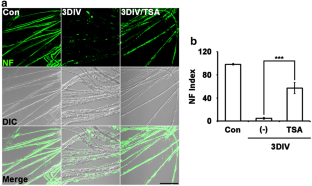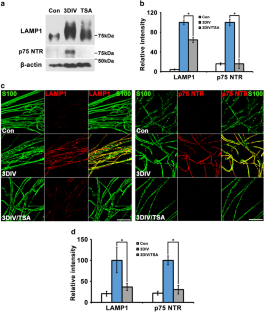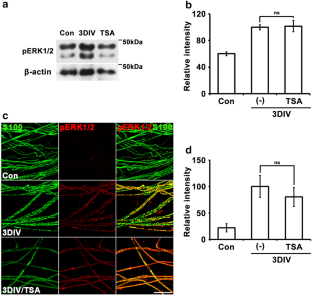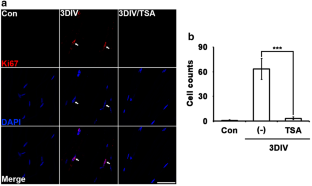 References
Arthur-Farraj PJ, Latouche M, Wilton DK, Quintes S, Chabrol E, Banerjee A, Woodhoo A, Jenkins B, Rahman M, Turmaine M, Wicher GK, Mitter R, Greensmith L, Behrens A, Raivich G, Mirsky R, Jessen KR (2012) c-Jun reprograms schwann cells of injured nerves to generate a repair cell essential for regeneration. Neuron 75:633–647

Avila AM, Burnett BG, Taye AA, Gabanella F, Knight MA, Hartenstein P, Cizman Z, Di Prospero NA, Pellizzoni L, Fischbeck KH, Sumner CJ (2007) Trichostatin A increases SMN expression and survival in a mouse model of spinal muscular atrophy. J Clin Investig 117:659–671

Baas PW, Black MM (1990) Individual microtubules in the axon consist of domains that differ in both composition and stability. J Cell Biol 111:495–509

Brügger V, Duman M, Bochud M, Münger E, Heller M, Ruff S, Jacob C (2017) Delaying histone deacetylase response to injury accelerates conversion into repair Schwann cells and nerve regeneration. Nat Commun 8:14272

Cao DJ, Wang ZV, Battiprolu PK, Jiang N, Morales CR, Kong Y, Rothermel BA, Gillette TG, Hill JA (2011) Histone deacetylase (HDAC) inhibitors attenuate cardiac hypertrophy by suppressing autophagy. Proc Natl Acad Sci 108:4123–4128

Choi JH, Oh SW, Kang MS, Kwon HJ, Oh GT, Kim DY (2005) Trichostatin A attenuates airway inflammation in mouse asthma model. Clin Exp Allergy 35:89–96

Chuang DM, Leng Y, Marinova Z, Kim HJ, Chiu CT (2009) Multiple roles of HDAC inhibition in neurodegenerative conditions. Trends Neurosci 32:591–601

Ellmeier W, Seiser C (2018) Histone deacetylase function in CD4 + T cells. Nat Rev Immunol 18:617–634

Eriksson I, Joosten M, Roberg K, Öllinger K (2013) The histone deacetylase inhibitor trichostatin A reduces lysosomal pH and enhances cisplatin-induced apoptosis. Exp Cell Res 319:12–20

He X, Zhang L, Queme LF, Liu X, Lu A, Waclaw RR, Dong X, Zhou W, Kidd G, Yoon SO, Buonanno A, Rubin JB, Xin M, Nave KA, Trapp BD, Jankowski MP, Lu QR (2018) A histone deacetylase 3-dependent pathway delimits peripheral myelin growth and functional regeneration. Nat Med 24:338–351

Jessen KR, Mirsky R (2016) The repair Schwann cell and its function in regenerating nerves. J Physiol 594:3521–3531

Jung J, Cai W, Jang SY, Shin YK, Suh DJ, Kim JK, Park HT (2011a) Transient lysosomal activation is essential for p75 nerve growth factor receptor expression in myelinated Schwann cells during Wallerian degeneration. Anat Cell Biol 44:41

Jung J, Cai W, Lee HK, Pellegatta M, Shin YK, Jang SY, Suh DJ, Wrabetz L, Feltri ML, Park HT (2011b) Actin polymerization is essential for myelin sheath fragmentation during Wallerian degeneration. J Neurosci 31:2009–2015

Lee HK, Shin YK, Jung J, Seo SY, Baek SY, Park HT (2009) Proteasome inhibition suppresses schwann cell dedifferentiation in vitro and in vivo. Glia 57:1825–1834

Lloyd AC, Obermüller F, Staddon S, Barth CF, McMahon M, Land H (1997) Cooperating oncogenes converge to regulate cyclin/cdk complexes. Genes Dev 11:663–677

Lu J, Frerich JM, Turtzo LC, Li S, Chiang J, Yang C, Wang X, Zhang C, Wu C, Sun Z, Niu G, Zhuang Z, Brady RO, Chen X (2013) Histone deacetylase inhibitors are neuroprotective and preserve NGF-mediated cell survival following traumatic brain injury. Proc Natl Acad Sci 110:10747–10752

Miyake Y, Keusch JJ, Wang L, Saito M, Hess D, Wang X, Melancon BJ, Helquist P, Gut H, Matthias P (2016) Structural insights into HDAC6 tubulin deacetylation and its selective inhibition. Nat Chem Biol 12:748–754

Napoli I, Noon LA, Ribeiro S, Kerai AP, Parrinello S, Rosenberg LH, Collins MJ, Harrisingh MC, White IJ, Woodhoo A, Lloyd AC (2012) A central role for the ERK-signaling pathway in controlling Schwann cell plasticity and peripheral nerve regeneration in vivo. Neuron 73:729–742

Newbern JM, Snider WD (2012) Bers-ERK Schwann cells coordinate nerve regeneration. Neuron 73:623–626

Niu F, Zhang X, Chang L, Wu J, Yu Y, Chen J, Xu Y (2009) Trichostatin A enhances OGD-astrocyte viability by inhibiting inflammatory reaction mediated by NF-κB. Brain Res Bull 78:342–346

Pang M, Kothapally J, Mao H, Tolbert E, Ponnusamy M, Chin YE, Zhuang S (2009) Inhibition of histone deacetylase activity attenuates renal fibroblast activation and interstitial fibrosis in obstructive nephropathy. Am J Ren Physiol 297:996–1005

Park BS, Kim H-W, Rhyu IJ, Park C, Yeo SG, Huh Y, Jeong NY, Jung J (2015) Hydrogen sulfide is essential for schwann cell responses to peripheral nerve injury. J Neurochem 132:230–242

Parkinson DB, Bhaskaran A, Droggiti A, Dickinson S, D'Antonio M, Mirsky R, Jessen KR (2004) Krox-20 inhibits Jun-NH2-terminal kinase/c-Jun to control Schwann cell proliferation and death. J Cell Biol 164:385–394

Piacentini P, Donadelli M, Costanzo C, Moore PS, Palmieri M, Scarpa A (2006) Trichostatin A enhances the response of chemotherapeutic agents in inhibiting pancreatic cancer cell proliferation. Virchows Arch 448:797–804

Platta CS, Greenblatt DY, Kunnimalaiyaan M, Chen H (2007) The HDAC inhibitor trichostatin A inhibits growth of small cell lung cancer cells. J Surg Res 142:219–226

Rombouts K, Knittel T, Machesky L, Braet F, Wielant A, Hellemans K, De Bleser P, Gelman I, Ramadori G, Geerts A (2002) Actin filament formation, reorganization and migration are impaired in hepatic stellate cells under influence of trichostatin A, a histone deacetylase inhibitor. J Hepatol 37:788–796

Seol HS, Akiyama Y, Shimada S, Lee HJ, Kim TI, Chun SM, Singh SR, Jang SJ (2014) Epigenetic silencing of microRNA-373 to epithelial-mesenchymal transition in non-small cell lung cancer through IRAK2 and LAMP1 axes. Cancer Lett 353:232–241

Shin YH, Lee SJ, Jung J (2013) Extracellular ATP inhibits Schwann cell dedifferentiation and proliferation in an ex vivo model of Wallerian degeneration. Biochem Biophys Res Commun 430:852–857

Skultetyova L, Ustinova K, Kutil Z, Novakova Z, Pavlicek J, Mikesova J, Trapl D, Baranova P, Havlinova B, Hubalek M, Lansky Z, Barinka C (2017) Human histone deacetylase 6 shows strong preference for tubulin dimers over assembled microtubules. Sci Rep 7:1–13

Topilko P, Schneider-Maunoury S, Levi G, Baron-Van Evercooren A, Chennoufi ABY, Seitanidou T, Babinet C, Charnay P (1994) Krox-20 controls myelination in the peripheral nervous system. Nature 371:796–799

Wang JT, Medress ZA, Barres BA (2012) Axon degeneration: Molecular mechanisms of a self-destruction pathway. J Cell Biol 196:7–18

Wang Y, Wu X, Zhong Y, Shen J, Wu X, Ju S, Wang X (2014) Effects of histone deacetylase inhibition on the survival, proliferation and migration of Schwann cells, as well as on the expression of neurotrophic factors and genes associated with myelination. Int J Mol Med 34:599–605

Wu X, Chen PS, Dallas S, Wilson B, Block ML, Wang CC, Kinyamu H, Lu N, Gao X, Leng Y, Chuang DM, Zhang W, Lu RB, Hong JS (2008) Histone deacetylase inhibitors up-regulate astrocyte GDNF and BDNF gene transcription and protect dopaminergic neurons. Int J Neuropsychopharmacol 11:1123–1134

Yang XJ, Seto E (2008) Lysine acetylation: codified crosstalk with other posttranslational modifications. Mol Cell 31:449–461

Yang DP, Kim J, Syed N, Tung YJ, Bhaskaran A, Mindos T, Mirsky R, Jessen KR, Maurel P, Parkinson DB, Kim HA (2012) p38 MAPK activation promotes denervated Schwann cell phenotype and functions as a negative regulator of Schwann cell differentiation and myelination. J Neurosci 32:7158–7168

Youn GS, Ju SM, Choi SY, Park J (2015) HDAC6 mediates HIV-1 tat-induced proinflammatory responses by regulating MAPK-NF-kappaB/AP-1 pathways in astrocytes. Glia 63:1953–1965

Yu Z (2002) Histone deacetylases augment cytokine induction of the iNOS gene. J Am Soc Nephrol 13:2009–2017
Acknowledgements
We thank Ms. Hyun Woo Jo (Department of Anatomy and Neurobiology, Kyung Hee University, Seoul, Korea) for her valuable discussion. This work was supported by Basic Science Research Program through the National Research Foundation of Korea (NRF) grant funded by the Korea government (MSIT) (Grant No. 2018R1D1A1B07040282) and a grant from Kyung Hee University in 2018 (Grant No. KHU-20181065).
Ethics declarations
Conflict of interest
The authors reported no potential conflict of interests.
Ethical approval
All procedures of the current experiment were approved by the Kyung Hee University Committee on Animal Research [KHUASP(SE)-16-043-1].
Additional information
Publisher's Note
Springer Nature remains neutral with regard to jurisdictional claims in published maps and institutional affiliations.
About this article
Cite this article
Kim, M., Park, C., Jung, J. et al. The histone deacetylase class I, II inhibitor trichostatin A delays peripheral neurodegeneration. J Mol Hist 50, 167–178 (2019). https://doi.org/10.1007/s10735-019-09815-1
Received:

Accepted:

Published:

Issue Date:
Keywords
Trichostatin A

Histone deacetylases

Acetylation

Schwann cells

Demyelination

Axonal degradation