Abstract
Gender segregation in higher education (GSHE) is recognized as a key factor to explain the persistence of gender inequalities in the labor market despite the reversal of gender gap in educational attainment. Women are systematically overrepresented in fields of study, such as social sciences and the humanities, which offer relatively poor labor market prospects; at the same time, they are underrepresented in fields that perform above the average, as engineering and ICT. Several explanations for GSHE have been proposed in the literature, but their explanatory power has to be assessed yet. Using a rich longitudinal dataset on a recent cohort of Italian upper secondary school leavers, in this paper we jointly test seven potential mechanisms for GSHE. Our results show that rational choice explanations—such as skill-based explanations and gender differences in career preferences—fail to account for GSHE. On the contrary, expressive motivations related to preferences for school subjects and for specific occupations are found to mediate to a significant extent GSHE. However, our most important result concerns the key role of curricular track choice at upper secondary level which, alone, mediates two third of the gender difference in access to the humanities and social sciences and one third of the gender difference in access to engineering and ICT.
This is a preview of subscription content, log in to check access.
Access options
Buy single article
Instant access to the full article PDF.
US$ 39.95
Tax calculation will be finalised during checkout.
Subscribe to journal
Immediate online access to all issues from 2019. Subscription will auto renew annually.
US$ 99
Tax calculation will be finalised during checkout.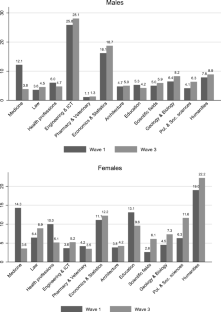 Notes
1.

We employ a restrictive definition of "social sciences" that refers only to sociology, political science, and communication studies, but not to law nor economics. It may be noted that sociology and communication studies are female-dominated, while political science is not. Similarly, girls dominate university programs in business, while boys are overrepresented in economics. More generally, fine-grained distinctions within broad field categories shed light on subtler forms of gender segregation that we cannot consider in this work.

2.

3.

The national bureau for school testing (INVALSI) carries out regular assessments of students' skills, but their individual-level results are not communicated to the teachers, nor to the families.

4.

This survey was part of a broader experimental study that included 31 additional schools where the research team developed a counseling intervention targeting all senior students. For this reason, these schools were excluded from the analyses. There is no evidence of contamination between treated and control schools (Barone et al. 2017).

5.

The original data were recorded using an open format and then recoded into the two-digit Isced classification for field of study, which served as basis for the aggregations reported in the text.

6.

7.

In Italian high schools, boys still slightly outperform girls in math at standardized tests in grade 10 (Invalsi 2017), but at any given level of performance in these tests girls obtain higher grades (Argentin and Triventi 2016). To repeat, students, parents, and teachers do not have access to the individual results of these standardized tests; therefore, the only ability signal that families receive refers to grades.

8.

This is the standard measure for overall school performance before tracking in Italy.
References
Aastrup, W. (Ed.). (2007). Guidance and counselling in higher education in European Union member states. Aarhus: Narayana Press.

Almalaurea (2015). XVII Indagine sulla Condizione Occupazionale dei Laureati. Bologna: Consorzio Interuniversitario Almalaurea.

Alon, S., & DiPrete, T. A. (2017). Gender differences in the formation of a field of study choice set. Sociological Science, 2, 50–81.

Anvur. (2016). Rapporto sullo Stato del Sistema Universitario e della Ricerca. Roma: Anvur.

Argentin, G., & Triventi, M. (2016). Come mi giudichi? Analisi delle pratiche e degli standard di attribuzione dei voti agli studenti nelle scuole italiane. In P. Falzetti (Ed.), Concorso idee per la ricerca. Padova: Cleup.

Assirelli, G. (2015). Credential and skill mismatches among tertiary graduates: the effect of labour market institutions on the differences between fields of study in 18 countries. European Societies, 17(4), 535–568.

Barone, C. (2011). Some things never change: gender segregation in higher education across eight nations and three decades. Sociology of Education, 84(2), 157–176.

Barone, C., & Ortiz, L. (2011). Overeducation among European university graduates: a comparative analysis of its incidence and the importance of higher education differentiation. Higher Education, 61(3), 325–337.

Barone, C., Schizzerotto, A., Abbiati, G., & Argentin, G. (2017). Information barriers, social inequality, and plans for higher education: evidence from a field experiment. European Sociological Review, 33(1), 84–96.

Bobbitt-Zeher, D. (2007). The gender income gap and the role of education. Sociology of Education, 80(1), 1–22.

Breen, R., Karlson, K. B., & Holm, A. (2013). Total, direct, and indirect effects in logit and probit models. Sociological Methods & Research, 42(2), 164-191.

Buchmann, C., DiPrete, T. A., & McDaniel, A. (2008). Gender inequalities in education. Annual Review of Sociology, 34(1), 319–337.

Cattaneo, M., Horta, H., Malighetti, P., Meoli, M., & Paleari, S. (2017). Effects of the financial crisis on university choice by gender. Higher Education, 74(5), 775–798.

Cavalli, A., & Facchini, C. (2001). Scelte cruciali. Bologna: Il Mulino.

Cech, E. (2013). The self-expressive edge of occupational sex segregation. American Journal of Sociology, 119(3), 747–789.

Ceci, S. J., & Williams, W. M. (2010). Sex differences in math-intensive fields. Current Directions in Psychological Science, 1(5), 11–23.

Charles, M., & Bradley, K. (2002). Equal but separate? A cross-national study of sex segregation in higher education. American Sociological Review, 67(4), 573–599.

Charles, M., & Bradley, K. (2009). Indulging our gendered selves? Sex segregation by field of study in 44 countries. American Journal of Sociology, 114(4), 924–976.

Charles, M., & Grusky, D. B. (2004). Occupational ghettos. Stanford: Stanford University Press.

Correll, S. J. (2004). Constraints into preferences: gender, status and emerging career aspirations. American Sociological Review, 69(1), 93–113.

Davies, S., & Guppy, N. (1997). Fields of study, college selectivity, and student inequalities in higher education. Social Forces, 75(4), 1417–1438.

De Giorgi, G., Pellizzari, M., & Redaelli, S. (2010). Identification of social interactions through partially overlapping peer groups. American Economic Journal: Applied Economics, 2, 241–275.

DiPrete, T. A., & Buchmann, C. (2013). The rise of women: the growing gender gap in education and what it means for American schools. New York: Russell Sage Foundation.

Ellison, G., & Swanson, A. (2010). The gender gap in secondary school mathematics at high achievement levels: evidence from the American mathematics competitions. Journal of Economic Perspective, 24(2), 109–128.

England, P., & Li, S. (2006). Desegregation stalled: the changing gender composition of college majors, 1971–2002. Gender & Society, 20(5), 657–677.

Frank, K. A., Muller, C., Schiller, K. S., Riegle-Crumb, C., Mueller, A. S., Crosnoe, R., & Pearson, J. (2008). The social dynamics of mathematics course-taking in high school. American Journal of Sociology, 113(6), 1645–1696.

Gabay-Egozi, L., Shavit, Y., & Yaish, M. (2015). Gender differences in fields of study: the role of significant others and rational choice motivations. European Sociological Review, 31(3), 284–297.

Garcia-Aracil, A., Gabaldon, D., Gines Mora, J., & Vila, L. (2007). The relationship between life goals and fields of study among young European graduates. Higher Education, 53(6), 843–865.

Gerber, T. P., & Schaefer, D. R. (2004). Horizontal stratification of higher education in Russia: trends, gender differences, and labour market outcomes. Sociology of Education, 77(1), 32–59.

Gunderson, E. A. (2012). The role of parents and teachers in the development of gender-related math attitudes. Sex Roles, 66, 153–166.

Hedges, L. V., & Nowell, A. (1995). Sex differences in mental test scores, variability, and numbers of high-scoring individuals. Science, 269(5220), 41–45.

Imdorf, C., Hegna, K., Eberhard, V., & Doray, P. (2015). Educational systems and gender segregation in education—a three-country comparison of Germany, Norway & Canada. In C. Imdorf, K. Hegna, & L. Reisel (Eds.), Gender segregation in vocational education (Vol. 32, pp. 83–122). Bingley: Emerald Insight.

Invalsi (2017). Rilevazioni Nazionali degli Apprendimenti—2016, http://www.invalsi.it/invalsi/doc_evidenza/2016/07_Rapporto_Prove_INVALSI_2016.pdf

Jacobs, J. A. (1995). Gender and academic specialties: trend among recipients of college degrees in the 1980s. Sociology of Education, 68(2), 81–98.

Jonsson, J. O. (1999). Explaining sex differences in educational choice: an empirical assessment of a rational choice model. European Sociological Review, 15(4), 391–404.

Konrad, A. M., Ritchie, J. E., Jr., Lieb, P., & Corrigall, E. (2000). Sex differences and similarities in job attribute preferences: a meta-analysis. Psychological Bulletin, 126(4), 593–641.

Legewie, J., & DiPrete, T. A. (2012). School context and the gender gap in educational achievement. American Sociological Review, 77(3), 463–485.

Legewie, J., & DiPrete, T. A. (2014). The high school environment and the gender gap in science and engineering. Sociology of Education, 87(4), 259–280.

Mann, A., & DiPrete, T. A. (2013). Trends in gender segregation in the choice of science and engineering majors. Social Science Research, 42(6), 1519–1541.

Mastekaasa, A., & Smeby, J. (2008). Educational choice and persistence in male- and female-dominated fields source. Higher Education, 55(2), 189–202.

Menon, M. E., Markadjis, E., Theodoropoulos, N., & Socratous, M. (2017). Influences on the intention to enter higher education: the importance of expected returns. Journal of Further and Higher Education, 41(6), 831–843.

Morgan, S. L., Gelbgiser, D., & Weeden, K. A. (2013). Feeding the pipeline: gender, occupational plans, and college major selection. Social Science Research, 42(4), 989–1005.

Nunez, I., & Livanos, I. (2010). Higher education and unemployment in Europe: an analysis of the academic subject and national effects. Higher Education, 59(4), 475–487.

OECD. (2014). The ABC of gender equality in education. Paris: OECD.

OECD. (2016). Education at a glance—2016 edition. Paris: OECD.

Ost, B. (2010). The role of peers and grades in determining major persistence in the sciences. Economics of Education Review, 29, 923–934.

Polachek, S. W. (1978). Sex differences in college major. Industrial and Labor Relations Review, 31, 498–508.

Reimer, D., Noelke, C., & Kucel, A. (2011). Labor market effects of field of study in comparative perspective: an analysis of 22 European countries. International Journal of Comparative Sociology, 49(4), 232–256.

Riegle-Crumb, C., King, B., Grodsky, E., & Muller, C. (2012). The more things change, the more they stay the same? Prior achievements fails to explain gender inequality in entry into STEM college majors over time. American Educational Research Journal, 49(6), 1048-1073.

Smyth, E., & Steinmetz, S. (2008). Field of study and gender segregation in European labour markets. International Journal of Comparative Sociology, 49(4), 257–281.

Timmers, T., Willemsen, T., & Tijdens, K. (2010). Gender diversity policies in universities: a multi-perspective framework of policy measures. Higher Education, 59(6), 719–735.

Triventi, M. (2010). Something changes, something not. Long-term trends in gender segregation of fields of study in Italy. Italian Journal of Sociology of Education, 5(2), 47–80.

Vaarmets, T. (2018). Gender, academic abilities and postsecondary educational choices. Journal of Applied Research in Higher Education, 10(3), 380–398.

van de Werfhorst, H. G. (2017). Gender segregation across fields of study in post-secondary education: trends and social differentials. European Sociological Review, 33(3), 449–464.

van de Werfhorst, H. G., Sullivan, A., & Cheung, S. Y. (2003). Social class, ability and choice of subject in secondary and tertiary education in Britain. British Educational Research Journal, 29(1), 41–62.

Xie, Y., & Shauman, K. A. (2005). Women in science: career processes and outcomes. Cambridge: Harvard University Press.

Zafar, B. (2013). College major choice and the gender gap. Journal of Human Resources, 48(3), 545–595.
Additional information
Publisher's note
Springer Nature remains neutral with regard to jurisdictional claims in published maps and institutional affiliations.
Electronic supplementary material
About this article
Cite this article
Barone, C., Assirelli, G. Gender segregation in higher education: an empirical test of seven explanations. High Educ 79, 55–78 (2020). https://doi.org/10.1007/s10734-019-00396-2
Keywords
Gender segregation

Higher education

Field of study choice