Abstract
Malaysia and the United Arab Emirates are home to wealthy minority groups with little or no access to public higher education. These countries share parallel trajectories of economic and educational growth, yet they have starkly different citizenship and educational policies that govern the diverse populations within their borders. The result in higher education has been differentiated systems whose contours are largely shaped by these ethnic divisions. Institutional prestige, student enrolment, and long-term sector stability are the areas most strongly influenced, although outcomes differ between Malaysia and the United Arab Emirates due to differing national policies on citizenship. A comparative, vertical analysis of student interviews, institutional curriculum, and government policies indicates that institutions and governments can mitigate the deleterious divisions in higher education related to ethnicity and citizenship. Government policies which withhold citizenship or higher education from a particular ethnic or class group, will, in the long run, decrease the stability of the education sector and reinforce the ethnic divisions within a country. Conversely, inter-ethnic collaboration within university programs has the potential to improve ethnic relations between groups, while inclusive notions of citizenship solidify the higher education sector.
This is a preview of subscription content, log in to check access.
Access options
Buy single article
Instant access to the full article PDF.
US$ 39.95
Price includes VAT for USA
Subscribe to journal
Immediate online access to all issues from 2019. Subscription will auto renew annually.
US$ 99
This is the net price. Taxes to be calculated in checkout.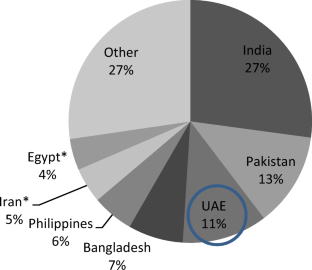 References
Abdullah, M. M. (1978). The United Arab Emirates: A modern history. New York: Barnes & Noble.

Al Qassimi, S. (2013). Give expats an opportunity to earn UAE citizenship. Gulf News Thinkers. Retrieved from http://gulfnews.com/opinions/columnists/give-expats-an-opportunity-to-earn-uaecitizenship-1.1234167. Accessed 15 June 2014.

Altbach, P. G. (1985). The Foreign Student Dilemma: Special Theme. Geneva: Bulletin of the International Bureau of Education.

Altbach, P. G., & Knight, J. (2007). The internationalization of higher education: motivations and realities. Journal of Studies in International Education, 11(3), 290–305.

Bulan, R. (2010). Indigenous land rights in Malaysia. In J. R. Engel, L. Westra, & K. Bosselmann (Eds.), Democracy, ecological integrity and international law (pp. 171–195). Newcastle upon Tyne: Cambridge Scholars Publishing.

Cartwright, M. J. (2007). The rhetoric and reality of "quality" in higher education: an investigation into staff perceptions of quality in post 1992 universities. Quality Assurance in Education, 15(3), 287–301.

Cinnirella, M. (1997). Towards a European identity? Interactions between the national and European social identities manifested by university students in Britain and Italy. British Journal of Social Psychology, 36(1), 19–31.

Daniels, T. P. (2005). Building cultural nationalism in Malaysia: identity, representation, and citizenship. New York: Routledge.

Davidson, C. (2008). Dubai: The vulnerability of success. London: Hurst and Company.

Department of Statistics Malaysia (2016). Current population estimates, Malaysia, 2014–2016. Retrieved from https://www.dosm.gov.my/v1/index.php?r=column/ctheme&menu_id=L0pheU43NWJwRWVSZklWdzQ4TlhUUT09&bul_id=OWlxdEVoYlJCS0hUZzJyRUcvZEYxZz09.

Ee, T. L. (1988). Chinese independent schools in West Malaysia: varying responses to changing demands. Changing identities of the Southeast Asian Chinese since World War II, 61–74. Hong Kong University Press.

Enloe, C. H. (1968). Issues and integration in Malaysia. Pacific Affairs, 41(3), 372–385.

Enloe, C. H. (1970). Multi—ethnic politics: The case of Malaysia. Berkeley: Center for South and Southeast Asia Studies. University of California, Berkeley.

Fernandez, Ó. (2005). Towards European citizenship through higher education? European Journal of Education, 40(1), 58–68.

Fligstein, N. (2008). Euroclash: The EU, European identity, and the future of Europe. Oxford: Oxford University Press.

Ghubash, M. (1997). Social development in the United Arab Emirates. In E. Ghareeb & I. Al Abed (Eds.), Perspectives on the United Arab Emirates (pp. 273–290). London: Trident.

GMI (2018). UAE population infographics. GMI blogger. Retrieved from https://www.globalmediainsight.com/blog/uae-population-statistics/#expat_population.

Guruz, K. (2008). Higher education and international student mobility in the global knowledge economy. Albany: State University of New York Press.

Hobler, L. A. (2016). Constitutional contradictions: religious pluralism and the legalization of identity in Malaysia. Retrieved from https://static1.squarespace.com/static/55537ac7e4b03a5e3e21f5e9/t/5742036740261db902b70e3b/1463944039665/Constitutional+Contradictions-+Religion+Pluralism+and+the+Legalization+of+Identity+in+Malaysia+LALH.pdf.

Hudson, M. C. (1999). Middle East dilemma: The politics and economics of Arab integration. New York: Columbia University Press.

Ibrahim, R., Muslim, N., & Buang, A. H. (2011). Multiculturalism and higher education in Malaysia. Procedia - Social and Behavioral Sciences, 15, 1003–1009.

Khalifa, A. M. (1979). The United Arab Emirates: Unity in fragmentation. London: Westview Press.

KHDA (2014). Private higher education landscape. Government of Dubai. Retrieved from https://khda.gov.ae/CMS/WebParts/TextEditor/Documents/LandscapePEEnglish.pdf.

Kheng, C. B. (2002). Malaysia: the making of a nation. Singapore: Institute of Southeast Asian Studies.

Kirkpatrick, A. (2014). English as a medium of instruction in East and Southeast Asian universities. In N. Murray & A. Scarino (Eds.), Dynamic ecologies: a relational perspective on languages education in the Asia-Pacific region (pp. 15–30). New York: Springer.

Knight, J. (2011). Education hubs: a fad, a brand, an innovation? Journal of Studies in International Education, 15(3), 221–240.

Knowledge & Human Development Authority (2014). Private higher education landscape. Government of Dubai. Retrieved from https://khda.gov.ae/CMS/WebParts/TextEditor/Documents/LandscapePEEnglish.pdf.

Kuhn, T. (2012). Why educational exchange programmes miss their mark: cross-border mobility, education and European identity. Journal of Common Market Studies, 50(6), 994–1010.

Lee, H. A. (2012). Affirmative action in Malaysia: education and employment outcomes since the 1990s. Journal of Contemporary Asia, 42(2), 230–254.

Lee, J. T. (2014). Education hubs and talent development: policymaking and implementation challenges. Higher Education, 68(6), 807–823.

Leff, G. (1968). Paris and Oxford universities in the thirteenth and fourteenth centuries: an institutional and intellectual history. New York: Wiley.

Malit Jr, F. T., & Al Youha, A. (2013). Labor migration in the United Arab Emirates: challenges and responses. The Online Journal of the Migration Policy Institute. Retrieved from http://www.migrationpolicy.org/article/labormigration-united-arab-emirates-challenges-andresponses.

Marginson, S. (2002). Nation-building universities in a global environment: the case of Australia. Higher Education, 43(3), 409–428.

Musselin, C. (2006). France. In J. Forest & P. Altbach (Eds.), International handbook of higher education, part two (pp. 711–728). Dordecht: Springer.

Naidoo, R., & Jamieson, I. (2005). Knowledge in the marketplace: the global commodification of teaching and learning in higher education. Internationalizing Higher Education, 16, 37–51.

Neave, G. (2001). The European dimension in higher education: an excursion into the modern use of historical analogues. In G. Neave (Ed.), Higher education and the nation state. Oxford: Elsevier.

Nybom, T. (2003). The Humboldt legacy: reflections on the past, present, and future of the European university. Higher Education Policy, 16(2), 141–159.

Pak, J. (2013). Is Malaysia university entry a level playing field? BBC News. Retrieved from http://www.bbc.com/news/world-asia-23841888.

Pant, M. D. (2012). Asians paid 33% less than Westerners. Gulf business salary surveyr retrieved from - http://gulfbusiness.com/2012/12/asians-paid-33-less-than-westerners/#.VN-8QfneWT9.

Rashdall, H. (1987). What is a University? Chapter one (pp. 1–24), volume 1 of the Universities of Europe in the Middle Ages. Oxford: Clarendon Press.

Richter, F. J., & Nguyen, T. D. (2004). The Malaysian journey: progress in diversity. Singapore: Times Editions.

Schachner, N. (1962). The Medieval universities. New York: A.S. Barnes and Co. especially chapters V and VII.

Sigalas, E. (2010). Cross-border mobility and European identity: the effectiveness of intergroup contact during the ERASMUS year abroad. European Union Politics, 11(2), 241–265.

Spencer, P. A. (2013). Malaya's Indian Tamil labor diaspora: colonial subversion of their quest for agency and modernity (Master's dissertation). Retrieved from Digital Commons@USU. (Paper 1463).

The Economist (2013). A never ending policy: elections in May could mark a turning point. The Economist. Retrieved from http://www.economist.com/news/briefing/21576654-elections-may-could-mark-turning-point-never-ending-policy.

UAE Interact (2013). United Arab Emirates statistics. Retrieved March 2015 from http://www.uaeinteract.com/.

Von Mol, C. (2013). Intra-European student mobility and European identity: a successful marriage? Population, Space and Place, 19, 209–222.

Wigglesworth, R. (2009). UAE may rue its exodus of expatriates. New York Times. Retrieved from https: //www.ft.com/content/238b3d84-17ca-11de-8c9d-0000779fd2ac.

Wilkins, S. (2010). Higher education in the United Arab Emirates: an analysis of the outcomes of significant increases in supply and competition. Journal of Higher Education Policy and Management, 32(4), 389–400.

Wilkins, S., Balakrishnan, M. S. (2013). Assessing student satisfaction in transnational higher education. International Journal of Educational Management, 27(2), 143–156.

Wilson, I. (2011). What should we expect of 'Erasmus generations'? Journal of Common Market Studies, 49(5), 1113–1140.
About this article
Cite this article
Stephenson, G.K., Rajendram, S. "This barrier between:" the ethnic divisions of higher education in Malaysia and the United Arab Emirates. High Educ 77, 889–903 (2019). https://doi.org/10.1007/s10734-018-0307-5
Keywords
Malaysia

United Arab Emirates

Ethnicity

Citizenship

Identity

Branch-campus