Abstract
There are dissonances between educators' aspirations for assessment design and actual assessment implementation in higher education. Understanding how assessment is designed 'on the ground' can assist in resolving this tension. Thirty-three Australian university educators from a mix of disciplines and institutions were interviewed. A thematic analysis of the transcripts indicated that assessment design begins as a response to an impetus for change. The design process itself was shaped by environmental influences, which are the circumstances surrounding the assessment design, and professional influences, which are those factors that the educators themselves bring to the process. A range of activities or tasks were undertaken, including those which were essential to all assessment design, those more selective activities which educators chose to optimise the assessment process in particular ways and meta-design processes which educators used to dynamically respond to environmental influences. The qualitative description indicates the complex social nature of interwoven personal and environmental influences on assessment design and the value of an explicit and strategic ways of thinking within the constraints and affordances of a local environment. This suggests that focussing on relational forms of professional development that develops strategic approaches to assessment may be beneficial. The role of disciplinary approaches may be significant and remains an area for future research.
Access options
Buy single article
Instant access to the full article PDF.
US$ 39.95
Tax calculation will be finalised during checkout.
Subscribe to journal
Immediate online access to all issues from 2019. Subscription will auto renew annually.
US$ 79
Tax calculation will be finalised during checkout.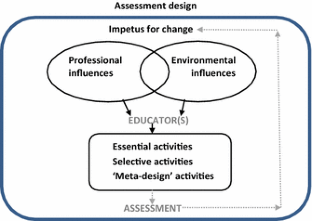 References
Bennett, S., Thomas, L., Agostinho, S., Lockyer, L., Jones, J., & Harper, B. (2011). Understanding the design context for Australian university teachers: Implications for the future of learning design. Learning, Media and Technology, 36(2), 151–167. doi:10.1080/17439884.2011.553622.

Bourdieu, P. (1977). Outline of a theory of practice. Cambridge: Cambridge University Press.

Carless, D. (2015). Exploring learning-oriented assessment processes. Higher Education, 69(6), 963–976. doi:10.1007/s10734-014-9816-z.

Creswell, J. W., & Roskens, R. W. (1981). The Biglan studies of differences among academic areas. Review of Higher Education, 4(3), 1–16.

Dedoose, V. (2012). Web application for managing, analyzing, and presenting qualitative and mixed method research data. Los Angeles, CA: SocioCultural Research Consultants.

Fletcher, R., Meyer, L., Anderson, H., Johnston, P., & Rees, M. (2012). Faculty and students conceptions of assessment in higher education. Higher Education, 64(1), 119–133. doi:10.1007/s10734-011-9484-1.

Gibbs, G., & Simpson, C. (2004). Conditions under which assessment supports students' learning. Learning and teaching in higher education, 1(1), 3–31.

Guba, E. G. (1990). The alternative paradigm dialog. In E. G. Guba (Ed.), The paradigm dialog (pp. 17–30). Newbury Park: Sage.

James, D. (2014). Investigating the curriculum through assessment practice in higher education: the value of a 'learning cultures' approach. Higher Education, 67(2), 155–169. doi:10.1007/s10734-013-9652-6.

Kennedy, T. J. T., & Lingard, L. A. (2006). Making sense of grounded theory in medical education. Medical Education, 40(2), 101–108. doi:10.1111/j.1365-2929.2005.02378.x.

Macdonald, R., & Joughin, G. (2009). Changing assessment in higher education: A model in support of institution-wide improvement. In G. Joughin (Ed.), Assessment, learning and judgement in higher education (pp. 1–21). Rotterdam, Netherlands: Springer.

Meyer, L. H., Davidson, S., McKenzie, L., Rees, M., Anderson, H., Fletcher, R., et al. (2010). An investigation of tertiary assessment policy and practice: Alignment and contradictions. Higher Education Quarterly, 64(3), 331–350. doi:10.1111/j.1468-2273.2010.00459.x.

Norton, L., Norton, B., & Shannon, L. (2013). Revitalising assessment design: What is holding new lecturers back? Higher Education, 66(2), 233–251. doi:10.1007/s10734-012-9601-9.

Norton, L., Richardson, T. E., Hartley, J., Newstead, S., & Mayes, J. (2005). Teachers' beliefs and intentions concerning teaching in higher education. Higher Education, 50(4), 537–571. doi:10.1007/s10734-004-6363-z.

Offerdahl, E. G., & Tomanek, D. (2011). Changes in instructors' assessment thinking related to experimentation with new strategies. Assessment & Evaluation in Higher Education, 36(7), 781–795. doi:10.1080/02602938.2010.488794.

Patton, M. Q. (1999). Enhancing the quality and credibility of qualitative analysis. Health Services Research, 34(5 Pt 2), 1189–1208.

Postareff, L., Virtanen, V., Katajavuori, N., & Lindblom-Ylänne, S. (2012). Academics' conceptions of assessment and their assessment practices. Studies in Educational Evaluation, 38(3–4), 84–92. doi:10.1016/j.stueduc.2012.06.003.

Price, M., Carroll, J., O'Donovan, B., & Rust, C. (2011). If I was going there I wouldn't start from here: A critical commentary on current assessment practice. Assessment & Evaluation in Higher Education, 36(4), 479–492. doi:10.1080/02602930903512883.

Quesada-Serra, V., Rodríguez-Gómez, G., & Ibarra-Sáiz, M. S. (2014). What are we missing? Spanish lecturers' perceptions of their assessment practices. Innovations in Education and Teaching International. doi:10.1080/14703297.2014.930353.

Sandelowski, M. (2010). What's in a name? Qualitative description revisited. Research in Nursing & Health, 33(1), 77–84. doi:10.1002/nur.20362.

Schön, D. A. (1983). The reflective practitioner: How professionals think in action (Vol. 5126). New York: Basic books.

Strauss, A., & Corbin, J. M. (1990). Basics of qualitative research: Grounded theory procedures and techniques. Los Angeles: Sage Publications Inc.

Watkins, D., Dahlin, B., & Ekholm, M. (2005). Awareness of the backwash effect of assessment: A phenomenographic study of the views of Hong Kong and Swedish lecturers. Instructional Science, 33(4), 283–309. doi:10.1007/s11251-005-3002-8.
Acknowledgments
This work was supported by the Office for Learning and Teaching under Grant ID12-2254. We do not have any financial interests or benefits from any direct application of this work.
About this article
Cite this article
Bearman, M., Dawson, P., Bennett, S. et al. How university teachers design assessments: a cross-disciplinary study. High Educ 74, 49–64 (2017). https://doi.org/10.1007/s10734-016-0027-7
Keywords
Assessment

Academic context

Academic experiences

Academic practice

Teaching skills