Abstract
In this paper, we analyse social inequalities along the horizontal dimension of education in Italy. More precisely, we focus on the role of family background in completing specific fields of study at both secondary and tertiary levels of education. To mitigate the limitations of the traditional sequential model, we construct a typology of educational paths based on two axes: the prestige of one's choice of high school track (academic or vocational) and the labour market returns of the university field of study in terms of monthly net income (high or low). We identify four paths: academic-high, academic-low, vocational-high, and vocational-low. We investigate the influence of social inequalities on educational path using data from the Istat "Survey on the transition to work of University graduates" regarding cohorts of university graduates in 1995, 1998, 2001, 2004 and 2007. Results obtained from multinomial logistic regressions confirm predictions based on rational action theory. We find that family background, defined in terms of parental education, is positively and significantly associated with the completion of the most advantageous educational path. Moreover, we find that high-performing students from lower socio-economic backgrounds show a higher probability of completing the vocational-high path. This result suggests that a vocational upper secondary degree could be perceived as a sort of safety option for students from less wealthy families, which allows them to invest in the most lucrative and risky fields at university.
Access options
Buy single article
Instant access to the full article PDF.
USD 39.95
Price excludes VAT (USA)
Tax calculation will be finalised during checkout.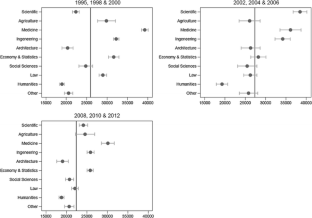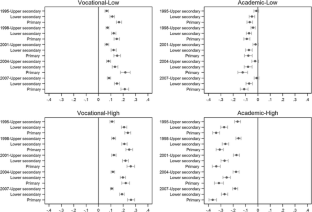 Notes
Take note that the Italian law states that compulsory schooling lasts until the age of 15, but there is also a compulsory training that includes the first 2 years of upper secondary school. In other words, a student can leave the upper secondary school at age 15, but he/she is obliged to enrol in a training course for at least another year.

There are a few notable exceptions in certain fields; private universities, such as Bocconi for economics and the Scuola Normale for maths, are perceived to be more prestigious than the other universities.

As a robustness check, we have run our analysis on all the different subpopulations separately, finding similar results for both master's and single-cycle graduates, and between these and the pre-reform graduates. Even if the results for bachelor's graduates are different, the results show that they do not move away from the general pattern. The robustness checks are available in the supplementary materials.

A complete set of descriptive statistics is reported in the Supplementary Materials.

Another option is to consider the occupational returns in a dynamic way by letting it vary over time. As seen in the supplementary materials, however, even in this case the main results of the paper are confirmed.

E.g., where the highest educational degree of the father is a high-school diploma and the highest educational degree of the mother is a university degree, parental education will be the mother's education qualification.

We do not consider social class as the main explanatory variable in our analysis, as the information about parental occupation is supplied in a way that does not permit the construction of a detailed class scheme. To avoid possible problems of miss-classification, we code occupation in a few categories and use it only as a control variable.

The complete models are reported in the supplementary materials.
References
Allison, P. D. (1999). Comparing logit and probit coefficients across groups. Social Methods & Research, 28(2), 186–208.

Argentin, G., & Triventi, M. (2011). Social inequality in higher education and labour market in a period of institutional reforms: Italy, 1992–2007. Higher Education, 61(3), 309–323.

Azzolini, D., & Vergolini, L. (2014). Tracking, inequality and education policy. Looking for a recipe for the Italian case. Scuola Democratica, 2. doi:10.12828/77685.

Ballarino, G., & Checchi, D. (Eds.). (2006). Sistema scolastico e disuguaglianza sociale: Scelte individuali e vincoli strutturali. Bologna: Il Mulino.

Ballarino, G., & Perotti, L. (2012). The Bologna process in Italy. European Journal of Education, 47(3), 348–363.

Barone, C., Schizzerotto, A., Abbiati G., & Argentin, G. (2015). Does information matter? Experimental evidence on the role of beliefs on the value of higher education and the choice of the field of study. Paper presented at the RC28 meeting, Tilburg. 28–30 May.

Bernardi, F. (2014). Compensatory advantage as a mechanism of educational inequality. A regression discontinuity on month of birth. Sociology of Education, 87(2), 74–88.

Boudon, R. (1974). Education, opportunity, and social inequality. New York: Wiley.

Bourdieu, P. (1979). La distinction: Critique sociale du jugement. Paris: Edition de Minuit.

Bourdieu, P., & Passeron, J.-C. (1990). Reproduction in education, society and culture. London: Sage.

Breen, R., & Goldthorpe, J. H. (1997). Explaining educational differentials: Toward a formal rational action theory. Rationality and Society, 9(3), 275–305.

Breen, R., & Jonsson, J. O. (2000). A multinomial transition model for analyzing educational careers. American Sociological Review, 65(5), 754–772.

Breen, R., Luijkx, R., Muller, W., & Pollak, R. (2010). Long-term trends in educational inequality in Europe: Class inequalities and gender differences. European Sociological Review, 26(1), 31–48.

Breen, R., Luijkx, R., Müller, W., & Pollak, R. (2009). Nonpersistent inequality in educational attainment: Evidence from eight European countries. American Journal of Sociology, 144(5), 1475–1521.

Bukodi, E., & Goldthorpe, J. H. (2013). Decomposing 'Social Origins': The effects of parents' class, status, and education on the educational attainment of their children. European Sociological Review, 29(5), 1024–1039.

Cameron, S. V., & Heckman, J. J. (1998). Life cycle schooling and dynamic selection bias: Models and evidence for five cohorts of American males. The Journal of Political Economy, 106(2), 262–333.

Checchi, D., & Flabbi, L. (2007). Intergenerational mobility and schooling decisions in Germany and Italy: The impact of secondary school tracks. IZA DP No. 2876, Bonn.

Davies, S., & Guppy, N. (1997). Fields of study, college selectivity, and student inequalities in higher education. Social Forces, 75(4), 1417–1438.

Davies, P., Mangan, J., Hughes, A., & Slack, K. (2013). Labour market motivation and undergraduates' choice of degree subject. British Educational Research Journal, 39(2), 361–382.

Delaney, L., Harmon, C., & Redmond, C. (2011). Parental education, grade attainment and earnings expectations among university students. Economics of Education Review, 30, 1136–1152.

Erikson, R. (1984). Social class of men, women and families. Sociology, 18(4), 500–514.

Goyette, K. A., & Mullen, A. L. (2006). Who studies the arts and sciences? Social background and the choice and consequences of undergraduate field of study. The Journal of Higher Education, 77(3), 497–538.

Lucas, S. R. (2001). Effectively maintained inequality: Education transitions, track mobility, and social background effects. American Journal of Sociology, 106(6), 1642–1690.

Mare, R. D. (1980). Social background and school continuation decisions. Journal of the American Statistical Association, 75(370), 295–305.

Mare, R. D. (1981). Change and stability in educational stratification. American Sociological Review, 46(1), 72–87.

Mare, R. D. (2011). Introduction to symposium on unmeasured heterogeneity in school transition models. Research in Social Stratification and Mobility, 29(3), 239–245.

Marzadro, S., & Schizzerotto, A. (2014). More stability than change. The effects of social origins on inequalities of educational opportunities across three Italian birth cohorts. Scuola Democratica, II, 2, 343–364.

Müller, W. (2005). Education and youth integration into European labour markets. International Journal of Comparative Sociology, 45(5–6), 461–485.

Panichella, N., & Triventi, M. (2014). Social inequalities in the choice of secondary school. Long-term trends during educational expansion and reforms in Italy. European Societies, 16(5), 666–693.

Pisati, M. (2002). La partecipazione al sistema scolastico. In A. Schizzerotto (Ed.), Vite ineguali. Disuguaglianze e corsi di vita nell'Italia contemporanea (pp. 141–186). Bologna: Il Mulino.

Reay, D., Davies, J., David, M., & Ball, S. J. (2001). Choices of degree or degrees of choice? Class, race and the higher education choice process. Sociology, 35(4), 855–874.

Reimer, D., Noelke, C., & Kucel, A. (2008). Labor market effects of field of study in comparative perspective. International Journal of Comparative Sociology, 49(4–5), 233–256.

Reisel, L. (2011). Two paths to inequality in educational outcomes: Family background and educational selection in the United States and Norway. Sociology of Education, 84(4), 261–280.

Schizzerotto, A., & Barone, C. (2006). Sociologia dell'Istruzione. Bologna: Il Mulino.

Shavit, Y., Arum, R., & Gamoran, A. (Eds.). (2007). Stratification in higher education. A comparative study. Stanford, CA: Stanford University Press.

Shavit, Y., & Blossfeld, H.-P. (Eds.). (1993). Persistent inequality. Changing educational attainment in thirteen countries. Boulder, CO: Westview Press.

Triventi, M. (2013). Stratification in higher education and its relationship with social inequality. Evidence from a recent cohort of European graduates. European Sociological Review, 29(3), 489–502.

Zarifa, D. (2012). Choosing fields in an expansionary era: Comparing two cohorts of baccalaureate degree-holders in the United States and Canada. Research in Social Stratification and Mobility, 30(3), 328–351.
Acknowledgments
The authors would like to thank Antonio Schizzerotto, Dalit Contini, Camilla Borgna, Giulia Assirelli, Elisa Forestan and Giampiero Passaretta for their useful suggestions and comments on a previous version of this paper.
Electronic supplementary material
Below is the link to the electronic supplementary material.
About this article
Cite this article
Vergolini, L., Vlach, E. Family background and educational path of Italian graduates. High Educ 73, 245–259 (2017). https://doi.org/10.1007/s10734-016-0011-2
Published:

Issue Date:

DOI: https://doi.org/10.1007/s10734-016-0011-2
Keywords