Abstract
Since 2009, German universities were opened by law to freshmen who do not possess the traditional graduation certificate required for entry into University, but who are rather vocationally qualified. In this article, we track the grades of these so-called non-traditional students and compare them to those of traditional students using a longitudinal design. Based on assumptions about differences in competencies, family background and the cultural closeness of academia, we derive hypotheses on differences concerning the progression of students' grades. These hypotheses have been tested using examination data from an undergraduate degree program at one German university. Analyzing a sample of 723 students, we show that over the course of their studies, non-traditional students perform worse than their fellow students who have general university entrance qualifications. Moreover, there is no trend toward convergence between the students' performances. Additionally, repeated measures ANOVAs reveal the influence of socio-demographic characteristics and study practice on progression of students' grades.
Access options
Buy single article
Instant access to the full article PDF.
USD 39.95
Price excludes VAT (USA)
Tax calculation will be finalised during checkout.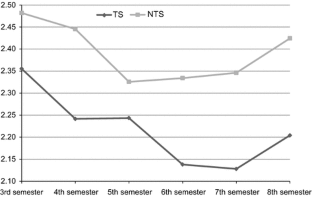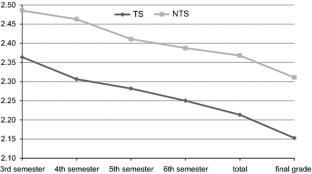 Notes
Prior to 2009, universities were not completely closed to non-traditional students. First steps in this direction were already taken during the Weimar Republic. Later on, Lower Saxony took a leading role in the 1970s by establishing a liberal access to higher education for non-traditional students (Schwabe-Ruck 2015; Wolter 2013).

The definition of non-traditional students, respectively, of traditional students, focuses on their formal education only ("Entrance pathways to universities in Germany" section). It solely depends on whether they hold general university entrance qualifications (Abitur) or not. All traditional students hold this qualification. Non-traditional students do not possess this secondary school qualification but passed an entrance examination before being admitted to university. According to our definition, this group can be defined distinctly, without considering pathways to higher education, the mode of study, and the composition of the student body (Schuetze and Slowey 2002). Although these criteria have been frequently used in international research, they are inferior to our approach as we only rely on one clear criterion—secondary school qualifications.

Some Länder allow students with a university of applied sciences entrance qualification for undergraduate studies at universities as well.

The timing of enrollment is strongly affected by the availability of cultural, social, and economic capital (Brändle 2016a).

In most of the Länder, prospective students must have some years of work experience in addition to their vocational education.

Similar to this, Brändle (2014) emphasizes that non-traditional students in Germany were motivated for further acquisition of education to a higher degree than traditional students.

This program includes courses in business economics, political economy, law, and sociology. All students gain insight into the four disciplines to the same extent during their freshman year and then freely choose their specialization in the second study year (Universität Hamburg 2009a). It remains an open question whether the performance gap between NTS and TS who are studying in the same program differs in the four disciplines according to their different education, their competencies, or their (work) experiences.

These admission requirements are not recorded in the University's examinations' data. This is why the group of non-traditional students also contains persons with entrance qualification for universities of applied sciences. Thus, we are not able to exclude these subgroups from the analysis. This is problematic because we cannot expect that all persons passing the entrance examination possess equivalent competencies, respectively, differ in the same way from those students holding a general university entrance qualification.

Before having access to the anonymized data, analysis procedure has been described in detail to the university's data protection officer and was checked for permissibility.

Supposedly, including non-completion students would yield similar results—if both groups of students have equal rates of non-completion. If non-completion students constantly perform poorer than graduates, their exclusion implies that grade improvements tend to be overestimated.

Each grade between 1.0 and 4.0 can be raised or lowered by 0.3, where 0.7 and 4.3 are excluded. Students who do not meet the requirements receive a 5.0 (Universität Hamburg 2009b).

The students solely have to pass their exams. Hence, the data do not provide any grades for exams of the first year of study.

At present, we have such a data set available only for students who started studying from winter semester 2012/2013 onwards, but not for graduates. Analyses show that non-traditional students pass significantly less examinations during their freshman year, even after controlling for educational climbing, vocational education, timing of enrollment, non-university strains, and motivation (Brändle and Lengfeld 2015).

Although we cannot make a clear statement regarding dropout—due to our data—there are hints for different non-completion rates between the two groups. 32 % of the students who started studying between winter semester 2008/2009 and summer semester 2010 were non-traditional students. Among the graduates until winter semester 2014/2015, there were 24 % non-traditional students. Presumably, this is not only a matter of different study practice, but also indicates different dropout rates.

The age of students in their first semester of studying at German universities was 22.7 years in the winter semester 2013/2014 (Statistisches Bundesamt 2014).

Since the students can go on a hiatus during studies, they do not necessarily take examinations in every semester. As a result, the number of cases regarding the progression of the GPA per semester varies (Table 2).

There is a correlation of 0.2 between duration until graduation and the final grade. This means the longer the students study, the worse they perform.

At first glance, this would contradict the assumption that students from non-academic milieu would perform worse at university (see "Competence-related and habitual differences: theoretical considerations" section). Having said that, it is possible that an institution which is experienced in teaching non-traditional students and is sensible for their needs—like the department being focused in this article—might be able to support all students equally.
References
Alheit, P. (2014). The unwanted students: Closure tendencies in the German university system. In F. Finnegan, B. Merrill, & C. Thunborg (Eds.), Student voices on inequalities in European higher education: Challenges for theory, policy and practice in a time of change (pp. 134–148). New York: Routledge.

Berg, H., Grendel, T., Haußmann, I., Lübbe, H., & Marx, A. (2014). Der Übergang beruflich Qualifizierter in die Hochschule: Ergebnisse eines Modellprojekts in Rheinland-Pfalz (Mainzer Beiträge zur Hochschulentwicklung, Vol. 20). Mainz: Zentrum für Qualitätssicherung und -entwicklung.

Betts, J. R., & Morell, D. (1999). The determinants of undergraduate grade point average: The relative importance of family background, high school resources, and peer group effects. The Journal of Human Resources, 34(2), 268–293.

Bourdieu, P. (1986). Distinction: A social critique of the judgement of taste. London: Routledge.

Bourdieu, P. (1990). The logic of practice. Cambridge: Polity.

Brändle, T. (2014). Studienmotive und Lebensziele: Ein Vergleich der Intentionen nicht-traditioneller und traditioneller Studierender. Beiträge zur Hochschulforschung, 36(4), 92–119.

Brändle, T. (2016a). How availability of capital affects the timing of enrollment: The routes to university of traditional and non-traditional students. Studies in Higher Education. doi:10.1080/03075079.2016.1141401.

Brändle, T. (2016b). Soziale Herkunft und soziale Lage von Studierenden mit und ohne Abitur. In T. Sander & A. Lange-Vester (Eds.), Soziale Ungleichheit, Milieus und Habitus. Weinheim: Beltz Juventa.

Brändle, T., & Häuberer, J. (2015). Social capital of non-traditional students at a German University: Do traditional and non-traditional students access different social resources? International Journal of Higher Education. doi:10.5430/ijhe.v4n1p92.

Brändle, T., & Lengfeld, H. (2015). Erzielen Studierende ohne Abitur geringeren Studienerfolg? Befunde einer quantitativen Fallstudie. Zeitschrift für Soziologie, 44(6), 447–467.

Bundesregierung, & Regierungschefs der Länder. (2008). Aufstieg durch Bildung: Die Qualifzierungsinitiative für Deutschland. Dresden.

Cantwell, R., Archer, J., & Bourke, S. (2001). A comparison of the academic experiences and achievement of university students entering by traditional and non-traditional means. Assessment & Evaluation in Higher Education. doi:10.1080/02602930120052387.

Dahm, G., & Kerst, C. (2013). Immer noch eine Ausnahme—nicht-traditionelle Studierende an deutschen Hochschulen. Zeitschrift für Beratung und Studium, 8(2), 34–39.

Diller, F., Festner, D., Freiling, T., & Huber, S. (2011). Qualifikationsreserven durch Quereinstieg nutzen: Studium ohne Abitur, Berufsabschluss ohne Ausbildung. Bielefeld: W. Bertelsmann.

Eppler, M. A., & Harju, B. L. (1997). Achievement motivation goals in relation to academic performance in traditional and nontraditional college students. Research in Higher Education, 38(5), 557–573.

European Council. (2000). Lisbon European Council 23 and 24 March 2000: Presidency conclusions. http://www.europarl.europa.eu/summits/lis1_en.htm. Accessed March 9, 2016.

Grove, W. A., & Wasserman, T. (2004). The life cycle pattern of collegiate GPA: Longitudinal cohort analysis and grade inflation. The Journal of Economic Education, 35(2), 162–174.

Hartung, D., & Krais, B. (1990). Studierende, die aus dem Beruf kommen: Auswirkungen von Praxiserfahrungen auf Studium und akademische Berufstätigkeit. In N. Kluge, W.-D. Scholz, & A. Wolter (Eds.), Vom Lehrling zum Akademiker. Neue Wege des Hochschulzugangs für berufserfahrene Erwachsene (pp. 117–160). Oldenburg: Bibliotheks- und Informations System.

Hinz, T., & Thielemann, T. (2013). Studieren mit Migrationshintergrund an einer deutschen Universität: Abiturnote, Bildung der Eltern und subjektiver Studienerfolg. Soziale Welt, 64(4), 381–399.

Hoeckel, K., & Schwartz, R. (2010). Learning for jobs OECD: Reviews of vocational education and training. Paris: OECD.

Hoskins, S. L., Newstead, S. E., & Dennis, I. (1997). Degree performance as a function of age, gender, prior qualifications and discipline studied. Assessment & Evaluation in Higher Education. doi:10.1080/0260293970220305.

Isserstedt, W. (1994). Studieren ohne schulische Hochschulzugangsberechtigung: Ergebnisse einer Befragung von Zulassungsbewerbern. HIS Kurzinformation A 10/1994. Hannover: HIS.

Kultusministerkonferenz. (2009). Hochschulzugang für beruflich qualifizierte Bewerber ohne schulische Hochschulzugangsberechtigung. Beschluss der Kultusministerkonferenz vom 06.03.2009. http://www.kmk.org/fileadmin/Dateien/veroeffentlichungen_beschluesse/2009/2009_03_06-Hochschulzugang-erful-qualifizierte-Bewerber.pdf. Accessed March 9, 2016.

Middendorff, E., Apolinarksi, B., Poskowsky, J., Kandulla, M., & Netz, N. (2013). Die wirtschaftliche und soziale Lage der Studierenden in Deutschland 2012: 20. Sozialerhebung des Deutschen Studentenwerks durchgeführt durch das HIS Hochschul-Informations-System. Berlin: Bundesministerium für Bildung und Forschung.

Müller-Benedict, V., & Tsarouha, E. (2011). Können Examensnoten verglichen werden? Eine Analyse von Einflüssen des sozialen Kontextes auf Hochschulprüfungen. Zeitschrift für Soziologie, 40(5), 388–409.

Orr, D., & Hovdhaugen, E. (2014). 'Second chance' routes into higher education: Sweden, Norway and Germany compared. International Journal of Lifelong Education. doi:10.1080/02601370.2013.873212.

Pätzold, G. (2011). Berufliche Bildung und Hochschulzugang—Potenziale stärken sowie Kooperationen und Anschlüsse ausbauen. In B. Gehlert & G. Pätzold (Eds.), bwp@ Spezial 5—Hochschultage berufliche Bildung 2011, Workshop 27 (pp. 1–19). http://www.bwpat.de/ht2011/ws27/paetzold_ws27-ht2011.pdf. Accessed March 9, 2016.

Rheinländer, K. (2014). Wie sehen Hochschullehrende die Studierenden? Praktiken sozialer Sensibilität. In T. Sander (Ed.), Habitussensibilität: Eine neue Anforderung an professionelles Handeln (pp. 247–278). Wiesbaden: Springer VS.

Richter, G. (1995). Abiturienten und Nichtabiturienten im Hochschulstudium. Osnabrück: Universität Osnabrück.

Scholz, W.-D. (2006). Vom Meister zum Magister, von der Erzieherin zur Diplomandin. Berufliche Weiterbildung als Schlüssel zum Hochschulstudium in Niedersachsen. Oldenburg: BIS.

Scholz, W.-D., & Wolter, A. (1986). Ergebnisse der Studierendenuntersuchung. In Bundesminister für Bildung und Wissenschaft (Ed.), Beruf und Studium. Studienerfahrungen und Studienerfolg von Berufstätigen ohne Reifezeugnis (pp. 19–125). Bonn: Bock.

Schuetze, H. G., & Slowey, M. (2002). Participation and exclusion: A comparative analysis of non-traditional students and lifelong learners in higher education. Higher Education. doi:10.1023/A:1019898114335.

Schwabe-Ruck, E. (2015). Bildungshistorische Entwicklung des Hochschulzugangs für Beruflich Qualizierte. In U. Elsholz (Ed.), Beruflich Qualifizierte im Studium Analysen und Konzepte zum Dritten Bildungsweg (pp. 57–70). Bielefeld: wbv.

Statistisches Bundesamt. (2014). Studierende an Hochschulen: Fachserie 11 Reihe 4.1—Wintersemester 2013/2014. Wiesbaden: Bildung und Kultur.

Statistisches Bundesamt. (2015). Allgemeinbildende Schulen: Fachserie 11 Reihe 1—Schuljahr 2014/15. Wiesbaden: Bildung und Kultur.

Universität Hamburg. (2006). Aufnahmeprüfungsordnung für Bewerberinnen nach § 38 Absatz 1 HmbHG zum Studium im interdisziplinären Bachelorstudiengang Sozialökonomie. http://www.uni-hamburg.de/campuscenter/studienorganisation/ordnungen-satzungen/pruefungs-studienordnungen/wirtschafts-und-sozialwissenschaften/PO_Fak_WiSo_BA_Sozialoekonomie-Aufnahme_19870602.pdf. Accessed March 9, 2016.

Universität Hamburg. (2009a). Modul-Handbuch BA Sozialökonomie. http://www.wiso.uni-hamburg.de/fileadmin/sozialoekonomie/fachbereich/studium/InfoStudierende2/Gesamtes_Modulhandbuch.pdf. Accessed March 9, 2016.

Universität Hamburg. (2009b). Neufassung der Ordnung für die Bachelorprüfung im Interdisziplinären Bachelorstudiengang Sozialökonomie und die Masterprüfung in den konsekutiven Masterstudiengängen Europastudien, International Business Administration, Entrepreneurship, Human Resource Management—Personalpolitik und Ökonomische und Soziologische Studien vom 15. July 2009.

Voyer, D., & Voyer, S. D. (2014). Gender differences in scholastic achievement: A meta-analysis. Psychological Bulletin. doi:10.1037/a0036620.

Wolter, A. (1997). Hochschulzugang aus dem Beruf—Forschungsstand und bildungspolitische Perspektiven. In K. Mucke & B. Schwiedrzik (Eds.), Studieren ohne Abitur Berufserfahrung—ein "Schrittmacher" für Hochschulen und Universitäten (pp. 107–131). Bielefeld: Bertelsmann.

Wolter, A. (2013). Gleichrangigkeit beruflicher Bildung beim Hochschulzugang? Neue Wege der Durchlässigkeit zwischen beruflicher Bildung und Hochschule. In E. Severing & U. Teichler (Eds.), Akademisierung der Berufswelt? Berichte zur beruflichen Bildung (pp. 191–212, Schriftenreihe des Bundesinstituts für Berufsbildung, Bonn, Vol. 13). Bielefeld: W. Bertelsmann.

Wolter, A., & Reibstein, E. (1991). Studierfähig durch Beruf und Weiterbildung? Eine empirische Fallstudie anhand der Bildungs—und Berufsbiographien von Erwachsenen. In A. Wolter (Ed.), Die Öffnung des Hochschulzugangs für Berufstätige. Eine bildungspolitische Herausforderung (pp. 35–97). Oldenburg: BIS.
Acknowledgments
We would like to thank the project's advisory board members Markus Arnold, Alexander Bassen, and Christine Zöllner, the Head of the Faculty of Business, Economics and Social Sciences at the University of Hamburg, Gabriele Löschper, the Managing Director of the "Universitätskolleg" Ulrike Helbig and her team, the staff of the university's data processing center, and the entire team of the PETS project for their excellent support of our research.
Funding
This article presents findings of the research project "Passages from Employment to Studies—PETS" which was located at the University of Hamburg, Germany. PETS was sponsored by the German Federal Ministry of Education and Research under Grant No. 01PL12033. The authors alone are responsible for the content of this publication.
About this article
Cite this article
Brändle, T., Lengfeld, H. Drifting apart or converging? Grades among non-traditional and traditional students over the course of their studies: a case study from Germany. High Educ 73, 227–244 (2017). https://doi.org/10.1007/s10734-016-0010-3
Published:

Issue Date:

DOI: https://doi.org/10.1007/s10734-016-0010-3
Keywords
Non-traditional students

Opening of higher education

Academic performance

Grade progression

Grade point average (GPA)

Germany