Abstract
Calls for improvement of undergraduate science education have resulted in numerous initiatives that seek to improve student learning outcomes by promoting changes in faculty teaching practices. Although many of these initiatives focus on individual faculty, researchers consider the academic department to be a highly productive focus for creating change. In this paper, we argue that it is important for change agents to understand the informal social structure of the academic department and introduce social network analysis techniques to uncover this social structure. Examples are given from data collected in five academic departments. A short sociometric web survey was used to ask instructors to identify colleagues with whom they discuss teaching and the frequency of their discussions. Techniques of social network analysis are used to determine the current state of the department, target participants for a change initiative, and anticipate the spread of new teaching ideas. Results suggest that these techniques identify informal structures that would otherwise be hidden and that may be important for planning change initiatives.
Access options
Buy single article
Instant access to the full article PDF.
US$ 39.95
Tax calculation will be finalised during checkout.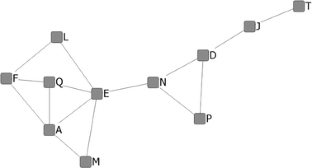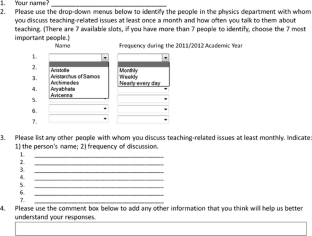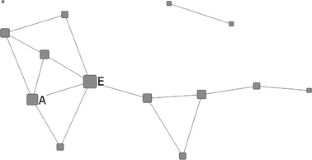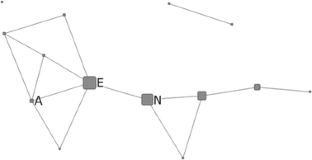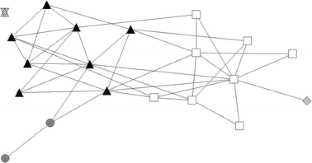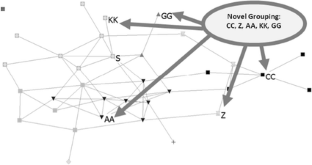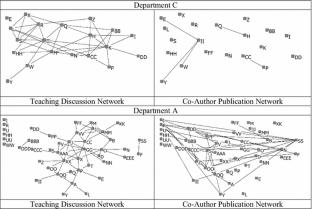 References
Anderson, B. S., Butts, C., & Carley, K. (1999). The interaction of size and density with graph-level indices. Social Networks, 22(3), 239–267.

Association of American Universities (AAU). (2011). Undergraduate STEM initiative. Association of American Universities. http://www.aau.edu/policy/article.aspx?id=12588. Accessed 27 June 2013.

Biancani, S., & McFarland, D. A. (2013). Social networks research in higher education. In M. B. Paulsen (Ed.), Higher education: Handbook of theory and research (pp. 151–215). Dordrecht: Springer.

Borgatti, S. P. (2002). Netdraw network visualization. Harvard, MA: Analytic Technologies.

Borgatti, S. P., Everett, M. G., & Freeman, L. C. (2002). Ucinet for windows: Software for social network analysis. Harvard, MA: Analytic Technologies.

Brewe, E., Kramer, L., & Sawtelle, V. (2012). Investigating student communities with network analysis of interaction in a physics learning center. Physical Review Special Topics-Physics Education Research, 8(1), 1–9.

Christakis, N. A., & Fowler, J. H. (2007). The spread of obesity in a large social network over 32 years. The New England Journal of Medicine, 357(4), 370–379.

Christakis, N. A., & Fowler, J. H. (2009). Connected: The surprising power of our social networks and how they shape our lives. New York: Little, Brown and Company.

Coburn, C. E., & Russell, J. L. (2008). District policy and teachers' social networks. Educational Evaluation and Policy Analysis, 30, 203–205.

Edwards, R. (1999). The academic department: How does it fit into the university reform agenda? Change: The Magazine of Higher Learning, 31(5), 16–27.

Effken, J. A., Carley, K. M., Gephart, S., Verran, J. A., Bianchi, D., Reminga, J., et al. (2011). Using ORA to explore the relationship of nursing unit communication to patient safety and quality outcomes. International Journal of Medical Informatics, 80(7), 507–517.

Gibbs, G., Knapper, C., & Piccinin, S. (2008). Disciplinary and contextually appropriate approaches to leadership of teaching in research-intensive academic departments in higher education. Higher Education Quarterly, 62(4), 416–436.

Henderson, C., Beach, A., & Finkelstein, N. (2011). Facilitating change in undergraduate STEM instructional practices: An analytic review of the literature. Journal of Research in Science Teaching, 48(8), 952–984.

Kezar, A. (2011). What is the best way to achieve broader reach of improved practices in higher education? Innovative Higher Education, 5(2), 235–247.

Lee, J. J. (2009). The shaping of the departmental culture: Measuring the relative influences of the institution and discipline. In M. Tight, K. H. Mok, J. Huisman, & C. Morphew (Eds.), The Routledge international handbook of higher education. New York, NY: Routledge.

Malm, A., Bichler, S., & Van De Walle, S. (2010). Comparing the ties that bind criminal networks: Is blood thicker than water? Security Journal, 23(1), 52–74.

Marsden, P. V. (2011). Survey methods for network data. In J. Scott & P. J. Carrington (Eds.), The SAGE handbook of social network analysis (pp. 370–388). Thousand Oaks, CA: SAGE Publications Inc.

Newman, M. E. (2003). The structure and function of complex networks. SIAM Review, 45(2), 167–256.

Newman, M., & Girvan, M. (2004). Finding and evaluating community structure in networks. Physical Review, 69(2), 026113.

Nonaka, I., & Takeuchi, H. (1995). The knowledge-creating company. New York: Oxford University Press.

Penuel, W., Riel, M., Krause, A., & Frank, K. (2009). Analyzing teachers' professional interactions in a school as social capital: A social network approach. Teachers College Record, 111(1), 124–163.

Plowman, D., Solansky, S., Beck, T., Baker, L., Kulkarni, M., & Travis, D. (2007). The role of leadership in emergent, self-organization. The Leadership Quarterly, 18(4), 341–356.

Prell, C. (2012). Social network analysis: History, theory, and methodology. Thousand Oaks, CA: Sage Publications.

Rawlings, C. M., & McFarland, D. A. (2011). Influence flows in the academy: Using affiliation networks to assess peer effects among researchers. Social Science Research, 40(3), 1001–1017. doi:10.1016/j.ssresearch.2010.10.002.

Rios-Aguilar, C & Deil-Amen, R. (2012). Beyond getting in and fitting in: An examination of social networks and professionally relevant social capital among Latina/o university students Journal of Hispanic Higher Education, 11(2), 179–196.

Rogers, E. M. (2003). Diffusion of innovations. New York: Free Press.

Senge, P. M. (1990). The fifth discipline: The art and practice of the learning organization. New York: Doubleday/Currency.

Senge, P. (2000). The academy as learning community: Contradiction in terms or realizable future. In A. F. Lucas (Ed.), Leading academic change: Essential roles for department chairs (pp. 275–300). San Francisco: Jossey-Bass.

Spalter-Roth, R., Mayorova, O., Scelza, J., & Van Vooren, N. (2010). Teaching alone? Sociology faculty and the availability of social networks. American Sociological Society.

Spillane, J. P., Healey, K., & Min Kim, C. (2010). Leading and managing instruction: Formal and informal aspects of the elementary school organization. In A. J. Daly (Ed.), Social network theory and educational change (pp. 129–158). Cambridge, MA: Harvard Education Press.

Stephenson, K. (2005). Trafficking in trust: The art and science of human knowledge networks. In L. Coughlin & E. Wingard (Eds.), Enlightened power: How women are transforming the practice of leadership (pp. 242–265). San Francisco: Jossey-Bass.

Thomas, S. L. (2000). Ties that blind: A social network approach to understanding student integration and persistence. The Journal of Higher Education, 71(5), 591–615.

Thomson Reuters. (2013). Web of Science: At a glance. http://thomsonreuters.com/web-of-science/. Accessed 23 May 2013.

Trotter, R., Baldwin, J., & Bowen, A. (1995). Network structure and proxy network measures of HIV, drug and incarceration risks for active drug users. Connections, 18(1), 88–103.

Uhl-Bien, M., Marion, R., & McKelvey, B. (2007). Complexity leadership theory: Shifting leadership from the industrial age to the knowledge era. The Leadership Quarterly, 18(4), 298–318.

Wasserman, S. & Faust, K. (1994). Social network analysis: Methods and applications 8 p. 857. Cambridge University Press.

Wieman, C. E., Perkins, K. K., & Gilbert, S. (2010). Transforming science education at large research universities: A case study in progress. Change, 42(2), 6–14.
Acknowledgments
This work was funded by the Howard Hughes Medical Institute through a subcontract from Iowa State University to Western Michigan University. The authors would like to thank Tessa Andrews, Aekam Barot, Andrea Beach, Eric Brewe, Erin Dolan, Xaver Neumeyer, Craig Ogilvie, Emily Walter, and Cody Williams for helpful comments and feedback on earlier versions of this manuscript.
About this article
Cite this article
Quardokus, K., Henderson, C. Promoting instructional change: using social network analysis to understand the informal structure of academic departments. High Educ 70, 315–335 (2015). https://doi.org/10.1007/s10734-014-9831-0
Keywords
Social network analysis

Educational change

Higher education

Faculty