Abstract
University expansion in higher education has been hierarchically differentiated. There is some concentration of certain social profiles in some degrees of study, so social composition between degrees can vary considerably. This article describes in terms of social composition 10 degrees of four public universities in the metropolitan area of Barcelona. We analyse 857 questionnaires filled in by mid-career students. From the perspective of agent's decision on the choice of studies, we explore what were the factors that made them choose a concrete degree. We examine several variables that can indicate whether their expectations have been met or not. The results show that the factors predicted by the theory by which working-class (WC) students choose degrees—instrumental motivations and conditions that minimize the risk—are often met. In this regard, the recent structural reform related with the implementation of the European Higher Education Area that removes short-cycles degrees (3 years) could lead to a problem of access for WC students.
Access options
Buy single article
Instant access to the full article PDF.
US$ 39.95
Tax calculation will be finalised during checkout.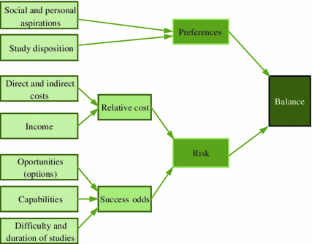 Notes
1.

In recent research on higher education, studies on the university experience of so-called non-traditional students (students who do not fit the profile of young white men of middle- or upper-class) stand out, although different universities valorise different versions of what a 'normal' student experience is (Brennan et al. 2009) and at times this transforms them into a new kind of institution (Reay et al. 2009a).

2.

We have chosen two degrees from each area of knowledge along the hard-soft and pure-applied lines (Becher 2001): Architecture, Telecommunications Engineering, Chemistry, Biology, Social Education, Business Studies, Pharmacy, Nursing, Translation and Interpretation, and Humanities.

3.

The WC is, therefore, slightly under-represented in the sample, since the situation of a parent who is a manual worker and a parent who works in another occupational category was not considered WC.

4.

The surveyed students were enrolled at university before the beginning of the crisis (the majority in the 2007–2008 academic year).

5.

An asterisk is added when the difference is statistically significant.

6.

Filtered result, only corresponding to those students whose parents pay for their university education.

7.

When students answered the questionnaire, before the complete implementation of the Bologna Process, master programmes had a professional orientation, different from the academic orientation of doctoral studies.
References
Archer, L., Leathwood, C., & Hutchings, M. (2002). Higher Education: A risky business. In A. Hayton & A. Pacazuska (Eds.), Access, participation and higher education: Policy and practice (pp. 106–121). London: Kogan Page.

Ariño, A., & Llopis, R. (2011). ¿Universidad sin clases? Condiciones de vida de los estudiantes universitarios en España (Eurostudent IV). Madrid: Ministerio de Educación.

Becher, T. (2001). Tribus y territorios académicos. Madrid: Gedisa.

Boliver, V. (2011). Expansion, differentiation, and the persistence of social class inequalities in British higher education. Higher Education, 61(3), 229–242.

Boudon, R. (1983). La desigualdad de oportunidades. Barcelona: Laia.

Breen, R., & Goldthorpe, J. (1997). Explaining educational differentials: Towards a formal rational action theory. Rationality and Society, 9(3), 275–305.

Brennan, J., Edmunds, R., Houston, M., Jary, D., Lebeau, Y., Osborne, M., et al. (2009). Improving what is learned at university: An exploration of the social and organisational diversity of university education. London: Routledge.

Crozier, G., Reay, D., Clayton, J., Colliander, L., & Grinstead, J. (2008). Different strokes for different folks: Diverse students in diverse institutions—Experiences of higher education. Research Papers in Education, 23(2), 167–177.

Eurostat. (2009). The Bologna process in higher education in Europe. Key indicators on the social dimension and mobility. http://www.eurostudent.eu/download_files/documents/KS-78-09-653-EN.pdf. Accessed 6 June 2012.

Gambetta, D. (1996). Were they pushed or did they jump? Individual decision mechanisms in education. Colorado: West View Press.

Goldthorpe, J. (1992). Revised class schema. London: Social and Community Planning Research.

Hatcher, R. (1998). Class differentiation in education: Rational choices? British Journal of Sociology of Education, 19(1), 5–24.

Iannelli, C., Gamoran, A., & Paterson, L. (2011). Scottish higher education, 1987–2001: Expansion through diversion. Oxford Review of Education, 37(6), 717–741.

Kloosterman, J.G. (2010). Social background and children's educational careers: The primary and secondary effects of social background over transitions and over time in the Netherlands. ICS dissertation series; vol 165. Nijmegen: Radboud Universiteit.

Langa Rosado, D. (2003). Los estudiantes y sus razones prácticas: Heterogeneidad de estrategias de estudiantes universitarios según clase social. Phd dissertation. Universidad Complutense de Madrid. Departamento de Sociología I.

Leathwood, C., & O'Connell, P. (2003). 'It's a struggle': The construction of the 'new student' in higher education. Journal education policy, 18(6), 597–615.

Power, S., Edwards, T., Whitty, G., & Wigfall, V. (2003). Education and the middle-class. Buckingham: Open University Press.

Read, B., Archer, L., & Leathwood, C. (2003). Challenging cultures? Student conceptions of 'belonging' and 'isolation' at a post-1992 university. Studies in Higher Education, 28(3), 261–276.

Reay, D., Ball, S. J., David, M., & Davies, J. (2001). Choices of degree or degrees of choice? Social class, race and the higher education choice process. Sociology, 35(4), 855–874.

Reay, D., Crozier, G., & Clayton, J. (2009a). 'Fitting in' or 'standing out': Working-class students in UK higher education. British Educational Research Journal, 32(1), 1–19.

Reay, D., Crozier, G., & Clayton, J. (2009b). 'Strangers in paradise'? Working-class students in elite universities. Sociology, 43(6), 1103–1121.

Reimer, D., & Jacob, M. (2010). Differentiation in higher education and its consequences for social inequality: Introduction to a special issue. Higher Education, 61(3), 223–227.

Reisel, L. (2011). Two paths to inequality in educational outcomes. Family background and educational selection in the United States and Norway. Sociology of Education, 84(4), 261–280.

Sanchez-Gelabert, A., & Navarro, J. (2012). ¿Cómo valoran los estudios los graduados universitarios? La influencia de la ocupación en la valoración de la formación universitaria y su utilidad, presented at VI Conference Young People and Societies, 7–9th June 2012. Barcelona, Spain.

Shavit, Y., Arum, R., Gamoran, A., & Menahem, G. (Eds.). (2007). Stratification in higher education: A comparative study. Palo Alto: Stanford University Press.

Siano-Kyrgiou, E., & Tsiplakides, I. (2011). Similar performance, but different choices: Social class and higher education choice in Greece. Studies in Higher Education, 36(1), 89–102.

Sullivan, A. (2001). Students as rational decision-makers: The question of beliefs and desires. Working Paper, 2001–02. Oxford Sociology.

Tieben, N., & Wolbers, M. H. J. (2012). Transitions to post-secondary and tertiary education in the Netherlands: A trend analysis of unconditional and conditional socio-economic background effects. Higher Education, 60(1), 85–100.

Triventi, M. (2011). Stratification in higher education and its relationship with social inequality: A comparative study of 11 European countries. European Sociological Review, 20, 1–14.

Troiano, H. (2005). Quand les valeurs et attentes concernant l'avenir professionnel varient avec les profils motivationnels: La projection professionnelle des étudiants universitaires. In Ch. Hadji, T. Bargel, & J. M. Masjuan (Eds.), Étudier dans une université qui change (pp. 219–247). Grenoble: Presses Universitaires de Grenoble.

Voigt, K. (2007). Individual choice and unequal participation in higher education. Theory and Research in Education, 5(1), 87–112.
Acknowledgments
This piece of research is part of the "National Plan for scientific research, technological development and research" (CSO2008-02812) funded by the Spanish Ministry of Science and Innovation, which is entitled "Students in front of new university reform'. The authors are part of the GRET, the Education and Employment Research Group at the Universitat Autònoma de Barcelona. The written version of this article has been re-drafted and discussed with the rest of the GRET members taking part in this research: Lidia Daza, Albert Sanchez-Gelabert and Josep Maria Masjuan.
About this article
Cite this article
Troiano, H., Elias, M. University access and after: explaining the social composition of degree programmes and the contrasting expectations of students. High Educ 67, 637–654 (2014). https://doi.org/10.1007/s10734-013-9670-4
Keywords
Higher education

Access to university

Working-class

University differentiation