Abstract
This paper considers how online, distance students enact the space of 'the university', in the context of the rise of distance education within a traditional, 'elite' institution. Aiming to provide insight into how students translate into distance the space of a university which has traditionally had its basis in conventional on-campus education, it locates itself within the 'new mobilities' paradigm (Urry in Mobilities. Polity Press, Cambridge, 2007), drawing on four different kinds of social space delineated by Mol and Law (Soc Stud Sci 24(4):641–741, 1994) and Law and Mol (Environ Plan D 19:609–621, 2001) in order to analyse narrative and visual data generated with distance students at the University of Edinburgh. The paper shows that the material campus continues to be symbolically and materially significant for a group of students who may never physically attend that campus. Distance students, we find, need their own version of the 'spatial certainties' of bounded, campus space. Yet, in exploring the 'new proximities' of online distance education, we also argue that to define institutional and academic authenticity solely in terms of this bounded, 'regional' space is inadequate in the face of the other topologies which also come into play throughout distance students' accounts of what it means to be 'at' university.
Access options
Buy single article
Instant access to the full article PDF.
US$ 39.95
Tax calculation will be finalised during checkout.
Subscribe to journal
Immediate online access to all issues from 2019. Subscription will auto renew annually.
US$ 79
Tax calculation will be finalised during checkout.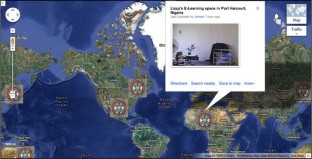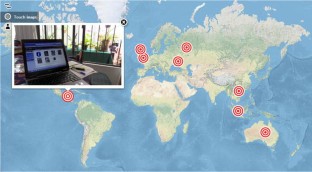 Notes
1.

2.

3.

4.

In presenting the data names have been changed and deletions of certain material (date and time-markers, and interjections from the interviewer, for the most part) are indicated through ellipses. Occasionally clarification is inserted by the authors in square brackets. Data is otherwise left unedited from the original Skype text chat transcripts.

5.

All students have the opportunity to attend a semi-formal graduation ceremony in the virtual world Second Life. This event is well-attended by students and staff.
References
Allen, E., & Seaman, J. (2011). Going the distance: Online education in the United States 2011. Babson Survey Research Group Report. http://www.onlinelearningsurvey.com/reports/goingthedistance.pdf. Accessed 16 July 2012.

Bayne, S. (2004). Smoothness and striation in digital learning spaces. E-learning, 1(2), 302–316.

Brah, A. (1996). Cartographies of diaspora: Contesting identities. London: Routledge.

Brindley, L. (2011). Collaborate to compete: Seizing the opportunity of online learning for UK higher education. Bristol: Online Learning Task Force/HEFCE. http://www.hefce.ac.uk/pubs/hefce/2011/11_01/. Accessed 16 July 2012.

Brown, J. S., & Adler, R. P. (2008). Minds on fire: Open education, the long tail, and learning 2.0. EDUCAUSE Review, 43(1), 16–32. http://www.educause.edu/ero/article/minds-fire-open-education-long-tail-and-learning-20. Accessed 16 July 2012.

Caswell, T., Henson, S., Jensen, M., & Wiley, D. (2008). Open educational resources : Enabling universal education. International Review of Research in Open and Distance Learning, 9(1), 1–11.

Clark, N. (2012). Understanding transnational education, its growth and implications. News article. World Education News and Reviews. August 2012, 25(7). http://www.wes.org/ewenr/12aug/practical.htm. Accessed 11 July 2013.

Counihan, B. (2013). The Aussie Coursera? A new homegrown MOOC platform arrives. News article. The Conversation. https://theconversation.com/the-aussie-coursera-a-new-homegrown-mooc-platform-arrives-12949. Accessed 11 July 2013.

Edwards, R., Tracy, F., & Jordan, K. (2011). Mobilities, moorings and boundary marking in developing semantic technologies in educational practices. Research in Learning Technology, 19(3), 219–232.

Edwards, R., & Usher, R. (2007). Globalisation and pedagogy: Space, place and identity (2nd ed.). Abingdon: Routledge.

Enriquez, J. (2011). Tug-o-where: Situating mobilities of learning (t)here. Learning, Media and Technology, 36(1), 39–53.

Enriquez, J. (2012). Being (t)here: Mobilising 'mediaspaces' of learning. Learning, Media and Technology (iFirst article). doi:10.1080/17439884.2012.685744#.Ud6JfPnCaSo.

Fenwick, T., Edwards, R., & Sawchuk, P. (2011). Emerging approaches to educational research: Tracing the sociomaterial. London: Routledge.

Hannam, K., Sheller, M., & Urry, J. (2006). Editorial: Mobilities, immobilities and moorings. Mobilities, 1(1), 1–22.

Hanover Research. (2011). Trends in global distance learning. Research report. Hanover Research. http://www.hanoverresearch.com/wp-content/uploads/2011/12/Trends-in-Global-Distance-Learning-Membership.pdf. Accessed 11 July 2013.

Hine, C. (2004). Research relationships and online relationships: Introduction. In Christine Hine (Ed.), Virtual methods: Issues in social research on the internet (pp. 17–20). Oxford and New York: Berg.

Holdsworth, C. (2009). 'Going away to uni': Mobility, modernity, and independence of English higher education students. Environment and Planning A, 41, 1849–1864.

Hooley, T., Marriott, J., & Wellens, J. (2012). What is online research?: Using the internet for social science research. London: Bloomsbury Academic.

ICDE. (2009). ICDE environmental scan: Global trends in higher education, adult education and distance learning. Research report. International Council for Distance Education. http://www.icde.org/filestore/Resources/Reports/FINALICDEENVIRNOMENTALSCAN05.02.pdf. Accessed 11 July 2013.

James, N., & Busher, H. (2012). Internet interviewing. In J. F. Gubrium, J. A. Holstein, A. B. Marvasti, & K. D. McKinney (Eds.), The SAGE handbook of interview research: The complexity of the craft (pp. 177–188). London: SAGE.

Law, J. (2002). Objects and spaces. Theory, Culture & Society, 19(5–6), 91–105.

Law, J., & Mol, A. (2001). Situating technoscience: An inquiry into spatialities. Environment and Planning D, 19, 609–621.

Law, J., & Singleton, V. (2005). Object lessons. Organization, 12(3), 331–355.

Leander, K. M., Phillips, N. C., & Taylor, K. H. (2010). The changing social spaces of learning: Mapping new mobilities. Review of Research in Education, 34, 329–394.

Marsden, R. (1996). Time, space and distance education. Distance Education, 17(2), 222–246.

Mol, A., & Law, J. (1994). Regions, networks and fluids: Anaemia and social topology. Social Studies of Science, 24(4), 641–671.

OpenUpEd. (2013). About OpenUpEd. Web page. http://www.openuped.eu/openuped-temp/59-about-openuped. Accessed 11 July 2013.

Sheller, M., & Urry, J. (2006). The new mobilities paradigm. Environment and Planning A, 38, 207–226.

Sterne, J. (2006). Critical cyberculture studies. New York: New York University Press.

Taylor, C. (2009). Towards a geography of education. Oxford Review of Education, 5(5), 651–669.

Urry, J. (2007). Mobilities. Cambridge: Polity Press.

White, D., Warren, N., Faughnan, S., & Manton, M. (2010). Study of UK online learning: Report to HEFCE by the Department for Continuing Education, University of Oxford. Research Report. University of Oxford. http://www.jisc.ac.uk/media/documents/projects/UKOnlineLearningStudy-FinalReport-Mar10-FINAL-FORPUB.pdf. Accessed 11 July 2013.
Acknowledgments
This research was funded by a grant from the Principal's Teaching Award Scheme administered by The University of Edinburgh. We would like to acknowledge the input of the entire research team, which included Jen Ross, Hamish Macleod and Clara O'Shea in addition to the paper authors. We would also like to thank our students and research participants for their generosity in giving their time, words, images and soundscapes to this project.
About this article
Cite this article
Bayne, S., Gallagher, M.S. & Lamb, J. Being 'at' university: the social topologies of distance students. High Educ 67, 569–583 (2014). https://doi.org/10.1007/s10734-013-9662-4
Keywords
Distance education

Mobilities

Space

Online education

University