Abstract
The empirical analysis examines differences in salaries and working time of doctorate holders in comparison to graduates with a master or equivalent degree (in Germany, the first university degree is called a "diploma" or "state examination" depending on the field of study. The diploma degree and the state examination are equivalent to a Master's degree as they typically require a 5 year full time study program. Only recently, after the implementation of the so-called Bologna reform in 1998, have German universities started to introduce Bachelor and Master's degrees), distinguishing between different fields of study. Human capital theory is used as the theoretical basis for our empirical analysis of a sample from the microcensus (2006) of the German Federal Statistical Office. The results indicate that doctorate holders tend to work longer hours than graduates with a master degree, especially doctorate holders in Economics and Law and the Social Sciences. Moreover, a doctoral degree has a positive effect on the income-situation in nearly all tested fields of study. Graduates from the field of Economics and Law in particular earn comparatively high incomes.
Access options
Buy single article
Instant access to the full article PDF.
USD 39.95
Price includes VAT (USA)
Tax calculation will be finalised during checkout.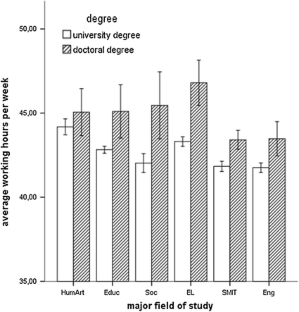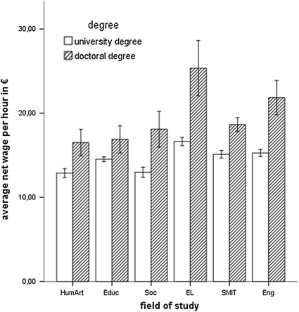 Notes
1.

People are defined as full-time workers if the total number of working hours per week is 35 or more.

2.

Engineering is a relatively large field of study in Germany. Although, like Natural Science, Math and IT, it is associated with technical capital, it would be interesting to test if rates of return are similar for both fields.

3.

All listed values in the following section refer to the average number of working hours per week (arithmetical mean).
References
Auriol, L. (2007). Labour market characteristics and international mobility of doctorate holders: Results for seven countries. The OECD/UNESCO Institute for Statistics/EUROSTAT Careers of Doctorate Holders Project. OECD Science, Technology and Industry Working Papers, 2, 1–36.

Becker, G. S. (1964). Human capital. A theoretical and empirical analysis with special reference to education. New York, London: Columbia University Press.

Bourdieu, P. (1984). Distinction. A social critique of the judgement of taste. London: Routledge & Kegan Paul.

Brenke, K. (2004). Dauer der arbeitszeiten in Deutschland. Wochenbericht des DIW, 47, 731–737.

Dolton, P. J., & Makepeace, G. H. (1990). Graduate earnings after six years: Who are the winners? Studies in Higher Education, 15(1), 31–55.

Engelage, S., & Hadjar, A. (2008). Promotion und Karriere—Lohnt es sich zu promovieren? Eine analyse der Schweizerischen absolventenstudie. Schweizerische Zeitschrift für Soziologie, 34(1), 71–93.

Halvorsen, R., & Palmquist, R. (1980). The interpretation of dummy variables in semilogarithmic equations. American Economic Review, 70(3), 474–475.

Harmon, C., Oosterbeek, H., & Walker, I. (2003). The returns to education: Microeconomics. Journal of Economic Surveys, 17(2), 115–155.

Jackson, M., Luijkx, R., Pollak, R., Vallet, L. A., & Van de Werfhorst, H. G. (2008). Educational fields of study and the intergenerational mobility process in comparative perspective. International Journal of Comparative Sociology, 49, 369–388.

Janson, K., Schomburg, H., & Teichler, U. (2006). Wissenschaftliche Wege zur Professur oder ins Abseits? Kassel: Incher.

Judge, T. A., Higgins, C., Thoresen, C. J., & Barrick, M. R. (1999). The big five personality traits, general mental ability, and career success across the life span. Personnel Psychology, 52, 621–652.

Kelly, E., O'Connell, P. J., & Smyth, E. (2010). The economic returns to field of study and competencies among higher education graduates in Ireland. Economics of Education Review, 29, 650–657.

Krantz, G., & Lundberg, U. (2006). Workload, work stress, and sickness absence in Swedish male and female white-collar employees. Scandinavian Journal of Public Health, 34, 238–246.

Machin, S., & Puhani, P. A. (2003). Subject of degree and the gender wage differential: Evidence from the UK and Germany. Economic Letters, 79(3), 393–400.

Mincer, J. (1974). Schooling, experience, and earnings. New York: National Bureau of Economic Research.

OECD. (2007). Education at a glance: OECD indicators. Paris: OECD.

Pencavel, J. (1991). Higher education, productivity, and earnings: A review. Journal of Economic Education, 22(4), 331–359.

Psacharopoulos, G. (1993). Returns to investments in education: A global update. World Development, 22(9), 1325–1343.

Reimer, D., Noelke, C., & Kucel, A. (2008). Labor market effects of field of study in comparative perspective: An analysis of 22 European countries. International Journal of Comparative Sociology, 49, 233–256.

Statistisches Bundesamt. (2011). Statistisches Jahrbuch 2011. Wiesbaden: Statistisches Bundesamt.

Torche, F. (2011). Is a college degree still the great equalizer? Intergenerational mobility across schooling in the United States. American Journal of Sociology, 117(3), 763–807.

UNESCO. (2006). International Standard Classification of Education—ISCED-97. Montreal: UNESCO Institute for Statistics.

Van de Werfhorst, H. G. (2002). Fields of study, acquired skills and the wage benefit from a matching job. Acta Sociologica, 45, 287–303.

Van de Werfhorst, H. G., & Kraaykamp, G. (2001). Four field-related educational resources and their impact on labor, consumption, and socio-political orientation. Sociology of Education, 74, 296–317.

Wilson, K. L. (1978). Toward an improved explanation of income attainment: Recalibrating education and occupation. American Journal of Sociology, 84, 684–697.
About this article
Cite this article
Mertens, A., Röbken, H. Does a doctoral degree pay off? An empirical analysis of rates of return of German doctorate holders. High Educ 66, 217–231 (2013). https://doi.org/10.1007/s10734-012-9600-x
Keywords
Human capital

Rates of return

Salary wage differentials

Doctorate holders