Abstract
The contribution of universities to society is due to the effects generated both in the supply and in the demand side, the latter being associated with the injection of demand as a result of the activities these institutions carry out. This paper focuses on the impact of the demand side by designing a methodology based on Monte Carlo simulations so as to introduce stochastic elements in calculating the economic impact of universities. We apply this methodology to the case of Valencian public universities, introducing stochastic elements in all the elements which imply assumptions with uncertainty. The results highlight the importance of considering uncertainty by generating multipliers which can vary around the average value by 18 % in the case of output and employment, and 10 % in the case of income.
This is a preview of subscription content,
to check access.
Access this article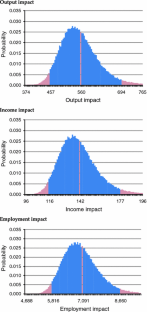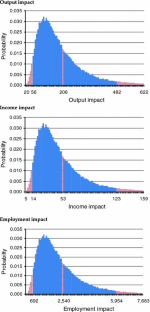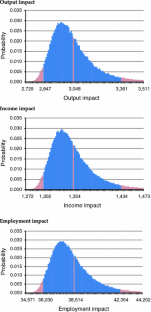 Notes
The VPUs is the collective of public universities in the Valencian Community (one of the 17 Spanish regions) which had more than 127,000 students last year. It consists of five universities of varying sizes: Universitat de València with over 46,000 students (35.5 %) of the total, Universidad Politécnica de Valencia with more than 35,000 students (27.1 %), Universitat d'Alacant with 26,000 students (20 %), Universitat Jaume I, with 12,000 students (1.9 %) and Universidad Miguel Hernández with 10,000 students (7.8). Private universities in the Valencian Community represent only the remaining 8.4 % of students.

An estimated economic impact of all Spanish universities can be found in CYD Foundation (2008).

As seen further on, given that we are using type II multipliers, the Valencian Community I/O Table has been extended to include households as an additional sector. So it is not necessary to make any explicit assumption on the structure expenditure of VPUs staff given the fact that all this expenditure is assigned to the household sector of the extended I/O table.

Further details on the survey used and the main results can be obtained in Pastor and Pérez (2009).

We use the lognormal distribution for two reasons. Firstly, because in the same way as the normal distribution, only the first two moments of the distribution are needed to characterize it. Secondly, this distribution is the one that best fits the histogram of the data obtained from student responses to the survey: asymmetric distribution (heavily concentrated in low values) and only with positive values.

The means and standard deviations of each component of expenditure are calculated by eliminating the outliers from the sample obtained in the survey, as the survey showed some extreme values difficult to assume. As outlier we consider those observations that take a value below (above) 1.5 times the inter-quartile range in relation to the percentile 0.25(0.75).

Valencian Community is divided into three administrative regions called provinces: Alicante, Valencia and Castellón.

EGATUR is a monthly survey of expenditure of non-resident tourists carried out by the Instituto de Estudios Turísticos (Spanish official institution who carries out Statistics of tourism). The annual survey of EGATUR for 2007 can be found at http://www.iet.tourspain.es/es-ES/estadisticas/egatur/Anuales/Encuesta%20de%20Gasto%20Tur%C3%ADstico%20(Egatur)%202007.pdf.. EGATUR is the only statistical source that allows us to estimate the pattern of expenditure of tourists in Spain. Consequently, despite differences in the pattern of expenditure between tourists and visitors to students may exist, we are forced to assume that they are similar.

There is an asymmetry in the treatment of the expenditure of students and their visitors (in which we assume that there is uncertainty) and of attendants to conferences (which we do not consider uncertainty). The different treatment is due to the fact that we do not have any indicator of the dispersion of any of the variables used in the calculation of the expenditure of attendees to estimate the probability distribution.

Despite being widely used, I/O analysis tables have also shortcomings to test the impact of universities on the local economy. One of the typical questions that arise are that I/O tables assume that the technical coefficients are constant where implicitly it is assumed that they contribute to the change of the productive structure of the regions where they are located. Furthermore, the demand of intermediate inputs by universities of a given sector is not necessarily similar to the expenditure made in average by the other sectors. However, these shortcomings apply not only to the analysis made in this paper, but in every I/O application of economic impact of universities. However, the universities are small with respect to the total size of Valencian Community economy. They represent only 0.56 % of total GDP and 0.72 % of employment.

Unfortunately, the reference year for I/O tables (2000) is far from the year in which the data for universities are available (2008). Hence, results should be interpreted with caution due to the fact that the productive structure may have changed between these years.
References
Brown, K. H., & Heaney, M. T. (1997). A note on measuring the economic impact of higher education. Research in Higher Education, 38, 229–240.

Caffrey, J., & Isaacs, H. (1971). Estimating the impact of a college or university on the local economy. Washington: American Council on Education.

Drucker, J., & Goldstein, H. (2007). Assessing the regional economic development impacts of universities: A review of current approaches. International Regional Science Review, 30(1), 20–46.

Fundación Conocimiento y Desarrollo. (2008). Informe CYD 2008. Barcelona: Fundación Conocimiento y Desarrollo.

Garrido-Yserte, R., & Gallo-Rivera, M. T. (2010). The impact of the university upon local economy: Three methods to estimate demand-side effects. The Annals of Regional Science, 44(1), 39–67.

Goldstein, H. A. (1989). Estimating the regional economic impact of universities: An application of input–output analysis. Planning for Higher Education, 18, 51–64.

Goldstein, H. A., Maier, G., & Lueger, M. I. (1995). The university as an instrument for economic and business development: US and European comparisons. In D. D. Dill & B. Sporn (Eds.), Emerging patterns of social demand and university reform: Through a glass darkly (pp. 105–133). Elmsford: Pergamon.

Griliches, Z. (1979). Issues in assessing the contribution of research and development to productivity growth. Bell Journal of Economics, 10, 92–116.

Jaffee, A. B. (1989). Real effects of university research. American Economic Review, 79, 957–970.

Leslie, L. L., & Slaughter, S. A. (1992). Higher education and regional development. In W. E. Becker & D. R. Lewis (Eds.), The economics of American higher education. Boston: Kluwer Academic Publishers.

Luque, T., del Barrio, S., & Aguayo, J. M. (2009). Estudio del impacto económico de la Universidad de Granada en su entorno. Consejo Social: Universidad de Granada.

Martin, F. (1998). The economic impact of Canadian university R&D. Research Policy, 27, 677–687.

Morral, N. (2004); L'Impacte Econòmic de la Universitat de VIC sobre el Territori. Documents de Recerca del Programa de Doctorat d'Economia Aplicada 03/2004, UAB

Pastor, J. M., & Peraita, C. (2010a). La contribución socioeconómica de la Universidad de Cantabria. Santander: University of Cantabria.

Pastor, J. M., & Peraita, C. (2010b). La contribución socioeconómica de la Universidad de Castilla-La Mancha. Cuenca: University of Castilla-La Mancha.

Pastor, J. M., & Peraita, C. (2010c). La contribución socioeconómica de la Universidad Pública de Navarra. Pamplona: Public University of Navarra.

Pastor, J. M., & Peraita, C. (2010d). La contribución socioeconómica de la Universitat de les Illes Balears. Palma: University of Illes Balears.

Pastor, J. M., & Peraita, C. (2011a). La contribución socioeconómica de la Universidad de Extremadura. Badajoz: University of Extremadura.

Pastor, J. M., & Peraita, C. (2011b). La contribución socioeconómica de la Universidad de Zaragoza. Zaragoza: University of Zaragoza.

Pastor, J. M., & Pérez, F. (2008). La contribución socioeconómica de la Universidad del País Vasco/Euskal Herriko Unibertsitatea. Bilbao: Editorial of the País Vasco University.

Pastor, J. M., & Pérez, F. (2009). La contribución socioeconómica de las Universidades públicas valencianas. Valencia: Universitat de Valéncia, Servicio de Publicaciones.

Riddel, M., & Schwer, R. K. (2003). Regional innovative capacity with endogenous employment: Empirical evidence from the U.S. Review of Regional Studies, 33, 73–84.

Sala, R., Enciso, J., Farré, M., & Torres, T. (2003). L' impacte economic de la Universitat de Lleida. Coneixement i Societat, 02, 30–49.

San Martín, C., & Sanjurjo, E. (2005). Impacto económico de una universidad en la economía local: aplicación al caso de la Universidad de Navarra. Pamplona: Actas del Sexto Congreso de Economía de Navarra.

Segarra i Blasco, A. (2003). La universitat com a instrument de dinamizació socioeconòmica del territori. Coneixement i Societat, 03, 78–101.

Siegfried, J. J., Sanderson, A. R., & McHenry, P. (2007). The economic impact of colleges and universities. Economics of Education Review, 26, 546–558.

Varga, A. (1998). University research and regional innovation: a spatial econometric analysis of academic technology transfers. Boston: Kluwer.

Varga, A. (2000). Local academic knowledge transfers and the concentration of economic activity. Journal of Regional Science, 40, 289–309.
Acknowledgments
José M. Pastor and Francisco Pérez (project ECO2011-23248) and Juan Fernández de Guevara (project ECO2010-17333) wish to thank the Ministerio de Ciencia e Innovación for its financial support. Authors also thank two anonymous reviewers and the Editor of Higher Education for their insightful comments.
About this article
Cite this article
Pastor, J.M., Pérez, F. & Fernández de Guevara, J. Measuring the local economic impact of universities: an approach that considers uncertainty. High Educ 65, 539–564 (2013). https://doi.org/10.1007/s10734-012-9562-z
Published:

Issue Date:

DOI: https://doi.org/10.1007/s10734-012-9562-z
Keywords