Abstract
This paper analyzes the impact of academic inbreeding in relation to academic research, and proposes a new conceptual framework for its analysis. We find that mobility (or lack of) at the early research career stage is decisive in influencing academic behaviors and scientific productivity. Less mobile academics have more inward oriented information exchange dynamics and lower scientific productivity. The analysis also indicates that the information exchange and scientific productivity of academics that changed institutions only once do not differ substantially from that of "mobile inbred academics". This emphasizes the need for mobility throughout scientific and academic careers and calls for policies to curtail academic inbreeding.
Access options
Buy single article
Instant access to the full article PDF.
USD 39.95
Price includes VAT (USA)
Tax calculation will be finalised during checkout.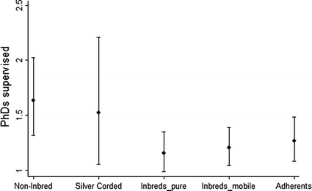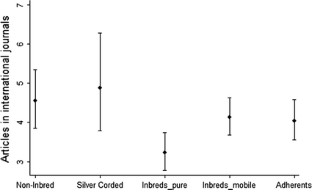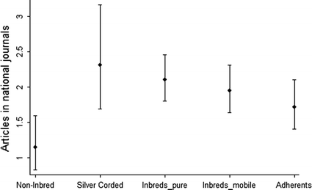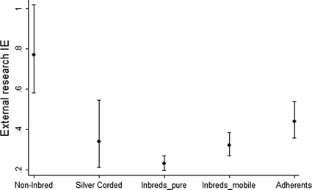 Notes
1.

It is important to note that in the US higher education system, the mobility of silver-corded academics is a process that can be associated with some kind of "sponsored" mobility with mutual expectations of return. This sort of mobility is not usual or expected in the Portuguese higher education system.

2.

For example, the three year publication period is asked by the National Science Foundation, Survey of Recent Doctorates, and in the National Study of Postsecondary Faculty (NSOPF) by the National Center for Education Statistics survey.

3.

Such categorization strategy has been recently followed by the European Commission to facilitate the identification of researcher's careers stages to foster recruitment and mobility among higher education, public and industry sectors in the European Research Area (see EC 2011).

4.

A space for an open question was inserted for the respondents to add comments, in case they thought that their career path did not correspond one way or the other to the existing four options. This option was rarely used, and when it was used, it meant confirming choices already made concerning one of the four proposed career options.

5.

The 3 month period of geographical mobility is adopted by international organizations such as the OECD, UNESCO and EUROSTAT as the minimum mobility period outside the institution (Auriol et al. 2010).

6.

Tables report regression coefficients. Thus, any magnitudes reported are calculated after estimating marginal effects.

7.

Analysis is not included in the article, but can be requested from the authors.
References
Ackers, L. (2005). Moving people and knowledge: Scientific mobility in the European Union. International Migration, 43(5), 99–131.

Altbach, P. G. (2000). The changing academic workplace: Comparative perspectives. Boston: Center for International Higher Education.

Altbach, P. G. (2003). The decline of the Guru: The academic profession in developing and middle-income COUNTRIES. New York: Palgrave.

Auriol, L., Felix, B., & Schaaper, M. (2010). Mapping careers and mobility of doctorate holders: Draft Guidelines, Model Questionnaire and Indicators—the OECD/UNESCO Institute for Statistics/EUROSTAT Careers of Doctorate Holders Project. Paris: OECD.

Bean, L., Cummings, M. & Mangold, W. (1996). An examination of academic inbreeding on MIS: Can Institutions Afford to turn away their own graduates?. proceedings of the 1996 IRA International Conference, Information Resources Management Association, Washington, DC.

Berelson, B. (1960). Graduate education in the United States. New York: McGraw-Hill.

Bexley, E., James, R., & Arkoudis, S. (2011). The Australian academic profession in transition—addressing the challenge of reconceptualising academic work and regenerating the academic workforce, Report prepared for the Department of Education, Employment, and Workplace Relations. September: University of Melbourne.

Birnbaum, R. (2005). Professor and Sensei: The construction of faculty roles in the United States and Japan. Higher Education Forum, 2, 71–92.

Bleiklie, I., & Hostaker, R. (2004). Modernizing research training-education and science policy between profession, discipline and academic Institution. Higher Education Policy, 17, 221–236.

Boardman, P. C., & Ponomariov, B. L. (2009). University researchers working with private companies. Technovation, 29(2), 142–153.

Bozeman, B., & Corley, E. (2004). Scientists' collaboration strategies: Implications for scientific and technical human capital. Research Policy, 33, 599–616.

Branco, L., Ponomariov, B. L., & Boardman, P. C. (2010). Influencing scientists' collaboration and productivity patterns through new institutions: University research centers and scientific and technical capital. Research Policy, 39(5), 613–624.

Breschi, S., & Catalini, C. (2010). Tracing the links between science and technology: An exploratory analysis of scientists' and inventors' networks. Research Policy, 39(1), 14–26.

Camerer, C., & Vepsalainen, A. (1988). The economic efficiency of corporate culture. Strategic Management Journal, 9, 115–126.

Caplow, T., & McGee, R. (1958). The academic marketplace. New York: Doubleday.

Chan, D. (2009). So why ask me? Are self-report data really that bad? In C. E. Lance & R. J. Vandenberg (Eds.), Statistical and methodological myths and urban legends: Doctrine, verity and fable in the organizational and social sciences. New York: Routledge.

Clark, M. J., & Centra, J. A. (1985). Influences on the career accomplishments of Ph.Ds. Research in Higher Education, 23, 256–269.

Conceição, P., & Heitor, M. V. (2005). Innovation for all? Learning from the Portuguese Path to technical change and the dynamics of innovation. Westport: Praeger.

Cook, C., Heath, F., & Thomson, R. L. (2000). A meta-analysis of response rates in web- or internet-based surveys. Educational and Psychological Measurement, 60, 821–836.

Cruz-Castro, L., & Sanz-Menéndez, L. (2010). Mobility versus job stability: Assessing tenure and productivity outcomes. Research Policy, 39(1), 27–38.

Cyranoski, D. (2002). Japanese universities: Independence days. Nature, 419, 875–876.

Deem, R., Mok, K. H., & Lucas, L. (2008). Transforming higher education to whose image? Exploring the concept of 'world class' university in Europe and Asia. Higher Education Policy, 21, 83–97.

Defazio, D., Lockett, A., & Wright, M. (2009). Funding incentives, collaborative dynamics and scientific productivity: Evidence from the EU framework program. Research Policy, 38(2), 293–305.

Delamont, S., & Atkinson, P. (2001). Doctoring uncertainty: Mastering craft knowledge. Social Studies of Science, 31(1), 87–107.

Dietz, J. S., & Bozeman, B. (2005). Academic careers, patents, and productivity: Industry experience as scientific and technical human capital. Research Policy, 34, 349–367.

Dillon, N. (2003). The postdoctoral system under the spotlight: A European Union Directive regulating fixed-term contracts has focused attention on scientific career structures and could have long-term effects on European science. EMBO Reports, 4(1), 2–4.

Dutton, J. E. (1980). The impact of inbreeding and immobility on the professional role and scholarly performance of academic scientists. Paper presented at the annual meeting of the American Educational Research Association, Boston, pp 7–11, April 1980.

Eells, W. C., & Cleveland, A. C. (1935). Faculty inbreeding. The Journal of Higher Education, 6(5), 261–269.

European Commission. (1995). White Paper on Education and Learning – Towards the Learning Society. November, COM, 1995, p. 590.

European Commission. (2011). Towards a European framework for research careers. 21st July 2011.

Evans, J. A. (2010). Industry collaboration, scientific sharing, and the dissemination of knowledge. Social Studies of Science, 40(5), 757–791.

Feller, I., Ailes, C. P., & Roessner, J. D. (2002). Impacts of research universities on technological innovation in industry: Evidence from engineering research centers. Research Policy, 31, 457–474.

Fox, M. F. (2005). Gender, family characteristics, and publication productivity among scientists. Social Studies of Science, 35(1), 131–150.

Frank, D. J., & Gabler, J. (2006). Reconstructing the University: Worldwide Shifts in the 20th Century. Stanford: Stanford University Press.

Hagstrom, W. O. (1971). Inputs, outputs and the prestige of University Science Departments. Sociology of Education, 44(4), 375–397.

Hargens, L. L., & Farr, G. M. (1973). An examination of recent hypotheses about Institutional Inbreeding. The American Journal of Sociology, 78(6), 1381–1402.

Heinze, T., Shapira, P., Rogers, J. D., & Senker, J. M. (2009). Organizational and institutional influences on creativity in scientific research. Research Policy, 38(4), 610–623.

Hessels, L. K., & Lente, H. (2008). Re-thinking new knowledge production: A literature review and a research agenda. Research Policy, 37(4), 740–760.

Hoffman, D. (2009). Changing academic mobility patterns and international migration: What will academic mobility mean in the 21st century? Journal of Studies in International Education, 13(3), 347–364.

Hollingshead, A. B. (1938). Ingroup membership and the academic selection. American Sociological Review, 3, 826–833.

Horta, H. (2008). On improving the university research base: The Technical University of Lisbon case in perspective. Higher Education Policy, 21, 123–146.

Horta, H. (2009). Holding a post-doctoral position before becoming a faculty member: Does it bring benefits for the scholarly enterprise? Higher Education, 58(5), 689–721.

Horta, H., Veloso, F., & Grediaga, R. (2010). Navel gazing: Academic inbreeding and scientific productivity. Management Science, 56(3), 414–429.

Horta, H., Sato, M., & Yonezawa, A. (2011). Academic inbreeding: Exploring its characteristics and rationale in Japanese universities using a qualitative perspective. Asia Pacific Education Review, 12, 35–44.

Inanc, O., & Tuncer, O. (2011). The effect of academic inbreeding on scientific effectiveness. Scientometrics, 88(3), 885–898.

Jordan, S. M. (1994). What we have learned about faculty workload: the best evidence. In J. F. Wergin (Ed.) Analyzing faculty workload. New directions for Institutional Research, No. 83, 15-24. San Francisco: Jossey-Bass.

Krosnick, J. (1999). Survey research. Annual Review of Psychology, 50, 537–567.

Kyvik, S. (2003). Changing trends in publishing behavior among university faculty, 1980–2000. Scientometrics, 58(1), 35–48.

Kyvik, S., Karseth, B., & Blume, S. (1999). International mobility among Nordic doctoral students. Higher Education, 38(4), 379–400.

Leahey, E., Crockett, J. L., & Hunter, L. A. (2008). Gendered academic careers: Specializing for success? Social Forces, 86(3), 1273–1309.

Locke, W., Cummings, W. K., & Fisher, D. (Eds.). (2011). Changing governance and management in higher education—The perspectives of the Academy. Dordrecht: Springer.

McGee, R. (1960). The function of institutional inbreeding. The American Journal of Sociology, 65(5), 483–488.

McNeely, J. H. (1932). Faculty inbreeding in land-grant Colleges and Universities. Washington, DC: Office of Education.

Miller, C. C., Glick, W. H., & Cardinal, L. B. (2005). The allocation of prestigious positions in organizational science: Accumulative advantage, sponsored mobility, and contest mobility. Journal of Organizational Behavior, 26(5), 489–516.

Navarro, A., & Rivero, A. (2001). High rate of Inbreeding in Spanish Universities. Nature, 410, 14.

OECD. (2007). Reviews of National Policies for Education—Tertiary Education in Portugal. Paris: OECD.

Padilla, L. E. (2008). How have Mexican faculty been trained? A national perspective and a case study. Higher Education, 56, 167–183.

Pelz, D. C., & Andrews, F. M. (1966). Scientists in organizations. New York: Wiley.

Perotti, R. (2008). L'università truccata. Roma: Einaudi.

Reeves, F. W., Henry, N. B., Kelly, F. J., Klein, A. J., & Russell, J. D. (1933). The university faculty. Chicago: The University of Chicago.

Shimbori, M. (1981). The Japanese academic profession. Higher Education, 10, 75–87.

Shin, J. C. (2011). Teaching and research nexuses across faculty career stage, ability and affiliated discipline in a South Korean research university. Studies in Higher Education, 36(4), 485–503.

Smolentseva, A. (2003). Challenges to the Russian Academic Profession. Higher Education, 45(4), 391–424.

Soares, V. M., & Trindade, A. R. (2003). The attractiveness of the academic careers in Portugal. Porto: CIPES.

Soler, M. (2001). How inbreeding affects productivity in Europe. Nature, 411, 132.

Stephan, P., & Ma, J. (2005). The increased frequency and duration of the postdoctorate career stage. The American Economic Review, 95(2), 71–75.

Walstad, W., & Allgood, S. (2005). Views of teaching and research in economics and other disciplines. American Economic Review, 95(2), 177–183.

Williams, A. M., Balaz, V., & Wallace, C. (2004). International labour mobility and uneven regional development in Europe—human capital, knowledge and entrepreneurship. European Urban and Regional Studies, 11(1), 27–46.

Wyer, J. C., & Conrad, C. F. (1984). Institutional inbreeding reexamined. American Educational Research Journal, 21(1), 213–225.

Yamanoi, A. (2005). The academic marketplace in Japan: Inbreeding, grades and organization at Research Universities. Higher Education Forum, 2, 93–114.
Acknowledgments
The author is grateful for the comments and suggestions provided by David Hoffman, Austin T. Lacy, and Vincent Dautel, the two reviewers of this article, and the participants of the 2011 Atlanta Conference on Science, Technology, and Innovation Policy and the 2011 European Sociological Association Conference.
About this article
Cite this article
Horta, H. Deepening our understanding of academic inbreeding effects on research information exchange and scientific output: new insights for academic based research. High Educ 65, 487–510 (2013). https://doi.org/10.1007/s10734-012-9559-7
Keywords
Academic inbreeding

Mobility

Doctoral socialization

Academic profession

Information exchange dynamics

Scientific productivity