Abstract
This study provides a conceptual framework for understanding what employers think about the value of graduates with similar educational credentials in the workplace (their employability), using insights from the new institutionalism. In this framework, the development of employers' beliefs about graduates' employability is broken into a number of factors and mechanisms, including exogenous factors, initial signalling effects and the processes of both private and public learning. With such conceptualisation, this article discusses the implications for international higher education providers on how to improve their graduates' employment by influencing employers' beliefs.
Access options
Buy single article
Instant access to the full article PDF.
USD 39.95
Price excludes VAT (USA)
Tax calculation will be finalised during checkout.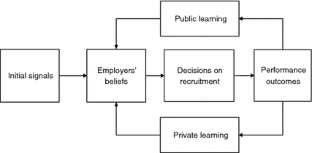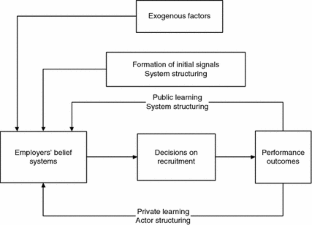 References
Altonji, J. G., & Pierret, C. R. (2001). Employer learning and statistical discrimination. Quarterly Journal of Economics, 116(1), 313–350.

Arrow, K. J. (1973). Higher education as a filter. Journal of Public Economics, 2, 193–216.

Bailly, F. (2008). The role of employers' beliefs in the evaluation of educational output. Journal of Socio-Economics, 37(3), 959–968.

Baker, M., & Benjamin, D. (1994). The performance of immigrants in the Canadian labor market. Journal of Labor Economics, 12(3), 369–405.

Becker, G. S. (1964). Human capital: A theoretical and empirical analysis, with special reference to education. Chicago: University of Chicago Press.

Berger, P. L., & Luckmann, T. (1967). The social construction of reality : A treatise in the sociology of knowledge. London: Allen Lane.

Bikson, T. K., Treverton, G. F., Moini, J., & Lindstrom, G. (2003). New challenges for international leadership: Lessons from organizations with global missions. Santa Monica, CA: RAND.

Blaug, M., Layard, P., & Woodhall, M. (1969). The case of graduate unemployment in India. London: Penguin.

Borjas, G. J. (1995). Assimilation and changes in cohort quality revisited: What happened to immigrant earnings in the 1980s? Journal of Labor Economics, 13(2), 201–245.

Bratsberg, B., & Ragan, Jr. J. F. (2002). The impact of host-country schooling on earnings: A study of male immigrants in the United States. The Journal of Human Resources, 37(1), 63–105.

Bremer, L. (1998). The value of international study experience on the labour market the case of hungary. Journal of Studies in International Education, 2(1), 39–57.

Burns, T. R., & Flam, H. (1987). The shaping of social organization: Social rule system theory with applications. London: Sage.

Cai, Y. (2010). Global isomorphism and governance reform in Chinese higher education. Tertiary Education and Management, 16(3), 229–241.

Cai, Y. (2012). International graduates from Finland: Do they satisfy the needs of Finnish employers abroad? Journal of Research in International Education, 11(1), 19–31.

Chien, S.-S. (2008). The isomorphism of local development policy: A case study of the formation and transformation of national development zones in post-mao jiangsu. China. Urban Studies, 45(2), 273–294.

Chiswick, B. R., & Miller, P. W. (1995). The endogeneity between language and earnings: International analyses. Journal of Labor Economics, 13(2), 246–288.

Chiswick, B. R., & Miller, P. W. (2003). The complementarity of language and other human capital: Immigrant earnings in Canada. Economics of Education Review, 22(5), 469–480.

Crossman, J., & Clarke, M. (2010). International experience and graduate employability: Stakeholder perceptions on the connection. Higher Education, 59(5), 599–613.

Dacin, M. T., Goodstein, J., & Scott, W. R. (2002). Institutional theory and institutional change: Introduction to the special research forum. The Academy of Management Journal, 45(1), 43–56.

Demetriades, E., & Psacharopoulos, G. (1979). Education and pay structure in Cyprus. International Labour Review, 118(1), 103–112.

DiMaggio, P. J. (1988). Interest and agency in institutional theory. In L. G. Zucker (Ed.), Institutional patterns and organizations: Culture and environment (pp. 3–21). Cambridge, MA: Ballinger.

DiMaggio, P. J., & Powell, W. (1983). The iron cage revisited: Institutional isomorphism and collective rationality. American Sociological Review, 42(2), 147–160.

Duvander, A.-Z. E. (2001). Do country-specific skills lead to improved labor market positions?: An analysis of unemployment and labor market returns to education among immigrants in Sweden. Work and Occupations, 28(2), 210–233.

Farber, H. S., & Gibbons, R. (1996). Learning and wage dynamics. Quarterly Journal of Economics., 111(4), 1007.

Garam, I. (2005). Study on the relevance of international student mobility to work and employment: Finnish employers' views on benefits of studying and work placements abroad (english summary). Helsinki: Centre for International Mobility CIMO.

Hall, D., & Thomas, H. (2005). Links between higher education and employers in malawi: The need for a dialogue? Journal of Higher Education Policy & Management, 27(1), 67–79.

Hermans, J. (2007). High potentials: A CEO perspective. Journal of Studies in International Education, 11(3–4), 510–521.

Kjelland, J. (2008). Economic returns to higher education: Signaling v. Human capital theory—An analysis of competing theories. The Park Place Economist, XVI, 70–77.

Krahn, H., Derwing, T., Mulder, M., & Wilkinson, L. (2000). Educated and underemployed: Refugee integration into the Canadian labour market. Journal of International Migration and Integration, 1(1), 59–84.

Levhari, D., & Weiss, Y. (1974). The effect of risk on the investment in human capital. The American Economic Review, 64(6), 950–963.

Levy, D. C. (2006). How private higher education's growth challenges the new institutionalism. In H.-D. Meyer & B. Rowan (Eds.), The new institutionalism in education (pp. 143–162). Albany: State University of New York Press.

Maguire, M. (1992). The role of employers in the labour market. In E. McLaughlin (Ed.), Understanding unemployment : New perspectives on active labour market policies (pp. 80–102). London: Routledge.

March, J. G., & Olsen, J. P. (1989). Rediscovering institutions: The organizational basis of politics. New York: Free Press.

Meyer, J. W., Ramirez, F. O., Frank, D. J., & Schofer, E. (2007). Higher education as an institution. In P. J. Gumport (Ed.), Sociology of higher education: Contributions and their contexts (pp. 187–221). Baltimore: Johns Hopkins University Press.

Meyer, J. W., & Rowan, B. (1977). Institutionalized organizations: Formal structure as myths and ceremony. American Journal of Sociology, 83(2), 340–363.

Mohajeri Norris, E., & Gillespie, J. (2009). How study abroad shapes global careers. Journal of Studies in International Education, 13(3), 382–397.

Pang, E., & Clark, D. (1970). Returns to schooling and training in Singapore. Malayan Economic Review, 15(2), 79–103.

Reeve, F., & Gallacher, J. (2005). Employer–university 'partnerships': A key problem for work-based learning programmes? Journal of Education & Work, 18(2), 219–233.

Salisbury, M., Umbach, P., Paulsen, M., & Pascarella, E. (2009). Going global: Understanding the choice process of the intent to study abroad. Research in higher education, 50(2), 119–143.

Schomburg, H., & Teichler, U. (2006). Higher education and graduate employment in Europe: Results from graduate surveys from twelve countries. Springer: Dordrecht [Great Britain].

Schultz, T. W. (1961). Investment in human capital. The American Economic Review, 51(1), 1–17.

Scott, W. R. (2001). Institutions and organizations (2nd ed.). Thousand Oaks, California: Sage Publication.

Scott, W. R. (2008). Institutions and organizations: Ideas and interests (3rd ed.). London: SAGE.

Simon, H. A. (1957). Administrative behavior; a study of decision-making processes in administrative organization (2nd, with new introd. ed.). New York: Macmillan.

Spence, M. (1973). Job market signaling. Quarterly Journal of Economics., 87(3), 355–374.

Stiglitz, J. E. (1975). The theory of "screening", education and the distribution of income. American Economic Review, 65(3), 283–300.

Støren, L. A., & Wiers-Jenssen, J. (2010). Foreign diploma versus immigrant background: Determinants of labour market success or failure? Journal of Studies in International Education, 14(1), 29–49.

Teichler, U. (2009). Higher education and the world of work: Conceptual frameworks, comparative perspectives, empirical findings (Global perspectives on higher education, Vol. 16). Rotterdam: Sense Publishers.

Thompson, J. W. (2004). An exploration of the demand for study overseas from american students and employers. A report prepared for the Institute of International Education, the German Academic Exchange Service (DAAD), the British Council, and the Australian Education Office.

Wiers-Jenssen, J. (2008). Does higher education attained abroad lead to international jobs? Journal of Studies in International Education, 12(2), 101–130.

Yorke, M. (2004). Employability in higher education: What it is—What it is not. Higher Education Academy/ESECT.

Zeng, Z., & Xie, Y. (2004). Asian-americans' earnings disadvantage reexamined: The role of place of education. The American Journal of Sociology, 109(5), 1075–1108.
About this article
Cite this article
Cai, Y. Graduate employability: a conceptual framework for understanding employers' perceptions. High Educ 65, 457–469 (2013). https://doi.org/10.1007/s10734-012-9556-x
Published:

Issue Date:

DOI: https://doi.org/10.1007/s10734-012-9556-x
Keywords
Higher education

International education

Employers' beliefs

Employability

Institutional theory