Abstract
The present work describes an experience of educational innovation in a university context. Its aim was to determine the relationship between students' frequency of use of online self-assessment with feedback and their final performance on the course, taking into account both learners' motivation and perceived usefulness of these resources for their learning process. Furthermore, we studied the relationship between metacognitive variables and academic performance and/or execution of activities aimed at learning the course content. To this end we created self-assessment material with the Hot Potatoes educational program and assessed the degree to which students took advantage of the tool, their satisfaction with it and their perceived knowledge, using ad hoc questionnaires. The results indicate better academic performance in those students that use interactive self-assessment. It should be pointed out that even students with low motivation levels made use of this teaching tool. Finally, a relationship was found between metacognitive variables and students' effort and performance. We discuss the need to include self-assessment in the curriculum, with a view to improving students' metacognitive knowledge.
Access options
Buy single article
Instant access to the full article PDF.
USD 39.95
Price excludes VAT (USA)
Tax calculation will be finalised during checkout.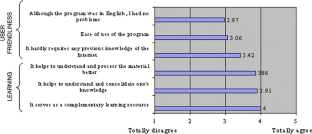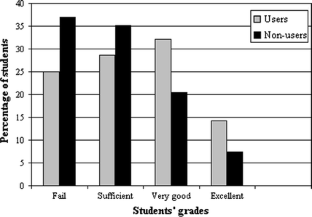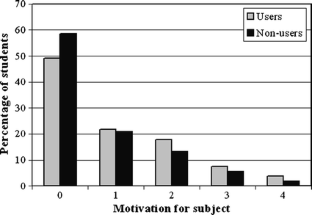 Notes
The system did not show scores obtained or time invested in the self-assessment exercises if the learner failed to finish all items in an exercise. Thus, the number of participants was lower in the respective analysis.
References
Ausubel, N. H. (1983). Psicología educativa: Un punto de vista cognoscitivo. México: Trillas.

Bielaczyc, K., Pirolli, P. L., & Brown, A. L. (1995). Training in self-explanation and self-regulation strategies: Investigating the effects of knowledge acquisition activities on problem solving. Cognition and Instruction, 13, 221–252. doi:10.1207/s1532690xci1302_3.

Biggs, J., & Tang, C. (2007). Setting the stage for effective teaching. In J. Biggs & C. Tang (Eds.), Teaching for quality learning at University (3rd ed., pp. 31–59). England & NY: Society for Research into Higher Education & Open University Press.

Black, P., & William, D. (1998). Inside the black box: Raising standards through classroom assessment. Phi Delta Kappan, 80(2), 139–144.

Boekaerts, M. (1999). Self-regulated learning: Where we are today. International Journal of Educational Research, 31, 445–457. doi:10.1016/S0883-0355(99)00014-2.

Boston, C. (2002). The concept of formative assessment. Practical assessment. Research Evaluation, 8(9), http://PAREonline.net/getvn.asp?v=8&n=9 Accessed 6 Aug 2008.

Boud, D. (1991). Implementing student self-assessment. HERDSA green guide (2nd ed.). Sydney: HERDSA.

Boud, D., & Brew, A. (1995). Developing a typology for learner self assessment practices. Research and development in Higher Education, 18, 130–135.

Brookhart, S. M. (2001). Successful students' formative and summative use of assessment information. Assessment in Education, 8(2), 153–169.

Brown, A. L. (1987). Metacognition, executive control, self-regulation, and other more mysterious mechanisms. In E. Weinert & R. Kluwe (Eds.), Metacognition, motivation, and understanding (pp. 65–116). Mahwah, New Jersey: Erlbaum.

Campione, J. C. (1987). Metacognitive components of instructional research with problems learners. In F. E. Weinert & R. H. Kluwe (Eds.), Metacognition, motivation and understanding (pp. 117–140). Hillsdale: LEA.

Carrasco, A., Gracia, E., & de la Iglesia, C. (2005). Las TIC en la construcción del Espacio Europeo de Educación Superior. Dos experiencias docentes en Teoría Económica. Revista Iberoamericana de Educación, 36, 1–16.

Challis, D. (2005). Committing to quality learning through adaptive online assessment. Assessment & Evaluation in Higher Education, 30(5), 519–527. doi:10.1080/02602930500187030.

Collis, B., De-Boer, W., & Slotman, K. (2001). Feedback for web-based assignments. Journal of Computer Assisted Learning, 17, 306–313. doi:10.1046/j.0266-4909.2001.00185.x.

Falchicov, N., & Boud, D. (1989). Student self-assessment in higher education: A meta-analysis. Review of Educational Research, 59(4), 395–430.

Falchikov, N. (2005). Improving assessment through student involvement. Practical solutions for aiding learning in higher and further education. London: Routledge.

Flavell, J. H. (1976). Metacognitive aspects of problem solving. In L. B. Resnick (Ed.), The nature of intelligence (pp. 231–235). Hillslade, New Jersey: Lawrence Erlbaum.

Fontana, D., & Fernandes, M. (1994). Improvements in mathematics performance as a consequence of self-assessment in Portuguese primary-school pupils. The British Journal of Educational Psychology, 64, 407–417.

Glenberg, A. M., Wlkinson, A. C., & Epstein, W. (1982). The illusion of knowing: Failure in the self-assessment of comprehension. Memory & Cognition, 10, 579–602.

Gómez Alvarez, L. (2006). Respeto por los estilos de aprendizaje y otros principios de práctica docente efectiva: Modelo para curso on-line centrado en el estudiante. Paper presented at II Congreso Internacional de Estilos de Aprendizaje, Chile.

Graham, S., & Weiner, B. (1996). Theories and principles of motivation. In D. Berliner & R. Calfee (Eds.), Handbook of educational psychology (pp. 63–84). New York: Simon and Schuster Macmillan.

Higgins, L., Flower, L., & Petraglia, J. (1992). Planning text together: The role of critical reflection in student collaboration. Written Communication, 9(l), 48–84. doi:10.1177/0741088392009001002.

Honkimaki, S., Tynjala, P., & Valkonen, S. (2004). University students' study orientations, learning experiences and study success in innovative courses. Studies in Higher Education, 29(4), 431–449. doi:10.1080/0307507042000236353.

Imel, S. (2002). Metacognitive skills for adult learning. Trends and issues alert no 39. Columbus, OH: ERIC Clearinghouse on Adult, Career, and Vocational Education.

Kennedy, J. K., Sang, J. C. K., Wai-ming, F. Y., & Fok, P. K. (2006). Assessment for productive learning: Forms of assessment and their potential for enhancing learning. Paper presented at the 32 Annual Conference of the International Association for Educational Assessment, Singapore.

Lowry, R. (2005). Computer-aided self assessment—an effective tool. Chemistry Education Research and Practice, 6(4), 198–203.

Mabe, P. A., & West, S. G. (1982). Validity of self-evaluation of ability: A review and meta-analysis. The Journal of Applied Psychology, 67, 280–296. doi:10.1037/0021-9010.67.3.280.

Martínez, R. J., & Moreno, R. (2007). Validity of academic work indicators in the projected European Higher Area. Higher Education, 53, 739–747. doi:10.1007/s10734-005-4507-4.

Marzano, R. J., Norford, J. S., Paynter, D. E., Pickering, D. J., & Gaddy, B. B. (2001). Handbook for classroom instruction that works. Alexandria, VA: Association for Supervision and Curriculum Development.

McDonald, B., & Boud, D. (2003). The impact of self-assessment on achievement: The effects of self-assessment training on performance in external examinations. Assessment in Education, 10(2), 209–220. doi:10.1080/0969594032000121289.

McKeachie, W. J., Pintrich, P. R., Lin, Y., & Smith, D. (1986). Teaching and learning in the college classroom: A review of the research literature. Ann Arbor, MI: The University of Michigan (National Center for Research to Improve Postsecondary Teaching and Learning [NCRIPTL]).

Moore, D., Lin-Agler, L., & Zabrucky, K. M. (2005). A source of metacomprehension inaccuracy. Reading Psychology: An International Journal, 26, 251–265. doi:10.1080/02702710590962578.

Nicol, D., & McFarlane-Dick, D. (2006). Formative assessment and self-regulated learning: A model and seven principles of good feedback practice. Studies in Higher Education, 31(2), 199–218. doi:10.1080/03075070600572090.

Nota, L., Sorei, S., & Zimmerman, B. J. (2005). Self-regulation and academia and resilience: A longitudinal study. International Journal of Educational Research, 41, 198–251. doi:10.1016/j.ijer.2005.07.001.

Oliver, R., & McLoughlin, C. (2001). Tools for the teacher. In F. Lockwood & A. Gooley (Eds.), Issues and innovations in distance education (pp. 138–149). London: Bogan Page.

Peat, M., & Franklin, S. (2002). Supporting student learning. The use of computer-based formative assessment modules. British Journal of Educational Technology, 33(5), 515–523. doi:10.1111/1467-8535.00288.

Pickard, M. J. (2007). The new Bloom's taxonomy: An overview for family and consumer sciences. Journal of Family and Consumer Sciences Education, 25(1), 45–55.

Pintrich, P. R. (2002). The role of metacognitive knowledge in learning, teaching, and assessing. Theory into Practice, 41(4), 220. doi:10.1207/s15430421tip4104_3.

Pintrich, P. R. (2004). A conceptual framework for assessing motivation and self-regulated learning in college students. Educational Psychology Review, 16(4), 385–407.

Pintrich, P. R., & De Groot, E. V. (1990). Motivational and self-regulated learning components of classroom academic performance. Journal of Educational Psychology, 82(1), 33–40. doi:10.1037/0022-0663.82.1.33.

Pintrich, P. R., & Schunk, D. H. (2002). Motivation in education: Theory, research and applications. Englewood Cliffs, NJ: Prentice Hall Merrill.

Plous, S. (2000). Tips on creating and maintaining an educational World Wide Web site. Teaching of Psychology (Columbia, Mo.), 27, 63–70. doi:10.1207/S15328023TOP2701_13.

Quinn, D., & Reid, I. (2003). Using innovative online quizzes to assist learning. http://ausweb.scu.edu.au/aw03/papers/quinn/paper.html. Accessed 6 Aug 2008.

Ricketts, C., & Wilks, S. J. (2002). Improving student performance through computer-based assessment: Insights from recent research. Assessment & Evaluation in Higher Education, 27(5), 475–479. doi:10.1080/0260293022000009348.

Roll, I., Aleven, V., McLaren, B. M., & Koedinger, K. R. (2006). Designing for metacognition—applying cognitive tutor principles to the tutoring of help seeking. Metacognition and Learning, 2(2–3), 125–140. doi:10.1007/s11409-007-9010-0.

Rosario, P., Núñez, J. C., González-Pienda, J. A., Almeida, L., Soares, S., & Rubio, M. (2005). El aprendizaje escolar examinado desde la perspectiva del 'Modelo 3P' de J. Biggs. Psicothema, 17(1), 20–30.

Rotger, B. (1990). Evaluación formativa. Madrid: Cincel.

Rovai, A. P., Wighting, M. J., Baker, J. D., & Grooms, L. D. (2009). Development of an instrument to measure perceived cognitive, affective, and psychomotor learning in traditional and virtual classroom higher education settings. The Internet and Higher Education, 12, 7–13. doi:10.1016/j.iheduc.2008.10.002.

Sadler, D. R. (1989). Formative assessment and the design of instructional systems. Instructional Science, 18, 119–144. doi:10.1007/BF00117714.

Schofield, N. J., & Kirby, J. R. (1994). Position location on topographical maps: Effects of task factors, training and strategies. Cognition and Instruction, 12, 35–60. doi:10.1207/s1532690xci1201_2.

Scriven, M. S. (1967). The methodology of evaluation. In: R. W. Tyler, R. M. Gagne & M. Scriven (Eds.), Perspectives of curriculum evaluation. AERA Monograph Series on Curriculum Evaluation, 1. Chicago: Rand McNally.

Sherman, R. C. (1998). Using the World Wide Web to teach everyday applications of social psychology. Teaching of Psychology (Columbia, Mo.), 25, 212–216. doi:10.1207/s15328023top2503_15.

Taras, M. (2001). The use of tutor feedback and student self-assessment in summative assessment tasks: Towards transparency for student and for tutors. Assessment & Evaluation in Higher Education, 26(9), 605–614. doi:10.1080/02602930120093922.

Taras, M. (2003). To feedback or not to feedback in student self-assessment. Assessment & Evaluation in Higher Education, 28(5), 549–565. doi:10.1080/02602930301678.

Taras, M. (2005). Assessment-summative and formative—some theoretical reflections. British Journal of Educational Studies, 53(4), 466–478. doi:10.1111/j.1467-8527.2005.00307.x.

Vadhan, V., & Stander, P. (1994). Metacognitive ability and test performance among college students. The Journal of Psychology, 128, 307–309.

Williams, P. E., & Hellman, C. M. (2004). Differences in self-regulation for online learning between first-and second-generation college students. Research in Higher Education, 45(1), 71–82. doi:10.1023/B:RIHE.0000010047.46814.78.

Zimmerman, B. (1995). Self-regulation involves more than metacognition: A social cognitive perspective. Educational Psychologist, 30(4), 217–221. doi:10.1207/s15326985ep3004_8.

Zulma, M. (2006). Aprendizaje autorregulado: El lugar de la cognición, la metacognición y la motivación. Estudios Pedagógicos, 32(2), 121–132.
Acknowledgments
This research was supported by the University of the Basque Country (Grants for Innovative Educational Projects 24/2005 and 18/2006).
About this article
Cite this article
Ibabe, I., Jauregizar, J. Online self-assessment with feedback and metacognitive knowledge. High Educ 59, 243–258 (2010). https://doi.org/10.1007/s10734-009-9245-6
Received:

Accepted:

Published:

Issue Date:

DOI: https://doi.org/10.1007/s10734-009-9245-6
Keywords