Abstract
Drawing on 60 qualitative interviews with Canada research chairs (CRCs), we explore their careers in context. We develop a model to understand the intersection of individual and institutional factors that shape the everyday experiences of the CRCs. The model shows the dialectical relationship between faculty identity, research, relations with colleagues and students, and institutional practices and structures. We classify individuals' experiences as "good," "bad," or "ugly." The interviews show that while a majority of CRCs have a positive experience, others have a negative experience that is prone to becoming ugly when institutional practices and systemic factors impede the work of the CRC. We discuss the perceived problems with the CRC program from the standpoint of Chairholders, and the implications of our findings for the CRC program and universities. As well, we propose that additional research on the professoriate is needed to determine whether or not the model from our study is generalizable beyond our sample.
Access options
Buy single article
Instant access to the full article PDF.
USD 39.95
Price excludes VAT (USA)
Tax calculation will be finalised during checkout.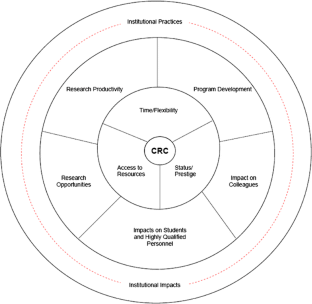 Notes
The classification of universities is based on the Maclean's magazine rankings of Canadian universities. Medical–doctoral universities offer undergraduate and graduate programs in a wide range of disciplines, as well as medical degrees. Comprehensive universities offer undergraduate and graduate programs, and some professional programs. Primarily undergraduate universities generally restrict their programs to the undergraduate level, although some do offer a limited number of graduate programs. The Maclean's categories are not the same as those used in the US (e.g., the Carnegie Classification of Institutions of Higher Education).

This paper is based on 60 interviews. Of these, four (7%) had resigned their CRCs. According to the CRC Secretariat, a total of 82 persons have resigned their CRCs during the tenure of the award (Carmen Gervais, personal communication, June 15, 2006).
References
Abbott, A. (1997). Of time and space: The contemporary relevance of the Chicago school. Social Forces, 75(4), 1149–1182. doi:10.2307/2580667.

Barley, S. (1989). Careers, identities, and institutions: The legacy of the Chicago school of sociology. In M. B. Arthur, D. T. Hall, & B. S. Lawrence (Eds.), Handbook of career theory (pp. 41–65). Cambridge: Cambridge University Press.

Bloom, A. (1987). The closing of the American mind. New York: Simon & Schuster.

Cameron, D. (2002). The challenge of change: Canadian universities in the 21st century. Canadian Public Administration, 45(2), 145–174. doi:10.1111/j.1754-7121.2002.tb01078.x.

Canadian Federation for the Humanities and Social Sciences. (2002). Humanities, societies, cultures: Research and education in the 21st century (A 3-year plan for the Canadian Federation for the Humanities and Social Sciences). Ottawa: Canadian Federation for the Humanities and Social Sciences.

Finnie, R. (2001). The brain drain: Myth and reality—what it is and what should be done. Kingston: Queen's University School of Policy Studies Working Paper 13.

Goffman, E. (1961). Asylums: Essays on the social situation of mental patients and other inmates. Doubleday: New York.

Government of Canada.(2000). Minister Manley appoints chair of Canada Research Chairs program's steering committee. Government of Canada. Media release. Industry Canada. http://www.marketwire.com/press-release/Industry-Canada-344948.html. Accessed 12 Oct 2007.

Griffin Cohen, M. (2003). Cronyism thrives in CRC hiring process. CAUT Bulletin. http://www.caut.ca/en/bulletin/issues/2003_may/commentary.asp. Accessed 8 Feb 2008.

Hagedorn, L. S. (2000). Conceptualizing faculty job satisfaction: Components, theories, and outcomes. New Directions for Institutional Research, 105, 5–20. doi:10.1002/ir.10501.

Hermanowicz, J. C. (2003). Scientists and satisfaction. Social Studies of Science, 33(1), 45–73. doi:10.1177/0306312703033001177.

Hermanowicz, J. C. (2007). Argument and outline for the sociology of scientific (and other) careers. Social Studies of Science, 37(4), 625–646. doi:10.1177/0306312706075337.

Hickling Arthurs Low. (2002). Third year review of the Canada research chairs program. Ottawa: Hickling Arthurs Low.

Hughes, E. C. (1997). Careers. Qualitative Sociology, 20(3), 389–397. doi:10.1023/A:1024731416961.

Industry Canada. (2002a). Achieving excellence: Investing in people, knowledge and opportunity. Ottawa: Industry Canada.

Industry Canada. (2002b). Knowledge matters: Skills and learning for Canadians. Ottawa: Industry Canada.

Ito, J. K., & Brotheridge, C. M. (2007). Predicting individual research productivity: More than a question of time. Canadian Journal of Higher Education, 37(1), 1–25.

Kimball, R. (1990). Tenured radicals. New York: Harper Collins.

Kirp, D. L. (2003). How much for that professor? New York Times, pp. 21.

Lodge, D. (1975). Changing places. London: Martin Secker and Warburg Ltd.

Mason, M. A., & Goulden, M. (2002). Do babies matter?: The effect of family formation on the lifelong careers of academic men and women. Academe, 88(6), 11–15.

Menzies, H., & Newson, J. (2007). No time to think: Academics' life in the globally wired university. Time & Society, 16(1), 83–98. doi:10.1177/0961463X07074103.

Prichard, R. (2000). Federal support for higher education and research: The new paradigm. Killam annual lecture. http://www.killamtrusts.ca/docs/Killam_Lec_00.pdf. Accessed 11 April 2009.

R. A. Malatest and Associates Ltd. (2004). Fifth year evaluation of the Canada Research Chairs Program (Final evaluation report). Ottawa: R.A. Malatest and Associates Ltd.

Smiley, J. (1996). Moo. New York: Ballantine Books.

Spurgin, T. (2001). The Times magazine and academic megastars. The Minnesota Review, 52–54, 225–238.

Ylijoki, O. H., & Mantyla, H. (2003). Conflicting time perspectives in academic work. Time & Society, 12(1), 55–78. doi:10.1177/0961463X03012001364.
Acknowledgments
This study was supported by the University of Manitoba, Research Grants Program and the University of Windsor, Women's Research Grant Program. We would like to thank the Canada Research Chairs for their participation in our study.
About this article
Cite this article
Grant, K.R., Drakich, J. The Canada Research Chairs Program: the good, the bad, and the ugly. High Educ 59, 21–42 (2010). https://doi.org/10.1007/s10734-009-9230-0
Received:

Accepted:

Published:

Issue Date:

DOI: https://doi.org/10.1007/s10734-009-9230-0
Keywords
Canada

Higher education

Research chairs

Academic careers