Abstract
Teaching and research lie at the heart of higher education. The interaction between teaching and research has therefore attracted the attention of both researchers and policymakers. Much has been written about this relationship, looking in particular at the perceived mutual benefits between teaching and research. This paper presents some findings from a research project which, using a comparative approach, aimed to examine the nature of the teaching:research nexus and, in particular, to consider the response of institutional management. Based on the observations collected through the project, a new model is proposed for institutional management of the teaching:research nexus. This model is based on a range of contextual factors, classified as ideological or environmental, and two contrasting approaches to institutional management of the relationship between teaching and research, active and passive. This model offers a new approach to understanding the operation of the teaching:research nexus within institutions of higher education.
Access options
Buy single article
Instant access to the full article PDF.
USD 39.95
Price excludes VAT (USA)
Tax calculation will be finalised during checkout.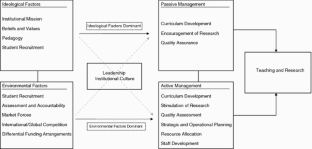 References
Boyer, E. L. (1990). Scholarship reconsidered: Priorities of the professional. Princeton, NJ: Carnegie Foundation for the Advancement of Teaching.

Breen, R., & Lindsay, R. (1999). Academic research and student motivation. Studies in Higher Education, 24(1), 75–93.

Brew, A., & Boud, D. (1995a). Research and learning in higher education. In B. Smith, & S. Brown (Eds.), Research, teaching and learning in higher education (pp. 30–39). London: Kogan Page.

Brew, A., & Boud, D. (1995b). Teaching and research: Establishing the vital link with learning. Higher Education, 29, 261–273.

Brew, A. (1999). Research and teaching: Changing relationships in a changing context. Studies in Higher Education, 24(3), 291–301.

Brew, A. (2001). The nature of research: Inquiry in academic contexts. London: Routledge Palmer.

Clark, B. R. (1997). The modern integration of research activities with teaching and learning. Journal of Higher Education, 68(3), 241–255.

Coate, K., Barnett, R., & Williams, G. (2001). Relationships between teaching and research in higher education in England. Higher Educational Quarterly, 55(2), 158–174.

Colbeck, C. L. (1998). Merging in a seamless blend: How faculty integrate teaching and research. The Journal of Higher Education, 69(6), 647–671.

Elton, L. (2001). Research and teaching: Conditions for a positive link. Teaching in Higher Education, 6(1), 43–56.

Gibbs, G. (1995). The relationship between quality in research and quality in teaching. Quality in Higher Education, 1(2), 147–157.

Hattie, J., & Marsh, H. W. (1996). The relationship between research and teaching. Review of Educational Research, 66(4), 507–542.

Higher Education Funding Council for England. (2000). Interaction between teaching and other academic activity: Report to the KEFCE as part of the Fundamental Review of Research Policy and Funding. Bristol: HEFCE.

Jenkins, A., Blackman, T., Lindsay, R., & Paton-Saltzberg, R. (1998). Teaching and research: Student perspectives and policy implications. Studies in Higher Education, 23(2), 127–141.

Jenkins, A., Breen, R., & Lindsay, R. (2003) Reshaping teaching in higher education: Linking teaching with research. London: Kogan Page.

Jenson, J. J. (1988). Research and teaching in the University of Denmark: Does such an interplay really exist? Higher Education, 17, 17–26.

Kyvik, S., & Smeby, J. C. (1986) (1994) Teaching and research: The relationship between the supervision of graduate students and faculty research performance. Higher Education, 28, 227–239.

Marsh, H. W., & Hattie, J. (2002). The relationship between research productivity and teaching effectiveness. Journal of Higher Education, 73(5), 603–641.

Neumann, R. (1992). Perceptions of the teaching–research nexus: A framework for analysis. Higher Education, 23, 159–171.

Neumann, R. (1993). Research and scholarship: Perceptions of senior academic administrators. Higher Education, 25(2), 95–109.

Neumann, R. (1994). The teaching–research nexus: Applying a framework to university students' learning experiences. European Journal of Education, 29(3), 323–338.

Neumann, R. (1996). Researching the teaching-research nexus: A critical review. Australian Journal of Education, 40(1), 5–18.

Ramsden, P., & Moses, I. (1992). Associations between research and teaching in Australian higher education. Higher Education, 23, 273–295.

Robertson, J., & Bond, C. H. (2001). Experiences of the relationship between teaching and research: what do academics value? Higher Education Research and Development, 20(1), 5–19.

Rowland, S. (1996). Relationships between teaching and research. Teaching in Higher Education, 1(1), 7–20.

Smeby, J. C. (1998). Knowledge production and knowledge transmission: The interaction between research and teaching of universities. Teaching in Higher Education, 3(1), 5–20.

Southampton Solent University (2004) Colloquia on Research and Teaching, www.solent.ac.uk/rtconference
About this article
Cite this article
Taylor, J. The teaching:research nexus : a model for institutional management. High Educ 54, 867–884 (2007). https://doi.org/10.1007/s10734-006-9029-1
Received:

Accepted:

Published:

Issue Date:

DOI: https://doi.org/10.1007/s10734-006-9029-1
Keywords
Research

Teaching

Management