Abstract
We consider a coal mine that extracts raw coal by a set of coal mining equipment (CME), separates out multiple products by a set of coal washing equipment, and delivers the products through a fleet of trains over a multi-period horizon. The equipment requires a daily preventive maintenance (PM) and each CME is subject to random failures and repairs. We study a joint PM, production, and delivery problem that determines when to perform the PM and how to manage coal production and delivery in each period, to minimize the expected total cost. We formulate a multi-period stochastic optimization model that delicately integrates the static PM decisions with the adaptive production-delivery decisions, which is extremely difficult to solve due to CME's decision-dependent operating status. We propose a novel two-phase solution approach to overcome this difficulty. Phase 1 firstly determines the PM decisions using a scenario-based variable neighborhood search algorithm. Using the PM solution and the resultant set of scenarios as input parameters, Phase 2 adaptively determines the production-delivery decisions using a forward-looking algorithm in a rolling horizon manner. We show numerically that our approach consistently produces good-quality and robust solutions while preserving tractability for varying problem instances.
Access options
Buy single article
Instant access to the full article PDF.
USD 39.95
Price includes VAT (USA)
Tax calculation will be finalised during checkout.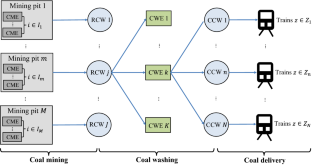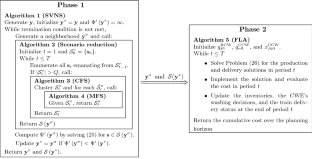 References
Adenso-Diaz, B., Lev, B., Artime, R.: Simulation in dynamic environments: optimization of transportation inside a coal mine. IIE Trans. 36(6), 547–555 (2004)

AlDurgam, M.M., Duffuaa, S.O.: Optimal joint maintenance and operation policies to maximise overall systems effectiveness. Int. J. Prod. Res. 51(5), 1319–1330 (2013)

Alexandros, D.C., Chrissoleon, P.T.: Exact analysis of a two-workstation one-buffer flow line with parallel unreliable machines. Eur. J. Oper. Res. 197(2), 572–580 (2009)

Allaoui, H., Lamouri, S., Artiba, A., Aghezzaf, E.: Simultaneously scheduling N jobs and the preventive maintenance on the two-machine flow shop to minimize the makespan. Int. J. Prod. Econ. 112(1), 161–167 (2008)

Assid, M., Gharbi, A., Hajji, A.: Joint production, setup and preventive maintenance policies of unreliable two-product manufacturing systems. Int. J. Prod. Res. 53(15), 4668–4683 (2015)

Aramon Bajestani, M., Beck, J.C.: A two-stage coupled algorithm for an integrated maintenance planning and flowshop scheduling problem with deteriorating machines. J. Sched. 18(5), 471–486 (2015)

BP: Statistical Review of World Energy 2018. https://www.bp.com/en/global/corporate/energy-economics/statistical-review-of-world-energy.html (2018)

CNPC Economics & Technology Research Institute. China Energy Outlook 2050. https://eneken.ieej.or.jp/data/8192.pdf (2017)

Chansombat, S., Pongcharoen, P., Hicks, C.: A mixed-integer linear programming model for integrated production and preventive maintenance scheduling in the capital goods industry. Int. J. Prod. Res. 57(1), 61–82 (2019)

Dehayem Nodem, F.I., Kenn, J.P., Gharbi, A.: Simultaneous control of production, repair/replacement and preventive maintenance of deteriorating manufacturing systems. Int. J. Prod. Econ. 134(1), 271–282 (2011)

Detti, P., Nicosia, G., Pacifici, A., de Lara, G.Z.M.: Robust single machine scheduling with a flexible maintenance activity. Comput. Oper. Res. 107, 19–31 (2017)

de Paula, M.R., Boland, N., Ernst, A.T., Mendes, A., Savelsbergh, M.: Throughput optimisation in a coal export system with multiple terminals and shared resources. Comput. Ind. Eng. 134, 37–51 (2019)

Dhouib, K., Gharbi, A., Ben Aziza, M.N.: Joint optimal production control/preventive maintenance policy for imperfect process manufacturing cell. Int. J. Prod. Econ. 137(1), 126–136 (2012)

Dong J., Ye, C.M.: Research on two-stage joint optimization problem of green manufacturing and maintenance for semiconductor wafer. Math. Probl. Eng. (2020)

Duarte A., Pardo, E.G.: Special issue on recent innovations in variable neighborhood search. J. Heuristics 26, 335–338 (2020)

El Khoukhi, F., Boukachour, J., Alaoui, A.E.: The Dual-Ants Colony: a novel hybrid approach for the flexible job shop scheduling problem with preventive maintenance. Comput. Ind. Eng. 106, 236–255 (2017)

Feng, Y., Ryan, S.M.: Scenario construction and reduction applied to stochastic power generation expansion planning. Comput. Oper. Res. 40(1), 9–23 (2013)

Finke, G., Gara-Ali, A., Espinouse, M.L., Jost, V., Moncel, J.: Unified matrix approach to solve production-maintenance problems on a single machine. Omega 66, 140–146 (2017)

Guo, H., Zhu, K., Ding, C., Li, L.: Intelligent optimization for project scheduling of the first mining face in coal mining. Expert Syst. Appl. 37(2), 1294–1301 (2010)

Gharbi, A., Kenn, J.P., Beit, M.: Optimal safety stocks and preventive maintenance periods in unreliable manufacturing systems. Int. J. Prod. Econ. 107(2), 422–434 (2007)

Hajej, Z., Turki, S., Rezg, N.: Modelling and analysis for sequentially optimising production, maintenance and delivery activities taking into account product returns. Int. J. Prod. Res. 53(15–16), 4694–4719 (2015)

Hajej, Z., Nidhal, R., Anis, C., Bouzoubaa, M.: An optimal integrated production and maintenance strategy for a multi-wind turbines system. Int. J. Prod. Res. 58(21), 6417–6440 (2020)

He, Y., Gu, C., Chen, Z., Han, X.: Integrated predictive maintenance strategy for manufacturing systems by combining quality control and mission reliability analysis. Int. J. Prod. Res. 55(19), 5841–586 (2017)

Heitsch, H., Römisch, W.: Scenario reduction algorithms in stochastic programming. Comput. Optim. Appl. 24(2–3), 187–206 (2003)

Içyüz-Ay, I.E., Richard, J.P.P., Eskigun, E., Acharya, D.: A two-model solution approach for the monthly coal train reservations planning problem. Transp. Sci. 50(3), 926–946 (2016)

Jiu, S., Zhou, Z., Liu, J.: The equipment maintenance scheduling problem in a coal production system. Int. J. Prod. Res. 51(17), 5309–5336 (2013)

Kozan, E., Liu, S.: A demand-responsive decision support system for coal transportation. Decis. Support Syst. 54(1), 665–680 (2012)

Lei, D.M., Liu, M.Y.: An artificial bee colony with division for distributed unrelated parallel machine scheduling with preventive maintenance. Comput. Ind. Eng. 141, 106320 (2020)

Li, G., Liu, M.Q., Sethi, S.P., Xu, D.H.: Parallel-machine scheduling with machine-dependent maintenance periodic recycles. Int. J. Prod. Econ. 186, 1–7 (2017)

Liu, S., Kozan, E.: Optimising a coal rail network under capacity constraints. Flexible Serv. Manuf. J. 23(2), 90–110 (2011)

Liu, J., Yang, S., Wu, A., Hu, S.J.: Multi-state throughput analysis of a two-stage manufacturing system with parallel unreliable machines and a finite buffer. Eur. J. Oper. Res. 219(2), 296–304 (2012)

Masoud, M., Kozan, E., Kent, G., Liu, S.: A new constraint programming approach for optimising a coal rail system. Optim. Lett. 11(4), 725–738 (2017)

Miyata, H.H., Nagano, M.S., Gupta, J.N.D.: Integrating preventive maintenance activities to the no-wait flow shop scheduling problem with dependent-sequence setup times and makespan minimization. Comput. Ind. Eng. 135, 79–104 (2019)

Mladenović, N., Hansen, P.: Variable neighborhood search. Comput. Oper. Res. 24(11), 1097–1100 (1997)

Pan, E., Liao, W., Xi, L.: Single-machine-based production scheduling model integrated preventive maintenance planning. Int. J. Adv. Manuf. Technol. 50(1–4), 365–375 (2010)

Pendharkar, P.C.: A fuzzy linear programming model for production planning in coal mines. Comput. Oper. Res. 24(12), 1141–1149 (1997)

Pendharkar, P.C., Rodger, J.A.: Nonlinear programming and genetic search application for production scheduling in coal mines. Ann. Oper. Res. 95(1–4), 251–267 (2000)

Peng, H., Van Houtum, G.J.: Joint optimization of condition-based maintenance and production lot-sizing. Eur. J. Oper. Res. 253(1), 94–107 (2016)

Sarin, S.C., West-Hansen, J.: The long-term mine production scheduling problem. IIE Trans. 37(2), 109–121 (2005)

Seif, J., Yu, A.J., Rahmanniyay, F.: Modelling and optimization of a bi-objective flow shop scheduling with diverse maintenance requirements. Int. J. Prod. Res. 56(9), 3204–3225 (2017)

Sharma, A., Yadava, G., Deshmukh, S.: A literature review and future perspectives on maintenance optimization. J. Qual. Maint. Eng. 17(1), 5–25 (2011)

Shishvan, M.S., Benndorf, J.: Simulation-based optimization approach for material dispatching in continuous mining systems. Eur. J. Oper. Res. 275(3), 1108–1125 (2019)

Song, D.P.: Production and preventive maintenance control in a stochastic manufacturing system. Int. J. Prod. Econ. 119(1), 101–11 (2009)

Thornblad, K., Stromberg, A.B., Patriksson, M., Almgren, T.: Scheduling optimisation of a real flexible job shop including fixture availability and preventive maintenance. Eur. J. Ind. Eng. 9(1), 126–145 (2015)

Wang, T., Baldacci, R., Lim, A., Hu, Q.: A branch-and-price algorithm for scheduling of deteriorating jobs and flexible periodic maintenance on a single machine. Eur. J. Oper. Res. 271(3), 826–838 (2018)

Wang, S., Liu, M.: Two-machine flow shop scheduling integrated with preventive maintenance planning. Int. J. Syst. Sci. 47(3), 672–690 (2016)

Wang, S., Yu, J.: An effective heuristic for flexible job-shop scheduling problem with maintenance activities. Comput. Ind. Eng. 59, 436–447 (2010)

Wu, X., Zhang, K., Cheng, M.: Computational method for optimal machine scheduling problem with maintenance and production. Int. J. Prod. Res. 55(6), 1791–1814 (2016)

Xiang, Y.S., Cassady, C.R., Jin, T.: Joint production and maintenance planning with machine deterioration and random yield. Int. J. Prod. Res. 52(6), 1644–1657 (2014)

Yoo, J., Lee, I.S.: Parallel machine scheduling with maintenance activities. Comput. Ind. Eng. 101, 361–371 (2016)

Zhao, F., Wang, W., Peng, R.: Delay-time-based preventive maintenance modelling for a production plant: a case study in a steel mill. J. Oper. Res. Soc. 66(12), 2015–2024 (2015)

Zhang, R., Sun, X.: Integrated production-delivery lot sizing model with limited production capacity and transportation cost considering overtime work and maintenance time. Math. Probl. Eng. 2018, 1–10 (2018)
Acknowledgements
The author thanks the associate editor and the two anonymous referees for their valuable comments toward improving this study. The author is grateful for the support from the Southwest Jiaotong University under the Qingmiao Program and the Fundamental Research Funds for the Central Universities (No. A1420502052101-48).
Additional information
Publisher's Note
Springer Nature remains neutral with regard to jurisdictional claims in published maps and institutional affiliations.
About this article
Cite this article
Jiu, S. A two-phase approach for integrating preventive maintenance with production and delivery in an unreliable coal mine. J Heuristics 27, 991–1020 (2021). https://doi.org/10.1007/s10732-021-09482-0
Received:

Revised:

Accepted:

Published:

Issue Date:
Keywords
Preventive maintenance

Coal production

Coal delivery

Equipment failure

Two-phase approach