Abstract
Physicians are a scarce resource in hospitals. In order to minimize physician attrition, schedulers incorporate individual physician preferences when creating the physicians' duty roster. The manual creation of a roster is very time-consuming and often produces suboptimal results. Many schedulers therefore use model-based software to assist in planning. The planning horizon for duty schedules is usually a single month. Many models optimize the plan for the current planning horizon, without taking into account data on preference fulfillment and work load distribution from previous months. It is therefore possible that, when looking at a longer time horizon, some physicians are disadvantaged in terms of preference fulfillment more often than their peers, simply because this generates better results for the individual months. This may be perceived as unfair by the disadvantaged physicians. In order to eliminate this imbalance, we introduce a satisfaction indicator for preference fulfillment in physician scheduling. This indicator is computed for each physician on each monthly plan and is then used to inform decisions regarding preference fulfillment on the current and future plans. As a result, a more equal distribution of preference fulfillment among physicians is achieved. We run a computational study with three different update strategies for our satisfaction indicator. Our study uses 24 months of data from a German university hospital and derives additional generated data from it. Results indicate that our satisfaction indicator, combined with the right update strategy, can achieve an equal distribution of satisfaction over all physicians within a peer group, as well as stable satisfaction levels for each individual physician over a longer time horizon. As our main contribution, we identify that our satisfaction indicator is more effective in creating equal distribution of long-term satisfaction the higher the rate of conflicting preferences is.
This is a preview of subscription content, log in to check access.
Access options
Buy single article
Instant access to the full article PDF.
US$ 39.95
Tax calculation will be finalised during checkout.
Subscribe to journal
Immediate online access to all issues from 2019. Subscription will auto renew annually.
US$ 79
Tax calculation will be finalised during checkout.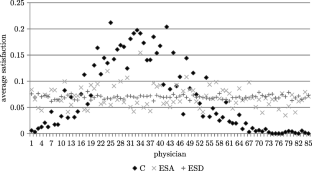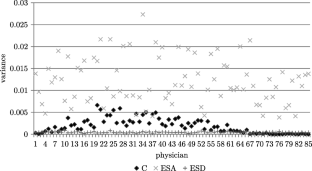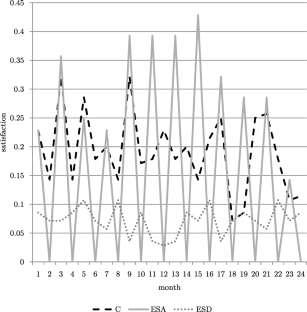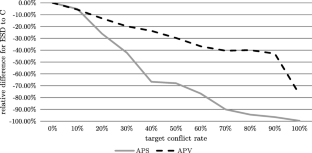 References
1.

Alsheddy A, Tsang EPK (2011) Empowerment scheduling for a field workforce. J Sched 14(6):639–654. https://doi.org/10.1007/s10951-011-0232-2

2.

Bard JF, Purnomo HW (2005) Preference scheduling for nurses using column generation. Eur J Oper Res 164(2):510–534. https://doi.org/10.1016/j.ejor.2003.06.046

3.

Bertsimas D, Farias VF, Trichakis N (2011) The price of fairness. Oper Res 59(1):17–31. https://doi.org/10.1287/opre.1100.0865

4.

de Boer EM, Bakker AB, Syroit JE, Schaufeli WB (2002) Unfairness at work as a predictor of absenteeism. J Organ Behav 23(2):181–197. https://doi.org/10.1002/job.135

5.

Bowers MR, Noon CE, Wu W, Bass JK (2016) Neonatal physician scheduling at the University of Tennessee Medical Center. Interfaces 46(2):168–182. https://doi.org/10.1287/inte.2015.0839

6.

Brunner JO, Bard JF, Kolisch R (2009) Flexible shift scheduling of physicians. Health Care Management Science 12(3):285–305. https://doi.org/10.1007/s10729-008-9095-2

7.

Cohn A, Root S, Kymissis C, Esses J, Westmoreland N (2009) Scheduling medical residents at Boston University School of Medicine. Interfaces 39(3):186–195. https://doi.org/10.1287/inte.1080.0369

8.

Dexter F, Epstein RH, Dutton RP, Kordylewski H, Ledolter J, Rosenberg H, Hindman BJ (2016) Diversity and similarity of anesthesia procedures in the United States during and among regular work hours, evenings, and weekends. Anesthesia & Analgesia 123(6):1567–1573. https://doi.org/10.1213/ane.0000000000001558

9.

Dexter F, Ledolter J, Epstein RH, Hindman BJ (2017) Operating room anesthesia subspecialization is not associated with significantly greater quality of supervision of anesthesia residents and nurse anesthetists. Anesthesia & Analgesia 124(4):1253–1260. https://doi.org/10.1213/ane.0000000000001671

10.

Erhard M, Schoenfelder J, Fügener A, Brunner JO (2018) State of the art in physician scheduling. Eur J Oper Res 265(1):1–18. https://doi.org/10.1016/j.ejor.2017.06.037

11.

Ernst EA, Matlak EW (1974) On-line computer scheduling of anesthesiologists. Anesthesia & Analgesia 53(6):854–858. http://journals.lww.com/anesthesia-analgesia/Fulltext/1974/53060/On_Line_Computer_Scheduling_of_Anesthesiologists.9.aspx

12.

Fredrickson BL (2001) The role of positive emotions in positive psychology: The broaden-and-build theory of positive emotions. Am Psychol 56(3):218–226. https://doi.org/10.1037/0003-066x.56.3.218

13.

Fredrickson BL, Joiner T (2002) Positive emotions trigger upward spirals toward emotional well-being. Psychol Sci 13(2):172–175. https://doi.org/10.1111/1467-9280.00431

14.

Fügener A, Brunner JO, Podtschaske A (2015) Duty and workstation rostering considering preferences and fairness: a case study at a department of anesthesiology. Int J Prod Res 53(24):7465–7487. https://doi.org/10.1080/00207543.2015.1082667

15.

Gierl L, Pollwein B, Heidenreich D, Heyde G (1986) Personaleinsatzplanung für die Anasthesiologië mit Hilfe eines Expertensystems (PEP). In: Horbach, L (ed) Medizinische Informatik in der Schweiz, Schwabe, Basel u.a., pp 211–217

16.

Gierl L, Pollwein B, Heyde G, Kurt H (1993) Knowledge-based scheduling of duty rosters for physicians. Med Inf 18(4):355–366. https://doi.org/10.3109/14639239309025324

17.

Gross CN, Fügener A, Brunner JO (2018) Online rescheduling of physicians in hospitals. Flex Serv Manuf J 30(1):296–328. https://doi.org/10.1007/s10696-016-9274-2

18.

Jäger D T, Rüsseler J (2016) Low arousing positive affect broadens visual attention and alters the thought-action repertoire while broadened visual attention does not. Front Psychol, pp 7. https://doi.org/10.3389/fpsyg.2016.01652

19.

Jain RK, Chiu DMW, Hawe WR (1984) A quantitative measure of fairness and discrimination for resource allocation in shared computer system. Tech. rep., Eastern Research Lab

20.

Karsu Ö, Morton A (2015) Inequity averse optimization in operational research. Eur J Oper Res 245(2):343–359. https://doi.org/10.1016/j.ejor.2015.02.035

21.

Loewenstein G, Lerner JS (2003) The role of affect in decision making. In: Davidson, RJ, Scherer, KR, Goldsmith, HH (eds) Handbook of Affective Sciences, Oxford University Press, chap 31, pp 619–642

22.

Lubarsky DA, Reves JG (2005) Effect of subspecialty organization of an academic department of anesthesiology on faculty perceptions of the workplace. J Am Coll Surg 201(3):434–437. https://doi.org/10.1016/j.jamcollsurg.2005.04.014

23.

Martin S, Ouelhadj D, Smet P, Berghe GV, Özcan E (2013) Cooperative search for fair nurse rosters. Expert Syst Appl 40(16):6674–6683. https://doi.org/10.1016/j.eswa.2013.06.019

24.

Niroumandrad N, Lahrichi N (2017) A stochastic tabu search algorithm to align physician schedule with patient flow. Health Care Management Science. https://doi.org/10.1007/s10729-017-9427-1

25.

O'Neill L, Hartz AJ (2012) Lower mortality rates at cardiac specialty hospitals traceable to healthier patients and to doctors' performing more procedures. Health Aff 31(4):806–815. https://doi.org/10.1377/hlthaff.2011.0624

26.

Ouelhadj D, Martin S, Smet P, Ozcan E, Vanden Berghe G (2012) Fairness in nurse rostering. Working Paper. https://researchportal.port.ac.uk/portal/en/publications/fairness-in-nurse-rostering(a87fbb68-09ef-446f-9084-1266e82ccc53)/export.html

27.

Stolletz R, Brunner JO (2012) Fair optimization of fortnightly physician schedules with flexible shifts. Eur J Oper Res 219(3):622–629. https://doi.org/10.1016/j.ejor.2011.10.038

28.

Volland J, Fügener A, Brunner JO (2017) A column generation approach for the integrated shift and task scheduling problem of logistics assistants in hospitals. Eur J Oper Res 260(1):316–334. https://doi.org/10.1016/j.ejor.2016.12.026
About this article
Cite this article
Gross, C.N., Brunner, J.O. & Blobner, M. Hospital physicians can't get no long-term satisfaction – an indicator for fairness in preference fulfillment on duty schedules. Health Care Manag Sci 22, 691–708 (2019). https://doi.org/10.1007/s10729-018-9452-8
Received:

Accepted:

Published:

Issue Date:
Keywords
OR in health services

Mixed-integer program

Long-term fairness

Physician satisfaction