Abstract
Healthcare providers can benefit from adding less costly capacity to their existing resources in order to satisfy demand while maintaining the quality of patient care. The addition of mid-level service providers (MLSPs) such as physician assistants or nurse practitioners that carry out portions of patient care provides a viable alternative for adding physician capacity. This research considers the circumstances under which adding an MLSP to a single-physician outpatient office becomes the best strategy for the clinic, and determines how scheduling policies from the widely-researched single-stage environment should be adjusted for a multi-stage environment. Compared to a single-stage system where a physician completes all portions of the service, we show that adding an MLSP can reduce patient waiting time, patient flow time, and physician service time with patients. This, in turn, can enable the clinic to see more patients and/or free up physician time for other tasks. Appointment scheduling rules are developed for a multi-stage outpatient service system using a simulation optimization approach. Performance measures focus on the patient experience and clinic operation before and during each stage of service.
Access options
Buy single article
Instant access to the full article PDF.
US$ 39.95
Tax calculation will be finalised during checkout.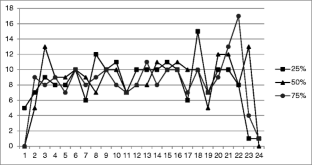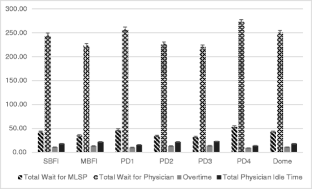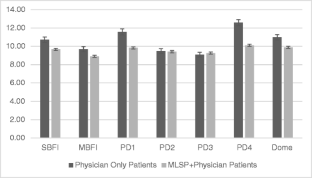 References
1.

Andradóttir S (2006) Simulation optimization with countably infinite feasible regions: efficiency and convergence. ACM Trans Model Comput Simul 16(4):357–374. https://doi.org/10.1145/1176249.1176252

2.

Bailey N (1952) A study of queues and appointment Systems in Hospital Outpatient Departments with special reference to waiting times. J R Stat Soc 14:185–199

3.

Blanco White M, Pike M (1964) Appointment Systems in Outpatients' clinics and the effect on patients' unpunctuality. Med Care 2(3):133–145. https://doi.org/10.1097/00005650-196407000-00002

4.

Cayirli T, Veral E (2003) Outpatient scheduling in health care: a review of literature. Prod Oper Manag 12:519–549

5.

Cayirli T, Veral E, Rosen H (2006) Designing appointment scheduling Systems for Ambulatory Care Services. Health Care Manag Sci 1:47–58

6.

Cayirli T, Veral E, Rosen H (2008) Assessment of patient classification in appointment system design. Prod Oper Manag 17:338–353

7.

Cortada JW, Gordon D, Lenihan B (2012) The value of analytics in healthcare: from insights to outcomes. IBM global business services executive report. IBM Institute for Business Value, IBM Corporation, New York, USA

8.

Cox T, Birchall J, Wong H (1985) Optimising the queuing system for an ear, nose and throat outpatient clinic. J Appl Stat 12(2):113–126. https://doi.org/10.1080/02664768500000017

9.

Denton B, Gupta D (2003) A sequential bounding approach for optimal appointment scheduling. IIE Trans 35(11):1003–1016. https://doi.org/10.1080/07408170304395

10.

Ducharme J, Alder RJ, Pelletier C, Murray D, Tepper J (2009) The impact on patient flow after the integration of nurse practitioners and physician assistants in 6 Ontario emergency departments. J Can Assoc Emerg Physicians 11:455–461

11.

Fu MC (2002) Optimization for simulation: theory vs. Prac INFORMS J Comput 14(3):192–215. https://doi.org/10.1287/ijoc.14.3.192.113

12.

Gonsalves T, Itoh K (2009) Service optimization with patient satisfaction in healthcare systems. Journal of simulation, suppl. Spec Issue: Simul Healthc Part 1:150–162

13.

Gupta D, Denton B (2008) Appointment scheduling in health care: challenges and opportunities. IIE Trans 40(9):800–819. https://doi.org/10.1080/07408170802165880

14.

Harper PR, Gamlin HM (2003) Reduced outpatient waiting times with improved appointment scheduling: a simulation modelling approach. Oper Res-Spektrum 25(2):207–222. https://doi.org/10.1007/s00291-003-0122-x

15.

Ho C, Lau H (1992) Minimizing Total cost in scheduling outpatient appointments. Manag Sci 38(12):1750–1764. https://doi.org/10.1287/mnsc.38.12.1750

16.

HRSA (2013) Projecting the supply and demand for primary care practitioners through 2020. U.S. Department of Health and Human Services, Health Resources and Services Administration, National Center for health workforce analysis, Rockville, Maryland. http://bhpr.hrsa.gov/healthworkforce/supplydemand/usworkforce/primarycare/projectingprimarycare.pdf

17.

Janakiraman N, Meyer R, Hoch S (2011) The psychology of decisions to abandon waits for service. J Mark Res 48:970–984

18.

Jennings N, O'Reilly G, Lee G, Cameron P, Free B, Bailey M (2008) Evaluating outcomes of the emergency nurse practitioner role in a major urban emergency department. J Clin Nurs 17(8):1044–1050. https://doi.org/10.1111/j.1365-2702.2007.02038.x

19.

Klassen K, Rohleder T (1996) Scheduling outpatient appointments in a dynamic environment. J Oper Manag 14(2):83–101. https://doi.org/10.1016/0272-6963(95)00044-5

20.

Klassen K, Yoogalingam R (2008) An assessment of the interruption level of doctors in outpatient appointment scheduling. Oper Manag Res 1(2):95–102. https://doi.org/10.1007/s12063-008-0013-z

21.

Klassen K, Yoogalingam R (2009) Improving performance in outpatient appointment services with a simulation optimization approach. Prod Oper Manag 18(4):447–458. https://doi.org/10.1111/j.1937-5956.2009.01021.x

22.

Klassen K, Yoogalingam R (2014) Patient unpunctuality: strategies for appointment policy design. Decis Sci 45(5):881–911. https://doi.org/10.1111/deci.12091

23.

Kuiper A, Mandjes M (2015) Appointment scheduling in tandem-type service systems. Omega 57:145–156. https://doi.org/10.1016/j.omega.2015.04.009

24.

Laganga L, Lawrence S (2007) Clinic overbooking to improve patient access and increase provider productivity. Decis Sci 38(2):251–276. https://doi.org/10.1111/j.1540-5915.2007.00158.x

25.

Lin C (2015) An adaptive scheduling heuristic with memory for the block appointment system of an outpatient specialty clinic. Int J Prod Res 53(24):7488–7516. https://doi.org/10.1080/00207543.2015.1084060

26.

Maister D (1985) The psychology of waiting lines. http://davidmaister.com/articles/the-psychology-of-waiting-lines/ Accessed 3 April 2013

27.

Meats P, Ashton T (1997) Nurses' help in psychiatric outpatient clinics. Psychiatr Bull 21(11):677–679. https://doi.org/10.1192/pb.21.11.677

28.

O'Hare S (2010) Mid-level providers in a changing healthcare workforce. Becker's Hospital Review August 17 http://www.beckershospitalreview.com/compensation-issues/mid-level-providers-in-a-changing-healthcare-workforce.html Accessed September 2016

29.

OptTek Systems, Inc. http://www.opttek.com Accessed September 2016

30.

Powers M (2011) Reducing patient wait times: Examine your operations to boost efficiency. ENT TOday October 10. http://www.enttoday.org/article/reducing-patient-wait-times-examine-your-operations-to-boost-efficiency. Accessed September 2012

31.

Rising E, Baron R, Averill B (1973) A system analysis of a university health service outpatient clinic. Oper Res 21:1020–1047

32.

Robinson L, Chen R (2003) Scheduling doctors' appointments: optimal and empirically-based heuristic policies. IIE Trans 35(3):295–307. https://doi.org/10.1080/07408170304367

33.

Rohleder TR, Lewkonia P, Bischak DP, Duffy P, Hendijani R (2011) Using simulation modeling to improve patient flow at an outpatient orthopedic clinic. Health Care Manag Sci 14:135–145

34.

Salzarulo PA, Mahar S, Modin S (2016) Beyond patient classification: using individual patient characteristics in appointment scheduling. Prod Oper Manag 25:1056–1072

35.

Saremi A, Jula P, ElMekkawy T, Wang GG (2013) Appointment scheduling of outpatient surgical Services in a Multi-Stage Operating Room Department. Int J Prod Econ 141(2):646–658. https://doi.org/10.1016/j.ijpe.2012.10.004

36.

Shi J, Zhou S (2009) Quality control and improvement for multi-stage systems: a survey. IIE Trans 41(9):744–753. https://doi.org/10.1080/07408170902966344

37.

Soteriou AC, Hadjinicola GC (1999) Resource allocation to improve service quality perceptions in multi-stage service systems. Prod Oper Manag 8:221–239

38.

Sulek JM, Marucheck A, Lind MR (2006) Measuring performance in multi-stage service operations: an application of cause selecting control charts. J Oper Manag 24:711–727

39.

Vanden Bosch PM, Dietz DC, Simeoni JR (1999) Scheduling customer arrivals to a stochastic service system. Nav Res Logist 46(5):549–559. https://doi.org/10.1002/(SICI)1520-6750(199908)46:5<549::AID-NAV6>3.0.CO;2-Y

40.

Vissers J (1979) Selecting a suitable appointment system in an outpatient setting. Med Care 17(12):1207–1220. https://doi.org/10.1097/00005650-197912000-00004

41.

Wang P (1993) Static and dynamic scheduling of customer arrivals to a single-server system. Nav Res Logist 40(3):345–360. https://doi.org/10.1002/1520-6750(199304)40:3<345::AID-NAV3220400305>3.0.CO;2-N

42.

Wang P (1997) Optimally scheduling N customer arrival times for a single-server system. Comput Oper Res 24(8):703–716. https://doi.org/10.1016/S0305-0548(96)00093-7

43.

White D, Froehle C, Klassen K (2011) The effect of integrated scheduling and capacity policies on clinical efficiency. Prod Oper Manag 20:442–455

44.

Yang S-F (2011) Using cause selecting control charts to monitor dependent process stages with attributes data. Expert Syst Appl 38(1):667–672. https://doi.org/10.1016/j.eswa.2010.07.018
Appendix 1
Appendix 1
About this article
Cite this article
Klassen, K.J., Yoogalingam, R. Appointment scheduling in multi-stage outpatient clinics. Health Care Manag Sci 22, 229–244 (2019). https://doi.org/10.1007/s10729-018-9434-x
Received:

Accepted:

Published:

Issue Date:
Keywords
Appointment scheduling

Simulation optimization

Multi-stage health systems