Abstract
Existing literature analyzing the choice of received long-term care by frail elderly (65+ years) predominantly focuses on physical and psychological conditions of elderly people as factors that influence the decision for a particular type of care. Until now, however, the regional in-patient long-term care supply has been neglected as influential factor in this decision-making process. In this study, we analyze the determinants of received long-term care in Germany by explicitly taking the regional supply of nursing homes into account. We estimate a multinomial probit model to illustrate this decision-making process. Therefore, within this discrete choice setting we distinguish between all available types of long-term care in Germany, i.e. four different types of formal and informal care provision. We find that the decision for long-term in-patient care is significantly correlated with the regional supply of nursing home beds, while controlling for physical and psychological conditions of the individual.
This is a preview of subscription content, log in to check access.
Access options
Buy single article
Instant access to the full article PDF.
US$ 39.95
Price includes VAT for USA
Subscribe to journal
Immediate online access to all issues from 2019. Subscription will auto renew annually.
US$ 99
This is the net price. Taxes to be calculated in checkout.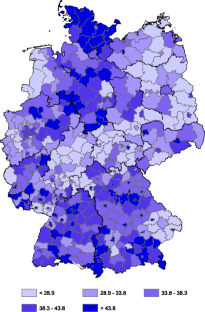 Notes
1.

For price adjustments, price indices for out-patient as well as in-patient health care services are considered using 2012 as base year [30].

2.

A general overview on care provision and its taxonomy is provided by [22].

3.

4.

For the long list of variables we performed a collinearity check. This check revealed correlations on a moderate level for all variable combinations.

5.

6.

7.

Intuitively, an interaction term of both dummy variables for women und living alone may be of interest. However, due to the non-linearity of the model an interaction term does not allow for correct inference about sign, magnitude or statistical significance of the estimated interaction effect as shown by [1]. Therefore, we forgo including this interaction term in the model.

8.

The average marginal effects for this model specification are provided in Table 4 in the Appendix.
References
1.

Ai C, Norton EC (2003) Interaction terms in logit and probit models. Econ Lett 80(1):123–129

2.

Arling G, Harkins EB, Romaniuk M (1984) Adult day care and the nursing home: the appropriateness of care in alternative settings. Res. Aging 6(2):225–242

3.

Balia S, Brau R (2011) A country for old men? An analysis of the determinants of long-term home care in Europe. Working paper, Centre for North South Economic Research. University of Cagliari and Sassari, Sardinia

4.

Bauer EJ (1996) Transitions from home to nursing home in a capitated long-term care program: the role of individual support systems. Health Serv Res 31(3):309–326

5.

Bolin K, Lindgren B, Lundborg P (2008) Informal and formal care among single-living elderly in Europe. Health Econ 17(3):393–409

6.

Bonsang E (2009) Does informal care from children to their elderly parents substitute for formal care in Europe? J Health Econ 28(1):143–154

7.

Cameron AC, Trivedi PK (2005) Microeconomerics - methods and applications. Cambridge University Press, Cambridge

8.

Cameron AC, Trivedi PK (2005) Microeconometrics: methods and applications. Cambridge university press

9.

Charles KK, Sevak P (2005) Can family caregiving substitute for nursing home care? J Health Econ 24 (6):1174–1190

10.

Chiswick BR (1976) The demand for nursing home care: an analysis of the substitution between institutional and noninstitutional care. J Human Res 11(3):295–316

11.

Coughlin TA, McBride TD, Perozek M, Liu K (1992) Home care for the disabled elderly: predictors and expected costs. Health Serv Res 27(4):453–479

12.

Du J (2012) Formal and informal care: an empirical Bayesian analysis using the two-part model. Forum Health Econ Policy 15(2)

13.

Freedman VA (1996) Family structure and the risk of nursing home admission. J Gerontol Ser B Psychol Sci Soc Sci 51B(2):S61–S69

14.

Greene WH (2008) Econometric analysis. Granite Hill Publishers

15.

Harwood RH, Sayer AA, Hirschfeld M (2004) Current and future worldwide prevalence of dependency, its relationship to total population, and dependency ratios. Bull World Health Organ 82(4):251–258

16.

Headen AE Jr (1993) Economic disability and health determinants of the hazard of nursing home entry. J Human Res 28 (1):80–110

17.

Houtven CHV, Norton EC (2004) Informal care and health care use of older adults. J Health Econ 23 (6):1159–1180

18.

Jette AM, Branch LG, Sleeper LA, Feldman H, Sullivan LM (1992) High-risk profiles for nursing home admission. Gerontologist 32(5):634–640

19.

Lyons KS, Zarit SH (1999) Formal and informal support: the great divide. Int J Geriatr Psychiatry 14 (3):183–192

20.

McAuley W, Arling G (1984) Use of in-home care by very old people. J Health Soc Behav 25:54–64

21.

Miller EA, Weissert WG (2000) Predicting elderly people?s risk for nursing home placement, hospitalization, functional impairment, and mortality: a synthesis. Med Care Res Rev 57(3):259–297

22.

Norton EC (2000) Long-term care. In: Culyer AJ, Newhouse JP (eds) Handbook of health economics, handbook of health economics, vol. 1. Elsevier, pp 955–994

23.

Pezzin LE, Kemper P, Reschovsky J (1996) Does publicly provided home care substitute for family care? Experimental evidence with endogenous living arrangements. J Human Res 31(3):650–676

24.

Reschovsky JD (1996) Demand for and access to institutional long-term care: the role of Medicaid in nursing markets. Inquiry 33(1):15–29

25.

Sasso ATL, Johnson RW (2002) Does informal care from adult children reduce nursing home admissions for the elderly? Inquiry 39(3):279–297

26.

Schmitz H, Stroka MA (2013) Health and the double burden of full-time work and informal care provision – Evidence from administrative data. Labour Econ 24(0):305–322

27.

Schmitz H, Stroka MA (2014) Do elderly choose nursing homes by quality, price or location? Ruhr Economic Papers:495

28.

Statistisches Bundesamt (2012) Gesundheit – Ausgaben 1995 bis 2010. Fachserie 12 – Reihe 7.1.2. Wiesbaden

29.

Statistisches Bundesamt (2014) Gesundheit – Ausgaben 2012. Fachserie 12 – Reihe 7.1.1. Wiesbaden

30.

Statistisches Bundesamt (2014) Preise – Verbraucherpreisindizes für Deutschland – Jahresbericht 2013. Wiesbaden

31.

Tennstedt SL, Sullivan LM, McKinlay JB, D'Agostino RB (1990) How important is functional status as a predictor of service use by older people? J Aging Health 2(4):439–461

32.

Thorslund M, Norström T, Wernberg K (1991) The utilization of home help in Sweden: a multivariate analysis. Gerontologist 31(1):116–119

33.

Tomiak M, Berthelot JM, Guimond E, Mustard CA (2000) Factors associated with nursing-home entry for elders in Manitoba, Canada. J Gerontol Ser A Biol Sci Med Sci 55(5):M279–M287

34.

Trydegard GB (1998) Public long term care in Sweden. J Gerontol Soc Work 29(4):13–34

35.

Wan TT, Weissert WG (1981) Social support networks, patient status, and institutionalization. Res Aging 3(2):240–256

36.

Weaver F, Stearns SC, Norton EC, Spector W (2009) Proximity to death and participation in the long-term care market. Health Econ 18(8):867–883

37.

Weissert WG, CREADY C, Pawelak JE (2005) The past and future of home-and community-based long-term care. Milbank Quarterly 83(4):1–71

38.

Weissert WG, Cready CM (1989) Toward a model for improved targeting of aged at risk of institutionalization. Health Serv Res 24(4):485–510

39.

Weissert WG, Scanlon WJ (1985) Determinants of nursing home discharge status. Med Care 23(4):333–343

40.

Weissert WG, Wan TT, Livieratos BB, Pellegrino J (1980) Cost-effectiveness of homemaker services for the chronically ill. Inquiry:230–243

41.

Werner RM, Norton EC, Konetzka RT, Polsky D (2012) Do consumers respond to publicly reported quality information? evidence from nursing homes. J Haematol Suppl 31(1):50–61

42.

Wingard DL, Williams-Jones D, McPhillips J, Kaplan RM, Barret-Connor E (1990) Nursing home utilization in adults: a prospective population-based study. J Aging Health 2(2):179–193

43.

Wooldridge JM (2010) Econometric analysis of cross section and panel data. MIT press
Acknowledgments
We thank Thomas K. Bauer, Dörte Heger, Ingo Kolodziej, Sandra Schaffner, Ansgar Wübker and three anonymous referees for helpful comments and suggestions. We are grateful to our colleagues from the WINEG for the access to the data of the Techniker Krankenkasse. Financial support by the German Research Foundation (DFG) and the Ruhr Graduate School in Economics is gratefully acknowledged.
Appendix
Appendix
About this article
Cite this article
Pilny, A., Stroka, M.A. Determinants of received long-term care – Individual responses to regional nursing home provisions. Health Care Manag Sci 19, 326–337 (2016). https://doi.org/10.1007/s10729-015-9333-3
Received:

Accepted:

Published:

Issue Date:
Keywords
Informal care

Formal care

Choice of care

Administrative data

Nursing home supply

Multinomial probit model