Abstract
Due to an increasing number of mass casualty incidents, which are generally complex and unique in nature, we suggest that decision makers consider operations research-based policy models to help prepare emergency staff for improved planning and scheduling at the emergency site. We thus develop a discrete-event simulation policy model, which is currently being applied by disaster-responsive ambulance services in Austria. By evaluating realistic scenarios, our policy model is shown to enhance the scheduling and outcomes at operative and online levels. The proposed scenarios range from small, simple, and urban to rather large, complex, remote mass casualty emergencies. Furthermore, the organization of an advanced medical post can be improved on a strategic level to increase rescue quality, including enhanced survival of injured victims. In particular, we consider a realistic mass casualty incident at a brewery relative to other exemplary disasters. Based on a variety of such situations, we derive general policy implications at both the macro (e.g., strategic rescue policy) and micro (e.g., operative and online scheduling strategies at the emergency site) levels.
Access options
Buy single article
Instant access to the full article PDF.
US$ 39.95
Tax calculation will be finalised during checkout.
Subscribe to journal
Immediate online access to all issues from 2019. Subscription will auto renew annually.
US$ 79
Tax calculation will be finalised during checkout.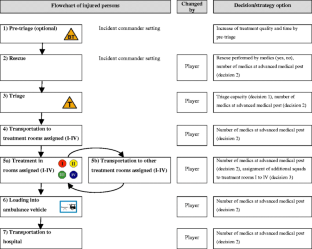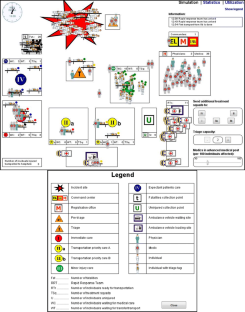 References
1.

Aaby K, Herrmann JW, Jordan CS, Treadwell M, Wood K (2006) Montgomery county's public health service uses operations research to plan emergency mass dispensing and vaccination clinics. Interfaces 36(6):569–579

2.

Adams HA (2006) Patientenversorgung im Katastrophenfall. Der Unfallchirurg 109(7):583–586

3.

Altay N, Green WG (2006) OR/MS research in disaster operations management. Eur J Oper Res 175(2):475–93

4.

Andersson T, Vaerbrand P (2007) Decision support tools for ambulance dispatch and relocation. J Oper Res Soc 58:195–201

5.

Arnold JL (1999) International emergency medicine and the recent development of emergency medicine worldwide. Ann Emerg Med 33(1):97–103

6.

Auf der Heide E (2006) The importance of evidence-based disaster planning. Ann Emerg Med 47(1):34–49

7.

Batta R, Mannur NR (1990) Covering-location models for emergency situations that require multiple response units. Manag Sci 36(1):16–23

8.

Berman O, Gavious A (2007) Location of terror response facilities: A game between state and terrorist. Eur J Oper Res 177(2):1113–1133

9.

Brailsford SC, Gutjahr WJ, Rauner MS, Zeppelzauer W (2007) Combined discrete-event simulation and ant colony optimisation approach for selecting optimal screening policies for diabetic retinopathy. Comput Manag Sci 4(1):59–83

10.

Brennan A, Chick S, Davies R (2006) A taxonomy of model structures for economic evaluation of health technologies. Heal Econ 15(12):1295–1310

11.

Cagnan Z, Davidson RA (2007) Discrete event simulation of the post-earquake restoration process for electric power systems. Int J Risk Assess Manag 7(8):1138–1156

12.

Campbell AM, Jones PC (2011) Prepositioning supplies in preparation for disasters. Eur J Oper Res 209:156–165

13.

Center for Research on the Epidemiology of Disasters (CRED) (2011) EM-DAT: The OFDA/CRED International Disaster Database. Université Catholique de Louvain. Brussels. http://www.emdat.be. Accessed 5 April 2011

14.

Chandes J, Paché G (2010) Investigating humanitarian logistics issues: from operations management to strategic action. J Manuf Technol Manag 21(3):320–340

15.

Channouf N, L'Ecuyer P, Ingolfsson A, Avramidis AN (2007) The application of forecasting techniques to modeling emergency medical system calls in Calgary, Alberta. Health Care Manag Sci 10(1):25–45

16.

Chen X, Zhan F (2008) Agent-based modelling and simulation of urban evacuation: relative effectiveness of simultaneous and staged evacuation strategies. J Oper Res Soc 59(1):25–33

17.

Chen YW, Wang CH, Lin SJ (2008) A multi-objective geographic information system for route selection of nuclear waste transport. Omega 36(3):363–372

18.

Cooper K, Brailsford SC, Davies R (2007) Choice for modelling technique for evaluating health care interventions. J Oper Res Soc 58(2):168–176

19.

Davies R, Davies HT (1994) Modelling patient flows and resource provision in health systems. Omega 22(2):123–131

20.

Dimopoulou M, Giannikos I (2004) Towards an integrated framework for forest fire control. Eur J Oper Res 152(2):476–486

21.

Dodo A, Davidson R, Xu N, Nozick L (2007) Application of regional earthquake mitigation optimization. Comput Oper Res 34(8):2478–2494

22.

Doerner K, Gutjahr W, Nolz P (2008) Multi-criteria location planning for public facilities in tsunami-prone coastal areas. OR Spectr 31:651–678

23.

Doerner KF, Gutjahr WJ, Van Wassenhove L (2011) Special issue on optimization in disaster relief. OR Spectr 33(3):445–449

24.

Dykstra EH (1997) International models for the practice of emergency care. Am J Emerg Med 15:208–209

25.

Fiedrich F, Gehbauer F, Rickers U (2000) Optimized resource allocation for emergency response after earthquake disasters. Saf Sci 35(1–3):41–57

26.

Gansterer A (2008) Disaster management and its economic implications. Master Thesis, University of Vienna, Austria

27.

Genzmer H, Schuetz C, Kershner S (2009) Die groessten Katastrophen. Parragon, Koeln

28.

Gong Q, Batta R (2007) Allocation and reallocation of ambulances to casualty clusters in a disaster relief operation. IIE Trans 39(1):27–39

29.

Gonzales RA (2010) Developing a multi-agent system of a crisis response organization. Bus Process Manag J 16(5):847–870

30.

Hansak P, Petutschnigg B, Boebel M, Huendorf HP, Lipp R, Veith J (2003) LPN-San Oesterreich - Lehrbuch für Rettungssanitaeter, Betriebssanitaeter und Bundesheersanitaeter. Stumpf & Kossendey, Edewecht

31.

Horsman J, Furlong W, Feeny D, Torrance G (2003) The Health Utilities Index (HUI): concepts, measurement properties and applications. Health Qual Life Outcome 1:54

32.

Hupert N, Hollingsworth E, Xiong W (2007) Is overtriage associated with increased mortality? Insights from a simulation model of mass casualty trauma care. Disaster Med Public Health Prep 1(1):14–24

33.

Ingolfsson A, Budge S, Erkut E (2008) Optimal ambulance location with random delays and travel times. Health Care Manag Sci 11:262–274

34.

Jacobson S, McLay L, Virta J, Kobza J (2005) Integer programming models for deployment of airport baggage screening security devices. Optim Eng 6(3):339–359

35.

Kara B, Verter V (2004) Designing a road network for hazardous materials transportation. Transp Sci 38(2):188–196

36.

Koehler G, Foley D, Jones M (1992) A computer simulation of a California casualty collection point used to respond to a major earthquake. Prehospital Disaster Medicine 7(4):339–347

37.

Kovács G, Spens KM (2007) Humanitarian logistics in disaster relief operations. Int J Phys Distrib Logist Manag 37(2):99–114

38.

Kovács G, Spens KM (2011) Trends and developments in humanitarian logistics - a gap analysis. Int J Phys Distrib Logist Manag 41(1):32–45

39.

Laurent JF, Richter F, Michel A (1999) Management of victims of urban chemical attack: the French approach. Resuscitation 42(2):141–149

40.

Law AM, Kelton WD (1991) Simulation modeling and analysis. Mc Graw-Hill, New York

41.

Lee EK, Maheshwary S, Mason J, Glisson W (2006) Decision support system for mass dispensing of medications for infectious outbreaks and bioterrorist attacks. Ann Oper Res 148(1):25–53

42.

Lewis RJ (2007) Modeling complex systems: gaining valid insights and avoiding mathematical delusions. Acad Emerg Med 14(9):795–598

43.

Li X, Zhao Z, Zhu X, Wyatt T (2011) Covering models and optimization techniques for emergency response facility location and planning: A review. Math Method Oper Res 74(3):281–310

44.

MacLellan J, Martell D (1996) Basing airtankers for forest fire control in Ontario. Oper Res 44(5):677–686

45.

Mentges D, Kirschenlohr R, Adamek H, Boldt J, Riemann JF (1997) Der rettungsdienstliche Ablauf bei Grossschadensereignissen - Eine Untersuchung von 21 Faellen. Anaesthesist 46(2):114–120

46.

Miller HE, Engemann K (2008) A Monte Carlo simulation model of supply chain risk due to natural disasters. Int J Tech Pol Manag 8(4):460–480

47.

Miller G, Randolph S, Patterson J (2006) Responding to bioterrorist smallpox in San Antonio. Interfaces 36(6):580–590

48.

Natarajarathinam M, Capar I, Narayanan A (2009) Managing supply chains in times of crisis: a review of literature and insights. Int J Phys Distrib Logist Manag 39(7):535–573

49.

Niessner H (2010) Der Rettungsdienst bei einem Massenanfall von Verletzten – ein Simulationsmodell in AnyLogic. Master Thesis, University of Vienna, Austria.

50.

Noel Bryson K-M, Millar H, Joseph A, Mobolurin A (2002) Using formal MS/OR modeling to support disaster recovery planning. Eur J Oper Res 141(3):679–688

51.

Oesterreichisches Rotes Kreuz (2007) Rahmenvorschrift Grossunfaelle. http://vorschriften.roteskreuz.at. Accessed 16 December 2009

52.

Paton D, Jackson D (2002) Developing disaster management capability: an assessment center approach. Disast Prev Manag 11(2):115–122

53.

Peleg K, Pliskin J (2004) A geographic information system simulation model of EMS: reducing ambulance response time. Am J Emerg Med 22(3):164–70

54.

Pettit SJ, Beresford AKC (2005) Emergency relief logistics: an evaluation of military, non-military, and composite response models. Int J Logist 8(4):313–331

55.

Pfeiler H (2009) Befragung zu Ablaeufen in einer SanHist, commander group 902, Samaritan Organization. Interview on 27 November 2009

56.

Pramendorfer W (2009) Medical aspects of an advanced medical post. medical doctor. Samaritan Organization. Interview on 31 October 2009

57.

Rabin R, de Charro F (2001) EQ-5D: a measure of health status from the EuroQol group. Ann Med 33(5):337–43

58.

Rauner MS, Gutjahr W, Heidenberger K, Wagner J, Pasia J (2010) Dynamic policy modeling for chronic diseases: metaheuristic- based identification of pareto-optimal screening strategies. Oper Res 58(5):1269–1286

59.

Rauner MS, Schaffhauser-Linzatti MM, Niessner H (2011) Ein Planspiel fuer Großschadenseinsaetze - Ein simulationsbasiertes Managementplanspiel unterstuetzt den effektiven und effizienten Einsatz von Rettungsdiensten. Das oesterreichische Gesundheitswesen—Oesterreichische Krankenhauszeitschrift 52(7):8–11

60.

Riener (2007) Die Aenderungen beim Patientenleitsystem. Samaritan Organization

61.

Rotes Kreuz Niederoesterreich (2005) Durchfuehrungsbestimmungen für Grossunfaelle. http://rk-gerasdorf.at/downloadbereich/Durchfuehrungsbestimmungen_fuer_Grossunfaelle.pdf. Accessed 16 December 2009

62.

Shaluf IM, Ahmadun Fakharu'l-razi, Aini MS (2003) A review of disaster and crisis. Disast Prev Manag 12(1):24–32

63.

Shuman LJ, Wolfe H, Gunter MJ (1992) RURALSIM: the design and implementation of a rural EMS simulator. J Soc Health Syst 3(3):54–71

64.

Simpson NC, Hancock PG (2009) Fifty years of operational research and emergency response. Eur J Oper Res Soc 60:126–139

65.

Smith SW, Portelli I, Narzisi G, Nelson LS, Menges F, Rekow ED, Mincer JS, Mishra B, Goldfrank LR (2009) A novel approach to multihazard modeling and simulation. Disaster Med Public Health Prep 3(2):75–87

66.

Statistik Austria (2010) Statistik Austria – Statistiken. http://www.statistik.at. Accessed 15 December 2011

67.

Steger M, Fuchs W, Stumpf D (2009) Organizational aspects of an advanced medical post. commanders of group 915. Samaritan Organization. Interview on 28 October 2009

68.

Tamura H, Yamamoto K, Tomiyama S, Hatono I (2000) Modeling and analysis of decision making problems for mitigating natural disaster risks. Eur J Oper Res 122:461–468

69.

Tsai C-H, Chen C-W, Chiang W-L, Lin M-L (2008) Application of geographic information system to the allocation of disaster shelters via fuzzy models. Intl J Comp-Aided Engrg & Software 25(1):86–100

70.

Valdmanis V, Bernet P, Moises J (2011) Hospital capacity, capability, and emergency preparedness. Eur J Oper Res 207:1628–1634

71.

World Bank (2011) The recentearthquake and tsunami in Japan: implications for East Asia, world bank East asia and pacific economic update 2011, vol. 1, http://siteresources.worldbank.org/INTEAPHALFYEARLYUPDATE/Resources/550192-1300567391916

72.

XJ Technologies (2008) AnyLogic Help. Help system for the computer program AnyLogic/EAP_Update_ March2011_japan.pdf, Accessed 5 April 2011

73.

Yi W, Oezdamar L (2007) A dynamic logistics coordination model for evacuation and support in disaster response activities. Eur J Oper Res 179(3):1177–1193

74.

Ziegenfuss T (2007) Notfallmedizin. Springer Medizin Verlag, Heidelberg
Acknowledgements
We thank a large number of bachelors, masters, and PhD students, mainly at the University of Vienna, as well as practitioners, staff of the Red Cross and the Samaritan Organization, and members of other organizations, all of whom played our disaster policy game, and contributed significantly to the ongoing improvement of the underlying model. Special thanks go to Natasa Peric and Teresa Herdlicka, masters students at the University of Vienna who set up a large experiment designed to investigate the simulation game. They recruited, and tutored, 96 players under the co-supervision of Prof. Dr. Ulrike Leopold-Wildburger from the University of Graz, an Austrian expert on experimental games. The authors also wish to express their gratitude to the editors of HCMS, and three anonymous referees, for their most valuable comments and pertinent suggestions that led to improvements in both the presentation and content of this paper. Special thanks are due to Barnett R. Parker who helped us with a professional edit of the manuscript.
About this article
Cite this article
Rauner, M.S., Schaffhauser-Linzatti, M.M. & Niessner, H. Resource planning for ambulance services in mass casualty incidents: a DES-based policy model. Health Care Manag Sci 15, 254–269 (2012). https://doi.org/10.1007/s10729-012-9198-7
Received:

Accepted:

Published:

Issue Date:
Keywords
Discrete event simulation

Decision support system

Disaster planning for ambulance services

Management games