Abstract
Preference evaluation is a key aspect of multi-issue negotiation support, especially when the set of possible alternative offers is large. Approaches based on utility (value) functions have been used to elicit negotiators' preferences so that they can assess alternatives and concessions. A disadvantage of eliciting preferences is the requirement that the negotiators provide precise values, which may cause errors and inconsistencies. This paper proposes a protocol for eliciting preferences, which is based on an adaptation of the Flexible and Interactive Tradeoff (FITradeoff) multicriteria method. This method allows negotiators to provide incomplete information, which is used to construct a linear programming model to determine the dominance relationship of the alternatives. During the exchange of offers, the models are refined and the dominance relationship becomes increasingly more complete. The negotiation protocol is based on reducing the current set of possible agreement packages, by removing those that are not of interest to both parties, which facilitates reaching an agreement. A Pareto-optimality analysis of the final agreement package is conducted in the post-settlement phase, also under partial information provided by the parties, which is a challenge when exact information about the weights of issues is not known.
Access options
Buy single article
Instant access to the full article PDF.
USD 39.95
Price includes VAT (USA)
Tax calculation will be finalised during checkout.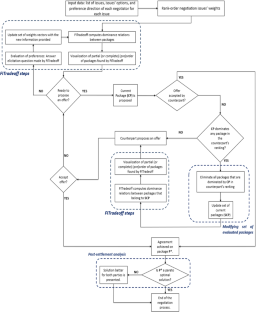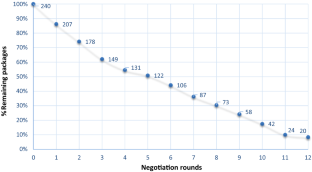 References
Athanassopoulos AD, Podinovski VV (1997) Dominance and potential optimality in multiple criteria decision analysis with imprecise information. J Oper Res Soc 48(2):142–150

Belton V, Stewart T (2002) Multiple criteria decision analysis: an integrated approach. Springer Science & Business Media

Borcherding K, Eppel T, Von Winterfeldt D (1991) Comparison of weighting judgments in multiattribute utility measurement. Manage Sci 37(12):1603–1619

Bui T, Yen J, Hu J, Sankaran S (2001) A multi-attribute negotiation support system with market signaling for electronic markets. Group Decis Negot 10(6):515–537

Carrillo PAA, Roselli LRP, Frej EA, de Almeida AT (2018) Selecting an agricultural technology package based on the flexible and interactive tradeoff method. Ann Oper Res. https://doi.org/10.1007/s10479-018-3020-y

Clímaco JN, Dias LC (2006) An approach to support negotiation processes with imprecise information multicriteria additive models. Group Decis Negot 15(2):171–184

Danielson M, Ekenberg L (2017) A robustness study of state-of-the-art surrogate weights for MCDM. Group Decis Negot 26(4):677–691

Danielson M, Ekenberg L, He Y (2014) Augmenting ordinal methods of attribute weight approximation. Decis Anal 11(1):21–26

de Almeida AT, de Almeida JA, Costa APCS, de Almeida-Filho AT (2016) A new method for elicitation of criteria weights in additive models: flexible and interactive tradeoff. Eur J Oper Res 250(1):179–191

de Almeida AT, Frej EA, Roselli LRP (2021) Combining holistic and decomposition paradigms in preference modeling with the flexibility of FITradeoff. Cent Eur J Oper Res 29:7–47

Dias LC, Clímaco JN (2000) Additive aggregation with variable interdependent parameters: the VIP analysis software. J Oper Res Soc 51(9):1070–1082

Edwards W, Barron FH (1994) SMARTS and SMARTER: improved simple methods for multiattribute utility measurement. Organ Behav Hum Decis Process 60(3):306–325

Fossile DK, Frej EA, da Costa SEG, de Lima EP, de Almeida AT (2020) Selecting the most viable renewable energy source for Brazilian ports using the FITradeoff method. J Clean Prod 260:121107

Frej EA, Ekel P, de Almeida AT (2021) A benefit-to-cost ratio based approach for portfolio selection under multiple criteria with incomplete preference information. Inf Sci 545:487–498

Frej EA, Roselli LRP, Araújo de Almeida J, de Almeida AT (2017) A multicriteria decision model for supplier selection in a food industry based on FITradeoff method. Math Probl Eng 2017:1–9

Frej EA, de Almeida AT, Costa APCS (2019) Using data visualization for ranking alternatives with partial information and interactive tradeoff elicitation. Oper Res 19(4):909–931

Górecka D, Roszkowska E, Wachowicz T (2016) The MARS approach in the verbal and holistic evaluation of the negotiation template. Group Decis Negot 25(6):1097–1136

Jonker CM, Aydoğan R, Baarslag T, Broekens J, Detweiler CA, Hindriks KV, Pasman W (2016) An introduction to the pocket negotiator: a general purpose negotiation support system. Multi-agent systems and agreement technologies. Springer, Cham, pp 13–27

Kang THA, Frej EA, de Almeida AT (2020) Flexible and interactive tradeoff elicitation for multicriteria sorting problems. Asia Pac J Oper Res 37:2050020

Keeney RL, Raiffa H (1976) Decisions with multiple objectives 1976. John Wiley & Sons, New York, p 34

Kersten GE (1985) NEGO—group decision support system. Inf Manag 8(5):237–246

Kersten GE, Lai H (2007) Negotiation support and e-negotiation systems: an overview. Group Decis Negot 16(6):553–586

Kersten GE, Noronha SJ (1999) WWW-based negotiation support: design, implementation, and use. Decis Support Syst 25(2):135–154

Kirkwood CW, Sarin RK (1985) Ranking with partial information: a method and an application. Oper Res 33(1):38–48

Lahtinen TJ, Guillaume JH, Hämäläinen RP (2017) Why pay attention to paths in the practice of environmental modelling? Environ Model Softw 92:74–81

Lai G, Li C, Sycara K (2006) Efficient multi-attribute negotiation with incomplete information. Group Decis Negot 15(5):511–528

Larichev OI, Moshkovich HM (1995) ZAPROS-LM—a method and system for ordering multiattribute alternatives. Eur J Oper Res 82(3):503–521

Mármol AM, Puerto J, Fernández FR (2002) Sequential incorporation of imprecise information in multiple criteria decision processes. Eur J Oper Res 137(1):123–133

Mustajoki J, Hämäläinen RP, Salo A (2005) Decision support by interval SMART/SWING–incorporating imprecision in the SMART and SWING methods. Decis Sci 36(2):317–339

Nyhart J, Samarasan D (1989) The elements of negotiation management: using computers to help resolve conflict. Negot J 9:43–62

Park K (2004) Mathematical programming models for characterizing dominance and potential optimality when multicriteria alternative values and weights are simultaneously incomplete. IEEE Trans Syst Man Cybern Part a: Syst Hum 34(5):601–614

Park KS, Kim SH (1997) Tools for interactive multiattribute decisionmaking with incompletely identified information. Eur J Oper Res 98(1):111–123

Pergher I, Frej EA, Roselli LRP, de Almeida AT (2020) Integrating simulation and FITradeoff method for scheduling rules selection in job-shop production systems. Int J Prod Econ 227:107669

Raiffa H (1982) The art and science of negotiation. Harvard University Press

Raiffa H, Richardson J, Metcalfe D (2002) Negotiation analysis: the science and art of collaborative decision making. Harvard University Press

Roszkowska E, Wachowicz T, Kersten G (2017) Can the holistic preference elicitation be used to determine an accurate negotiation offer scoring system? A comparison of direct rating and UTASTAR techniques. International conference on group decision and negotiation. Springer, Cham, pp 202–214

Salo AA, Hämäläinen RP (1992) Preference assessment by imprecise ratio statements. Oper Res 40(6):1053–1061

Salo AA, Hamalainen RP (2001) Preference ratios in multiattribute evaluation (PRIME)-elicitation and decision procedures under incomplete information. IEEE Trans Syst Man Cybern Part a: Syst Hum 31(6):533–545

Salo A, Punkka A (2005) Rank inclusion in criteria hierarchies. Eur J Oper Res 163(2):338–356

Sarabando P, Dias LC (2010) Simple procedures of choice in multicriteria problems without precise information about the alternatives' values. Comput Oper Res 37(12):2239–2247

Sarabando P, Dias LC, Vetschera R (2013) Mediation with incomplete information: approaches to suggest potential agreements. Group Decis Negot 22(3):561–597

Shyur HJ, Shih HS (2015) Designing a multi-issues negotiation support system based on prospect theory. Inf Sci 322:161–173

Silva Filho JL, Costa Morais D (2019) Negotiation protocol based on ordered weighted averaging and Fuzzy metrics. J Organ Comput Electron Commer 29(3):190–208

Stillwell WG, Seaver DA, Edwards W (1981) A comparison of weight approximation techniques in multiattribute utility decision making. Organ Behav Hum Perform 28(1):62–77

Tervonen T, Liesiö J, Salo A (2017) Modeling project preferences in multiattribute portfolio decision analysis. Eur J Oper Res 263(1):225–239

Vetschera R, Filzmoser M, Mitterhofer R (2014) An analytical approach to offer generation in concession-based negotiation processes. Group Decis Negot 23(1):71–99

von Winterfeldt D, Edwards W (1986) Decision analysis and behavioral research. Cambridge University Press 604:6–8

Wachowicz T (2010) Decision support in software supported negotiations. J Bus Econ Manag 4:576–597

Wachowicz T, Błaszczyk P (2013) TOPSIS based approach to scoring negotiating offers in negotiation support systems. Group Decis Negot 22(6):1021–1050

Wachowicz T, Kersten GE, Roszkowska E (2019) How do I tell you what I want? Agent's interpretation of principal's preferences and its impact on understanding the negotiation process and outcomes. Oper Res Int J 19:993–1032. https://doi.org/10.1007/s12351-018-00448-y

Weber M (1987) Decision making with incomplete information. Eur J Oper Res 28(1):44–57

Zandi F, Tavana M (2012) A fuzzy e-negotiation support system for inter-firm collaborative product development. Int J Comput Integr Manuf 25(8):671–688
Acknowledgements
The authors would also like to record their gratitude to the late professor Gregory Kersten, for his collaboration and support during the elaboration of this research. Specially, the first author of this paper, would like to record her gratitude to him for all the insightful discussions they had during the two visits she made to Concordia University. The first was in May 2019, and the second was in November, 2019. As a part of her post doctoral studies, she visited Concordia University to meet Gregory and to work with him on this research project related to eliciting preferences for negotiation support. Most of the ideas presented in this paper were developed during her visits to Concordia, in which she had the opportunity to learn a great deal from Gregory given his long and distinguished background in negotiation support.
Funding
The authors are most grateful to CNPq, CAPES and FACEPE, for the financial support provided.
Ethics declarations
Conflict of interest
The authors declare that they have no conflict of interest.
Additional information
Publisher's Note
Springer Nature remains neutral with regard to jurisdictional claims in published maps and institutional affiliations.
Appendix 1
Appendix 1
See Table 2.
About this article
Cite this article
Frej, E.A., Morais, D.C. & de Almeida, A.T. Negotiation Support Through Interactive Dominance Relationship Specification. Group Decis Negot (2021). https://doi.org/10.1007/s10726-021-09761-y
Keywords
Negotiation support

FITradeoff method

Preferences elicitation

Dominance relationship specification