Abstract
Due to the catastrophic consequence of possible incidents caused by the storage and transportation of hazardous materials, effectively mitigating such risks is of vital importance. This paper proposes a gradual-coverage game describing the situation of locating emergency facilities, to which the Shapley value can be used to evaluate the candidate locations. To be specific, the rescue risk and utility are assessed in terms of the response time to construct a gradual-coverage game. Then, we characterize the Shapley value by proposing two new axioms. Furthermore, to ensure that the analytical model can be practically applied to real-world situations, an algorithm for locating emergency facilities is designed based on the properties of the Shapley value, which is then tested for efficiency.
Access options
Buy single article
Instant access to the full article PDF.
USD 39.95
Price includes VAT (USA)
Tax calculation will be finalised during checkout.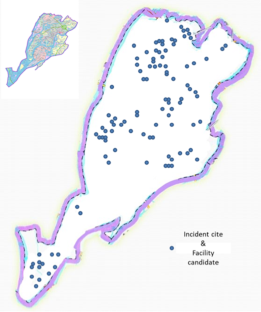 References
BBC (2014) Lac-megantic train explosion: three charged in quebec. Accessed: 04-30-2019 https://www.bbc.com/news/world-us-canada-27387287

BBC (2020) Beirut explosion: what we know so far. Accessed: 07-04-2021 https://www.bbc.com/news/world-middle-east-53668493

Berman O, Krass D, Drezner Z (2003) The gradual covering decay location problem on a network. Eur J Oper Res 151(3):474–480

Fragnelli V, Gagliardo S (2013) Open problems in cooperative location games. Int Game Theory Rev 15(03):1–13

Fragnelli V, Gagliardo S, Gastaldi F (2017) A game theoretic approach to an emergency units location problem. Springer, Cham, pp 171–191

List GF, Turnquist MA (1998) Routing and emergency-response-team siting for high-level radioactive waste shipments. IEEE Trans Eng Manag 45(2):141–152

Littlechild SC, Owen G (1973) A simple expression for the shapley value in a special case. Manage Sci 20(3):370–372

Mallozzi L (2007) Noncooperative facility location games. Oper Res Lett 35(2):151–154

Myerson RB (1977) Graphs and cooperation in games. Math Oper Res 2(3):225–229

Norde H, Fragnelli V, Garcia-Jurado I, Patrone F, Tijs S (2002) Balancedness of infrastructure cost games. Eur J Oper Res 136(3):635–654

Portland Fire and Rescue (2008) Standard of emergency response coverage https://www.portlandoregon.gov/fire/article/101052

Schmeidler D (1969) The nucleolus of a characteristic function game. SIAM J Appl Math 17(6):1163–1170

Shapley L (1953) A value for \(n\)-person games. In: Kuhn H, Tucher A (eds) Contributions to the theory of games. Princeton University Press, Princeton

Tarkowski MK, Michalak TP, Rahwan T, Wooldridge M (2017) Game-theoretic network centrality: a review

Transportation Research Board (2011) A guide for assessing community emergency response needs and capabilities for hazardous materials releases. Hazardous material cooperative research program 5

Zhao J, Ke GY (2019) Optimizing emergency logistics for the offsite hazardous waste management. J Syst Sci Syst Eng 28:747–765
Acknowledgements
This research was partially supported by a Discovery Grant from the Natural Sciences and Engineering Research Council of Canada (Grant # RGPIN-2015-04013), grants from the National Natural Science Foundations of China (Grant Nos. 61803091 and 71901076), and grants from the National Social Science Fund of China (Grant Nos. 18ZDA043, NO.19VDL001).
Additional information
Publisher's Note
Springer Nature remains neutral with regard to jurisdictional claims in published maps and institutional affiliations.
This research was partially supported by a Discovery Grant from the Natural Sciences and Engineering Research Council of Canada (Grant # RGPIN-2015-04013), grants from the National Natural Science Foundations of China (Grant Nos. 61803091 and 71901076), and grants from the National Social Science Fund of China (Grant Nos. 18ZDA043, No.19VDL001)
About this article
Cite this article
Ke, G.Y., Hu, XF. & Xue, XL. Using the Shapley Value to Mitigate the Emergency Rescue Risk for Hazardous Materials. Group Decis Negot (2021). https://doi.org/10.1007/s10726-021-09760-z
Keywords
Risk mitigation

Game theory

Shapley value

Emergency response

Hazardous materials