Abstract
In the professional world, there remains an obvious gender wage gap, partly because men ask for raises more often and in greater increments than women (Babcock et al., in Den De Cremer M, Zeelenberg, Murnighan JK (eds), Social psychology and economics, pp. 239–262, Erlbaum, 2006). In the current study, we seek to extend the literature on individual differences and negotiation by testing theory regarding how dispositional traits—namely Big Five subfacet personalities—may contribute to salary negotiation initiation. In summary, we found that women are generally higher in politeness and compassion than men, but neither of these personality traits were related to the propensity to initiate a negotiation. Rather, assertiveness was positively related to initiating negotiations. We also found evidence supporting the hypothesis that women are less likely to initiate a negotiation, but that this gender difference only exists with male supervisors.
Access options
Buy single article
Instant access to the full article PDF.
US$ 39.95
Tax calculation will be finalised during checkout.
Subscribe to journal
Immediate online access to all issues from 2019. Subscription will auto renew annually.
US$ 79
Tax calculation will be finalised during checkout.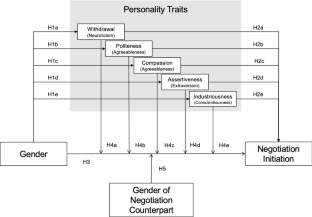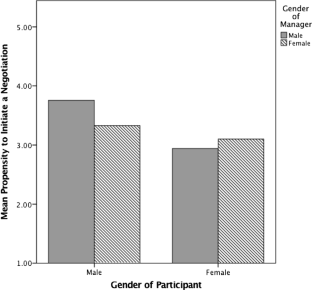 References
Amanatullah ET, Morris MW (2010) Negotiating gender roles: gender differences in assertive negotiating are mediated by women's fear of backlash and attenuated when negotiating on behalf of others. J Pers Soc Psychol 98(2):256–267

American Association of University Women (AAUW) (2016) Barriers and bias: the status of women in leadership. http://www.aauw.org/aauw_check/pdf_download/show_pdf.php?file=barriers-and-bias

Aronoff J, Wilson JP (1985) Personality in the social process. Erlbaum

Babcock L, Gelfand MJ, Small D, Stayn H (2006) Propensity to initiate negotiations: a new look at gender variation in negotiation behavior. In: Den De Cremer, Zeelenberg M, Murnighan JK (eds) Social psychology and economics. Erlbaum, pp 239–262

Babcock L, Laschever S (2007) Women don't ask: the high cost of avoiding negotiation–and positive strategies for change. Bantam

Bakan D (1966) The duality of human existence: An essay on psychology and religion. Rand McNally, Chicago, IL

Barrick MR, Mount MK (1991) The big five personality dimensions and job performance: a meta-analysis. Pers Psychol 44(1):1–26

Barrick MR, Stewart GL, Piotrowski M (2002) Personality and job performance: test of the mediating effects of motivation among sales representatives. J Appl Psychol 87(1):43–51

Barry B, Friedman RA (1998) Bargainer characteristics in distributive and integrative negotiation. J Pers Soc Psychol 74(2):345–359. https://doi.org/10.1037//0022-3514.74.2.345

Bennis W (1989) On becoming a leader. Addison-Wesley

Berger J, Fisek MH, Norman RZ, Zelditch M (1977) Status characteristics and social interaction: An expected states approach. Elsevier, New York

Bowles HR, Babcock L, Lai L (2007) Social incentives for gender differences in the propensity to initiate negotiations: sometimes it does hurt to ask. Organ Behav Hum Decis Process 103(1):84–103

Bowles HR, Babcock L, McGinn KL (2005) Constraints and triggers: situational mechanics of gender in negotiation. J Pers Soc Psychol 89(6):951–965

Bozionelos N (2004) The relationship between disposition and career success: a British study. J Occup Organ Psychol 77(3):403–420

Bussey J (2014) Gender wage gap reflects the 'ask' gap. The Wall Street Journal

Butler D, Geis FL (1990) Nonverbal affect responses to male and female leaders: implications for leadership evaluations. J Personal soc Psychol 58(1):48–59

Carli LL (1990) Gender, language, and influence. J personal soc psychol 59(5):941–951

Cohen J (1988) Statistical power analysis for the behavioral sciences. Lawrance Earlbaum Associates 2

Conway M, Pizzamiglio MT, Mount L (1996) Status, communality, and agency: implications for stereotypes of gender and other groups. J personal soc psychol 71(1):25–38

Costa PT, McCrae RR (1992) NEO PI-R: revised NEO personality INVENTORY and NEO five-factor inventory (NEO-FFI). PAR

Costa PT, Terracciano A, McCrae RR (2001) Gender differences in personality traits across cultures: robust and surprising findings. J Pers Soc Psychol 81(2):322–331

Cotter DA, Hermsen JM, Ovadia S, Vanneman R (2001) The glass ceiling effect. Soc Forces 80(2):655–681. https://doi.org/10.1353/sof.2001.0091

Deaux K, Major B (1987) Putting gender into context: An interactive model of gender-related behavior. Psychol rev 94(3):369–389

Devanna MA (1984) Male/female careers–The first decade: a study of MBAs. Columbia Univ Center for Research

DeYoung CG, Quilty LC, Peterson JB (2007) Between facets and domains: 10 aspects of the Big Five. J Pers Soc Psychol 93(5):880–896

Doey L, Coplan RJ, Kingsbury M (2014) Bashful boys and coy girls: a review of gender differences in childhood shyness. Sex Roles 70(7–8):255–266

Eagly AH (1987) Reporting sex differences. Am Psychol 42(7):756–757

Eagly AH, Karau SJ (2002) Role congruity theory of prejudice toward female leaders. Psychol Rev 109(3):573–598. https://doi.org/10.1037/0033-295X.109.3.573

Eagly AH, Mladinic A (1994) Are people prejudiced against women? Someanswers from research on attitudes, gender stereotypes, and judgments of competence. European rev soc psychol 5(1):1–35

Elfenbein HA (2015) Individual differences in negotiation: a nearly abandoned pursuit revived. Curr Dir Psychol Sci 24(2):131–136

Elfenbein HA, Curhan JR, Eisenkraft N, Shirako A, Baccaro L (2008) Are some negotiators better than others? Individual differences in bargaining outcomes. J Res Pers 42(6):1463–1475

Elfenbein HA, Curhan JR, Eisenkraft N, Shirako A, Brown AD (2009) Why are some negotiators better than others? Opening the black box of bargaining behaviors. https://papers.ssrn.com/sol3/papers.cfm?abstract_id=1336257

Elsesser K (2016) Research stating 'women ask for pay raises as much as men' is misleading. Forbes. http://www.forbes.com/sites/kimelsesser/2016/09/07/research-stating-women-ask-for-pay-raises-as-much-as-men-is-just-wrong/#412eabe0a1bb

Eriksson KH, Sandberg A (2012) Gender differences in initiation of negotiation: Does the gender of the negotiation counterpart matter? Negot J 28(4):407–428

Feingold A (1994) Gender differences in personality: a meta-analysis. Psychol Bull 116(3):429–456

Fiske S, Cuddy AJC, Glick P, Xu J (2002) Amodel of (often mixed) stereotype content: competence and warmth respectively follow from perceived status and competition. J personal soc psychol 82:878–902

Fractl (2016) Salary negotiations and race. http://www.frac.tl/research/salary-negotiations-and-race

Gelfand M, Stayn H (2013) Gender differences in the propensity to initiate negotiations. In: De Cremer D, Zeelenberg M, Murnighan (eds) Social psychology and economics. Taylor & Francis, pp 239–259

Gerhart B (1990) Gender differences in current and starting salaries: the role of performance, college major, and job title. Ind Labor Relat Rev 43(4):418–433

Gerhart B, Rynes S (1991) Determinants and consequences of salary negotiations by male and female MBA graduates. J Appl Psychol 76(2):256–262

Glick P, Fiske ST (1996) The ambivalent sexism inventory: differentiating hostile and benevolent sexism. J Pers Soc Psychol 70(3):491–512

Goldberg LR (1992) The development of markers of the Big-Five factor structure. Psychol Assess 4(1):26–42

Graziano WG, Habashi MM, Sheese BE, Tobin RM (2007) Agreeableness, empathy, and helping: a person x situation perspective. J Pers Soc Psychol 93(4):583–599

Graziano WG, Tobin RM (2002) Agreeableness: dimension of personality or social desirability artifact? J Pers 70(5):695–728

Greig F (2008) Propensity to negotiate and career advancement: evidence from an investment bank that women are on a 'slow elevator.' Negot J 24(4):495–508

Hall RE, Krueger AB (2008) Wage formation between newly hired workers and employers: survey evidence (No. w14329; National Bureau of Economic Research)

Heath K (2014) Even when women ask for a raise, they don't ask for enough. Harvard Business Review. https://hbr.org/2014/07/even-when-women-ask-for-a-raise-they-dont-ask-for-enough

Heilman ME, Chen JJ (2005) Same behavior, different consequences: reactions to men's and women's altruistic citizenship behavior. J Appl Psychol 90(3):431–441

Heilman ME, Wallen AS, Fuchs D, Tamkins MM (2004) Penalties for success: reactions to women who succeed at male gender-typed tasks. J Appl Psychol 89(3):416–427

Howard A, Bray DW (1988) Managerial lives in transition. Guilford

Jaccard J (1998) Interaction effects in factorial analysis of variance. Sage

Judge TA, Livingston BA, Hurst C (2012) Do nice guys—and gals—really finish last? The joint effects of sex and agreeableness on income. J Pers Soc Psychol 102(2):390–407. https://doi.org/10.1037/a0026021

Kenny DA (2017) MedPower: an interactive tool for the estimation of power in tests of mediation [Computer software]. https://davidakenny.shinyapps.io/MedPower/

Klein RA, Ratliff KA, Vianello M, Adams RB, Bahnik S Jr, Bernstein MJ (2014) Investigating variation in replicability: a '"many labs"' replication project. Soc Psychol 45(3):142–152

Kray LJ, Galinsky AD, Thompson L (2002) Reversing the gender gap in negotiations: An exploration of stereotype regeneration. Organ Behav Hum Decis Process 87(2):386–410. https://doi.org/10.1006/obhd.2001.2979

Kugler KG, Reif JA, Kaschner T, Brodbeck FC (2018) Gender differences in the initiation of negotiations: A meta-analysis. Psychol Bull 144(2):198–222

Laerd Statistics (2015) Statistical tutorials and software guides. https://statistics.laerd.com/

Leibbrandt A, List JA (2014) Do women avoid salary negotiations? Evidence from a large-scale natural field experiment. Manage Sci 61(9):2016–2024

LePine JA, Van Dyne L (1998) Predicting voice behavior in work groups. J Appl Psychol 83(6):853–868

Lewicki R, Litterer JA, Minton JW, Saunders D (1994) Negotiation, 2nd ed. Irwin

Mavin S (2008) Queen Bees, Wannabees and Afraid to Bees: no more 'best enemies' for women in management? Br J Manag 19(s1):S75–S84. https://doi.org/10.1111/j.1467-8551.2008.00573.x

Maxwell SE, Delaney HD, Kelley K (2017) Designing experiments and analyzing data: a model comparison perspective. Routledge

McCall MW, Lombardo MM, Morrison AM (1988) The lessons of experience: How successful executives develop on the job. Lexington Books

McCrae RR, John OP (1992) An introduction to the five-factor model and its applications. J Pers 60:175–215

Meade AW, Craig SB (2012) Identifying careless responses in survey data. Psychol Methods 17(3):437–455

Messick D, McClintock C (1968) Motivational bases of choice in experimental games. J Exp Soc Psychol 4(1):1–25

Ng TW, Eby LT, Sorensen KL, Feldman DC (2005) Predictors of objective and subjective career success: a meta-analysis. Pers Psychol 58(2):367–408

Reder MW (1978) An analysis of a small, closely observed labor market: starting salaries for University of Chicago MBAs. J Bus 51:263–297

Ridgeway CL, Berger J (1986) Expectations, legitimation, and dominance behavior in task groups. American Sociol Rev, 603–617

Rigdon ML (2012) An experimental investigation of gender differences in wage negotiations.https://doi.org/10.2139/ssrn.2165253

Ritov I (1996) Anchoring in simulated competitive market negotiation. Organ Behav Hum Decis Process 67(1):16–25

Rode JC, Arthaud-Day ML, Mooney CH, Near JP, Baldwin TT (2008) Ability and personality predictors of salary, perceived job success, and perceived career success in the initial career stage. Int J Sel Assess 16(3):292–299

Rosette AS, Tost LP (2010) Agentic women and communal leadership: How role prescriptions confer advantage to top women leaders. J Appl Psychol 95(2):221–235. https://doi.org/10.1037/a0018204

Rubin KH, Brown ID (1975) A life-span look at person perception and its relationship to communicative interaction. J Gerontol 30(4):461–468

Rubin KH, Wojslawowicz JC, Rose-Krasnor L, Booth-LaForce C, Burgess KB (2006) The best friendships of shy/withdrawn children: prevalence, stability, and relationship quality. J abnormal child psychol 34(2):139–153

Rudman LA (1998) Self-promotion as a risk factor for women: the costs and benefits of counterstereotypical impression management. J Pers Soc Psychol 74(3):629

Rudman LA, Goodwin SA (2004) Gender differences in automatic in-group bias: Why dowomen like women more than men like men? J personal soc psychol 87(4):494–509

Rudman LA, Phelan JE (2008) Backlash effects for disconfirming gender stereotypes in organizations. Res organizat beh 28:61–79

Rudman LA, Moss-Racusin CA, Phelan JE, Nauts S (2012) Status incongruity and backlash effects: defending the gender hierarchy motivates prejudice against female leaders. J Exp Soc Psychol 48(1):165–179

Sandberg S (2014) Sheryl Sandberg and Anna Maria Chávez on'Bossy,' the Other B-word. Wall Street Journal 8

Sharma S, Bottom WP, Elfenbein HA (2013) On the role of personality, cognitive ability, and emotional intelligence in predicting negotiation outcomes: a meta-analysis. Organ Psychol Rev 3(4):293–336. https://doi.org/10.1177/2041386613505857

Simmons JP, Nelson LD, Simonsohn U (2011) False-positive psychology: undisclosed flexibility in data collection and analysis allows presenting anything as significant. Psychol sci 22(11):1359–1366

Simonsohn U (n.d.) How to study discrimination (or anything) with names; If you must. Data Colada. Retrieved December 29, 2017, from http://datacolada.org/36

Small DA, Gelfand M, Babcock L, Gettman H (2007) Who goes to the bargaining table? The influence of gender and framing on the initiation of negotiation. J Pers Soc Psychol 93(4):600

Social Security Administration (2017) Top 5 names in each of the last 100 years. https://www.ssa.gov/oact/babynames/top5names.html

Spurk D, Abele AE (2011) Who earns more and why? A multiple mediation model from personality to salary. J Bus Psychol 26(1):87–103

Strober MH (1982) The MBA: Same passport to success for women and men. In: Wallace P (ed) Women in the workplace. Auburn House, pp 25–55

Stuhlmacher AF, Citera M, Willis T (2007) Gender differences in virtual negotiation: theory and research. Sex Roles 57(5–6):329–339

Thompson L (1990) Negotiation behavior and outcomes: empirical evidence and theoretical issues. Psychol Bull 108(3):515–532

U.S. Department of Labor, Bureau of Labor Statistics (2015) Highlights of women's earnings in 2014 (No. 1058)

Vroom VH (1964) Work and motivation. Wiley

Walton R, McKersie R (1965) A behavioral theory of labor negotiations: an analysis of a social interaction system. Cornell University Press

Weisberg YJ, DeYoung CG, Hirsh JB (2011) Gender differences in personality across the ten aspects of the Big Five. Front Psychol 2. https://doi.org/10.3389/fpsyg.2011.00178

Westfall J (2016a) PANGEA (v0.2): power analysis for general anova designs. [Shiny App]. https://jakewestfall.shinyapps.io/pangea/

Wilson K, Gallois C (1993) Assertion and its social context. Pergamon Press, Elmsford, NY

Winerman L (2013) Interesting results: Can they be replicated. Monit Psychol 44(2):38–41

Wood W, Eagly AH (2012) Biosocial construction of sex differences and similarities in behavior. In Advances in experimental social psychology (vol 46, pp 55–123). Elsevier

Yong E (2012) Bad copy. Nature 485(7398):298–300
Acknowledgements
This work was partially supported by National Science Foundation Grant #1853528 to Rice University.
Additional information
Publisher's Note
Springer Nature remains neutral with regard to jurisdictional claims in published maps and institutional affiliations.
Appendices
Appendix: Study Materials
Participant Resume Material
Resume
502 Main St., Orlando, FL 32,824.
Phone: 407–575-5554 E-Mail: KSmith321@googlemail.com.
Education
University of Miami 2007
Bachelor of Science Degree in Ecology, minor in Business (GPA of 3.6).
Bay High School 2003
Graduated with high honors (GPA of 3.75) and was a member of Alpha Chi National Honors Society and Key Club.
Experience
Environmentl Answers Company (EAC) 2007—Present
Senior Project Ecologist (2014 – Present)
Project Manager for the Sandy Creek project. This project involved coordinating a multidisciplinary team for GIS landscape analysis as well as field work and documentation of the biodiversity of Sandy Creek watershed of the Bay County region, FL.

Participated as a team member in other program projects including: vernal pool survey and Department of Transportation natural community re-mapping.

Coordinated multidisciplinary teams for grant writing and project reports to insure timely submittal of all materials.
Project Ecologist (2011–2014)
Participated in implementing environmental protection plan for gopher tortoises, nesting bird conservation, and wetland delineations from the Alabama border to central Florida.

Used knowledge of gopher tortoise burrow construction, bird species identification (by both sight and sound), and wetland versus upland plant species to complete survey projects.

Worked independently and with colleague teams on multiple projects, showing my abilities to make decisions and execute tasks on my own and take direction from coworkers to complete assigned tasks.
Staff Ecologist (2007–2011)
Conducted water quality surveys, plant surveys, fish surveys, macroinvertebrate surveys, and soil sampling.

Prepared field reports, coordinated student volunteers, and managed remote sensing equipment.

Managed data entry, data analysis, and co-authored technical reports and findings.
Volunteer Service
Environmental Action Team
Environmental Education Volunteer (3 h/week) (2007–2014).
Taught 1st–4th graders about ecological concepts related to gardening.

Served as mentor to high school student volunteers.

Arranged meaningful conservation biology field experiences for students interested in pursuing a career in the natural sciences.
Interview Preparation Material.
Interview Preparation
Job Description
An Environmental Department Manager with a focus in Wetlands, strives to lead both their team and their profits. They have extensive experience both in the field as well as in the office as they handle the "business" side of environmental services. Engineers, scientists, technicians, and project managers look to them for mentoring both technically and in building client relationships. They know how to set the bar high and not only achieve that goal—but bring others along with them. They are extremely hard working and strive to ensure that their team delivers the best quality. They get the "big picture" and want to contribute accordingly.
Requirements
You will be part of a dynamic, growing and energized team—and your role is key to the success of Environmental Awareness Company (EAC). While your job duties may fluctuate day to day, we expect you be proficient in:
Serving as mentor and leader of Florida's Ecological Conservation Team

Ensuring proper training and development of team members

Conducting and managing wetland and natural resource projects

Being intimately familiar with Federal and State wetlands regulations and guidelines

Understanding the regulatory/permitting/mitigation process

Managing projects, generating proposals, developing new business, and managing client relationships

Performing endangered species surveys
Qualifications
If you can accomplish the above, your boots are probably ready for walking right into this role. Realistically though, you need the following to be considered:
BS in Biology, Ecology, Botany, Geology, Environmental Science, or a related field; MS preferred

10+ years of natural resources/wetlands delineation/endangered species experience

Relationships held with regulatory agencies would go a long way
Salary Offer: Male Boss Condition.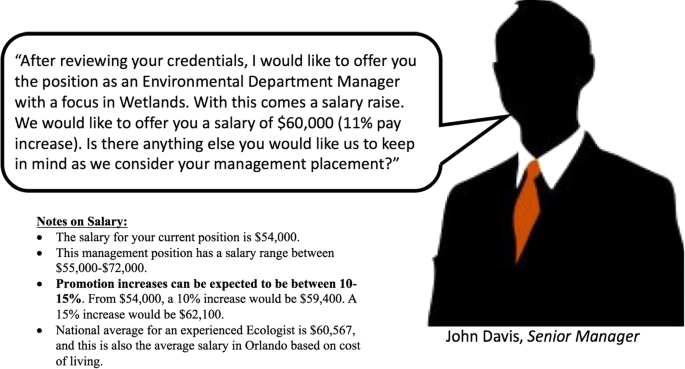 Salary Offer: Female Boss Condition.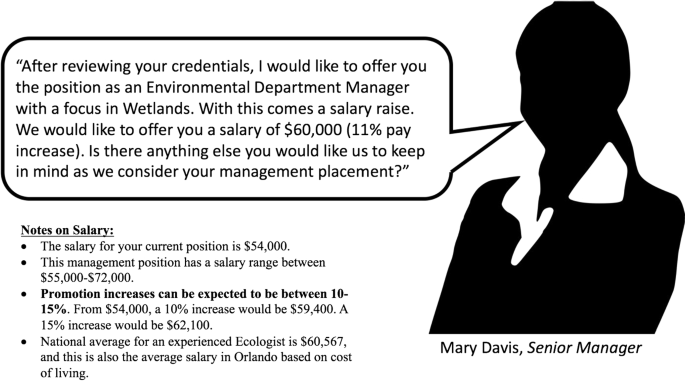 About this article
Cite this article
Reyes, D.L., Dinh, J. & Salas, E. Can Gender-Disposed Personality Traits Explain Who Initiates Negotiations?. Group Decis Negot 30, 1057–1083 (2021). https://doi.org/10.1007/s10726-021-09747-w
Accepted:

Published:

Issue Date: