Abstract
In this paper we investigate how effective conflict management in conflict asymmetry situations impacts the quality of cross-functional management teams' performance. During a 5-day business simulation, we explore the consequences of the relational conflicts and conflict asymmetry experienced by team members. We use two different measures of conflict asymmetry: the traditional group conflict asymmetry measurement of Jehn (Adm Sci Q 40:256–282, 1995) and a social networks method. We find that when some team members evoke more conflict than others, this affects the evolution of team dynamics (and ultimately the performance of the team) even more than high levels of conflict altogether; however, group emotional awareness can mitigate this negative effect and improve the team performance through the appropriate use of conflict management strategies. Since group emotional awareness can be fostered and trained within teams, this is of practical value to improve the performance of cross-functional management teams.
Access options
Buy single article
Instant access to the full article PDF.
US$ 39.95
Tax calculation will be finalised during checkout.
Subscribe to journal
Immediate online access to all issues from 2019. Subscription will auto renew annually.
US$ 79
Tax calculation will be finalised during checkout.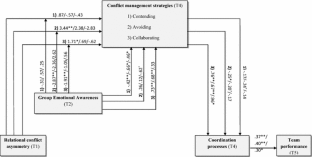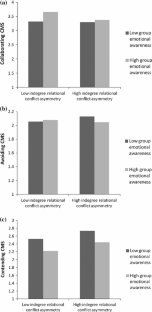 Abbreviations
CMS:

Conflict management styles

GEA:

Group emotional awareness
References
Anderson N, West MA (1998) Measuring climate for work group innovation: development and validation of the team climate inventory. J Organ Behav 19:235–258

Apesteguia J, Azmat G, Iriberri N (2012) The impact of gender composition on team performance and decision making: evidence from the field. Manag Sci 58(1):78–93

Ayoko OB, Callen VJ, Härtel CEL (2008) The influence of emotional climate on conflict and team members' reaction to climate. Small Group Res 39:121–149

Barsade SG, Gibson DE (2012) Group affect its influence on individual and group outcomes. Curr Dir Psychol Sci 21(2):119–123

Behfar K, Peterson R, Mannix EA, Trochim W (2008) The critical role of conflict resolution in team: a close look at the links between conflict type, conflict management strategies, and team outcomes. J Appl Psychol 93:170–180

Bell C, Song F (2005) Emotions in the conflict process: an application of the cognitive appraisal model of emotions to conflict management. Int J Confl Manag 16:30–54

Bettenhausen KL (1991) Five years of group research: what have we learned and what needs to be addressed. J Manag 17:345–381

Borgatti SP, Everett MG, Johnson JC (2013) Analyzing social networks. Sage, London

Boroş S, Curşeu PL (2011) Group emotional regulation: at the cross-roads between individuals, norms and situations. In: Conference proceedings. The 16th general meeting 2011 of the European Association of Social Psychology, Stockholm, Sweden

Boroş S, Curşeu PL (2013) 'Would you like to talk about that?' How and when group emotional awareness enhances effectiveness of gender diverse teams. Psihol Resur Umane 11(2):45–56

Boroş S, Meslec M, Curşeu P, Emons W (2010) Struggles for cooperation: conflict resolution strategies in multicultural groups. J Manag Psychol 25:539–554

Boute R, Rangarajan D (2012) Sales & operations alignment: what will it take? Working paper, Vlerick Business School

Chen CQ, Liu CH, Tjosvold D (2005) Conflict management for effective top management teams and innovation in China. J Manag Stud 42:277–300

Chen NY, Lu J, Tjosvold D (2008) Effects of team goal interdependence on newcomer socialization: an experiment in China. J Appl Psychol 38:198–214

Cronin MA, Weingart LR (2007) Representational gaps, information processing, and conflict in functionally diverse teams. Acad Manag Rev 32:761–773

Curşeu PL, Kenis P, Raab J, Brandes U (2010) Composing effective teams through team dating. Organ Stud 31(7):873–894

Curşeu P, Boroş S, Oerlemans L (2012a) Task and relationship conflict in ad-hoc and permanent groups: the critical role of emotion regulation. Int J Confl Manag 23:97–107

Curşeu P, Schruijer SGL, Boroş S (2012b) Socially rejected while cognitively successful? The impact of minority dissent on groups' cognitive complexity. Br J Soc Psychol 51:570–582

De Dreu CKW, van Vianen AEM (2001) Responses to relationship conflict and team effectiveness. J Organ Behav 22:309–328

De Dreu CKW, Weingart LR (2003) Task versus relationship conflict, team performance, and team member satisfaction: a meta-analysis. J Appl Psychol 88:741–749

De Dreu CKW, Beersma B (2005) Conflict in organizations: beyond effectiveness and performance. Psychology Press, Hove

De Wit FRC, Jehn KA, Scheepers D (2011) Negotiating within groups: a psychophysiological approach. In: Mannix E, Neale M, Overbeck JR (eds) Research on managing groups and teams, vol 14. Emerald, Bingley

De Wit FRC, Greer LL, Jehn KA (2012) The paradox of intragroup conflict: a meta-analysis. J Appl Psychol 97:360–390

De Wit FR, Jehn KA, Scheepers D (2013) Task conflict, information processing, and decision-making: the damaging effect of relationship conflict. Organ Behav Hum Decis Process 122(2):177–189

Desivilya HS, Yagil D (2005) The role of emotions in conflict management: the case of work teams. Int J Confl Manag 16:55–69

Deutsch M (1973) The resolution of conflict: constructive and destructive processes. Yale University Press, New Haven

Dineen BR, Noe RA, Shaw JD, Duffy MK, Wiethoff C (2007) Level and dispersion of satisfaction in teams: using foci and social context to explain the satisfaction–absenteeism relationship. Acad Manag J 50:623–643

Druskat VU, Wolff SB (2001) Building the emotional intelligence of groups. Harv Bus Rev 79:81–90

Druskat V, Druskat P (2006) Applying emotional intelligence in project working. In: Pryke S, Smyth H (eds) The management of complex projects: a relationship approach. Blackwell, London, pp 78–96

Eby LT, Meade AW, Parisi AG, Douthitt SS (1999) The development of an individual level groupwork expectations measure and the application of a within-group agreement statistic to access shared expectations for groupwork. Organ Res Methods 2:366–394

Elfenbein HA (2006) Team emotional intelligence: what it can mean and how it can impact performance. In: Druskat V, Sala F, Mount G (eds) The link between emotional intelligence and effective performance. Lawrence Erlbaum, Mahwah, pp 165–184

Elfenbein HA, Polzer JT, Ambady N (2007) Team emotion recognition accuracy and team performance. In: Ashkanasy NM, Zerbe WJ, Härtel CEJ (eds) Res Emot Organ, vol 3. Elsevier, Amsterdam, pp 87–119

Ford C, Sullivan DM (2004) A time for everything: how the timing of novel contributions influences project team outcomes. J Organ Behav 25:279–292

George JM (1990) Personality, affect, and behavior in groups. J Appl Psychol 75:107–116

Greer LL, Jehn KA, Mannix EA (2008) Conflict transformation: an exploration of the inter-relationships between task, relationship, and process conflict. Small Group Res 39:278–302

Hinds PJ, Mortensen M (2005) Understanding conflict in geographically distributed teams: the moderating effects of shared identity, shared context, and spontaneous communication. Organization science 16(3):290–307

Hinsz VB, Tindale RS, Vollrath DA (1997) The emerging conceptualization of groups as information processors. Psychol Bull 121:43–64

Hoogendoorn S, Oosterbeek H, van Praag M (2013) The impact of gender diversity on the performance of business teams: evidence from a field experiment. Manag Sci 59(7):1514–1528

Hoyle L (2004) Clash of the Titans–conflict resolution using a contextualized mediation process. Working below the surface. The emotional life of contemporary organizations. Karnac, London

Jehn KA (1995) A multimethod examination of the benefits and detriments of intragroup conflict. Adm Sci Q 40:256–282

Jehn KA (1997) Qualitative analysis of conflict types and dimensions in organizational groups. Adm Sci Q 42:530–557

Jehn KA, Rispens S, Thatcher SMB (2010) The effects of conflict asymmetry on workgroup and individual outcomes. Acad Manag J 53:596–616

Jehn KA, Rispens S, Thatcher SMB (2012) Managing conflict in groups and teams: conflict about conflict. In: Neale MA, Mannix EA (eds) Looking back, moving forward: a review of group and team-based research (research on managing groups and teams), vol 15. Emerald, Bingley, pp 133–159

Jehn KA, De Wit FRC, Baretto M, Rink F (2015) Task conflict asymmetries: effects on expectations and performance. Int J Confl Manag 26(2):172–191

Jordan PJ, Troth AC (2002) Emotional intelligence and conflict resolution: implications for human resource development. Adv Dev Hum Resour 4:62–79

Jordan PJ, Troth AC (2004) Managing emotions during team problem solving: emotional intelligence and conflict resolution. Hum Perform 17:195–218

Koolhaas JM, Bartolomucci A et al (2011) Stress revisited: a critical evaluation of the stress concept. Neurosci Biobehav Rev 35:1291–1301

Kuhn T, Poole MS (2000) Do conflict management styles affect group decision making? Evidence from a longitudinal field study. Hum Commun Res 26:558–590

LeBreton JM, Senter JL (2008) Answers to 20 questions about interrater reliability and interrater agreement. Organ Res Methods 11:815–852

Lovelace K, Shapiro DL, Weingart LR (2001) Maximizing cross-functional new product teams' innovativeness and constraint adherence: a conflict communications perspective. Acad Manag J 44(4):779–793

Mooney AC, Holahan PJ, Amason AC (2007) Don't take it personally: exploring cognitive conflict as a mediator of affective conflict. J Manag Stud 44:733–758

Neuman EJ (2012) Blind spots and mirages: a dyadic approach to the study of team conflict. In: Academy of Management Proceedings, vol 2012, No. 1, p. 1. Academy of Management

Pagell M (2004) Understanding the factors that enable and inhibit the integration of operations, purchasing and logistics. J Oper Manag 22:459–487

Parayitam S, Dooley RS (2009) The interplay between cognitive- and affective conflict and cognition- and affect-based trust in influencing decision outcomes. J Bus Res 62:789–796

Peterson RS, Behfar KJ (2003) The dynamic relationship between performance feedback, trust, and conflict in groups: a longitudinal study. Organ Behav Hum Decis Process 92(1):102–112

Prell C (2012) Social network analysis: history, theory and methodology. Sage, London

Rahim MA (2002) Toward a theory of managing organizational conflict. Int J Confl Manag 13:206–235

Rapisarda B (2002) The impact of emotional intelligence on work team cohesiveness and performance. Int J Organ Anal 10:363–379

Rempel MW, Fisher RJ (1997) Perceived threat, cohesion, and group problem solving in intergroup conflict. Int J Confl Manag 8:216–234

Rispens S, Greer LL, Jehn KA, Thatcher SMB (2011) Not so bad after all: how relational closeness buffers the effect of relationship conflict on helpful and deviant group behaviors. Negot Confl Manag Res 4:277–296

Salovey P, Mayer JD (1990) Emotional intelligence. Imagin Cogn Pers 9:186–211

Shih HA, Susanto E (2010) Conflict management styles, emotional intelligence, and job performance in public organizations. Int J Confl Manag 21:147–168

Simons T, Peterson R (2000) Task conflict and relationship conflict in top management teams: the pivotal role of intragroup trust. J Appl Psychol 83:102–111

Tajfel H, Turner JC (1979) An integrative theory of intergroup conflict. Soc Psychol Intergroup Relat 33:47

Tekleab AG, Quigley NR, Tesluk PE (2009) A longitudinal study of team conflict, conflict management, cohesion, and team effectiveness. Group Organ Manag 34:170–205

Ury W, Brett J, Goldberg S (1989) Getting disputes resolved: designing systems to cut the costs of conflict. Jossey-Bass, San Francisco

Webber SS, Donahue LM (2001) Impact of highly and less job-related diversity on work group cohesion and performance: a meta-analysis. J Manag 27(2):141–162

Weingart LR, Todorova G, Cronin MA (2008) Representational gaps, team integration, and team creativity. Paper presented at the conference of the Academy of Management, Anaheim, CA, Aug 2008

Widman KF, Thomson JS (2003) On specifying the null model for incremental fit indices in structural equation modeling. Psychol Methods 8:16–37

Yang J, Mossholder KW (2004) Decoupling task and relationship conflict: the role of intragroup emotional processing. J Organ Behav 25:589–605

Zárraga C, Bonache J (2005) The impact of team atmosphere on knowledge outcomes in self-managed teams. Organ Stud 26:661–681

Zhang X, Cao Q, Tjosvold D (2011) Linking transformational leadership and team performance: a conflict management approach. J Manag Stud 48:1586–1611
Acknowledgments
The authors are grateful to the Vlerick Academic Research Fund, partially subsidized by the Flemish government, for their financial support to execute this research project.
Appendix
Appendix
Overview of the high-level decision map incorporated into the IMEx business simulation and the time period in which features are allowed to be changed by the management team (for illustration only, non-exhaustive)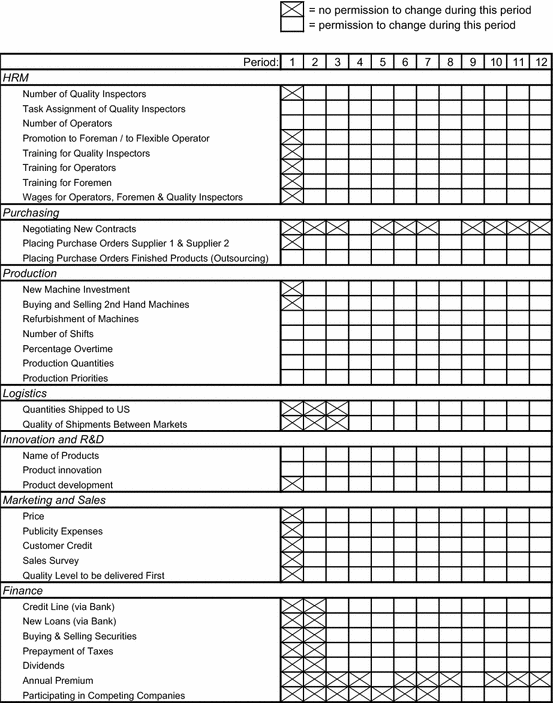 About this article
Cite this article
Boroş, S., van Gorp, L., Cardoen, B. et al. Breaking Silos: A Field Experiment on Relational Conflict Management in Cross-Functional Teams. Group Decis Negot 26, 327–356 (2017). https://doi.org/10.1007/s10726-016-9487-5
Keywords
Relational conflict asymmetry

Conflict management strategies

Cross-functional teams

Group emotional awareness

Integration management

Social networks

Field experiment