Abstract
In this paper, we discuss two situations where two organizations with different aims recognized the dysfunctionality of their relationship. In each of these cases, which were long running (6–8 months), the organizations had worked hard to resolve this dysfunctionality, and conflict, by organizing off-site meetings designed to resolve the conflict. These 1-day meetings failed. Subsequently Group Support System workshops were used for 1 day workshops and in each case the conflict was essentially resolved within 55 min. The research reported in this paper seeks to answer the question: what happened in these cases that led to a resolution of the conflict in such a short time period, given other attempts had failed? Specifically the paper explores the impact of the GSS used to facilitate two organizations seeking to resolve a conflictual situation.
Access options
Buy single article
Instant access to the full article PDF.
US$ 39.95
Tax calculation will be finalised during checkout.
Subscribe to journal
Immediate online access to all issues from 2019. Subscription will auto renew annually.
US$ 79
Tax calculation will be finalised during checkout.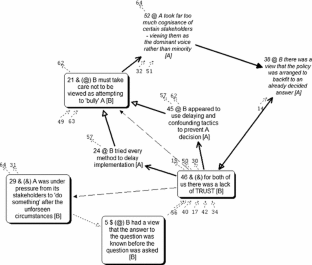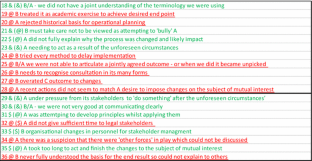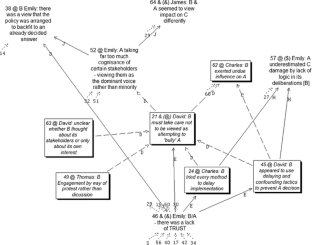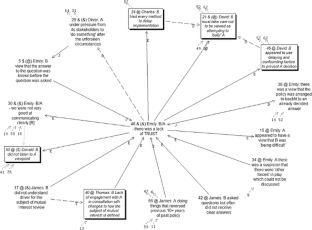 Notes
1.

Group Explorer is collaboration software designed and developed at Strathclyde Business School. Further information is available from the authors.

2.

3.

Decision Explorer provides the researcher with the ability to explore the maps produced in the Group Explorer workshops. The software is available through Banxia.com.

4.

Huw Weldon of the BBC in Attenborough (2002, p. 216).
References
Ackermann F, Andersen DF, Eden C, Richardson GP (2011) ScriptsMap: a tool for designing multi-method policy-making workshops. Omega 39:427–434. doi:10.1016/j.omega.2010.09.008

Ackermann F, Eden C (2005) Using causal mapping with group support systems to elicit an understanding of failure in complex projects: some implications for organizational research. Group Decis Negot 14:355–376. doi:10.1007/s10726-005-8917-6

Ackermann F, Eden C (2010) The role of group decision support systems: negotiating safe energy. In: Kilgour M, Eden C (eds) Handbook of group decision and negotiation. Springer, The Netherlands, pp 285–299

Ackermann F, Eden C (2011) Negotiation in strategy making teams: group support systems and the process of cognitive change. Group Decis Negot 20:293–314. doi:10.1007/s10726-008-9133-y

Ackermann F, Franco LA, Gallupe B, Parent M (2005) GSS for multi-organizational collaboration: reflections on process and content. Group Decis Negot 14:307–331. doi:10.1007/s10726-005-0317-4

Agres A, de Vreede G-J, Briggs R (2005) A tale of two cities: case studies of group support systems transition. Group Decis Negot 14:267–284. doi:10.1007/s10726-005-0315-6

Anson RG, Jelassi MT (1990) Group decision and negotiation support systemsa development framework for computer-supported conflict resolution. Eur J Oper Res 46:181–199. doi:10.1016/0377-2217(90)90131-T

Attenborough D (2002) Life on the air. BBC Books, London

Belmondo C, Sargis-Roussel C (2015) Negotiating language, meaning and intention: strategy infrastructure as the outcome of using a strategy tool through transforming strategy objects. Br J Manag 26:S90–S104. doi:10.1111/1467-8551.12070

Berger PL, Luckmann T (1966) The social construction of reality. Penguin Books, London

Black LJ, Andersen DF (2012) Using visual representations as boundary objects to resolve conflict in collaborative model-building approaches. Syst Res Behav Sci 29:194–208. doi:10.1002/sres.2106

Bryson JM, Ackermann F, Eden C, Finn CB (2004) Visible thinking—unlocking causal mapping for practical results. Wiley, Chichester

Bryson JM, Crosby BC, Stone MM (2006) The design and implementation of cross-sector collaborations: propositions from the literature. Public Adm Rev 66:44–55. doi:10.1111/j.1540-6210.2006.00665.x

Carlile PR (2002) A pragmatic view of knowledge and boundaries: boundary objects in new product development. Organ Sci 13:442–455. doi:10.2307/3085976

Combe IA, Carrington DJ (2015) Leaders' sensemaking under crises: emerging cognitive consensus over time within management teams. Leadersh Q. doi:10.1016/j.leaqua.2015.02.002

Conklin J (2006) Dialogue mapping: building shared understanding of wicked problems. Wiley, Chichester

Cronin K, Midgley G, Jackson LS (2014) Issues mapping: a problem structuring method for addressing science and technology conflicts. Eur J Oper Res 233:145–158. doi:10.1016/j.ejor.2013.08.012

Crump L (2010) Strategically managing negotiation linkage dynamics. Negot Confl Manag Res 3:3–27. doi:10.1111/j.1750-4716.2009.00046.x

de Geus A (1988) Planning as learning. Harv Bus Rev 70–74

DeSanctis G, Gallupe B (1985) Group decision support systems: a new frontier database. Winter 3–9 doi:10.1145/1040688.1040689

Druckman D (2009) Intuition or counterintuition? The science behind the art of negotiation. Negot J 25:431–448. doi:10.1111/j.1571-9979.2009.00237.x

Fisher R, Ury W (1981) Getting to yes: negotiating agreements without giving in. Penguin, New York

Franco LA, Rosenhead J (2001) The role of wide-band GDSS in increasing value for multi-organisational groups: the case of the UK construction industry. In: Ackermann F, Vreede GJ (eds) Group decision and negotiation conference, Delft, The Netherlands, pp 273–278

Glaser BG, Strauss AL (1967) The discovery of grounded theory: strategies for qualitative research. Aldine Publishing, Chicago

Hodgkinson GP, Clarkson GP (2005) What have we learned from almost 30 years of research on causal mapping? Methodological lessons and choices for the information systems and information technology communities. In: Narayanan VK, Armstrong DJ (eds) Causal mapping for research in information technology. Idea Group, London, pp 46–79

Hodgkinson GP, Maule AJ, Bown NJ (2004) Causal cognitive mapping in the organizational strategy field: a comparison of alternative elicitation procedures. Organ Res Methods 7:3–26. doi:10.1177/1094428103259556

Horst WJR, Melvin MW (1973) Dilemmas in a general theory of planning. Policy Sci 4:155–169. doi:10.1007/BF01405730

Huff AS (1990) Mapping strategic thought. Wiley, New York

Jenkins M, Johnson G (1997) Linking managerial cognition and organizational performance: a preliminary investigation using causal maps. Br J Manag 8:77–90. doi:10.1111/1467-8551.8.s1.7

Jessup L, Valacich J (1993) Group support systems: new perspectives. Macmillan, New York

Jessup LM, Tansik DA (1991) Decision making in an automated environment: the effects of anonymity and proximity with a group decision support system*. Decis Sci 22:266–279. doi:10.1111/j.1540-5915.1991.tb00346.x

Kelly G (1955) The psychology of personal constructs. Norton, New York

Kelly G (1963) A theory of personality: the psychology of personal constructs W. W. Norton & Company, New York

Kim WC, Mauborgne R (1998) Procedural justice, strategic decision making, and the knowledge economy. Strateg Manag J 19:323–338

Lewis LF (2010) Group support systems: overview and guided tour. In: Kilgour DM, Eden C (eds) Handbook of group decision and negotiation. Springer, Dordrecht, pp 249–268

Maitlis S, Christianson M (2013) Sensemaking in organizations. Acad Manag Ann 57–125. doi:10.1080/19416520.2014.873177

Mangham I (1979) Politics of organizational change. Greenwood Press, Westport

Miles MB, Huberman MA (1994) Qualitative data analysis: an expanded sourcebook. Sage, Thousand Oaks

Miranda SM, Bostrom RP (1993) The impact of group support systems on group conflict and conflict management. J Manage Inf Syst 10:63–95. doi:10.1080/07421222.1993.11518011

Paroutis S, Franco LA, Papadopoulos T (2015) Visual interactions with strategy tools: producing strategic knowledge in workshops. Br J Manag 26:S48–S66. doi:10.1111/1467-8551.12081

Perrow C (1986) Complex organization, 3rd edn. Random House, New York

Porac JF, Thomas H, Baden-Fuller C (1989) Competitive groups as cognitive communities: the case ot Scottish knitwear manufacturers. J Manag Stud 26:397–416. doi:10.1111/j.1467-6486.1989.tb00736.x

Shaw D (2003) Evaluating electronic workshops through analysing the /'brainstormed/' ideas. J Oper Res Soc 54:692–705. doi:10.1057/palgrave.jors.2601568

Swan J (1997) Using cognitive mapping in management research: decisions about technical innovation. Br J Manag 8:183–198. doi:10.1111/1467-8551.0050

Tavella E, Franco LA (2014) Dynamics of group knowledge production in facilitated modelling workshops: an exploratory study group. Decis Negot 1–25. doi:10.1007/s10726-014-9398-2

Tyler TR, Blader SL (2003) The group engagement model: procedural justice, social identity, and cooperative behavior. Pers Soc Psychol Rev 7:349–361. doi:10.1207/s15327957pspr0704_07

Valacich JS, Dennis AR, Nunamaker JF Jr (1991) Electronic meeting support: the GroupSystems concept. Int J Man-Machine Stud 34:261–282. doi:10.1016/0020-7373(91)90044-8

Vangen S, Huxham C (2003) Nurturing collaborative relations: building trust in interorganizational collaboration. J Appl Behav Sci 39:5–31. doi:10.1177/0021886303039001001

Walsh JP (1995) Managerial and organizational cognition: notes from a trip down memory lane. Organ Sci 6:280–321. doi:10.2307/2635252

Weick KE (1995) Sensemaking in organizations. Sage, Thousand Oaks

Weick KE, Sutcliffe KM, Obstfeld D (2005) Organizing and the process of sensemaking. Organ Sci 16:409–421. doi:10.1287/orsc.1050.0133

Winnicott DW (1953) Transitional objects and transitional phenomena; a study of the first not-me possession. Int J Psych-Anal 34:89–97

Zartman IW (1977) Negotiation as a joint decision-making process. J Confl Resolut 21:619–638. doi:10.2307/173615
About this article
Cite this article
Ackermann, F., Eden, C. & Pyrko, I. Accelerated Multi-Organization Conflict Resolution. Group Decis Negot 25, 901–922 (2016). https://doi.org/10.1007/s10726-016-9472-z
Keywords
Conflict resolution

Group Support Systems

Causal mapping

Multi-organization