Abstract
Collaborative spatial decision making (CSDM) involves multiple stakeholders making strategic decisions based on spatial data. Current CSDM tools have been exploring different ways to integrate spatial data with collaboration, distribution and mobility. Notably, decision-making support has not seen the same level of attention. This paper discusses the challenges raised by the integration of decision-making models in CSDM tools. We review a large collection of decision-making models using three different views: sequential, dynamic and continuous. From this review we derive a conceptual model and a set of functional requirements necessary to integrate decision-making support in CSDM tools. The conceptual model highlights the importance of several functions in decision-making processes: representing problems, finding alternatives and making choices (sequential view); classification and communication (dynamic view); and perception, comprehension and projection (continuous view). The paper also describes a prototype developed to validate the model. The paper provides two main research contributions: a unified view of decision-making support and an innovative CSDM tool blending spatial data with decision-making support.
This is a preview of subscription content,
to check access.
Access this article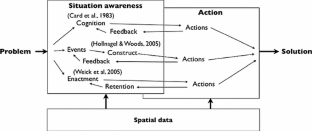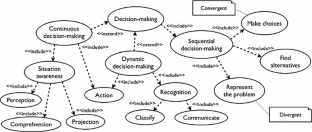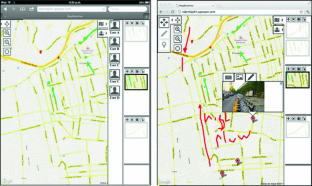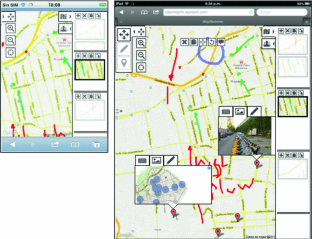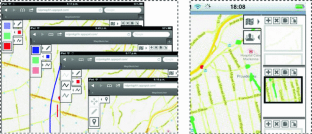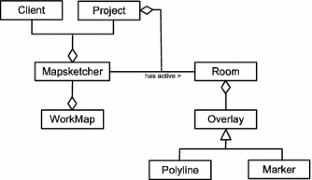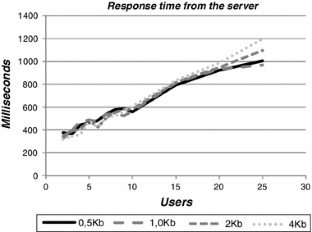 References
Arias E, Eden H, Fischer G, Gorman A, Scharff E (2000) Transcending the individual human mind–creating shared understanding through collaborative design. ACM Trans Comput Hum Interact 7(1):84–113

Arnott D, Pervan G (2005) A critical analysis of decision support systems research. J Inf Technol 20(2): 67–87

Brewer I, MacEachren A, Abdo H, Gundrum J, Otto G (2000) Collaborative geographic visualization: enabling shared understanding of environmental processes. In: Proceedings of IEEE symposium on information visualization. Washington, DC

Briggs B, Nunamaker J, Tobey D (2001) The technology transition model: a key to self-sustaining and growing communities of gss users. In: Proceedings of the 34th Hawaii international conference on system sciences, Hawaii

Briggs R, Vreede G, Nunamaker J (2003) Collaboration engineering with thinklets to pursue sustained success with group support systems. J Manag Inf Syst 19(4):31–64

Capata A, Marella A, Russo R (2008) A geo-based application for the management of mobile actors during crisis situations. In: Proceedings of the 5th international ISCRAM conference. Washington, DC

Card S, Moran T, Newell A (1983) The psychology of human-computer interaction. Lawrance Elrbaum, Hillsdale

Checkland P, Poulter J (2006) Learning for action: a short definitive account of soft systems methodology, and its use for practitioners, teachers and students. Wiley, Chichester

Convertino G, Dejin Z, Ganoe C, Carroll J (2007) A role-based multiple view approach to distributed geo-collaboration. In: Proceedings of HCI international 2007 conference. Beijing, China

Convertino G, Ganoe C, Schafer W, Yost B, Carroll J (2005) A multiple view approach to support common ground in distributed and synchronous geo-collaboration. In: Proceedings of third international conference on coordinated and multiple views in exploratory visualization. IEEE Computer Society, London, UK

Convertino G, Mentis H, Bhambare P, Ferro C, Carroll J, Rosson M (2008) Comparing media in emergency planning. In: Proceedings of the 5th international ISCRAM conference. Washington, DC

Curwell S, Deakin M, Cooper I, Paskaleva-Shapira K, Ravetz J, Babicki D (2005) Citizens' expectations of information cities: implications for urban planning and design. Build Res Inf 33(1):55–66

Endsley M, Bolté B, Jones D (2003) Designing for situation awareness. Taylor & Francis, London

Fishburn P (1981) Subjective expected utility: a review of normative theories. Theory Decis 13(2):139–199

Fisher D, Dourish P (2004) Social and temporal structures in everyday collaboration. In: Proceedings of the SIGCHI conference on human factors in computing systems. ACM Press, Vienna, Austria

Fjermestad J, Hiltz S (1999) An assessment of group support systems experimental research: methodology and results. J Manag Inf Syst 15(3):7–149

Gray P, Mandiwalla M (1999) New directions for gdss. Group Decis Negot 8:77–83

Hollnagel E, Woods D (2005) Joint cognitive systems: foundations of cognitive systems engineering. CRC Press, Boca Raton

Jankowski P (2009) Towards participatory geographic information systems for community-based environmental decision making. J Environ Manag 90(6):1966–1971

Jankowski P, Nyerges T, Smith A, Moore T, Horvath E (1997) Spatial group choice: a sdss tool for collaborative spatial decision-making. Int J Geogr Inf sci 11(6):577–602

Kaner S (1996) Facilitator's guide to participatory decision-making. New Society Publishers, Philadelphia

Klein G (2008) Naturalistic decision making. Hum Factors 50(3):456–460

Kolfschoten G, de Vreede G (2009) A design approach for collaboration processes: a multimethod design science study in collaboration engineering. J Manag Inf Syst 26(1):225–256

Kolfschoten G, Duivenvoorde G, Briggs R, de Vreede G (2009) Practitioners vs facilitators a comparison of participant perceptions on success. In: Proceedings of the 42nd Hawaii international conference on system sciences, Hawaii, IEEE

MacEachren A (2005) Moving geovisualization toward support for group work. In: Dykes J, MacEachren A, Kraak M (eds) Exploring geovisualization. Elsevier, Amsterdam, pp 445–462

MacEachren A, Brewer I (2004) Developing a conceptual framework for visually-enabled geocollaboration. Int J Geogr Inf Sci 18(1):1–34

MacEachren A, Cai G, Sharma R, Rauschert I, Brewer I, Bolelli L, Shaparenko B, Fuhrmann S, Wang H (2005) Enabling collaborative geoinformation access and decision-making through a natural, multimodal interface. Int J Geogr Inf Sci 19:293–317

MacEachren A, Guiray C, Brewer I, Chen J (2006) Supporting map-based geocollaboration through natural interfaces to large-screen displays. Cartogr Perspect 54:4–22

Mendonça D, Wallace B (2004) Studying organizationally-situated improvisation in response to extreme events. Int J Mass Emerg Disasters 22:5–30

Munkvold B, Anson R (2001) Organizational adoption and diffusion of electronic meeting systems: a case study. In: Proceedings of the 2001 international ACM SIGGROUP conference of supporting group work. Boulder, Colorado, ACM

Ramsey F (1931) Truth and probability. In: Ramsey F (ed) The foundations of mathematics and other logial essays. Harcourt, Brace & Co, New York

Rinner C (2006) Argumentation mapping in collaborative spatial decision making. In: Balram S, Dragićević S (eds) Collaborative geographic information systems. Idea Group Publishing, Hershey

Rinner C, Keßler K, Andrulis S (2008) The use of web 2.0 concepts to support deliberation in spatial decision-making. Comput Environ Urb Syst 32(5):386–395

Saaty T (2008) Decision making with the analytic hierarchy process. Int J Serv Sci 1(1):83–98

Simon H (1987) Decision making and problem solving. Interfaces 17(5):11–31

Simon H (1997) Administrative behavior: a study of decision-making processes in administrative organizations, 4th edn. Free Press, New York

Stevens D, Dragicevic S, Rothley K (2007) Icity: A gis-ca modelling tool for urban planning and decision making. Environ Model Softw 22(6):761–773

Stroebe W, Diehl M, Abakoumkin G (1992) The illusion of group effectivity. Pers Soc Psychol Bull 18(5):643

Uran O, Janssen R (2003) Why are spatial decision support systems not used? Some experiences from The Netherlands. Comput Environ Urb Syst 27:511–526

Weick K (2001) Making sense of the organization. Blackwell, Oxford

Weick K, Sutcliffe K, Obsfeld D (2005) Organizing and the process of sensemaking. Organ Sci 16(4): 409–421

Wong S (1994) Preference-based decision making for cooperative knowledge-based systems. ACM Trans Inf Syst 12(4):407–435

Yamanaka K, Kawakami M, (2011) Proposal model of human behavior by visual information processing mechanism for reliability-based system design. In: 2011 international conference on biometrics and Kansei engineering (ICBAKE). IEEE Press, Takamatsu, Kagawa

Zurita G, Antunes P, Baloian N, Baytelman F, Farias A (2008) Visually-driven decision making using handheld devices. In: Zaraté P, Belaud J, Camilleri G, Ravat F (eds) Collaborative decison making: prospectives and challenges. IOS Press, Amsterdam, pp 257–269
Acknowledgments
This research was supported by the Portuguese Foundation for Science and Technology (PTDC/EIAEIA/117058/2010).
About this article
Cite this article
Antunes, P., Zurita, G., Baloian, N. et al. Integrating Decision-Making Support in Geocollaboration Tools. Group Decis Negot 23, 211–233 (2014). https://doi.org/10.1007/s10726-013-9355-5
Published:

Issue Date:

DOI: https://doi.org/10.1007/s10726-013-9355-5
Keywords