Abstract
Anthocyanins are secondary metabolites that are involved in providing flower petal pigmentation. In plants, anthocyanin synthesis is regulated positively by a conserved MYB-bHLH-WD40 (MBW) complex and negatively by repressors. We isolated a repressor of anthocyanin synthesis, MYBx1, from a moth orchid Phalaenopsis cv. Big Chili. MYBx1 encodes a typical R3-MYB protein and exhibited diverse expression patterns in four Phalaenopsis cultivars, Big Chili, Fuller's Sunset, Sogo Yukidian "V3", and Sogo Lit-Sunny. A yeast two-hybrid assay analysis indicated that MYBx1 can also participate in the MBW complex by interacting with the transcription factors ANTHOCYANIN (AN) 1 and AN11. Over-expressing MYBx1 in the petunia hybrid M1 × R27 resulted in reduced accumulations of flower petal pigments through the repression of anthocyanin activities. A quantitative real-time PCR analysis of the expression patterns of anthocyanin synthesis-related structural genes in the transgenic petunia flower petals showed that the expression levels of chalcone synthase, flavanone 3-hydroxylase, and dihydroflavonol reductase genes were considerably down-regulated. However, no significant changes in the expression levels of the MBW complex members, AN1, AN2, and AN11, were observed. This study improves our understanding of anthocyanin synthesis-related regulatory networks in plants and also provides an important foundation for the further genetic engineering of ornamental plant flower colors.
Access options
Buy single article
Instant access to the full article PDF.
US$ 39.95
Tax calculation will be finalised during checkout.
Subscribe to journal
Immediate online access to all issues from 2019. Subscription will auto renew annually.
US$ 119
Tax calculation will be finalised during checkout.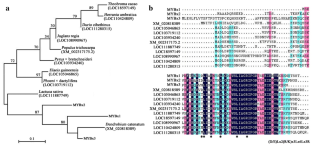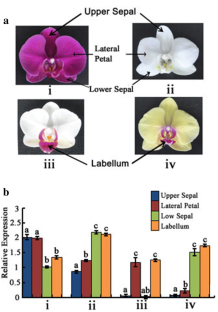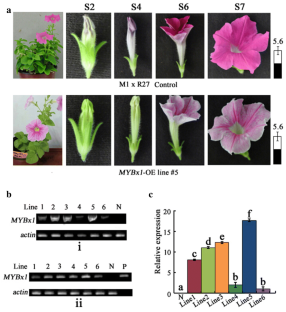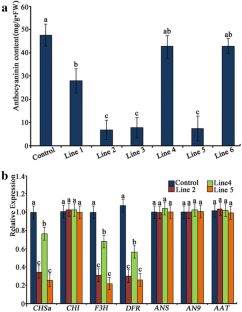 References
Aharoni A, De Vos CHR, Wein M, Sun ZK, Greco R, Kroon A, Mol JNM, O'Connell AP (2001) The strawberry FaMYB1 transcription factor suppresses anthocyanin and flavonol accumulation in transgenic tobacco. Plant J 28:319–332

Albert NW, Lewis DH, Zhang H, Schwinn KE, Jameson PE, Davies KM (2011) Members of an R2R3-MYB transcription factor family in Petunia are developmentally and environmentally regulated to control complex floral and vegetative pigmentation patterning. Plant J 65(5):771–784

Albert NW, Davies KM, Lewis DH, Zhang H, Montefiori M, Brendolise C, Boase MR, Ngo H, Jameson PE, Schwinn KE (2014a) A conserved network of transcriptional activators and repressors regulates anthocyanin pigmentation in eudicots. Plant Cell 26(3):962–980

Albert NW, Davies KM, Schwinn KE (2014b) Gene regulation networks generate diverse pigmentation patterns in plants. Plant Signal Behav 9:e29526

Baudry A, Heim MA, Dubreucq B, Caboche M, Weisshaar B, Lepiniec L (2004) TT2, TT8, and TTG1 synergistically specify the expression of BANYULS and proanthocyanidin biosynthesis in Arabidopsis thaliana. Plant J 39:366–380

Bernhardt C, Lee MM, Gonzalez A, Zhang F, Lloyd A, Schiefelbein J (2003) The bHLH genes GLABRA3 (GL3) and ENHANCER OF GLABRA3 (EGL3) specify epidermal cell fate in the Arabidopsis root. Development 130:6431–6439

Bombarely A et al (2016) Insight into the evolution of the Solanaceae from the parental genomes of Petunia hybrida. Nat Plants 2(6):16074 (Supplementary Note 7)

Brueggemann J, Weisshaar B, Sagasser M (2010) A WD40-repeat gene from Malus × domestica is a functional homologue of Arabidopsis thaliana TRANSPARENT TESTA GLABRA1. Plant Cell Rep 29(3):285–294

Carey CC, Strahle JT, Selinger DA, Chandler VL (2004) Mutations in the pale aleurone color1 regulatory gene of the Zea mays anthocyanin pathway have distinct phenotypes relative to the functionally similar TRANSPARENT TESTA GLABRA1 gene in Arabidopsis thaliana. Plant Cell 16(2):450–464

Chopra D, Wolff H, Span J, Schellmann S, Coupland G, Albani MC, Schrader A, Hülskamp M (2014) Analysis of TTG1 function in Arabis alpina. BMC Plant Biol 14:16

Conner AJ, Albert NW, Deroles SC (2009) Transformation and regeneration of petunia. In: Gerats T, Strommer J (eds) Petunia: evolutionary, developmental and physiological genetics. Springer, New York, pp 395–409

Consonni G, Geuna F, Gavazzi G, Tonelli C (1993) Molecular homology among members of the R gene family in maize. Plant J 3(2):335–346

Davies KM, Albert NW, Schwinn KE (2012) From landing lights to mimicry: the molecular regulation of flower colouration and mechanisms for pigmentation patterning. Funct Plant Biol 39:619–638

de Vetten N, Quattrocchio F, Mol J, Koes R (1997) The an11 locus controlling flower pigmentation in petunia encodes a novel WD-repeat protein conserved in yeast, plants, and animals. Genes Dev 11(11):1422–1434

Dubos C, Stracke R, Grotewold E, Weisshaar B, Martin C, Lepiniec L (2010) MYB transcription factors in Arabidopsis. Trends Plant Sci 15(10):573–581

Faraco M, Spelt C, Bliek M, Verweij W, Hoshino A, Espen L, Prinsi B, Jaarsma R, Tarhan E, de Boer AH, Di Sansebastiano GP, Koes R, Quattrocchio FM (2014) Hyperacidification of vacuoles by the combined action of two different P-ATPases in the tonoplast determines flower color. Cell Rep 6(1):32–43

Galliot C, Stuurman J, Kuhlemeier C (2006) The genetic dissection of floral pollination syndromes. Curr Opin Plant Biol 9(1):78–82

Hichri I, Barrieu F, Bogs J, Kappel C, Delrot S, Lauvergeat V (2011) Recent advances in the transcriptional regulation of the flavonoid biosynthetic pathway. J Exp Bot 62:2465–2483

Holton TA, Cornish EC (1995) Genetics and biochemistry of anthocyanin biosynthesis. Plant Cell 7(7):1071–1083

Hsu CC, Chen YY, Tsai WC, Chen WH, Chen HH (2015) Three R2R3-MYB transcription factors regulate distinct floral pigmentation patterning in Phalaenopsis spp. Plant Physiol 168(1):175–191

Koes R, Verweij W, Quattrocchio F (2005) Flavonoids: a colorful model for the regulation and evolution of biochemical pathways. Trends Plant Sci 10:236–242

Lu Q, Tang X, Tian G, Wang F, Liu K, Nguyen V, Kohalmi SE, Keller WA, Tsang EW, Harada JJ, Rothstein SJ, Cui Y (2010) Arabidopsis homolog of the yeast TREX-2 mRNA export complex: components and anchoring nucleoporin. Plant J 61(2):259–270

Maier A, Schrader A, Kokkelink L, Falke C, Welter B, Iniesto E, Rubio V, Uhrig JF, Hülskamp M, Hoecker U (2013) Light and the E3 ubiquitin ligase COP1/SPA control the protein stability of the MYB transcription factors PAP1 and PAP2 involved in anthocyanin accumulation in Arabidopsis. Plant J 74:638–651

Martens S, Teeri T, Forkmann G (2002) Heterologous expression of dihydroflavonol 4-reductases from various plants. FEBS Lett 531(3):453–458

Matsui K, Umemura Y, Ohme-Takagi M (2008) AtMYBL2, a protein with a single MYB domain, acts as a negative regulator of anthocyanin biosynthesis in Arabidopsis. Plant J 55:954–967

Mirecki RM, Teramura AH (1984) Effects of ultraviolet-B irradiance on soybean: V. The dependence of plant sensitivity on the photosynthetic photon flux density during and after leaf expansion. Plant Physiol 74:475–480

Pesch M, Schultheiß Klopffleisch K, Uhrig JF, Koegl M, Clemen CS, Simon R, Weidtkamp-Peters S, Hülskamp M (2015) TRANSPARENT TESTA GLABRA1 and GLABRA1 compete for binding to GLABRA3 in Arabidopsis. Plant Physiol 168(2):584–597

Purugganan MD, Wessler SR (1994) Molecular evolution of the plant R regulatory gene family. Genetics 138:849–854

Quattrocchio F, Wing JF, van der Woude K, Mol JN, Koes R (1998) Analysis of bHLH and MYB domain proteins: species-specific regulatory differences are caused by divergent evolution of target anthocyanin genes. Plant J 13(4):475–488

Quattrocchio F, Wing J, van der Woude K, Souer E, de Vetten N, Mol J, Koes R (1999) Molecular analysis of the anthocyanin2 gene of petunia and its role in the evolution of flower color. Plant Cell 11(8):1433–1444

Quattrocchio F, Verweij W, Kroon A, Spelt C, Mol J, Koes R (2006) PH4 of petunia is an R2R3-MYB protein that activates vacuolar acidification through interaction with basic-helix-loop-helix transcription factors of the anthocyanin pathway. Plant Cell 18(5):1274–1291

Ramsay NA, Glover BJ (2005) MYB-bHLH-WD40 protein complex and the evolution of cellular diversity. Trends Plant Sci 10(2):63–70

Robert H, Schiestl R, Gietz D (1989) High efficiency transformation of intact yeast cells using single stranded nucleic acids as a carrier. Curr Genet 16:339–346

Schefe JH, Lehmann KE, Buschmann IR, Unger T, Funke-Kaiser H (2006) Quantitative real-time RT-PCR data analysis: current concepts and the novel "gene expression's CT difference "formula. J Mol Med 84(11):901–910

Serna L, Martin C (2006) Trichomes: different regulatory networks lead to convergent structures. Trends Plant Sci 11(6):274–280

Spelt C, Quattrocchio F, Mol JN, Koes R (2000) Anthocyanin1 of petunia encodes a basic helix-loop-helix protein that directly activates transcription of structural anthocyanin genes. Plant Cell 12(9):1619–1632

Steyn WJ, Wand SJE, Holcroft DM, Jacobs G (2002) Anthocyanins in vegetative tissues: a proposed unified function in photoprotection. New Phytol 155:349–361

Stracke R, Werber M, Weisshaar B (2001) The R2R3-MYB gene family in Arabidopsis thaliana. Curr Opin Plant Biol 4(5):447–456

Tamura K, Stecher G, Peterson D, Filipski A, Kumar S (2013) MEGA6: molecular evolutionary genetics analysis version 6.0. Mol Biol Evol 30:2725–2729

Tanaka Y, Sasaki N, Ohmiya A (2008) Biosynthesis of plant pigments: anthocyanins, betalains and carotenoids. Plant J 54(4):733–749

Teng S, Keurentjes J, Bentsink L, Koornneef M, Smeekens S (2005) Sucrose-specific induction of anthocyanin biosynthesis in Arabidopsis requires the MYB75/PAP1 gene. Plant Physiol 139:1840–1852

Tominaga R, IwataM Okada K, Wada T (2007) Functional analysis of the epidermal-specific MYB genes CAPRICE and WEREWOLF in Arabidopsis. Plant Cell 19:2264–2277

Tominaga-Wada R, Wada T (2014) Regulation of root hair cell differentiation by R3-MYB transcription factors in tomato and Arabidopsis. Front Plant Sci 5:91

Wada T, Tachibana T, Shimura Y, Okada K (1997) Epidermal cell differentiation in Arabidopsis determined by a Myb homolog, CPC. Science 277:1113–1116

Walker AR, Davison PA, Bolognesi-Winfield AC, James CM, Srinivasan N, Blundell TL, Esch JJ, Marks MD, Gray JC (1999) The TRANSPARENT TESTA GLABRA1 locus, which regulates trichome differentiation and anthocyanin biosynthesis in Arabidopsis, encodes a WD40 repeat protein. Plant Cell 11(7):1337–1350

Wang L, Zhang J, Dong X, Fu Z, Jiang H, Zhang H (2018) Identification and functional analysis of anthocyanin biosynthesis genes in Phalaenopsis hybrids. Biol Plantarum 62(1):45–54

Winkel-Shirley B (2001) It takes a garden. How work on diverse plant species has contributed to an understanding of flavonoid metabolism. Plant Physiol 127(4):1399–1404

Xu W, Dubos C, Lepiniec L (2015) Transcriptional control of flavonoid biosynthesis by MYB-bHLH-WDR complexes. Trends Plant Sci 20(3):176–185

Zhang H, Koes R, Shang H, Fu Z, Wang L, Dong X, Zhang J, Passeri V, Li Y, Jiang H, Gao J, Li Y, Wang H, Quattrocchio FM (2019) Identification and functional analysis of three new anthocyanin R2R3-MYB genes in Petunia. Plant Direct 3:1–13

Zhao M, Morohashi K, Hatlestad G, Grotewold E, Lloyd A (2008) The TTG1-bHLH-MYB complex controls trichome cell fate and patterning through direct targeting of regulatory loci. Development 135(11):1991–1999

Zhu HF, Fitzsimmons K, Khandelwal A, Kranz RG (2009) CPC, a single-repeat R3-MYB, is a negative regulator of anthocyanin biosynthesis in Arabidopsis. Mol Plant 2:790–802

Zimmermann IM, Heim MA, Weisshaar B, Uhrig JF (2004) Comprehensive identification of Arabidopsis thaliana MYB transcription factors interacting with R/B-like BHLH proteins. Plant J 40(1):22–34
Acknowledgements
We thank Dr. Francesca M. Quattrocchio in University of Amsterdam for the vector of pK2GW2.0/rfa (Overexpression) and petunia seeds. We thank Dr. Kai He in Lanzhou University for the vectors of pGBKT7/GW and pGADT7/GW (Y2H). We thank Lesley Benyon, PhD, from Liwen Bianji, Edanz Group China (www.liwenbianji.cn/ac), for editing the English text of a draft of this manuscript. The National Natural Science Foundation of China (Grant No. U1504320) and the Financial Project of Henan Province (2019XKYH03, 20188105) to HZ supported this study.
Ethics declarations
Conflict of interest
The authors declare that they have no conflicts of interest.
Additional information
Publisher's Note
Springer Nature remains neutral with regard to jurisdictional claims in published maps and institutional affiliations.
Electronic supplementary material
Below is the link to the electronic supplementary material.
About this article
Cite this article
Fu, Z., Wang, L., Shang, H. et al. An R3-MYB gene of Phalaenopsis, MYBx1, represses anthocyanin accumulation. Plant Growth Regul 88, 129–138 (2019). https://doi.org/10.1007/s10725-019-00493-3
Received:

Accepted:

Published:

Issue Date:
Keywords
Anthocyanin

Gene function

Phalaenopsis

Transcription factor