Abstract
Regeneration failure and productivity decline, which is collectively known as consecutive monoculture problem (CMP), were observed during long-term monoculture Casuarina equisetifolia plantations. In this study, the high-throughput sequencing method was applied to determine whether the rhizospheric microbial community composition would be significantly degenerated by consecutive monoculture in C. equisetifolia plantations. The results showed that the soil fungal community structure exhibited obvious differences among the first rotation plantation (FCP), the second rotation plantation (SCP), and the third rotation plantation (TCP). Both the Shannon and Simpson diversity indices of the soil fungal community in the FCP were significantly higher than in the SCP (P < 0.05). Additionally, the relative abundance of Fusarium, Thelephora, Hortaea and Penicillium were significantly higher in the SCP and TCP soils than in the FCP soils, suggesting that certain fungi gradually became predominant in the continuous monoculture plantation soils. Conversely, the relative abundance of Tolypocladium and Trichoderma were significantly lower in the SCP and TCP soils than in the FCP soils, suggesting that some microbes gradually decreased in the continuous monoculture plantation soils. Overall, the results demonstrated that the long-term pure plantation pattern exacerbated the microecological imbalance in rhizospheric soils of C. equisetifolia and markedly decreased soil microbial community diversity.
This is a preview of subscription content, log in to check access.
Access options
Buy single article
Instant access to the full article PDF.
US$ 39.95
Price includes VAT for USA
Subscribe to journal
Immediate online access to all issues from 2019. Subscription will auto renew annually.
US$ 199
This is the net price. Taxes to be calculated in checkout.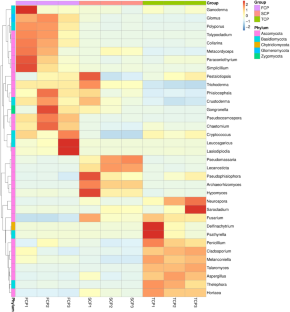 Abbreviations
CMP:

Consecutive monoculture problem

FCP:

First rotation plantation

SCP:

Second rotation plantation

TCP:

Third rotation plantation

TN:

Total nitrogen

AN:

Alkaline nitrogen

TP:

Total phosphorus

AP:

Available phosphorus

TK:

Total potassium

OTU:

Operational taxonomic unit

AK:

Available potassium

ACE:

Abundance-based coverage estimator

PCoA:

Principal coordinate analysis

UPGMA:

Unweighted pair-group method with arithmetic means

OTUs:

Operational taxonomic units
Acknowledgements
We thank LetPub (http://www.letpub.com) for providing linguistic assistance during the preparation of this manuscript. This work was supported by the Chinese National Natural Science Foundation (Grant No. 31500443), Natural Science Foundation of Fujian Province, China (Grant No. 2018J01617), the Scientific Research Foundation of Fujian Agriculture and Forestry University (Grant No. XJQ201718), and the Fujian-Taiwan Joint Innovative Centre for Germplasm Resources and Cultivation of Crops (Grant No. 2015-75. FJ 2011 Program, China).
Ethics declarations
Conflict of interest
The authors declare that they have no competing financial interests.
Ethical approval
This study has been approved by the Hui'an National Forest Farm Management Committee, which takes care of the planning and protection of Hui'an National Forest Farm. The study did not involve any endangered or protected species. All of the data in this study can be published and shared.
Additional information
Publisher's Note
Springer Nature remains neutral with regard to jurisdictional claims in published maps and institutional affiliations.
Electronic supplementary material
Below is the link to the electronic supplementary material.
About this article
Cite this article
Liuting, Z., Jianjuan, L., Yang, L. et al. Variation in soil fungal community structure during successive rotations of Casuarina equisetifolia plantations as determined by high-throughput sequencing analysis. Plant Growth Regul 87, 445–453 (2019). https://doi.org/10.1007/s10725-019-00483-5
Received:

Accepted:

Published:

Issue Date:
Keywords
Casuarina equisetifolia

High-throughput sequencing

Successive rotation

Microbial community composition