Abstract
The potential biofuel crop Jatropha curcas has very low tolerance to low temperatures, which is the bottleneck for its cultivation and commercialization. BTF3 (Basic transcription factor 3) function as a key regulator of plant growth and development as well as in the tolerance to biotic and abiotic stress. JcBTF3 was isolated from J. curcas by screening the cold stress responsive yeast hybrid library, which has five introns and six exons that contain a single ORF of 501 bp, encoding a protein of 166 amino acids. In addition to its NAC domain, phylogenetic analysis suggests that the entire sequence of the JcBTF3 protein and the gene structure are highly conserved in the plant kingdom. One hour of cold exposure caused a significant up-regulation of JcBTF3, while abscisic acid, methyl jasmonate, salt and drought stresses slightly induced its expression. Assessing expression in different tissues showed that JcBTF3 is expressed ubiquitously, with lower levels in the stem. Further experiments demonstrated that JcBTF3 is distributed throughout the cytoplasm and in the nucleus. Overexpression of JcBTF3 increased the tolerance to cold stresses in transgenic Arabidopsis. These results suggest that the conserved BTF3 gene structure could be an important hint for the functional identification of orthologous genes in additional plant species and that JcBTF3 might be used to improve the cold stress resistance of J. curcas.
This is a preview of subscription content, log in to check access.
Access options
Buy single article
Instant access to the full article PDF.
US$ 39.95
Price includes VAT for USA
Subscribe to journal
Immediate online access to all issues from 2019. Subscription will auto renew annually.
US$ 199
This is the net price. Taxes to be calculated in checkout.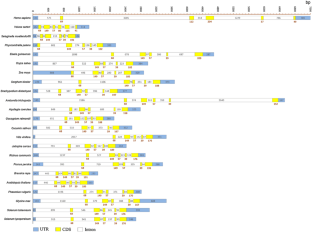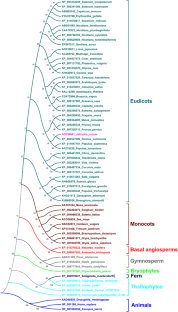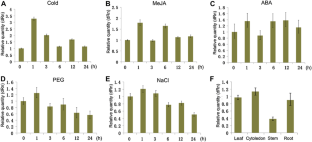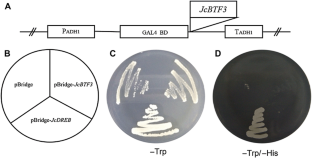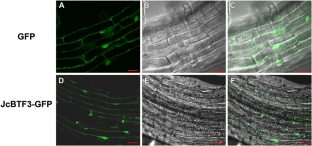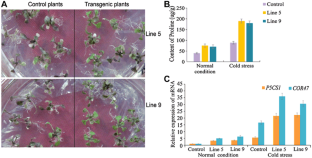 References
Bloss TA, Witze ES, Rothman JH (2003) Suppression of CED-3-independent apoptosis by mitochondrial β NAC in Caenorhabditis elegans. Nature 424(6952):1066–1071

Brockstedt E, Otto A, Rickers A, Bommert K, Wittmann-Liebold B (1999) Preparative high-resolution Two-dimensional electrophoresis enables the identification of RNA polymerase B transcription factor 3 as an apoptosis-associated protein in the Human BL60-2 Burkitt Lymphoma Cell Line. J Protein Chem 18(2):225–231

Cooper B, Hutchison D, Park S, Guimil S, Luginbühl P, Ellero C, Goff SA, Glazebrook J (2003) Identification of rice (Oryza sativa) proteins linked to the cyclin-mediated regulation of the cell cycle. Plant Mol Biol 53(3):273–279

Devos S, Laukens K, Deckers P, Van Der Straeten D, Beeckman T, Inze D, Van Onckelen H, Witters E, Prinsen E (2006) A hormone and proteome approach to picturing the initial metabolic events during Plasmodiophora brassicae infection on Arabidopsis. Mol Plant-Microb Interact 19(12):1431–1443

El-Tanani M, Platt-Higgins A, Rudland PS, Campbell FC (2004) Ets gene PEA3 cooperates with β-catenin-Lef-1 and c-Jun in regulation of osteopontin transcription. J Biol Chem 279(20):20794–20806

Gajewska E, Skłodowska M, Słaba M, Mazur J (2006) Effect of nickel on antioxidative enzyme activities, proline and chlorophyll contents in wheat shoots. Biol Plant 50(4):653–659

Gao J, Jiang N, Qin X, Zhu X, Ai T, Peng T, Peng T, Wu J, Xu Y, Chen F (2013) Physiological and metabolic responses of Jatropha to Chilling Stress. Int J Agric Biol 15(5):871–877

Garcia-Almodovar C, Gimeno V, Nieves M, Diaz-Lopez L, Simon I, Garcia-Sanchez F (2014) Improving the tolerance of Jatropha curcas L. plants to abiotic stresses. CAB Rev 9(004):1–10

Grein S, Pyerin W (1999) BTF3 is a potential new substrate of protein kinase CK2. Mol Cell Biochem 191:121–128

Hu G-Z, Ronne H (1994) Yeast BTF3 protein is encoded by duplicated genes and inhibits the expression of some genes in vivo. Nucleic Acids Res 22(14):2740–2743

Huh SU, Kim K-J, Paek K-H (2012) Capsicum annuum basic transcription factor 3 (CaBtf3) regulates transcription of pathogenesis-related genes during hypersensitive response upon tobacco mosaic virus infection. Biochem Biophys Res Commun 417(2):910–917

Jiang Y, Yang B, Harris NS, Deyholos MK (2007) Comparative proteomic analysis of NaCl stress-responsive proteins in Arabidopsis roots. J Exp Bot 58(13):3591–3607

Lauring B, Sakai H, Kreibich G, Wiedmann M (1995) Nascent polypeptide-associated complex protein prevents mistargeting of nascent chains to the endoplasmic reticulum. Proc Natl Acad Sci 92(12):5411–5415

Li G, Wu M, He C(2009) Gene expression response of transcription factor OsBTF3 in rice to bacterial and fungal infection and signa lmolecule treatment revealed by quantitative real-time PCR analysis. Acta Phytopathol Sin 39(3):272–277

Li G, Chen H, Wu M, He C (2012a) Functions of OsBTF3 gene in regulation of photosynthesis, growth and development in rice. Acta Agron Sin 38(5):904–908

Li G, Chen H, Wu M, He C (2012b) Resistance to high salt and cold stress of transgenic rice seedlings with over-expressed and rnai-silenced OsBTF3. Chin J Rice Sci 26(1):5–8

Li G, Chen H, Wu M, He C (2012c) Responses and expression of defense genes of transgenic rice with over-expressed or RNAi-silenced OsBTF3 gene upon bacterial infection. Acta Phytopathol Sin 42(2):169–175

Li ZG, Yuan LX, Wang QL, Ding ZL, Dong CY (2013) Combined action of antioxidant defense system and osmolytes in chilling shock-induced chilling tolerance in Jatropha curcas seedlings. Acta Physiol Plant 35(7):2127–2136

Liang Y, Chen H, Tang MJ, Yang PF, Shen SH (2007) Responses of Jatropha curcas seedlings to cold stress: photosynthesis-related proteins and chlorophyll fluorescence characteristics. Physiol Plant 131(3):508–517

Liu Y, Zeng H, Yu S, Yang X, Mao J, Qiu D (2009) Expression of peaT1 gene from Alternaria tenuissima in Pichia pastoris and its function. Shengwu Gongcheng Xuebao 25(3):413–417

Ma H, Liu G, Li C, Kang G, Guo T (2012) Identification of the TaBTF3 gene in wheat (Triticum aestivum L.) and the effect of its silencing on wheat chloroplast, mitochondria and mesophyll cell development. Biochem Biophys Res Commun 426(4):608–614

Miao H, Xue W, Zhezhi W (2009) Cloning and Bioinformatics Analysis of BTF3 Gene from Salvia miltiorrhiza Bunge. J Wuhan Bot Res 27(6):582–588

Peng X, Liu H, Wang D, Shen S (2016) Genome-wide identification of the Jatropha curcas MYB family and functional analysis of the abiotic stress responsive gene JcMYB2. BMC Genomics 17(1):1–12

Ploschuk E, Bado L, Salinas M, Wassner D, Windauer L, Insausti P (2014) Photosynthesis and fluorescence responses of Jatropha curcas to chilling and freezing stress during early vegetative stages. Environ Exp Bot 102:18–26

Sawadogo M, Sentenac A (1990) RNA polymerase B (II) and general transcription factors. Annu Rev Biochem 59(1):711–754

Sheoran I, Sproule K, Olson DH, Ross AS, Sawhney V (2006) Proteome profile and functional classification of proteins in Arabidopsis thaliana (Landsberg erecta) mature pollen. Sex Plant Reprod 19(4):185–196

Tang M, Sun J, Liu Y, Chen F, Shen S (2007) Isolation and functional characterization of the JcERF gene, a putative AP2/EREBP domain-containing transcription factor, in the woody oil plant Jatropha curcas. Plant Mol Biol 63(3):419–428

Tang M, Liu X, Deng H, Shen S (2011) Over-expression of JcDREB, a putative AP2/EREBP domain-containing transcription factor gene in woody biodiesel plant Jatropha curcas, enhances salt and freezing tolerance in transgenic Arabidopsis thaliana. Plant Sci 181(6):623–631

Wang H, Zou Z, Wang S, Gong M (2013) Global analysis of transcriptome responses and gene expression profiles to cold stress of Jatropha curcas L. PLoS ONE 8(12):e82817

Wang W, Xu M, Wang Y, Jamil M (2014) Basal transcription factor 3 plays an important role in seed germination and seedling growth of rice. BioMed Res Int 2014:465739

Yan S, Tang Z, Su W, Sun W (2005) Proteomic analysis of salt stress-responsive proteins in rice root. Proteomics 5(1):235–244

Yang J (2009) Cloning and functional analysis of DOF transcription factor gene from Jatropha curcas. Doctoral Dissertation, Graduate University of Chinese Academy of Sciences

Yang K-S, Kim H-S, Jin U-H, Lee SS, Park J-A, Lim YP, Pai H-S (2007) Silencing of NbBTF3 results in developmental defects and disturbed gene expression in chloroplasts and mitochondria of higher plants. Planta 225(6):1459–1469

Yang J, Feng YM, Dan W, Fan C, Hua SS (2010) JcDof1, a Dof transcription factor gene, is associated with the light-mediated circadian clock in Jatropha curcas. Physiol Plant 139(3):324–334

Yang CY, Fang Z, Li B, Long YF (2012) Review and prospects of Jatropha biodiesel industry in China. Renew Sustain Energy Rev 16(4):2178–2190

Zhang Z, Lu M , Li H, B, Zhang D, Liu Y, Shi Y, Song Y, Wang T, Li Y (2010) Isolation and Expression Analysis of a Drought-Induced Gene ZmBTF3b in Maize (Zea mays L.). Sci Agric Sin 43(16):3280–3287

Zheng YL, Feng YL, Lei YB, Yang CY (2009) Different photosynthetic responses to night chilling among twelve populations of Jatropha curcas. Photosynthetica 47(4):559–566
Acknowledgements
Thanks Dr. Brenna from Baylor College of Medicine for her kindly help of the English proofing.
Authors contributions
PXJ performed the genome wide analysis of BTFs and wrote this manuscript. WQ performed the plasmid construction and the yeast one hybrid. LH carried out the subcellular localization and qPCR experiments. SSH was responsible for the overall concept and experimental designs, data integration, analysis and interpretation, and manuscript preparation. All authors approved the final manuscript.
Funding
This work was supported by the National Natural Science Foundation of China (31270653).
Ethics declarations
Conflict of interests
The authors declare that there is no competing interest in this study.
Additional information
Xianjun Peng and Qi Wang have contributed equally to this work.
Electronic supplementary material
Below is the link to the electronic supplementary material.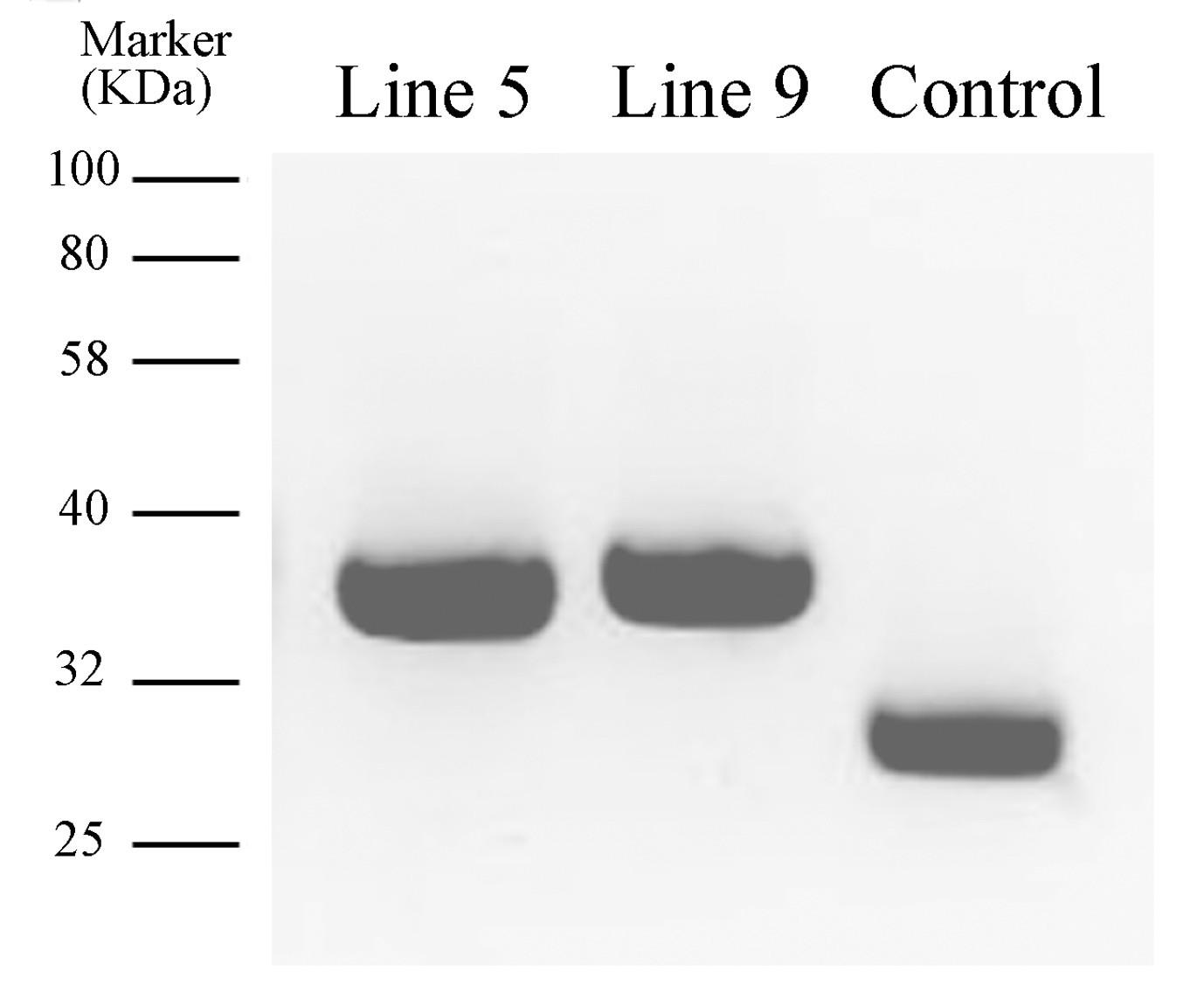 About this article
Cite this article
Peng, X., Wang, Q., Liu, H. et al. Phylogenetic and functional analysis of the basic transcription factor gene BTF3 from Jatropha curcas . Plant Growth Regul 82, 247–257 (2017). https://doi.org/10.1007/s10725-017-0255-6
Received:

Accepted:

Published:

Issue Date:
Keywords
Abiotic stress

BTF

Cold stress

Phylogenetic

Transcriptional factor