Abstract
Nitrogen (N) is a macronutrient essential for plant growth and development. Meanwhile, grafting is a method used to alleviate stress tolerance of various biotic and abiotic factors. This study aims to investigate how pumpkin grafting (PG) improves N use efficiency of watermelon. A commercial watermelon cultivar "Zaojia 8424" [Citrullus lanatus (Thunb.) Matsum. and Nakai.] was self-grafted and then grafted onto pumpkin (Cucurbita maxima ×C. moschata) rootstock cv. Qingyan Zhenmu No. 1. The grafted plants were exposed to two levels of N (9 and 0.2 mM) under hydroponic conditions. The grafted plants were harvested at days 11 and 22 after low N (0.2 mM) treatment. PG improved the N use efficiency of watermelon scion through the vigorous root system of pumpkin rootstock that enhanced the uptake and accumulation of N, P, K, Ca, Mg, B, and Mn in watermelon. Gene expressions of nitrate reductase (Cla002787, Cla002791, and Cla023145) and nitrite reductase (Cla013062) genes were increased, promoting N assimilation. Mesophyll thickness and SPAD index (relative chlorophyll measurement) were also improved. Furthermore, pumpkin rootstock also enhanced the supply of zeatine riboside (ZR) and isopentenyl adenosine (iPA) in the leaves, promoting shoot growth. All these lead to improved plant growth and nitrogen use efficiency of pumpkin rootstock-grafted watermelon plants.
Access options
Buy single article
Instant access to the full article PDF.
USD 39.95
Price excludes VAT (USA)
Tax calculation will be finalised during checkout.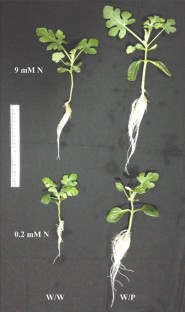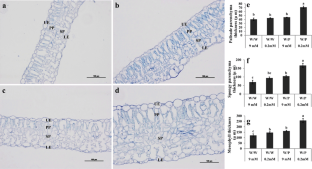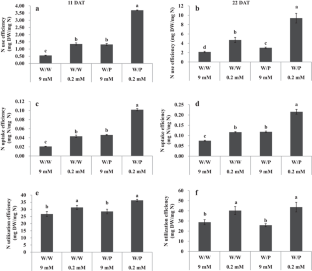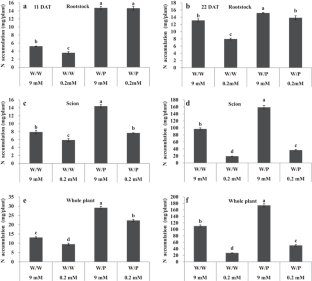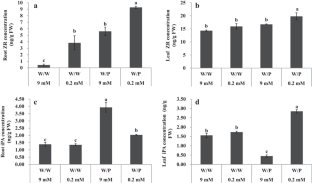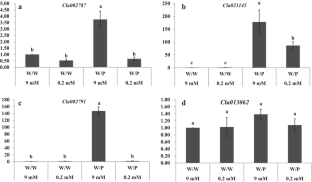 References
Ahmed W, Pervez MA, Amjad M, Khalid M, Ayyub CM, Nawaz MA (2006) Effect of stionic combination on the growth and yield of Kinnow mandarin (Citrus reticulate Blanco.). Pak J Bot 38(3):603–612

Ahmed W, Nawaz MA, Iqbal MA, Khan MM (2007) Effect of different rootstocks on plant nutrient Status and yield in Kinnow mandarin (Citrus reticulate Blanco). Pak J Bot 39(5):1779–1786

Albacete A, Ghanem ME, Martinez-Andujar C, Acosta M, Sanchez-Bravo J, Martinez V, Lutts S, Dodd IC, Pérez-Alfocea F (2008) Hormonal changes in relation to biomass partitioning and shoot growth impairment in salinized tomato. J Exp Bot 59:4119–4131

Albacete A, Martinez-Andujar C, Ghanem ME, Acosta M, Sanchez-Bravo J, Asins MJ, Cuartero J, Lutts S, Dodd IC, Pérez-Alfocea F (2009) Rootstock-mediated changes in xylem ionic and hormonal status are correlated with delayed leaf senescence, and increased leaf area and crop productivity in salinized tomato. Plant Cell Environ 32:928–938

Albacete A, Martinez-Anujar C, Marinez-Pérez A, Thompson AJ, Dodd IC, Pérez-Alfocea F (2015) Unravelling rootstock × scion interactions to improve food Security. J Exp Bot 66(8):2211–2226

Aloni B, Cohen R, Karni L, Aktas H, Edelstein M (2010) Hormonal signaling in rootstock–scion interactions. Sci Hortic 127:119–126

Arwiyanto T, Lwin K, Maryudani Y, Purwantoro A (2015) Evaluation of local Solanum torvum as a rootstock to control of Ralstonia solanacearum in Indonesia. In: Bie Z, Huang Y, Nawaz MA (eds) Proceeding of the first international symposium on vegetable grafting. Acta Horticulturae 1086, pp 101–106

Asakura Y, Hagino T, Ohta Y, Aoki K, Yonekura-Sakakibara K, Deji A, Yamaya T, Sugiyama T, Sakakibara H (2003) Molecular characterization of His-Asp phosphorelay signaling factors in maize leaves: implications of the signal divergence by cytokinin-inducible response regulators in the cytosol and the nuclei. Plant Mol Biol 52(2):331–341

Balotf S, Niazi A, Kavoosi G, Ramezani A (2012) Differential expression of nitrate reductase in response to potassium and sodium nitrate: real time PCR analysis. Aust J Crop Sci 6(1):130–134

Bhatt RM, Upreti KK, Divya MH, Bhat S, Pavithra CB, Sadashiva AT (2015) Interspecific grafting to enhance physiological resilience to flooding stress in tomato (Solanum lycopersicum L.). Sci Hortic 182:8–17

Bremner JM (1965) Total nitrogen. In: Black CA, Evans DD, White IL, Ensminger LE, Clark FE (eds) Methods of soil analysis, part 2, 9. Agronomy Monograph, USA, pp. 1149–1178

Chen FS, Zeng DH, Fahey TJ, Yao CY, Yu ZY (2010) Response of leaf anatomy of Chenopodium acuminatum to soil resource availability in a semi-arid grassland. Plant Ecol 209:375–382

Chen L, Dodd IC, Davies WJ, Wilkinson S (2013) Ethylene limits abscisic acid- or soil drying-induced stomatal closure in aged wheat leaves. Plant Cell Environ 36:1850–1859

Chu ZX, Ma Q, Lin YX, Tang XL, Zhou YQ, Zhu SW, Fan J, Cheng BJ (2011) Genome-wide identification, classification, and analysis of two-component signal system genes in maize. Genet Mol Res 10(4):3316–3330

Clark G (1981) Staining procedures, 4th edn. Williams and Wilkins, London, pp 325–326

Colla G, Suarez CMC, Cardarelli M (2010) Improving nitrogen use efficiency in melon by grafting. Hort Sci 45(4):559–565

Colla G, Rouphael Y, Rea E, Cardarelli M (2012) Grafting cucumber plants enhance tolerance to sodium chloride and sulfate salinization. Sci Hortic 135:177–185

Colla G, Rouphael Y, Jawad R, Kumar P, Rea E, Cardarelli M (2013) The effectiveness of grafting to improve NaCl and CaCl2 tolerance in cucumber. Sci Hortic 164:380–391

Dong H, Niu Y, Li W, Zhang D (2008) Effects of cotton rootstock on endogenous cytokinins and abscisic acid in xylem sap and leaves in relation to leaf senescence. J Exp Bot 59(6):1295–1304

Dor E, Alperin B, Wininger S, Ben-Dor B, Somvanshi VS, Koltai H, Kapulnik Y, Hershenhorn J (2010) Characterization of a novel tomato mutant resistant to the weedy parasites Orobanche and Phelipanche spp. Euphytica 171:371–380

Evans JR (1989) Photosynthesis and nitrogen relationships in leaves of C3 plants. Oecologia J 78:9–19

Evans JR, Kaldenhoff R, Genty B, Terashima I (2009) Resistances along the CO2 diffusion pathway inside leaves. J Exp Bot 60:2235–2248

Fan XX, Xu ZG, Liu XY, Tang CM, Wang LW, Han XL (2013) Effects of light intensity on the growth and leaf development of young tomato plants grown under a combination of red and blue light. Sci Hortic 153:50–55

Farhadi A, Malek S (2015) Evaluation of graft compatibility and organoleptic traits of greenhouse cucumber seedlings grafted on different rootstocks. In: Bie Z, Huang Y, Nawaz MA (eds) Proceeding of the first international symposium on vegetable grafting. Acta Horticulturae 1086, pp 219–224

Fuentes I, Stegemann S, Golczyk H, Karcher D, Bock R (2014) Horizontal genome transfer as an asexual path to the formation of new species. Nature 511:232–235

Gao Y, Tian Y, Liang X, Gao L (2015) Effects of single-root-grafting, double-root grafting and compost application on microbial properties of rhizosphere soils in Chinese protected cucumber (Cucumissativus L.) production systems. Sci Hortic 186:190–200

Gerendás J, Abbadi J, Sattelmacher B (2008) Potassium efficiency of safflower (Carthamustinctorius L.) and sunflower (Helianthus annuus L.). J Plant Nutr Soil Sci 171:431–439

Ghanem ME, Albacete A, Smigocki AC, Frebort I, Pospisilova H, Martinez-Andujar C, Acosta M, Sanchez-Bravo J, Lutts S, Dodd IC, Perez-Alfocea F (2011) Root-synthesisedcytokinins improve shoot growth and fruit yield in salinised tomato (Solanum lycopersicum L.). J Exp Bot 62:125–140

Goncalves B, Correia CM, Silva AP, Bacelar EA, Santos A (2008) Leaf structure and function of sweet cherry tree (Prunusavium L.) cultivars with open and dense canopies. J Sci Hortic 116:381–387

Gregory PJ, Atkinson CJ, Bengough AG, Else MA, Fernandez-Fernandez F, Harrison RJ, Schmidt S (2013) Contributions of roots and rootstocks to sustainable, intensified crop production. J Exp Bot 64:1209–1222

Guillermo E, Santa-Maria, Moriconi JI, Oliferuk (2015) Internal efficiency of nutrient utilization: what is it and how to measure it during vegetative plant growth? J Exp Bot 66(11):3011–3018

Hassell RL, Memmott F, Liere DG (2008) Grafting methods for watermelon production. Hort Sci 43:1677–1679

He P, Osaki M, Takebe M, Shinano T, Wasaki J (2005) Endogenous hormones and expression of senescence-related genes in different senescent type of maize. J Exp Bot 56:1117–1128

Huang Y, Tang R, Cao Q, Bie Z (2009) Improving the fruit yield and quality of cucumber by grafting onto the salt tolerant rootstock under NaCl stress. Sci Hortic 122:26–31

Huang Y, Bie Z, Liu P, Niu M, Zhen A, Liu Z, Lei B, Gu D, Lu C, Wang B (2013a) Reciprocal grafting between cucumber and pumpkin demonstrates the roles of the rootstock in the determination of cucumber salt tolerance and sodium accumulation. Sci Hortic 149:47–54

Huang Y, Li J, Hua B, Liu Z, Fan M, Bie Z (2013b) Grafting onto different rootstocks as a means to improve watermelon tolerance to low potassium stress. Sci Hortic 149:80–85

Huang Y, Zhao LQ, Kong QS, Cheng F, Niu ML, Xie JJ, Nawaz MA, Bie ZL (2016a) Comprehensive mineral nutrition analysis of watermelon grafted onto two different rootstocks. Hort Plant J. doi:10.1016/j.hpj.2016.06.003

Huang Y, Jiao Y, Nawaz MA, Chen C, Liu L, Lu Z, Kong Q, Cheng F, Bie Z (2016b) Improving magnesium uptake, photosynthesis and antioxidant enzyme activities of watermelon by grafting onto pumpkin rootstock under low magnesium. Plant Soil. doi:10.1007/s11104-016-2965-3

Kamboj JS, Blake PS, Quinlan JD, Baker DA (1999) Identification and quantitation by GC-MS of zeatin and zeatinriboside in xylem sap from rootstock and scion of grafted apple trees. Plant Growth Regul 28:199–205

Kong QS, Yuan JX, Gao LY, Zhao S, Jiang W, Huang Y, Bie ZL (2014) Identification of suitable reference genes for gene expression normalization in qRT-PCR analysis in watermelon. PLoS One 9(2):e90612. doi:10.1371/journal.pone.0090612

Lee JM, Kubota C, Tsao SJ, Bie Z, Echevarria PH, Morra L, Oda M (2010) Current status of vegetable grafting: diffusion, grafting techniques, automation. Sci Hortic 127:93–105

Li G, Ma J, Tan M, Mao J, An N, Sha G, Zhang D, Zhao C, Han M (2016) Transcriptome analysis reveals the effects of sugar metabolism and auxin and cytokinin signaling pathways on root growth and development of grafted apple. BMC Genom 17:150

Livak KJ, Schmittgen TD (2001) Analysis of relative gene expression data using real-time quantitative PCR and the 2–∆∆CT method. Methods 25:402–408

López-Marín J, González A, Pérez-Alfocea F, Egea-Gilabert C, Fernández JA (2013) Grafting is an efficient alternative to shading screens to alleviate thermal stress in greenhouse grown sweet pepper. Sci Hortic 149:39–46

Louws FJ, Rivard CL, Kubota C (2010) Grafting fruiting vegetables to manage soil borne pathogens, foliar pathogens, arthropods and weeds. Sci Hortic 127:127–146

Luo J, Li H, Liu T, Polle A, Peng C, Luo ZB (2013) Nitrogen metabolism of two contrasting poplar species during acclimation to limiting nitrogen availability. J Exp Bot 64(14):4207–4224

Lynch JP (1998) The role of nutrient-efficient crops in modern agriculture. J Crop Prod 1:241–264

Meister R, Rajani MS, Ruzicka D, Schachtman DP (2014) Challenges of modifying root traits in crops for agriculture. Trends Plant Sci 19(12):779–788. doi:10.1016/j.tplants.2014.08.005

Miles C, Wimer J, Inglis D (2015) Grafting eggplant and tomato for Verticillium wilt resistance. In: Bie Z, Huang Y, MA (eds) Proceeding of the first international symposium on vegetable grafting. Acta Horticulturae 1086, pp 113–118

Murphy J, Riley JP (1962) A modified single solution method for the determination of phosphate in natural waters. Anal Chim Acta 27:31–36

Nawaz MA, Imtiaz M, Kong Q, Fei C, Ahmed W, Huang Y, Bie Z (2016) Grafting: a technique to modify ion accumulation in horticultural crops. Front Plant Sci 7:1457. doi:10.3389/fpls.2016.01457

Penella C, Nebauer SG, Quinones A, Bautista AS., López-Galarza S, Calatayud A (2015) Some rootstocks improve pepper tolerance to mild salinity through ionic regulation. Plant Sci 230:12–22

Penella C, Landi M, Guidi L, Nebauer SG, Pellegrini E, Bautista AS, Remorini D, Nali C, López-Galarza S, Calatayud A (2016) Salt-tolerant rootstock increases yield of pepper under salinity through maintenance of photosynthetic performance and sinks strength. J Plant Physiol 193:1–11

Pulgar G, Villora G, Moreno DA, Romero L (2000) Improving the mineral nutrition in grafted watermelon: nitrogen metabolism. Biol Plant 43:607–609

Rad JS, Rad MS, Miri A (2013) Regulation of the expression of nitrate reductase genes in leaves of medical plant, Foeniculum vulgare by different nitrate sources. Intl J Agri Crop Sci 5(24):2911–2916

Rengel Z, Damon PM (2008) Crops and genotypes differ in efficiency of potassium uptake and use. Physiol Plant 133:624–636

Rivero RM, Kojima M, Gepstein A, Sakakibara H, Mittler R, Gepstein S, Blumwald E (2007) Delayed leaf senescence induces extreme drought tolerance in a flowering plant. Proc Natl Acad Sci USA 104:19631–19636

Rivero RM, Shulaev V, Blumwald E (2009) Cytokinin-dependent photorespiration and the protection of photosynthesis during water deficit. Plant Physiol 150:1530–1540

Rogers ED, Benfey PN (2015) Regulation of plant root system architecture: implications for crop advancement. Curr Opin Biotech 32:93–98

Rouphael Y, Schwarz D, Krumbein A, Colla G (2010) Impact of grafting on product quality of fruit vegetables. Sci Hortic 127:172–179

Ruiz JM, Belakbir A, Lhpez-Cantarero I, Romero L (1997) Leaf-macronutrient content and yield in grafted melon plants. A model to evaluate the influence of rootstock genotype. Sci Hortic 71:227–234

Sattelmacher B, Horst WJ, Becker HC (1994) Factors that contribute to genetic variation for nutrient efficiency of crop plants. J Plant Nutr Soil Sci 157:215–224

Schwarz D, Rouphael Y, Colla G, Venema JH (2010) Grafting as a tool to improve tolerance of vegetables to abiotic stresses: Thermal stress, water stress and organic pollutants. Sci Hortic 127:162–171

Schwarz D, Öztekin GB, Tüzel Y, Brückner B, Krumbein A (2013) Rootstocks can enhance tomato growth and quality characteristics at low potassium supply. Sci Hortic 149:70–79

Sivasankar S, Oaks A (1996) Nitrate assimilation in higher plants: the effect of metabolites and light. Plant Physiol Biochem 34:609–620

Stitt M (1999) Nitrate regulation of metabolism and growth. Curr Opin Plant Biol 2:178–186

Suchoff D, Gunter C, Schulthesis J, and Louws FJ (2015) On farm grafted tomato trial to manage bacterial wilt. In: Bie Z, Huang Y, Nawaz MA (eds) Proceeding of the first international symposium on vegetable grafting. Acta Horticulturae 1086, pp 119–127

Takei K, Sakakibara H, Taniguchi M, Sugiyama T (2001) Nitrogen-dependent accumulation of cytokinins in root and the translocation to leaf: implication of cytokinin species that induces gene expression of maize response regulator. Plant Cell Physiol 42(1):85–93

Tischner R (2001) Nitrate uptake and reduction in higher and lower plants. Plant Cell Environ 23:1005–1024

Tsaballa A, Athanasiadis C, Pasentsis K, Ganopoulos I, Nianiou-Obeidat I, Tsaftaris A (2013) Molecular studies of inheritable grafting induced changes in pepper (Capsicum annuum) fruit shape. Sci Hortic 149:2–8

Van-Hooijdonk BM, Woolley DJ, Warrington IJ, Tustin DS (2010) Initial alteration of scion architecture by dwarfing apple rootstocks may involve shoot-root-shoot signaling by auxin, gibberellin, and cytokinin. J Hortic Sci Biotechnol 85:59–65

Venema JH, Elzenga JTM, Bouwmeester HJ (2011) Selection and breeding of robust rootstocks as a tool to improve nutrient-use efficiency and abiotic stress tolerance in tomato. In: Dorais M, Bishop SD (eds) Proceedings of first international conference on organic greenhouse horticulture. Acta Horticulturae 915, pp 109–116

Wang Y, Li B, Du M, Eneji AE, Wang B, Duan L, Li Z, Tian X (2012) Mechanism of phytohormone involvement in feedback regulation of cotton leaf senescence induced by potassium deficiency. J Exp Bot 63(2):695–709

Weiler EW (1982) Plant hormone immunoassay. Physiol Plant 54:230–234

Wissuwa M, Kretzschmar T, Rose TJ (2016) From promise to application: root traits for enhanced nutrient capture in rice breeding. J Exp Bot. doi:10.1093/jxb/erw061

Yang Y, Lu X, Yan B, Li B, Sun J, Guo S, Tezuka T (2013) Bottle gourd rootstock-grafting affects nitrogen metabolism in NaCl-stressed watermelon leaves and enhances short-term salt tolerance. J Plant Physiol 170:653–661

Yano S, Terashima I (2001) Separate localization of light signal perception for sun or shade type chloroplast and palisade tissue differentiation in Chenopodium album. Plant Cell Physiol 42:1303–1310

Yetisir H, Özdemir AE, Aras V, Candır E, Aslan O (2013) Rootstocks effect on plant nutrition concentration in different organ of grafted watermelon. Agri Sci 4(5):230–237

Zen YA, Zhu YL, Huang BJ, Yang LF (2004) Effects of Cucurbita ficifolia as rootstock on growth, fruit setting, disease resistance and leaf nutrient element contents in Cucumis sativus. J Plant Res Environ 13:15–19

Zhao X, Guo Y, Huber DJ, Lee J (2011) Grafting effects on postharvest ripening and quality of 1-methylcyclopropene-treated muskmelon fruit. Sci Hortic 130:581–587
Acknowledgements
This work was supported by National Natural Science Foundation of China (31201660, 31471919), The International Science and Technology Cooperation Program of China (2015DFG32310), and China Agriculture Research System (CARS-26-16).
Electronic supplementary material
Below is the link to the electronic supplementary material.
About this article
Cite this article
Nawaz, M.A., Wang, L., Jiao, Y. et al. Pumpkin rootstock improves nitrogen use efficiency of watermelon scion by enhancing nutrient uptake, cytokinin content, and expression of nitrate reductase genes . Plant Growth Regul 82, 233–246 (2017). https://doi.org/10.1007/s10725-017-0254-7
Received:

Accepted:

Published:

Issue Date:

DOI: https://doi.org/10.1007/s10725-017-0254-7
Keywords