Abstract
Eriocephalus africanus is a medicinal and aromatic plant species that is part of South Africa's remarkable diversity. As a result of illegal and over-harvesting, most plant communities have become unsustainable and as such, effective and efficient conservation strategies have to be implemented. In the present study, an isoprenoid cytokinin (CK): isopentenyladenine (iP) and four aromatic CKs namely benzyladenine (BA), meta-topolin (mT), meta-topolin riboside (mTR) and 6-(3-hydroxybenzylamino)-9-(tetrahydropyran-2-yl)purine (mTTHP) at 1, 5 or 10 µM were evaluated for in vitro plant regeneration in E. africanus. Different concentrations of indole-3-butyric acid (IBA) were also evaluated for shoot and root organogenesis. The highest number of shoots was produced by mT (1 and 5 µM) treatment, longest shoots were stimulated by iP (1 µM) and the highest fresh mass was obtained in BA (5 and 10 µM), mT (5 and 10 µM) and mTTHP (5 µM)-treated plants. During acclimatization, all the in vitro plants obtained from the lowest concentration of CKs survived and 1 µM iP regenerants recorded a 100% survival rate. For the rooting experiment, more vigorous adventitious roots were observed in the 1 µM IBA treatment. All IBA treatments had 100% survival rate after 6 weeks of acclimatization. Overall, the concentration and type of plant growth regulators had a remarkable influence on the growth and development of in vitro-derived E. africanus.
This is a preview of subscription content, log in to check access.
Access options
Buy single article
Instant access to the full article PDF.
US$ 39.95
Price includes VAT for USA
Subscribe to journal
Immediate online access to all issues from 2019. Subscription will auto renew annually.
US$ 199
This is the net price. Taxes to be calculated in checkout.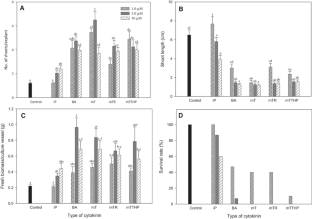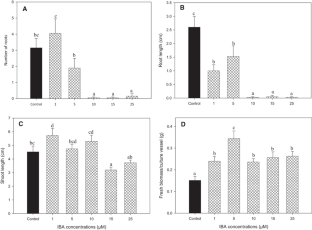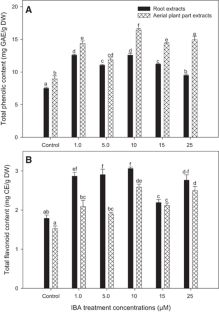 Abbreviations
BA:

N 6-Benzyladenine

CE:

Catechin equivalents

CK:

Cytokinin

DW:

Dry weight

GAE:

Gallic acid equivalents

IBA:

Indole-3-butyric acid

iP:

N 6-Isopentenyladenine

mT:

meta-Topolin

mTR:

meta-Topolin riboside

mTTHP:

6-(3-hydroxybenzylamino)-9-(tetrahydropyran-2-yl)purine

MS:

Murashige and Skoog (1962) medium

PGR:

Plant growth regulator

PPF:

Photosynthetic photon flux
References
Amoo SO, Van Staden J (2012) Influence of plant growth regulators on shoot proliferation and secondary metabolite production in micropropagated Huernia hystrix. Plant Cell Tiss Organ Cult 112:249–256

Amoo SO, Aremu AO, Van Staden J (2012) In vitro plant regeneration, secondary metabolite production and antioxidant activity of micropropagated Aloe arborescens Mill. Plant Cell Tiss Organ Cult 111:345–358

Aremu AO, Bairu MW, Doležal K, Finnie JF, Van Staden J (2012) Topolins: a panacea to plant tissue culture challenges? Plant Cell Tiss Organ Cult 108:1–16

Bairu MW, Stirk WA, Dolezal K, Van Staden J (2007) Optimizing the micropropagation protocol for the endangered Aloe polyphylla: can meta-topolin and its derivatives serve as replacement for benzyladenine and zeatin? Plant Cell Tiss Organ Cult 90:15–23

Brown DE, Rashotte AM, Murphy AS, Normanly J, Tague BW, Peer WA, Taiz L, Muday GK (2001) Flavonoids act as negative regulators of auxin transport in vivo in Arabidopsis. Plant Physiol 126:524–535

Buer CS, Muday GK (2004) The transparent testa4 mutation prevents flavonoid synthesis and alters auxin transport and the response of Arabidopsis roots to gravity and light. Plant Cell 16:1191–1205

Catarino MD, Silva AMS, Saraiva SC, Sobral AJFN, Cardoso SM (2015) Characterization of phenolic constituents and evaluation of antioxidant properties of leaves and stems of Eriocephalus africanus. Arab J Chem. 10.1016/j.arabjc.2015.04.018

Chang HS, Charkabarty D, Hahn EJ, Paek KY (2003) Micropropagation of calla lily (Zantedeschia albomaculata) via in vitro shoot tip proliferation. In Vitro Cell Dev Biol-Plant 39:129–134

de Klerk G-J, van der Krieken W, de Jong JC (1999) Review the formation of adventitious roots: new concepts, new possibilities. In Vitro Cell Dev Biol-Plant 35:189–199

Doležal K, Popa I, Kryštof V, Spíchal L, Fojtíková M, Holub J, Lenobel R, Schmülling T, Strnad M (2006) Preparation and biological activity of 6-benzylaminopurine derivatives in plants and human cancer cells. Bioorg Med Chem 14:875–884

Doležal K, Malá J, Máchová P, Cvrcková H, Karady M, Novák O, Szucova L, Mikulik J, Spichal L, Strnad M. 2011. New cytokinin derivatives—their discovery, development and use for micropropagation of endangered tree species. BMC Proceedings. BioMed Central Ltd, p O46

Escalona M, Cejas I, González-Olmedo J, Capote I, Roels S, Cañal M, Rodríguez R, Sandoval J, Debergh P (2003) The effect of meta-topolin on plantain propagation using a temporary immersion bioreactor. InfoMusa 12:28–30

Frébort I, Kowalska M, Hluska T, Frébortová J, Galuszka P (2011) Evolution of cytokinin biosynthesis and degradation. J Exp Bot 62:2431–2452

Gentile A, Gutiérrez MJ, Martinez J, Frattarelli A, Nota P, Caboni E (2014) Effect of meta-topolin on micropropagation and adventitious shoot regeneration in Prunus rootstocks. Plant Cell Tiss Organ Cult 118:373–381

Kamínek M, Motyka V, Vaňková R (1997) Regulation of cytokinin content in plant cells. Physiol Plant 101:689–700

Khan T, Abbasi BH, Khan MA, Shinwari ZK (2016) Differential effects of thidiazuron on production of anticancer phenolic compounds in callus cultures of Fagonia indica. Appl Biochem Biotechnol 179:46–58

Lall N, Kishore N (2014) Are plants used for skin care in South Africa fully explored? J Ethnopharmacol 153:61–84

Ljung K, Hull AK, Celenza J, Yamada M, Estelle M, Normanly J, Sandberg G (2005) Sites and regulation of auxin biosynthesis in Arabidopsis roots. Plant Cell 17:1090–1104

Ludwig-Müller J (2000) Indole-3-butyric acid in plant growth and development. Plant Growth Regul 32:219–230

Makunga N, Philander L, Smith M (2008) Current perspectives on an emerging formal natural products sector in South Africa. J Ethnopharmacol 119:365–375

Malá J, Máchová P, Cvrčková H, Karady M, Novák O, Mikulík J, Hauserová E, Greplová J, Strnad M, Doležal K (2009) Micropropagation of wild service tree (Sorbus torminalis [L.] Crantz): the regulative role of different aromatic cytokinins during organogenesis. J Plant Growth Regul 28:341–348

Moyo M, Finnie JF, Van Staden J (2012) Topolins in Pelargonium sidoides micropropagation: do the new brooms really sweep cleaner? Plant Cell Tiss Organ Cult 110:319–327

Murashige T, Skoog F (1962) A revised medium for rapid growth and bio assays with tobacco tissue cultures. Physiol Plant 15:473–497

Murphy A, Peer AW, Taiz L (2000) Regulation of auxin transport by aminopeptidases and endogenous flavonoids. Planta 211:315–324

Niedz RP, Evens TJ (2010) The effects of benzyladenine and meta-topolin on in vitro shoot regeneration of a Citrus citrandarin rootstock. Res J Agric Biol Sci 6:45–53

Njenga E, Viljoen A (2006) In vitro 5-lipoxygenase inhibition and anti-oxidant activity of Eriocephalus L.(Asteraceae) species. S Afr J Bot 72:637–641

Njenga E, Van Vuuren S, Viljoen A, Eloff J (2005) Antimicrobial activity of Eriocephalus L. species. S Afr J Bot 71:81–87

Palacio L, Cantero JJ, Cusidó RM, Goleniowski ME (2012) Phenolic compound production in relation to differentiation in cell and tissue cultures of Larrea divaricata (Cav.). Plant Sci 193–194:1–7

Peer WA, Murphy AS (2007) Flavonoids and auxin transport: modulators or regulators? Trends Plant Sci 12:556–563

Philander LA (2011) An ethnobotany of Western Cape Rasta bush medicine. J Ethnopharmacol 138:578–594

Plíhalová L, Vylíčilová H, Doležal K, Zahajská L, Zatloukal M, Strnad M (2016) Synthesis of aromatic cytokinins for plant biotechnology. New Biotechnol 33:614–624

Salie F, Eagles P, Leng H (1996) Preliminary antimicrobial screening of four South African Asteraceae species. J Ethnopharmacol 52:27–33

SANBI (2015). Red list of South African plants. http://redlist.sanbi.org/

Singleton VL, Rossi JA (1965) Colorimetry of total phenolics with phosphomolybdic–phosphotungstic acid reagents. Am J Enol Vitic 16:144–158

Štefančič M, Štampar F, Osterc G (2005) Influence of IAA and IBA on root development and quality of Prunus 'GiSelA 5' leafy cuttings. HortScience 40:2052–2055

Szopa A, Ekiert H (2012) In vitro cultures of Schisandra chinensis (Turcz.) Baill.(Chinese Magnolia Vine)—a potential biotechnological rich source of therapeutically important phenolic acids. Appl Biochem Biotechnol 166:1941–1948

Szopa A, Ekiert H (2014) Production of biologically active phenolic acids in Aronia melanocarpa (Michx.) Elliott in vitro cultures cultivated on different variants of the Murashige and Skoog medium. Plant Growth Regul 72:51–58

Szüčová L, Spíchal L, Doležal K, Zatloukal M, Greplová J, Galuszka P, Kryštof V, Voller J, Popa I, Massino FJ, Jørgensen J-E, Strnad M (2009) Synthesis, characterization and biological activity of ring-substituted 6-benzylamino-9-tetrahydropyran-2-yl and 9-tetrahydrofuran-2-ylpurine derivatives. Bioorg Med Chem 17:1938–1947

Taylor LP, Grotewold E (2005) Flavonoids as developmental regulators. Curr Opin Plant Biol 8:317–323

Tubić L, Savić J, Mitić N, Milojević J, Janošević D, Budimir S, Zdravković-Korać S (2015) Cytokinins differentially affect regeneration, plant growth and antioxidative enzymes activity in chive (Allium schoenoprasum L.). Plant Cell Tiss Organ Cult 124:1–14

Verdeguer M, Blázquez MA, Boira H (2009) Phytotoxic effects of Lantana camara, Eucalyptus camaldulensis and Eriocephalus africanus essential oils in weeds of Mediterranean summer crops. Biochem Syst Ecol 37:362–369

Verstraeten I, Geelen D (2015) Adventitious rooting and browning are differentially controlled by auxin in rooting-recalcitrant Elegia capensis (Burm. f.) Schelpe. J Plant Growth Regul 34:475–484

Viljoen AM, Njenga EW, Van Vuuren SF, Bicchi C, Rubiolo P, Sgorbini B (2006) Essential oil composition and in vitro biological activities of seven Namibian species of Eriocephalus L.(Asteraceae). J Essent Oil Res 18:124–128

Werbrouck SPO, Strnad M, Van Onckelen HA, Debergh PC (1996) Meta-topolin, an alternative to benzyladenine in tissue culture? Physiol Plant 98:291–297

Wiesman Z, Riov J, Epstein E (1989) Characterization and rooting ability of indole-3-butyric acid conjugates formed during rooting of mung bean cuttings. Plant Physiol 91:1080–1084

Zhishen J, Mengcheng T, Jianming W (1999) The determination of flavonoid contents in mulberry and their scavenging effects on superoxide radicals. Food Chem 64:555–559
Acknowledgements
The University of KwaZulu-Natal and National Research Foundation, South Africa provided financial support. LP and KD thank the Ministry of Education, Youth and Sports, Czech Republic (Grant LO1204 from the National Program of Sustainability I.) for financial support. We thank Mrs Alison Young (UKZN Botanical Garden, Pietermaritzburg, South Africa) and her Staff for their assistance in maintaining the greenhouse facilities.
Author contributions
OMM conducted the experiments, collected and analysed data and wrote the draft paper with the help of MM and AOA. LP and KD synthesized meta-topolin, meta-topolin riboside and 6-(3-hydroxybenzylamino)-9-(tetrahydropyran-2-yl)purine. JFF and JVS provided funding and research facilities, respectively. All authors edited the paper.
About this article
Cite this article
Madzikane-Mlungwana, O., Moyo, M., Aremu, A.O. et al. Differential responses to isoprenoid, N 6-substituted aromatic cytokinins and indole-3-butyric acid in direct plant regeneration of Eriocephalus africanus . Plant Growth Regul 82, 103–110 (2017). https://doi.org/10.1007/s10725-016-0242-3
Received:

Accepted:

Published:

Issue Date:
Keywords
Auxins

Cytokinins

Flavonoids

Plant regeneration

Phenolics