Abstract
24-epibrassinolide (EBL) is a growth regulator that promotes crop growth and yield, especially under water stress, but its effect on grass pea (Lathyrus sativus L.), a legume crop widely recognized as adapted to rainfed environments, is unknown. The aim of the present study was to investigate the effect of exogenously-applied EBL on growth, yield and accumulation of β-N-oxalyl-L-α, β-diaminopropionic acid (β-ODAP)—a neurotoxin that can induce lathyrism in animals and humans—in grass pea under well-watered (WW) and water-stressed conditions. The first experiment conducted in a growth chamber showed that EBL application increased plant height and leaf area of well-watered [WW, 85 % field capacity (FC)] grass pea seedlings and in those in which the soil dried from 85 to 30 % FC. In two pot experiments conducted under a rainout shelter, three water regimes—soil water contents maintained at (1) 85 or 80 % FC, (2) 50 % FC, and (3) 35 % FC—were imposed. In the first rainout shelter experiment, root/soil drenching with EBL significantly increased aboveground dry weight (DW) and water use efficiency (WUE) compared with plants without EBL at 85 and 50 % FC, but did not significantly affect grain yield. In a second rainout shelter experiment, water treatments were imposed from the vegetative phase to maturity and EBL treatment significantly increased aboveground DW, grain yield, β-ODAP concentration and amount, and WUE in the 80 and 50 % FC water regimes. It is concluded that exogenously-applied EBL can stimulate growth and WUE in grass pea when WW and moderately water stressed, and also stimulates β-ODAP production such that the concentration in the grain is similar or even higher.
Access options
Buy single article
Instant access to the full article PDF.
US$ 39.95
Tax calculation will be finalised during checkout.
Subscribe to journal
Immediate online access to all issues from 2019. Subscription will auto renew annually.
US$ 119
Tax calculation will be finalised during checkout.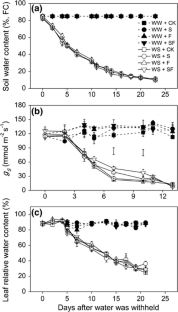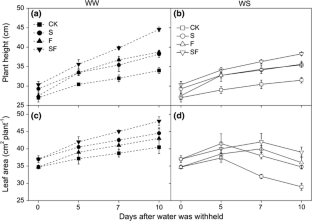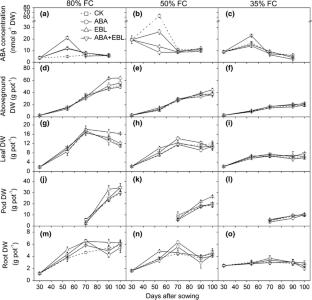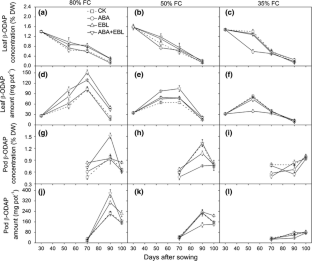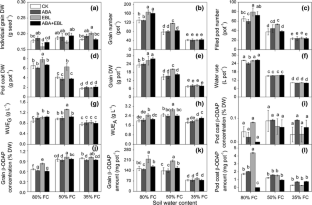 References
Addis G, Narayan RKJ (1994) Developmental variation of the neurotoxin, β-N-oxalyl-l-α, β-diamino-propionic acid (ODAP), in Lathyrus sativus. Ann Bot 74:209–215

Anjum SA, Wang LC, Farooq M, Hussain M, Xue LL, Zou CM (2011) Brassinolide application improves the drought tolerance in maize through modulation of enzymatic antioxidants and leaf gas exchange. J Agron Crop Sci 197:177–185

Bano A, Sanaullah M (1995) Effects of plant growth regulators on neurotoxin content in leaves of Lathyrus sativus. Pak J Bot 27:139–141

Berger JD, Siddique KHM, Loss SP (1999) Cool season grain legumes for Mediterranean environments: the effect of environment on non-protein amino acids in Vicia and Lathyrus species. Aust J Agric Res 50:403–412

Calderón FJ, Vigil MF, Nielsen DC, Benjamin JG, Poss DJ (2012) Water use and yields of no-till managed dryland grasspea and yellow pea under different planting configurations. Field Crops Res 125:179–185

Campbell CG, Mehra RB, Agrawal SK, Chen YZ, Abd El Moneim AM, Khawaja HIT, Yadov CR, Tay JU, Araya WA (1994) Current status and future strategy in breeding grasspea (Lathyrus sativus). Euphytica 73:167–175

Cocks PS, Siddique KHM, Hambury CD (2000) Lathyrus a new grain legume. RIRDC Publication, No 99–150

Davies SL, Turner NC, Siddique KHM, Plummer JA, Leport L (1999) Seed growth of desi and kabuli chickpea (Cicer arietinum L.) in a short-season Mediterranean-type environment. Aust J Exp Agr 39:181–188

Davies WJ, Kudoyarova G, Hartung W (2005) Long-distance ABA signaling and its relation to other signaling pathways in the detection of soil drying and the mediation of the plant's response to drought. J Plant Growth Regul 24:285–295

Du YL, Wang ZY, Fan JW, Turner NC, He J, Wang T, Li FM (2013) Exogenous abscisic acid reduces water loss and improves antioxidant defence, desiccation tolerance and transpiration efficiency in two spring wheat cultivars subjected to a soil water deficit. Funct Plant Biol 40:494–506

Duan B, Yang Y, Lu Y, Korpelainen H, Berninger F, Li C (2007) Interactions between water deficit, ABA, and provenances in Picea asperata. J Exp Bot 58:3025–3036

Enneking D (2011) The nutritive value of grasspea (Lathyrus sativus) and allied species, their toxicity to animals and the role of malnutrition in neurolathyrism. Food Chem Toxicol 49:694–709

Fang XW, Turner NC, Yan GJ, Li FM, Siddique KHM (2010) Flower numbers, pod production, pollen viability, and pistil function are reduced and flower and pod abortion increased in chickpea (Cicer arietinum L.) under terminal drought. J Exp Bot 61:335–345

Fang XW, Turner NC, Li FM, Siddique KHM (2011) An early transient water deficit reduces flower number and pod production but increases seed size in chickpea (Cicer arietinum L.). Crop Pasture Sci 62:481–487

Farooq M, Wahid A, Basra SMA, Islam-ud-Din T (2009) Improving water relations and gas exchange with brassinosteroids in rice under drought stress. J Agron Crop Sci 195:262–269

Girma D, Korbu L (2012) Genetic improvement of grass pea (Lathyrus sativus) in Ethiopia: an unfulfilled promise. Plant Breed 131:231–236

Gollan T, Passioura JB, Munns R (1986) Soil water status affects the stomatal conductance of fully turgid wheat and sunflower leaves. Aust J Plant Physiol 13:459–464

Gusmao M, Siddique KHM, Flower K, Nesbitt H, Veneklaas EJ (2012) Water deficit during the reproductive period of grass pea (Lathyrus sativus L.) reduced grain yield but maintained seed size. J Agron Crop Sci 198:430–441

Hanbury CD, Siddique KHM, Galwey NW, Cocks PS (1999) Genotype-environment interaction for seed yield and ODAP concentration of Lathyrus sativus L. and L. cicera L. in Mediterranean-type environments. Euphytica 110:45–60

Haque RM, Kuo YH, Lambein F, Hussain M (2011) Effect of environmental factors on the biosynthesis of the neuro-excitatory amino acid β-ODAP (β-N-oxalyl-L-α, β-diaminopropionic acid) in callus tissue of Lathyrus sativus. Food Chem Toxicol 49:583–588

Hussain M, Chowdhury B, Haque R, Lambein F (1997) Effect of water stress, salinity, interaction of cations, stage of maturity of seeds and storage devices on the ODAP content of Lathyrus sativus. In: Tekle Haimanot R, Lambein F (eds) Lathyrus and Lathyrism, a Decade of Progress. University of Ghent, Belgium, pp 107–112

Jager CE, Symons GM, Ross JJ, Reid JB (2008) Do brassinosteroids mediate the water stress response? Plant Physiol 133:417–425

Jiao CJ, Xu QL, Wang CY, Li FM, Li ZX, Wang YF (2006) Accumulation pattern of toxin β-ODAP during lifespan and effect of nutrient elements on β-ODAP content in Lathyrus sativus seedlings. J Agric Sci 144:369–375

Khandare AL, Ankulu M, Aparna N (2013) Role of glutamate and nitric oxide in onset of motor neuron degeneration in neurolathyrism. Neurotoxicology 34:269–274

Khripach VA, Zhabinskii VN, de Groot AE (2000) Twenty years of brassinosteroids: steroidal plant hormones warrant better crops for the XXI century. Ann Bot 86:441–447

Kong H, Palta JA, Siddique KHM, Stefanova K, Xiong YC, Turner NC (2014) Photosynthesis is reduced, and seeds fail to set and fill at similar soil water contents in grass pea (Lathyrus sativus L.) subjected to terminal drought. J Agron Crop Sci. doi: 10.1111/jac.12102

Krishna P (2003) Brassinosteroid-mediated stress responses. J Plant Growth Regul 22:289–297

Leport L, Turner NC, French RJ, Tennant D, Thomson BD, Siddique KHM (1998) Water relations, gas exchange and growth of cool-season grain legumes in a Mediterranean-type environment. Eur J Agron 9:295–303

Leport L, Turner NC, French RJ, Barr MD, Duda R, Davies SL, Tennant D, Siddique KHM (1999) Physiological responses of chickpea genotypes to terminal drought in a Mediterranean-type environment. Eur J Agron 11:279–291

Li KR, Feng CH (2011) Effects of brassinolide on drought resistance of Xanthoceras sorbifolia seedlings under water stress. Acta Physiol Plant 33:1293–1300

Mandava NB (1988) Plant growth-promoting brassinosteroids. Annu Rev Plant Physiol Plant Mol Biol 39:23–52

Ramakrishna S, Adiga PR (1975) Amine levels in Lathyrus sativus seedlings during development. Phytochemistry 14:63–68

Rao SLN, Adiga PR, Sarma PS (1964) The isolation and characterization of β-N-oxalyl-L-α, β-diaminopropionic acid: a neurotoxin from the seeds of Lathyrus sativus. Biochemistry 3:432–436

Shrestha R, Turner NC, Siddique KHM, Turner DW, Speijers J (2006) A water deficit during pod development in lentils reduces flower and pod numbers but not seed size. Aust J Agr Res 57:427–438

Soil Survey Staff (1975) Soil taxonomy: a basic system of soil classification for making and interpreting soil surveys. The United States Department of Agriculture, Handbook, No 436

Travaglia C, Reinoso H, Cohen A, Luna C, Tommasino E, Castillo C, Bottini R (2010) Exogenous ABA increases yield in field-grown wheat with moderate water restriction. J Plant Growth Regul 29:366–374

Turner NC (1981) Techniques and experimental approaches for the measurement of plant water status. Plant Soil 58:339–366

Turner NC, Hartung W (2012) Dehydration of isolated roots of seven Lupinus species induces synthesis of different amounts of free, but not conjugated, abscisic acid. Plant Growth Regul 66:265–269

Van Moorhem M, Lambein F, Leybaert L (2011) Unraveling the mechanism of β-N-oxalyl-α, β-diaminopropionic acid (β-ODAP) induced excitotoxicity and oxidative stress, relevance for neurolathyrism prevention. Food Chem Toxicol 49:550–555

Wang F, Chen X, Chen Q, Qin XC, Li ZX (2000) Determination of neurotoxin 3-N-oxalyl-2, 3-diaminopropionic acid and non-protein amino acids in Lathyrus sativus by precolumn derivatization with 1-fluoro-2, 4-dinitrobenzene. J Chromatogr A 883:113–118

Xing GS, Cui KR, Li J, Wang YF, Li ZX (2001) Water stress and accumulation of beta-N-oxalyl-L-alpha, beta-diaminopropionic acid in grass pea (Lathyrus sativus). J Agric Food Chem 49:216–220

Xiong YC, Xing GM, Li FM, Wang SM, Fan XW, Li ZX, Wang YF (2006) Abscisic acid promotes accumulation of toxin ODAP in relation to free spermine level in grass pea seedlings (Lathyrus sativus L.). Plant Physiol Biochem 44:161–169

Yan ZY, Spencer PS, Li ZX, Liang YM, Wang YF, Wang CY, Li FM (2006) Lathyrus sativus (grass pea) and its neurotoxin ODAP. Phytochemistry 67:107–121

Yuan GF, Jia CG, Li Z, Sun B, Zhang LP, Liu N, Wang QM (2010) Effect of brassinosteroids on drought resistance and abscisic acid concentration in tomato under water stress. Sci Hortic 126:103–108

Zhang J, Davies WJ (1990a) Does ABA in the xylem control the rate of leaf growth in soil-dried maize and sunflower plants? J Exp Bot 41:1125–1132

Zhang J, Davies WJ (1990b) Changes in the concentration of ABA in xylem sap as a function of changing soil water status can account for changes in leaf conductance and growth. Plant, Cell Environ 13:277–285

Zhang DW, Xing GM, Yan ZY, Wang CY, Wang YF, Li ZX (2005) Relationship between oxalic acid and the metabolism of β-N-oxalyl-l-α, β-diaminopropionic acid (ODAP) in grass pea (Lathyrus sativus L.). Isr J Plant Sci 53:89–96

Zhang MC, Zhai ZX, Tian XL, Duan LS, Li ZH (2008) Brassinolide alleviated the adverse effect of water deficits on photosynthesis and the antioxidant of soybean (Glycine max L.). Plant Growth Regul 56:257–264

Zhang AY, Zhang J, Zhang JH, Ye NH, Zhang H, Tan MP, Jiang MY (2011) Nitric oxide mediates brassinosteroid-induced ABA biosynthesis involved in oxidative stress tolerance in maize leaves. Plant Cell Physiol 52:181–192

Zhou GK, Kong YZ, Cui KR, Li ZX, Wang YF (2001) Hydroxyl radical scavenging activity of β-N-oxalyl-L-α, β-diaminopropionic acid. Phytochemistry 58:759–762
Acknowledgments
The research was funded by the Chinese Scholarships Council, the International Cooperation Program of the Ministry of Science and Technology of China (2015DFG31840), the State Technology Support Program (2015BAD22B04), Doctoral Fund of Ministry of Education of China (20110211110022), the Overseas Masters Program of Ministry of Education (Ms2011LZDX059), and the Fundamental Research Funds for the Central Universities of China (lzujbky-2015-br02). We also thank Dr. Jia-Yin Pang for her assistance in improving the English of the manuscript.
Electronic supplementary material
Below is the link to the electronic supplementary material.
About this article
Cite this article
Xiong, JL., Kong, HY., Akram, N.A. et al. 24-epibrassinolide increases growth, grain yield and β-ODAP production in seeds of well-watered and moderately water-stressed grass pea. Plant Growth Regul 78, 217–231 (2016). https://doi.org/10.1007/s10725-015-0087-1
Received:

Accepted:

Published:

Issue Date:
Keywords
Stomatal conductance

Plant height

Leaf area

Water use efficiency

Growth regulator

Grain number