Abstract
A hydroponic experiment was conducted to investigate single and combined effects of 5 µmol/L Cd and 100 mM NaCl on growth, root morphology, photosynthetic parameters, leaf and root ultra-structure of two maize hybrids (26204 and 8441) differing in salt tolerance. A more pronounced reduction on growth, root morphology, SPAD value, chlorophyll fluorescence and leaf gas exchange indicated that 8441 was more sensitive than 26204 to both Cd and NaCl stresses. Transmission electron microscopy of 8441 revealed a more severe destruction in root and leaf cells as compared to 26204. The reduction in growth and photosynthetic parameters were associated with severe disorganization of nucleus, chloroplast, mitochondrial damage, vacuolation, and increased number and size of pastoglobuli. Interestingly, the combined stress of both NaCl and Cd had obvious beneficial effect on the plant growth, photosynthetic parameters and cell ultra-structure relative to Cd or Na stress alone in the two maize hybrids. The study suggested that there is involvement of same genetic and physiological mechanisms in response to both Cd and NaCl stresses.
Access options
Buy single article
Instant access to the full article PDF.
US$ 39.95
Tax calculation will be finalised during checkout.
Subscribe to journal
Immediate online access to all issues from 2019. Subscription will auto renew annually.
US$ 119
Tax calculation will be finalised during checkout.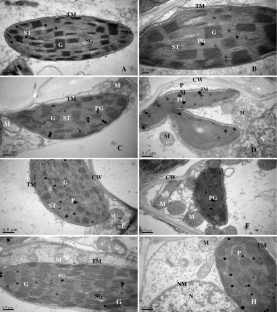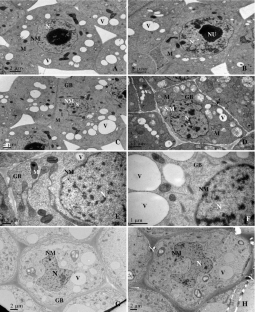 References
Aravind P, Prasad MNV (2005) Cadmium-Zinc interactions in a hydroponic system using Ceratophyllum demersum L. adaptive ecophysiology, biochemistry and molecular toxicology. Braz J Plant Physiol 17:3–5

Cai Y, Cao FB, Wei K, Zhang GP, Wu FB (2011) Genotypic dependent effect of exogenous glutathione on Cd-induced changes in proteins, ultrastructure and antioxidant defense enzymes in rice seedlings. J Hazard Mater. doi:10.1016/j.jhazmat.2011.06.011

Choudhury S, Panda SK (2005) Toxic effects, oxidative stress and ultra structural changes in moss Taxithelium nepalense (Schwaegr.) Broth. under chromium and lead phytotoxicity. Water Air Soil Pollut 167:73–90

Degenhardt B, Gimmler H (2000) Cell wall adaptations to multiple environmental stresses in maize roots. J Exp Bot 51:595–603

Eun SO, Youn HS, Lee Y (2000) Lead disturbs microtubule organization in the root meristem of Zea mays. Physiol Plant 110:357–365

Fritioff A, Kautsky L, Greger M (2005) Influence of temperature and salinity on heavy metal uptake by submerged plants. Environ Pollut 133:265–274

Gratao PL, Polle A, Lea PJ, Azevedo RA (2005) Making the life of heavy metal-stressed plants a little easier. Funct Plant Biol 32:481–494

Greger M, Kautsky L, Sandberg T (1995) A tentative model of Cd uptake in Potamogeton pectinatus in relation to salinity. Environ Exp Bot 35:215–225

Hakmaoui A, Ater M, Boka K, Baron M (2000) Copper and cadmium tolerance, uptake and effect on chloroplast ultrastructure. Studies on Salix purpurea and Phragmites australis. Z Naturforsch C 62:417–426

Kang W, Shamsi IH, Zhang GP (2007) Synergistic interaction of NaCl and Cd on growth and photosynthetic parameters in soybean genotypes differing in salinity tolerance. J Zhejiang Univ Sci B 8:266–271

Kollmeier M, Felle HH, Horst WJ (2000) Genotypic difference in Al resistance of maize is expressed in the distal part of the transition zone. Plant Physiol 122:945–956

Liu D, Jiang W, Gao X (2004) Effects of cadmium on root growth, cell division and nucleoli in root tips of garlic. Physiol Plant 47:79–83

Lu CM, Chau CW, Zhang JH (2000) Acute toxicity of excess mercury on photosynthetic performance of cyanobacterium, S. platensis assessment by chlorophyll fluorescence analysis. Chemosphere 41:191–196

Mallick N, Mohn FH (2004) Use of chlorophyll fluorescence in metal-stress research: a case study with green microalga Scenedesmus. Ecotoxicol Environ Safety 55:64–69

Mobin M, Khan NA (2007) Photosynthetic activity, pigment composition and antioxidative response of two mustard (Brassica juncea) cultivars differing in photosynthetic capacity subjected to cadmium stress. J Plant Physiol 164:601–610

Moya JL, Ros R, Picazo I (1993) Influence of cadmium and nickel on growth, net photosynthesis and carbohydrate distribution in rice plants. Photosynth Res 36:75–80

Muhling KH, Lauchli E (2000) Physiological traits of sodium toxicity and salt tolerance. In: Horst WJ et al (eds) Plant nutrition food security and sustainability of agro-ecosystems. Springer, Netherland, pp 378–479

Muhling KH, Lauchli A (2003) Interaction of NaCl and Cd stress on compartmentation pattern of cations, antioxidant enzymes and proteins in leaves of two wheat genotypes differing in salt tolerance. Plant Soil 253:219–231

Muranaka S, Shimizu K, Kato M (2002) A salt tolerant cultivar of wheat maintain photosynthetic activity by suppressing sodium uptake. Photosynthetica 40:509–515

Radotic K, Ducic T, Mutavdzic D (2000) Changes in peroxidase activity and isoenzymes in spruce needles after exposure to different concentrations of cadmium. Environ Exp Bot 44:105–113

Ranjbarfordoei A, Samson R, Lemeur R, Van Damme P (2002) Effects of osmotic drought stress induced by combination of NaCl and polyethylene glycol on leaf water status, photosynthetic gas exchange and water use efficiency of Pistacia khinjuk and P. mutica. Photosynthetica 40:165–169

Sanchez-Blanco MJ, Rodriguez P, Olmos E, Morales MA, Torrecillas A (2004) Differences in the effects of simulated sea aerosol on water relations, salt content, and leaf ultrastructure of rock-rose plants. J Environ Qual 33:1369–1375

Sepehr MF, Ghorbanli M (2006) Physiological responses of Zea mays seedling to interaction between cadmium and salinity. J Integr Plant Biol 48:807–813

Tanyolac D, Ekmekci Y, Unalan S (2007) Changes in photochemical and antioxidant enzyme activities in maize (Zea mays L.) leaves exposed to excess copper. Chemosphere 67:89–98

Vijaranakul U, Jayaswal RK, Nadakavukaren M (2001) Alteration in chloroplast ultrastructure of suspension cultured Nicotiana tabacum cells by cadmium. Sci Asia 27:227–231

Weggler-Beaton K, McLaughlin MJ, Graham RD (2000) Salinity increases cadmium uptake by wheat and Swiss chard from soil amended with biosolids. Aus J Soil Res 38:37–45

Weigel HJ, Jager HJ (1993) Subcellular distribution and chemical forms of cadmium in bean plants. Plant Physiol 65:480–482

Wu FZ, Yang WQ, Zhang J, Zhou LQ (2010) Cadmium accumulation and growth responses of a poplar (Populus deltoids × Populus nigra) in cadmium contaminated purple soil and alluvial soil. J Hazard Mater 177:268–273

Yeo AR (1998) Molecular biology of salt tolerance in the context of whole plant physiology. J Exp Bot 49:915–929

Zhang L, Li JM, Wang HX (2002) Physiological and ecological responses of wheat (Triticum aestivum L.) root to cadmium stress. Chin J Soil Sci 33:61–65
Acknowledgments
We acknowledge Higher Education Commission, Pakistan for financial assistance to conduct this research.
About this article
Cite this article
Abbasi, G.H., Akhtar, J., Anwar-ul-Haq, M. et al. Morpho-physiological and micrographic characterization of maize hybrids under NaCl and Cd stress. Plant Growth Regul 75, 115–122 (2015). https://doi.org/10.1007/s10725-014-9936-6
Received:

Accepted:

Published:

Issue Date:
Keywords
Salinity

Cadmium

Photosynthesis

Gas exchange

Ultra structure

Chloroplast