Abstract
Hordeum vulgare L. cv. Bartom seedlings grown on a substrate without or with zeolite were exposed to 450 and 1,000 µmol of Cd(NO3)2. Adding the zeolite to a substrate (+Si) resulted in the accumulation of mono- and polysilicic acids in the leaves, an increase in the growth of seedlings and biomass production, a decrease of the contents of thiobarbituric acid reactive substances (TBARs), and an increase in the activities of the antioxidant enzymes superoxide dismutase (SOD), ascorbate peroxidase (APX) and guaiacol peroxidase (GPX). The negative effects of Cd2+, which were reflected in loss of chlorophyll contents and a decrease of the photosynthesis rate, as well as an increase of TBARs contents were observed in the (−Si)-plants to a greater extent than in the (+Si)-plants. The activities of SOD, APX and GPX increased in the barley leaves of (−Si)- and (+Si)-seedlings with an increase of Cd2+ concentration in the acting solution. At the same time the values of the ratios between TBARs concentrations and the activities of SOD, APX and GPX in (−Si)-plants were higher than that in (+Si)-plants both under optimal conditions and with Cd stress. This suggests that the use of Si-rich mineral zeolite for growing barley stimulates metabolism and increases the resistance of plants to cadmium stress through a shift in the dynamic equilibrium between the rate of oxidative destruction and the activity of antioxidant systems in favor of the latter.
Access options
Buy single article
Instant access to the full article PDF.
USD 39.95
Price excludes VAT (USA)
Tax calculation will be finalised during checkout.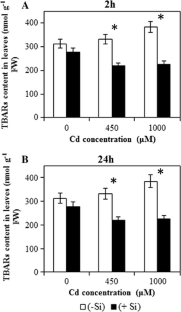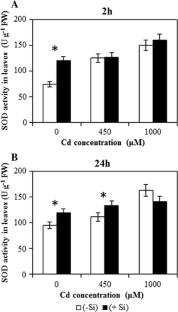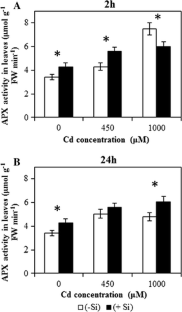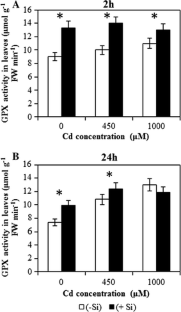 Abbreviations
APX:

Ascorbate peroxidase

FW:

Fresh weight

GPX:

Guaiacol peroxidase

ROS:

Reactive oxygen species

SOD:

Superoxide dismutase

TBARs:

Thiobarbituric acid reactive substances
References
Al-Busaidi A, Yamamoto T, Inoue M, Egrinya EE, Mori Y, Irshad M (2008) Effects of zeolite on soil nutrients and growth of barley following irrigation with saline water. In: The 3rd international conference on water resources and arid environments and the 1st Arab Water Forum, pp 1–11

Alcantara E, Romera FJ, Canete M, De La Guardia MD (1994) Effects of heavy metals on both induction and function of root Fe(III) reductase in Fe-deficient cucumber (Cucumis sativus L.) plants. J Exp Bot 45:1893–1898

Ali S, Farooq MA, Yasmeen T, Hussain S, Arif MS, Abbas F, Bharwana SA, Zhang G (2013) The influence of silicon on barley growth, photosynthesis and ultra-structure under chromium stress. Ecotoxicol Environ Saf 89:66–72

Asada K (2006) Production and scavenging of reactive oxygen species in chloroplasts and their functions. Plant Physiol 141:391–396

Azevedo RA, Gratão PL, Monteiro CC, Carvalho R (2012) What is new in the research on cadmium-induced stress in plants? Food Energy Secur 1(2):133–140

Balakhnina T, Borkowska A (2013) Effects of silicon on plant resistance to environmental stresses: review. Int Agrophys 27:225–232

Balakhnina TI, Kosobryukhov AA, Ivanov AA, Kreslavskii VD (2005) The effect of cadmium on CO2 exchange, variable fluorescence of chlorophyll, and the level of antioxidant enzymes in pea leaves. Russian J of Plant Physiol, 52(1):15–20 (Translated from Fiziologiya Rastenii (2005) 52(1):21–26)

Balakhnina TI, Gavrilov AB, Wlodarczyk TM, Borkowska A, Nosalewicz M, Fomina IR (2009) Dihydroquercetin protects barley seeds against mould and increases seedling adaptive potential under soil flooding. Plant Growth Regul 57:127–135

Balakhnina TI, Matichenkov VV, Włodarczyk T, Borkowska A, Nosalewicz M, Fomina IR (2012) Effects of silicon on growth processes and adaptive potential of barley plants under optimal soil watering and flooding. Plant Growth Regul 67:35–43

Baraboi VA (1991) Stress mechanisms and lipid peroxidation. Usp Sovrem Biol 111(6):923–932

Belanger RR (2005) The role silicon in plant–pathogen interaction: toward universal model. In: Korndorfer GH (ed) Proceedings of the 3rd silicon agricultural conference. Universidad Federal de Uberlandia, Uberlandia, pp 34–40

Biel KY, Matichenkov VV, Fomina IR (2008) Protective role of silicon in living systems. In: Martirosyan DM (ed) Functional foods for chronic diseases. D&A Inc., Richardson, pp 208–231

Das P, Samantaray S, Rout GR (1997) Studies on cadmium toxicity in plants: a review. Environ Pollut 98:29–36

Duncan DB (1955) Multiple range and multiple F tests. Biometrics 11:1–42

Epstein E (1999) Silicon. Ann Rev Plant Physiol Plant Mol Biol 50:641–664

Eshghi S, Mahmoodabadi MR, Abdi GR, Jamali B (2010) Zeolite ameliorates the adverse effect of cadmium contamination on growth and nodulation of soybean plant (Glycine max L.). J Biol Environ Sci 4(10):43–50

Gavrilenko VF, Ladygina ME, Handobina LM (1975) Opredelenie peroksidaznoi funktsii: Metod Boyarkina (Evaluation of the peroxidase function: the method of Boyarkin). In: Rubin BA (ed) Bol'shoi praktikum po fiziologii rastenii (Big practical work in plant physiology). Visshaya Shkola, Moscow, pp 284–286

Giannopolitis CN, Ries SK (1977) Superoxide dismutases. I. Occurrence in higher plants. Plant Physiol 59:309–314

Gong H, Zhu X, Chen K, Wang S, Zhang C (2005) Silicon alleviates oxidative damage of wheat plants in pots under drought. Plant Sci 169:313–321

Gong HJ, Chen KM, Zhao ZG, Chen GC, Zhou WJ (2008) Effects of silicon on defense of wheat against oxidative stress under drought at different developmental stages. Biol Plant 52:592–596

Grataö PL, Polle A, Lea PJ, Azevedo RA (2005) Making the life of heavy metals-stressed plant a little easier. Funct Plant Biol 32(6):481–494

Gunes A, Inal A, Bagci EG, Coban S, Sahin O (2007) Silicon increases boron tolerance and reduces oxidative damage of wheat grown in soil with excess boron. Biol Plant 51:571–574

Hattori T, Inanaga S, Araki H, An P, Morita S, Luxova M, Lux A (2005) Application of silicon enhanced drought tolerance in Sorghum bicolor. Physiol Plant 123:459–466

Iler RK (1979) The chemistry of silica. Wiley Press, New York, p 866

Kabata-Pendias A (2011) Trace elements in soils and plants, 4th edn. CRC Press, Boca Raton, pp 287–288

Liang Y, Chen Q, Liu Q, Zhang W, Ding R (2003) Exogenous silicon (Si) increases antioxidant enzyme activity and reduces lipid peroxidation in roots of salt-stressed barley (Hordeum vulgare L.). J Plant Physiol 160:1157–1164

Liang Y, Sun W, Zhu YG, Christie P (2007) Mechanisms of silicon mediated alleviation of abiotic stresses in higher plants. Environ Pollut 147:422–428

Lichtenthaler HK, Wellburn AR (1985) Determination of total carotenoids and chlorophylls A and B of leaf in different solvents. Biol Soc Trans 11:591–592

Ma JF (2003) Function of silicon in higher plants. In: Muller WEG (ed) Progress in molecular and sub cellular biology. Springer, Berlin, pp 127–147

Ma JF (2004) Role of silicon in enhancing the resistance of plants to biotic and abiotic stresses. Soil Sci Plant Nutr 50:11–18

Ma JF, Takahashi E (2002) Soil, fertilizer, and plant silicon research in Japan. Elsevier, Amsterdam, p 275

Matichenkov VV, Kosobryukhov AA (2004) Si effect on the plant resistance to salt toxicity. In: Proceedings of the 13th international soil conservation organization conference (ISCO), Brisbane, pp 287–295

Matichenkov VV, Calvert DV, Snyder GH (2000) Prospective silicon fertilization for citrus in Florida. Proc Soil Crop Sci Florida 59:137–141

Matoh T, Murata S, Takahashi E (1991) Effect of silicate application on photosynthesis of rice plants. Jpn J Soil Sci Plant Nutr 62:248–252

Mittler R (2002) Oxidative stress, antioxidants and stress tolerance. Trends Plant Sci 7:405–410

Nagajyoti PC, Lee KD, Sreekanth TVM (2010) Heavy metals, occurrence and toxicity for plants: a review. Environ Chem Lett 8:199–216

Nakano Y, Asada K (1981) Hydrogen peroxide is scavenged by ascorbate-specific peroxidase in spinach chloroplasts. Plant Cell Physiol 22:867–880

Peter A, Mihaly-Cozmuta L, Mihaly-Cozmuta A, Nicula C (2011) The role of natural zeolite and of zeolite modified with ammonium ions to reduce the uptake of lead, zinc, copper and iron ions in Hieracium aurantium and Rumex acetosella grown on tailing ponds. Analele Universităţii din Oradea—Fascicule Biologie 18(2):128–135

Smiri M (2011) Effect of cadmium on germination, growth, redox and oxidative properties in Pisum sativum seeds. J Environ Chem Ecotoxicol 3(3):52–59

Uchiyama M, Mihara M (1978) Determination of malonaldehyde precursor in tissues by thiobarbituric acid test. Anal Biochem 86:287–297

Wagner GJ (1993) Accumulation of cadmium in crop plants and its consequences to human health. Adv Agron 51(1):173–212

We J-F, Deng M-H, Gong M (2012) Cd2+ stress induces two waves of H2O2 accumulation associated with ROS-generating system and ROS-scavenging system in cultured tobacco cells. Aust J Crop Sci 6(5):846–853

Zhu Z, Wei G, Li J, Qian Q, Yu J (2004) Silicon alleviates salt stress and increases antioxidant enzymes activity in leaves of salt stressed cucumber (Cucumis sativus L.). Plant Sci 167:527–553
About this article
Cite this article
Balakhnina, T.I., Bulak, P., Matichenkov, V.V. et al. The influence of Si-rich mineral zeolite on the growth processes and adaptive potential of barley plants under cadmium stress. Plant Growth Regul 75, 557–565 (2015). https://doi.org/10.1007/s10725-014-0021-y
Received:

Accepted:

Published:

Issue Date:

DOI: https://doi.org/10.1007/s10725-014-0021-y
Keywords
Antioxidant enzymes

Cadmium

Oxidative destruction

Photosynthesis

Silicon

Zeolite