Abstract
Jasmonates are lipid-derived hormones that act as signal molecules in abiotic and biotic stresses and influence several aspects of plant growth and development. In this work we have investigated the effect of jasmonic acid (JA) on the root architecture of Helianthus annuus seedlings and if JA and auxins interact to modulate the growth of the primary root (PR) and lateral roots (LR). The addition of μM concentrations of JA to the growing medium of sunflower seedlings decreased the growth of the PR and LR, and also reduced the number of LR. Moreover, treatment with ibuprofen, an inhibitor of JA synthesis, increased PR and LR root length causing a deep effect on root architecture. Hence, not only exogenous but also the endogenous JA regulates sunflower root growth. Microscopic analysis showed that the application of JA reduces the cortex cell length and the estimated cell production rate in root meristem while ibuprofen only affects the cell elongation. A possible interaction between JA and auxins to regulate root growth was further analyzed. We show that JA produced its phenotype even in the presence of reduced levels of auxin generated by treatment with an auxin transport inhibitor. Besides, the auxin produced its phenotype even when ibuprofen was applied. In conclusion, JA may induce primary and lateral root growth inhibition in sunflower by an auxin-independent pathway.
Access options
Buy single article
Instant access to the full article PDF.
USD 39.95
Price excludes VAT (USA)
Tax calculation will be finalised during checkout.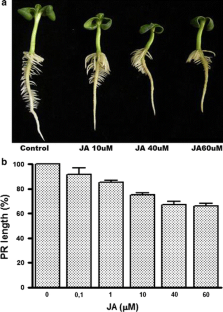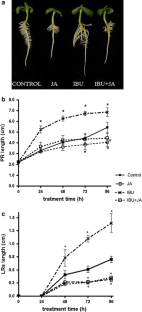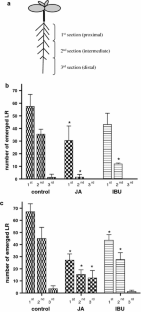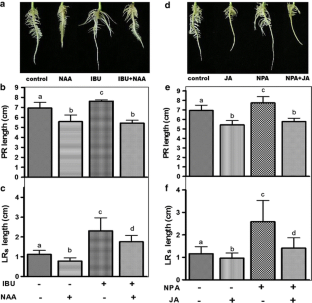 Abbreviations
IBU:

Ibuprofen

JA:

Jasmonic acid

LR:

Lateral roots

NAA:

1-Naphthylacetic acid

NPA:

N-1-Naphthylphthalamic acid

PCBI:

p-chlorophenoxyisobutyric acid

PR:

Primary root
References
Benková E, Hejátko J (2009) Hormone interactions at the root apical meristem. Plant Mol Biol 69:383–396

Casimiro I, Marchant A, Bhalerao RP et al (2001) Auxin transport promotes Arabidopsis lateral root initiation. Plant Cell 13:843–852

Casimiro I, Beeckman T, Graham N, Bhalerao R, Zhang H, Casero P, Sandberg G, Bennett MJ (2003) Dissecting Arabidopsis lateral root development. Trends Plant Sci 8:165–171

Celenza JL, Grisafi PL, Fink GR (1995) A pathway for lateral root formation in Arabidopsis thaliana. Genes Dev 9:2131–2142

Delarue M, Prinsen E, Va H, Onckelen CabocheM, Bellini C (1998) Sur2 mutations of Arabidopsis thaliana defines a new locus involved in the control of auxin homeostasis. Plant J 14:603–611

Farmer EE, Alméras E, Krishnamurthy V (2003) Jasmonates and related oxylipins in plant responses to pathogenesis and herbivory. Current Opin in Plant Biol 6:372–378

Fukaki H, Tasaka M (2009) Hormone interactions during lateral root formation. Plant Mol Biol 69:437–449

Hummel GM, Naumann M, Schurr U, Walter A (2007) Root growth dynamics of Nicotiana attenuata seedlings are affected by simulated herbivore attack. Plant Cell Environ 30:1326–1336

Hummel GM, Schurr U, Baldwin IT, Walter A (2009) Herbivore-induced jasmonic acid bursts in leaves of Nicotiana attenuata mediate short-term reductions in root growth. Plant Cell Environ 32:134–143

Ivanchenko MG, Muday GK, Dubrovsky JG (2008) Ethylene-auxin interactions regulate lateral root initiation and emergence in Arabidopsis thaliana. Plant J 55:335–347

Khan S, Stone JM (2007) Arabidopsis thaliana GH3.9 in auxin and jasmonate cross talk. Plant Signal Behav 2:483–485

Kong F, Gao X, Nam KH, Takahashi K, Matsuura H, Yoshihara T (2005) Theobroxide inhibits stem elongation in Pharbitis nil by regulating jasmonic acid and gibberellin biosynthesis. Plant Sci 169:721–725

Laskowski MJ, Williams ME, Nusbaum HC, Sussex IM (1995) Formation of lateral root meristems is a two-stage process. Development 121:3303–3310

Maksymiec W, Krupa Z (2007) Effects of methyl jasmonate and excess copper on root and leaf growth. Biol Plantarum 51:322–326

Malamy JE (2005) Intrinsic and environmental response pathways that regulate root system architecture. Plant Cell Environ 28:67–77

Nojiri H, Sugimori M, Yamane H, Nishimura Y, Yamada A, Shibuya N, Kodama O, Murofushi N, Omori T (1996) Involvement of jasmonic acid in elicitor-induced phytoalexin production in suspension-cultured rice cells. Plant Physiol 110:387–392

Oikawa A, Ishihara A, Hasegawa M, Kodama O, Iwamura H (2001) Induced accumulation of 2-hydroxy-4, 7-dimethoxy-1, 4-benzoxazin-3-one glucoside (HDMBOA-Glc) in maize leaves. Phytochemistry 56:669–675

Rahman A, Bannigan A, Sulaman W, Pechter P, Blancaflor EB, Baskin TI (2007) Auxin, actin and growth of the Arabidopsis thaliana primary root. Plant J 50:514–528

Schmidt L, Hummel GM, Schöttner M, Schurr U, Walter A (2010) Jasmonic acid does not mediate root growth responses to wounding in Arabidopsis thaliana. Plant Cell Environ 33:104–116

Sposaro MM, Chimenti CA, Hall AJ (2008) Root lodging in sunflower. Variations in anchorage strength across genotypes, soil types, crop population densities and crop developmental stages. Field Crop Res 106:179–186

Staswick PE (2009) The tryptophan conjugates of jasmonic and indole-3-acetic acids are endogenous auxin inhibitors. Plant Physiol 150:1310–1321

Staswick PE, Huang JF, Rhee Y (1991) Nitrogen and methyl jasmonate induction of soybean vegetative storage protein genes. Plant Physiol 96:130–136

Staswick PE, Su W, Howell SH (1992) Methyl jasmonate inhibition of root growth and induction of a leaf protein are decreased in an Arabidopsis thaliana mutant. Proc Natl Acad Sci USA 89:6837–6840

Sun J, Xu Y, Ye S et al (2009) Arabidopsis ASA1 is important for jasmonate-mediated regulation of auxin biosynthesis and transport during lateral root formation. Plant Cell 21:1495–1511

Swarup R, Perry P, Hagenbeek D et al (2007) Ethylene upregulates auxin biosynthesis in Arabidopsis seedlings to enhance inhibition of root cell elongation. Plant Cell 19:2186–2196

Swiatek A, Azmi A, Witters E, Van Onckelen H (2003) Stress messengers jasmonic acid and abscisic acid negatively regulate plant cell cycle. Bulg J Plant Physiol 29:172–178

Tiryaki I, Staswick PE (2002) An Arabidopsis mutant defective in jasmonate response is allelic to the auxin-signaling mutant axr1. Plant Physiol 130:887–894

Turner JG, Ellis C, Devoto A (2002) The jasmonate signal pathway. Plant Cell 14:S153–S164

Wang S, Ichii M, Taketa S, Xu L, Kai Xia, Xie Zhou (2002) Lateral root formation in rice (Oryza sativa): promotion effect of jasmonic acid. J Plant Physiol 159:827–832

Wasternack C (2007) Jasmonates: an update on biosynthesis, signal transduction and action in plant stress response, growth and development. Ann Bot 100:681–697

Wasternack C, Kombrink E (2009) Jasmonates: structural requirements for lipid-derived signals active in plant stress responses and development. ACS Chem Biol 5:63–77

Zhao Y, Hasenstein K (2009) Primary root growth regulation: the role of auxin and ethylene antagonists. J Plant Growth Regul 28:309–320

Zhu C, Gan L, Shen Z, Xia K (2006) Interactions between jasmonates and ethylene in the regulation of root hair development in Arabidopsis. J Exp Bot 57:1299–1308
Acknowledgments
GCM is a fellow, and LL, LDLC are members of the research career from the Argentine Research Council (CONICET). We thank S. Alemano and G. Abdala (University of Rio Cuarto, Argentina) for valuable suggestions. This work was supported by the ANPCYT (PAE-PICT N° 0016) and the University of Mar del Plata, Argentina.
About this article
Cite this article
Corti Monzón, G., Pinedo, M., Lamattina, L. et al. Sunflower root growth regulation: the role of jasmonic acid and its relation with auxins. Plant Growth Regul 66, 129–136 (2012). https://doi.org/10.1007/s10725-011-9636-4
Received:

Accepted:

Published:

Issue Date:

DOI: https://doi.org/10.1007/s10725-011-9636-4
Keywords