Abstract
A common problem often experienced by both small and large scale banana farmers is the reduction in quality and yield of bananas due to soil moisture deficits and declining soil fertility. To overcome this, mechanisms of improving yield without compromising environmental integrity or public health are being embraced. Globally, researchers have continued to evaluate the competence of environmental-friendly organic fertilizers and smoke solutions to improve the growth, yield and quality of various crops. In the present study, the effect of smoke-water (1:1,000; 1:500 and 1:250 dilutions) and vermicompost leachate (1:20; 1:10 and 1:5 dilutions) treatments on the growth of greenhouse grown bananas was evaluated. Soil drenching (smoke-water and vermicompost leachate) and foliar application (smoke-water) were tested on 1-month-old tissue-cultured banana seedlings under greenhouse conditions. After 3 months, growth parameters such as number and length of roots and shoots; number of leaves and leaf area as well as their fresh and dry weights were analyzed. Soil drenching with smoke-water significantly increased the root length (1:1,000 and 1:500 dilutions) as well as fresh and dry weight (1:1,000; 1:500 and 1:250 dilutions) when compared to foliar application. Vermicompost leachate (1:10 and 1:5 dilutions) significantly enhanced the shoot length, root length, leaf area and dry weights. Vermicompost leachate (1:20; 1:10 and 1:5 dilutions) also significantly increased the number of off-shoots. The positive effect on rooting is beneficial for acclimatization and establishment of tissue-cultured banana plantlets in nurseries and subsequent transfer to the field. Moreover, the high cost of inorganic fertilizers as well as environmental safety concerns makes the use of smoke-water and vermicompost leachate potential alternatives to improving the growth and cultivation of bananas.
Access options
Buy single article
Instant access to the full article PDF.
US$ 39.95
Tax calculation will be finalised during checkout.
Subscribe to journal
Immediate online access to all issues from 2019. Subscription will auto renew annually.
US$ 119
Tax calculation will be finalised during checkout.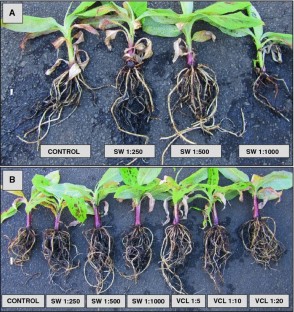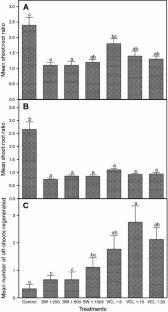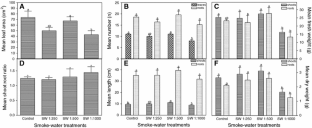 References
Alam MN, Jahan MS, Ali MK, Islam MS, Khandaker SMAT (2007) Effect of vermicompost and NPKS fertilizers on growth, yield and yield components of red amaranth. Aust J Basic Appl Sci 1:706–716

Alvarez R, Grigera S (2005) Analysis of soil fertility and management effects on yields of wheat and corn in the rolling pampa of Argentina. J Agron Crop Sci 191:321–329

Arthur GD, Jäger AK, Van Staden J (2001) The release of cytokinin-like compounds from Gingko biloba leaf material during composting. Environ Exp Bot 45:55–61

Bachman GR, Metzger JD (2008) Growth of bedding plants in commercial potting substrate amended with vermicompost. Bioresour Technol 99:3155–3161

Baxter BJM, Van Staden J (1994) Plant-derived smoke: an effective seed pre-treatment. Plant Growth Regul 14:279–282

Bernier PY, Lamhamedi MS, Simpson DG (1995) Shoot:root ratio is of limited use in evaluating the quality of container conifer stock. Tree Planters' Notes 46:102–106

Blomme G, Sebuwufu G, Addis T, Turyagyenda LF (2008) Relative performance of root and shoot development in enset and East African highland bananas. Afr Crop Sci J 16:51–57

Brown NAC, Van Staden J (1997) Smoke as a germination cue: a review. Plant Growth Regul 22:115–124

Campitelli P, Ceppi S (2008) Chemical, physical and biological compost and vermicompost characterization: a chemometric study. Chemom Intell Lab Syst 90:64–71

Caponetti JD, Gray DJ, Trigiano RN (2005) History of plant tissue and cell culture. In: Trigiano RN, Gray DJ (eds) Plant development and biotechnology. CRC Press, Florida, pp 9–15

Chiwocha SDS, Dixon KW, Flematti GR, Ghisalberti EL, Merritt DJ, Nelson DC, Riseborough J-AM, Smith SM, Stevens JC (2009) Karrikins: a new family of plant growth regulators in smoke. Plant Sci 177:252–256

Francis M, Redondo A, Burns J, Graham J (2009) Soil application of imidacloprid and related SAR-inducing compounds produces effective and persistent control of citrus canker. Eur J Plant Pathol 124:283–292

García-Gómez RC, Dendooven L, Gutiérrez-Miceli FA (2008) Vermicomposting leachate (worm tea) as liquid fertilizer for maize (Zea mays L.) forage production. Asian J Plant Sci 7:360–367

Gutiérrez-Miceli FA, García-Gómez RC, Rincón Rosales R, Abud-Archila M, María Angela OL, Cruz MJG, Dendooven L (2008) Formulation of a liquid fertilizer for sorghum (Sorghum bicolor (L.) Moench) using vermicompost leachate. Bioresour Technol 99:6174–6180

Hallam D (1995) The world banana economy. In: Gowen S (ed) Bananas and plantains. Chapman and Hall, London, pp 509–533

Ievinsh G (2011) Vermicompost treatment differentially affects seed germination, seedling growth and physiological status of vegetable crop species. Plant Growth Regul 64:169–181

Israeli Y, Lahav E, Reuveni O (1995) In vitro culture of bananas. In: Gowen S (ed) Bananas and plantains. Chapman and Hall, London, pp 147–178

Jain SM (2004) Introduction: cellular biology and biotechnology including mutation techniques for creation of new useful banana genotypes. In: Jain SM, Swennen R (eds) Banana improvement: cellular, molecular biology, and induced mutations. Science Publishers, Inc., Enfield, pp xv–xvi

Kahangi EM (2010) The potential of tissue culture banana (Musa spp.) technology in Africa and the anticipated limitations and constraints. Acta Hortic 879:281–288

Kulkarni MG, Ascough GD, Van Staden J (2008) Smoke–water and a smoke-isolated butenolide improve growth and yield of tomatoes under greenhouse conditions. HortTechnology 18:449–454

Kulkarni MG, Ascough GD, Verschaeve L, Baeten K, Arruda MP, Van Staden J (2010) Effect of smoke–water and a smoke-isolated butenolide on the growth and genotoxicity of commercial onion. Scientia Hortic 124:434–439

Kumar P, Poehling H (2006) Persistence of soil and foliar azadirachtin treatments to control sweetpotato whitefly Bemisia tabaci gennadius (Homoptera: Aleyrodidae) on tomatoes under controlled (laboratory) and field (netted greenhouse) conditions in the humid tropics. J Pest Sci 79:189–199

Lazcano C, Revilla P, Malvar RA, Domínguez J (2011) Yield and fruit quality of four sweet corn hybrids (Zea mays) under conventional and integrated fertilization with vermicompost. J Sci Food Agric 91:1244–1253

Light ME, Daws MI, Van Staden J (2009) Smoke-derived butenolide: towards understanding its biological effects. S Afr J Bot 75:1–7

Padmavathiamma PK, Li LY, Kumari UR (2008) An experimental study of vermi-biowaste composting for agricultural soil improvement. Bioresour Technol 99:1672–1681

Pant AP, Radovich TJK, Hue NV, Talcott ST, Krenek KA (2009) Vermicompost extracts influence growth, mineral nutrients, phytonutrients and antioxidant activity in pak choi (Brassica rapa cv. Bonsai, Chinensis group) grown under vermicompost and chemical fertiliser. J Sci Food Agric 89:2383–2392

Parkunan V, Johnson CS, Eisenback JD (2011) Influence of acibenzolar-s-methyl and mixture of Bacillus species on growth and vigor of cultivated tobacco. Tob Sci 48:7–14

Pospíšilová J, Synková H, Haisel D, Čatský J, Wilhelmová N, Šrámek F (1999) Effect of elevated CO2 concentration on acclimation of tobacco plantlets to ex vitro conditions. J Exp Bot 50:119–126

ROU (2006) Overview of compost tea use in New South Wales. Recycled Organics Unit, internet publication: http://www.recycledorganics.com

Sarkar D, Mandal B, Kundu M (2007) Increasing use efficiency of boron fertilisers by rescheduling the time and methods of application for crops in India. Plant Soil 301:77–85

Sparg SG, Kulkarni MG, Light ME, Van Staden J (2005) Improving seedling vigour of indigenous medicinal plants with smoke. Bioresour Technol 96:1323–1330

Suthar S (2010) Evidence of plant hormone-like substances in vermiwash: an ecologically safe option of synthetic chemicals for sustainable farming. Ecol Eng 36:1089–1092

Taylor JLS, Van Staden J (1998) Plant-derived smoke solutions stimulate the growth of Lycopersicon esculentum roots in vitro. Plant Growth Regul 26:77–83

Tomati U, Grapelli A, Galli E (1988) The hormone-like effect of earthworm casts on plant growth. Biol Fertil Soils 5:288–294

Tomati U, Galli E, Grappelli A, Lena G (1990) Effect of earthworm casts on protein synthesis in radish (Raphanus sativum) and lettuce (Lactuca sativa) seedlings. Biol Fertil Soils 9:288–289

Trinh C, Gevaert L, Kohout L, Van Staden J, Verschaeve L (2010) Genotoxicity evaluation of two kinds of smoke–water and 3, 7-dimethyl-2H-furo[2, 3-c]pyran-2-one. J Appl Toxicol 30:596–602

Van Staden J, Brown NAC, Jäger AK, Johnson TA (2000) Smoke as a germination cue. Plant Species Biol 15:167–178

Van Staden J, Sparg SG, Kulkarni MG, Light ME (2006) Post-germination effects of the smoke-derived compound 3-methyl-2H-furo[2, 3-c]pyran-2-one, and its potential as a preconditioning agent. Field Crops Res 98:98–105

Verschaeve L, Maes J, Light ME, Van Staden J (2006) Genetic toxicity testing of 3-methyl-2H-furo[2, 3-c]pyran-2-one, an important biologically active compound from plant-derived smoke. Mutat Res/Genet Toxicol Environ Mutagen 611:89–95

Vuylsteke D (1998) Shoot-tip culture for the propagation, conservation, and distribution of Musa germplasm. International Institute of Tropical Agriculture, Ibadan, Nigeria

Wang D, Shi Q, Wang X, Wei M, Hu J, Liu J, Yang F (2010) Influence of cow manure vermicompost on the growth, metabolite contents, and antioxidant activities of Chinese cabbage (Brassica campestris ssp. chinensis). Biol Fertil Soils 46:689–696

Welch RM, Graham RD (1999) A new paradigm for world agriculture: meeting human needs: productive, sustainable, nutritious. Field Crops Res 60:1–10

Zhou J, Van Staden J, Guo LP, Huang LQ (2011) Smoke–water improves shoot growth and indigo accumulation in shoots of Isatis indigotica seedlings. S Afr J Bot 77:787–789
Acknowledgments
We appreciate the technical assistance of Mrs Alison Young (University of KwaZulu-Natal, Botanical Garden, Pietermaritzburg) and her staff during the greenhouse experiment. Special thanks to Dr Mack Moyo for proof reading the manuscript. The University of KwaZulu-Natal, Pietermaritzburg and the National Research Foundation, Pretoria, South Africa are thanked for financial support.
About this article
Cite this article
Aremu, A.O., Kulkarni, M.G., Bairu, M.W. et al. Growth stimulation effects of smoke-water and vermicompost leachate on greenhouse grown-tissue-cultured 'Williams' bananas. Plant Growth Regul 66, 111–118 (2012). https://doi.org/10.1007/s10725-011-9634-6
Received:

Accepted:

Published:

Issue Date:
Keywords
Food security

Micropropagation

Musa spp.

Organic fertilizers

Phytonutrient

Smoke solutions