Abstract
Seed germination, one of the most important phases in the life cycle of a plant, is highly responsive to existing environment. Hydrolyzing enzymes play a major role in the mobilization of food reserves by hydrolyzing carbohydrates, proteins and fats. This paper reports on the effect of Cd toxicity on seed germination and the activities of hydrolyzing enzymes, like acid phosphatases (ACPs), proteases and α-amylases in Sorghum bicolor (L.) Moench. The metal uptake by embryonic axes and seeds was quantified. We found that sorghum could tolerate up to 0.5 mM Cd. At concentrations above 3.0 mM, seed germination was adversely affected with a complete cessation of seedling growth. All investigated hydrolyzing enzymes exhibited a significant decrease in activity with increasing Cd concentrations. The isozyme profiles indicated the loss of one or two isozymes of ACP, induction of a new isozyme for total protease (at 3.0 mM Cd) and a decline in the intensity of α-amylase isozymes. SEM studies revealed that Cd affected a change in root hair density. SEM investigations also confirmed the assay results of the inhibition of starch mobilization from endosperm. This suggested an inhibition of the hydrolysis of reserve carbohydrates and translocation of hydrolyzed sugars, ultimately resulting in decreased germination and disruption of seedling growth. Because sorghum is an important dryland crop, its response to the presence of Cd in agro-ecosystems and Cd-induced phytotoxicity during seed germination and seedling growth needs critical investigation.
This is a preview of subscription content,
to check access.
Access this article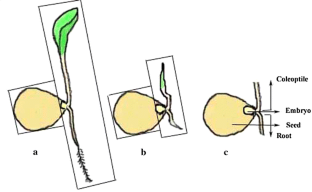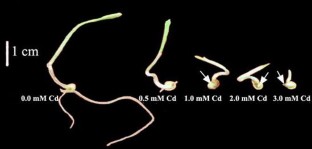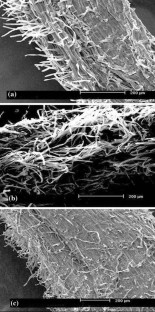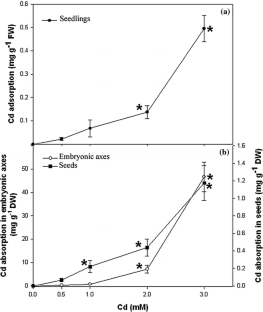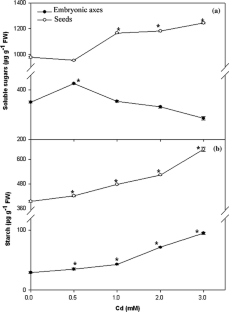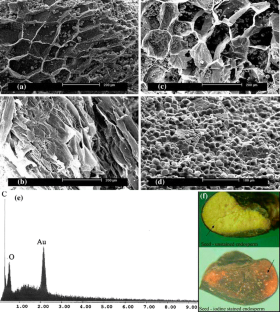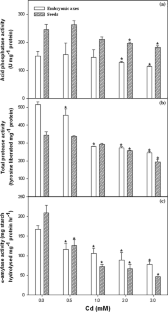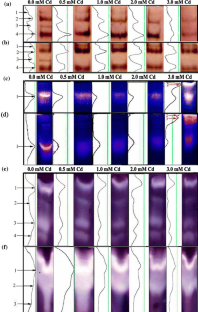 Abbreviations
ACP:

Acid phosphatase

BSA:

Bovine serum albumin

EDS:

Energy dispersion spectroscopy

EDTA:

Ethylenediaminetetraacetic acid

MES:

2-morpholino ethane sulfonate

p-NPP:

para-nitro phenyl phosphate

RWC:

Relative water content

SDS:

Sodium dodecyl sulfate

SEM:

Scanning electron microscope

TCA:

Trichloroacetic acid

Tris:

(Hydroxymethyl) methyl amine
References
Abdel Wahab AM, Zahran HH (1981) Effects of salt stress on nitrogenase activity and growth of four legumes. Biol Plant 23:16–20

Alloway BJ (1995) Cadmium. In: Alloway BJ (eds) Heavy metals in soils. Blackie Academic and Professional, Glasgow, pp 122–151

Barcelό J, Poschenrieder Ch (2004) Structural and ultrastructural changes in heavy metal exposed plants. In: Prasad MNV (eds) Heavy metal stress in plants: from biomolecules to ecosystems. Springer-Verlag, Berlin, pp 223–248

Barceló J, Poschenrieder Ch, Andreu I, Gunse B (1986) Cadmium induced decrease of water stress resistance in bush bean plants (Phaseolus vulgaris L. cv. Contender). I. Effects on water potential, relative water content and cell wall elasticity. J Plant Physiol 125:17–25

Barceló J, Vazquez MD, Poschenrieder Ch (1988) Cadmium induced structural and ultrastructural changes in the vascular system of bush bean stems. Bot Acta 101:254–261

Beevers L (1968) Protein degradation and proteolytic activity in the cotyledons of germinating pea seeds (Pisum sativum). Phytochemistry 7:1837–1844

Bewley JD, Black M (1978) Physiology and biochemistry of seeds, vol I. Development, germination and growth. Springer-Verlag, Berlin, pp 1–306

Bishnoi NR, Sheroran IS, Singh R (1993) Effect of cadmium and nickel on mobilization of food reserves and activities of hydrolytic enzymes in germinating pigeon pea seeds. Biol Plant 35:583–589

Cataldo DA, Garland TR, Wildung RE (1983) Cadmium uptake kinetics in intact soybean plants. Plant Physiol 73:844–848

Cruz LJ, Cagampang GB, Juliano BO (1970) Biochemical factors affecting protein accumulation in the rice grain. Plant Physiol 46:743–747

Cutler JM, Rains DW (1974) Characterization of Cd uptake by plant tissues. Plant Physiol 54:67–71

Das S, Sen-Mandi S (1992) Scutellar amylase activity in naturally aged and artificially aged wheat seeds. Ann Bot 56:475–479

Dubois M, Gilles KA, Hamilton JK, Rebers PA, Smith F (1956) Colorimetric method for determination of sugars and related substances. Anal Chem 28:350–356

Galleschi L, Chapman JM (1985) Specific detection of α-amylase activity in crude plant extracts after isoelectric focusing. Phytochemistry 4:352–354

Hardiman RT, Jacoby B (1984) Absorption and translocation of Cd in bush beans (Phaseolus vulgaris). Physiol Plant 61:670–674

Hernandez LE, Cooke DT (1997) Modifications of root plasma membrane lipid composition of cadmium treated Pisum sativum. J Exp Bot 48:1375–1381

Hou W-C, Chen H-J, Chen T-E, Lin Y-H (1999) Detection of protease activities using specific aminoacyl or peptidyl p-nitroanilidines after sodium dodecyl sulfate-polyacrylamide gel electrophoresis and its applications. Electrophoresis 20:486–490

Kapustka LA, Reporter M (1993) Terrestrial primary producers. In: Calow P (ed) Handbook of ecotoxicology, vol 1. Blackwell Scientific Publications, pp 278–298

Kumar S, Sharma JG, Chakrabarti R (2000) Quantitative estimation of proteolytic enzyme and ultrastructural study of anterior part of intestine of Indian major carp (Catla catla) larvae during ontogenesis. Curr Sci 79:1007–1011

Lane TW, Morel FM (2000) A biological function for cadmium in marine diatoms. Proc Nat Acad Sci USA 97:4627–4631

Leber TM, Balkwill FR (1997) Zymography: a single-step staining method for quantitation of proteolytic activity on substrate gels. Anal Biochem 249:24–28

Lee T-M (2000) Phosphate starvation induction of acid phosphates in Ulva lactuca (Ulvales, Chlorophyta). Bot Bull Acad Sin 41:19–25

Liu D, Kottke I (2004) Subcellular localization of cadmium in the root cells of Allium cepa by electron energy loss spectroscopy and cytochemistry. J Biosci 29:329–335

Lowry OH, Rosebrough NJ, Farr AL, Randall R (1951) Protein measurement with the Folin-phenol reagent. J Biol Chem 193:265–275

Marschner H (1983) General introduction to the mineral nutrition in plants. In: Lachuli A, Bieleski RL (eds) Inorganic plant nutrition. Springer-Verlag, New York, pp 5–60

Mayer AM, Poljakoff-Mayber A (1982) The germination of seeds. Pergamon Press, Oxford

McCready RM, Guggolz J, Silveira V, Owens HS (1950) Determination of starch and amylose in vegetables: application to peas. Anal Chem 22:1156–1158

Ouzounidou G, Moustakas M, Eleftheriou EP (1997) Physiological and ultrastructural effects of cadmium on wheat (Triticum aestivum) leaves. Arch Environ Contam Toxicol 32:154–160

Pan SM, Chen YR (1988) The effects of salt stress on acid phosphatase activity of Zea mays seedlings. Bot Bull Acad Sin 29:33–38

Pandit BR, Prasannakumar PG (1999) Effect of metals on Jowar (Sorghum bicolor L.) seedling growth – I. Germination, seedling growth and absorption of elements. Pollut Res 18:459–466

Poschenrieder Ch, Gunse B, Barceló J (1989) Influence of cadmium on water relations, stomatal resistance, and abscisic acid content in expanding bean leaves. Plant Physiol 90:1365–1371

Prado FE, Boreo C, Gallarodo M, Gonzalez JA (2000) Effect of NaCl on germination, growth and soluble sugar content in Chenopodium quinoa wild seeds. Bot Bull Acad Sin 41:27–34

Prasad MNV (1995) Cadmium toxicity and tolerance in vascular plants. Environ Exp Bot 35:525–545

Prasad MNV (1997) Trace metals. In: Prasad MNV (ed) Plant ecophysiology. John Wiley & Sons, Inc., New York, pp 207–249

Prisco JT, Filho JE, Filho EG (1981) Effect of NaCl salinity on cotyledon starch mobilization during germination of Vigna unguiculata (L.) Walp seeds. Rev Brasil Bot 4:63–71

Sandalio LM, Dalurzo HC, Gómez M, Romero-Puertas MC, del Río LA (2001) Cadmium-induced changes in the growth and oxidative metabolism of pea plants. J Exp Bot 52:2115–2126

Sauerbeck DR (1991) Plant, element and soil properties governing uptake and availability of heavy metals derived from sewage sludge. Water Air Soil Pollut 57–58:227–237

Shaw J-F, Lin F-P, Chen S-C, Chen H-C (1995) Purification and properties of an extracellular α-amylase from Thermus sp. Bot Bull Acad Sin 36:195–200

Shih C-Y, Kao CH (1998) Induction of acid phosphatase in detached rice leaves under stress conditions. Bot Bull Acad Sin 39:29–32

Smith BW, Roe JH (1949) A photometric method for the determination of α-amylase in blood and urine with the use of the starch-iodine color. J Biol Chem 179:53–59

Thomas TL (1993) Gene expression during plant embryogenesis and germination: an overview. Plant Cell 5:1401–1410

Tso SC, Chen YR (1997) Isolation and characterization of a group III isozyme of acid phosphatase from rice plants. Bot Bull Acad Sin 38:245–250

Wang MC, Tso SC, Chen YR (1995) Inhibitory effects of sodium fluoride on activity of acid phosphates in rice plants. Taiwania 40:291–298

Wierzbicka M, Obidzinska J (1998) The effect of lead on seed imbibition and germination in different plant species. Plant Sci 137:155–171
Acknowledgment
SVK gratefully acknowledges the financial assistance in the form of a Junior Research Fellowship (JRF) from Council of Scientific and Industrial Research (CSIR), India (award no. F. No.9/414(609)/2003-EMR of 21.10.2003).
About this article
Cite this article
Kuriakose, S.V., Prasad, M.N.V. Cadmium stress affects seed germination and seedling growth in Sorghum bicolor (L.) Moench by changing the activities of hydrolyzing enzymes. Plant Growth Regul 54, 143–156 (2008). https://doi.org/10.1007/s10725-007-9237-4
Received:

Accepted:

Published:

Issue Date:

DOI: https://doi.org/10.1007/s10725-007-9237-4
Keywords