Abstract
The purpose of this study was to understand factors affecting in vitro embryo rescue culture from hybrids between diploid and tetraploid varieties of grape in creation new triploid germplasm resources. The effects of different media, removal ages of immature seeds and reciprocal crosses of parents on the germination and seedling survival of immature seeds from crosses between diploid and tetraploid grape varieties by in vitro embryo rescue culture were investigated. The results indicated that the medium consisting of NN-1969 + IAA 1.75 mg l−1 + GA3 0.35 mg l−1 + CH 400 mg l−1 + AC 2.0 g l−1 was better than other media. The optimal removal age of immature seeds for the best development of embryos was 35–45 days after pollination (DAP). The percentage of germination (PG) for immature seeds and the percentage of seedling survival (PSS) for immature seeds for diploid varieties used as female parents were 10.72% and 4.35% higher than when tetraploid varieties were used as female parents respectively. A total of 41 hybrid progenies from eight combinations were obtained, made up of 17 diploid, 9 tetraploid, 14 aneuploid, and 1 triploid progeny as determined by root-tip chromosome identification. The triploid progeny was from Fujiminori (2n = 4x = 76) × Jingxiu (2n = 2x = 38). These results implied that it was feasible to extend the hybridization range of grape and to create new germplasm resources by in vitro embryo rescue based on the conventional hybridization. The NN-1969 medium supplemented with GA3 and IAA was more propitious to the development of immature seeds sampled at about 45 DAP. It was easier to obtain plants using diploid as female parent, but triploid progeny was only obtained using tetraploid as female parent.
Access options
Buy single article
Instant access to the full article PDF.
US$ 39.95
Tax calculation will be finalised during checkout.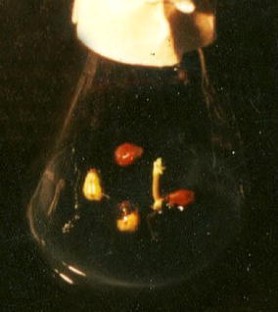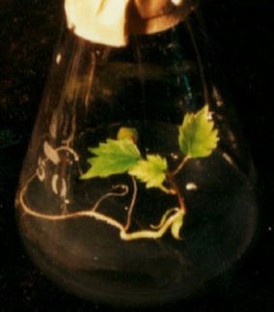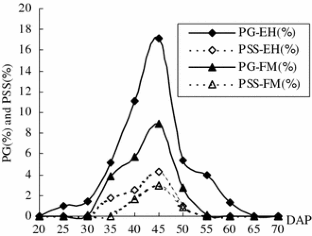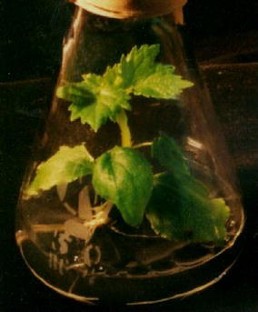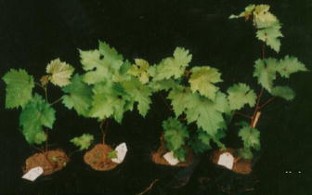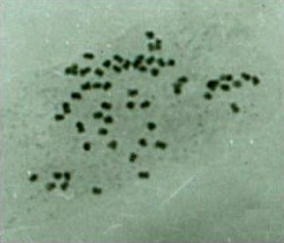 References
Cao ZY, Yang DL, Liang QF et al (2002) In vitro propagation of a new strain of table grape. J Fruit Sci 19(6):427–429

Chang JH, Ren Q, Luo YW (2003) The determination of multiploidy of artificially induced auto-tetraploid Muscate humbury. Acta Agriculturae Nucleatae Sinica 17(3):221–224

Emershad RL, Ramming DW (1984) In-ovulo embryo culture of Vitis vinifera L. c.v. 'Thompson seedless'. Am J Bot 71(6):873–877

Emershad RL, Ramming DW, Serpe MD (1989) In ovulo embryo development and plant formation from stenospermic genotypes of Vitis vinifera. Am J Bot 76(3):397–402

Gray DJ, Fisher LC, Mortensen JA (1987) Comparison of methodologies for in ovule embryo rescue of seedless grapes. HortScience 22(6):1334–1335

Gray DJ, Mortensen JA, Betten CM (1990) Ovule culture to obtain progeny from hybrid seedless bunch grapes. J Am Soc HortSci 115(6):1019–1024

Guo YS, Guo XW, Li K et al (2004) Studies on the crossing compatibility and ploid variation of chromosome in the crossing progenies of different ploidy varieties in grape. J Shengyang Agricult Univ 35(3):192–194

Johnston SA, den Nijs TPM, Peloquin SJ et al (1980) The significance of genic balance to endosperm development in interspecific crosses. Theoret Appl Genet 57:5–9

Li SC, Jin PF, Jiang Al et al (1998) Ovule culture to obtain triploid progeny from crosses between seedless cultivars and tetraploid grapes. Acta Agriculturae Shanghai 14(4):13–17

Liu SM, Sykes SR, Clingeleffer PR (2003) Improved in ovulo embryo culture for stenospermocarpic grapes (Vitis vinifera L.). Aust J Agricult Res 54:869–876

Pan CY, Qi GM, Tang XN et al (1998) Primary report on grape triploid breeding. J Shandong Agricult Univ 29(3):199–202

Ponce MT, Agüero CB, Gregori MT et al (2000) Factors affecting the development of stenospermic grape (Vitis vinifera L.) embryos cultured in vitro. Acta Horticulturae 528:667–671

Ponce MT, Guiňazǘ ME, Tizio R (2002) Improved in vitro embryo development of stenospermic grape by putrescine. Biocell 26(2):263–266

Ramming DW (1990) The use of embryo culture in fruit breeding. HortScience 25(4):393–398

Spiegel-Roy P, Sahar N, Baron J et al (1985) In vitro culture and plant formation from grape cultivars with abortive ovules and seeds. J Am Soc Horticult Sci 110:109–112

Valdez JG (2005) Immature embryo rescue of grapevine (Vitis vinifera L.) after an extended period of seed trace culture. Vitis 44(1):17–23

Valdez JG, Ulanovsky SM (1997) In vitro germination of stenospermic seeds from reciprocal crosses (Vitis vinifera L.) applying different techniques. Vitis 36(3):105–107

Xu HY, Yan AL, Zhang GJ (2001) Study on the in ovulo embryo culture of the crossed progeny between diploid and tetraploid grape cultivars. J Fruit Sci 18(6):317–320

Xu HY, Yan AL, Zhang GJ (2005) Determination of the proper sampling period for embryo rescue from crosses between diploid and tetraploid grape cultivars. Scientia Agricultura Sinica 38(3):629–633

Yamashita H, Shigehara I, Haniuda T (1998) Production of triploid grapes by in ovulo embryo culture. Vitis 37(3):113–117

Zhao SJ, Guo ZJ (2004) Advances in research of breeding seedless triploid grapes. J Fruit Sci 21(4):360–364
Acknowledgements
The authors are very grateful to Hao Yan in Institute of Pomology of Gansu Academy of Agricultural Science for ungrudgingly affording part of materials. This work was supported by the Foundation of Gansu Provincial Sci. & Tech. Department(gso22-A41-046) and the Natural Science Foundation of Gansu province (ZSD11-A25-028-N).
About this article
Cite this article
Yang, D., Li, W., Li, S. et al. In vitro embryo rescue culture of F1 progenies from crosses between diploid and tetraploid grape varieties. Plant Growth Regul 51, 63–71 (2007). https://doi.org/10.1007/s10725-006-9148-9
Received:

Accepted:

Published:

Issue Date:
Keywords
Grape

Diploid

Tetraploid

Hybridization

Embryo rescue in vitro

Chromosome identification

Triploid plant