Abstract
Broad base genetic diversity is essential for a sustainable crop yield to provide tolerance against biotic and abiotic stresses. In Pakistan, rice is ranked second as a staple food and cultivated under different climatic zones. However, very little is known in terms of rice genetic diversity. The present research was performed to evaluate the genetic diversity among 12 local rice varieties by using 5 Simple sequence repeats (SSR) markers. Furthermore, agro-morphological parameters and seed quality of these varieties were studied. The maximum plant height (204.3 cm) and panicle length (40.1 cm) were observed for Hans-raj. The highest numbers of primary and secondary panicle branches were observed in Ratua-81 (51) and super basmati (62), respectively. Super basmati showed highest number of filled grains (264.3) and total number of grains (315) per panicle. The minimum days to maturity (140) was recorded for ratua-81 and highest 1000 grains weight (27 g) was recorded for Ksk-133. The highest concentration of elements, e.g. zinc (Zn) was observed in Ks-282 (44 µg/g), Iron (Fe) in hansraj (190.3 µg/g), manganese in bamla sufaid (111.3 µg/g), copper (Cu) in hansraj (856.3 µg/g), lead (Pb) in super basmati (3883.3 µg/g), and nickel (Ni) was found in basmati-385 (314.6 ug/g). For the genetic diversity analysis, five SSR markers were used and a total of 60 alleles were amplified with 20% polymorphism where RM28130 showed the highest Polymorphic information content (PIC) value (0.60). The maximum number of alleles (3) were produced by RM28089. Based on secondary panicle branches and total number of filled grains, Super basmati showed best panicle architecture and grain yield, which can be used in breeding program to develop high yielding aromatic rice genotypes. The highest number of filled grains and total number of grains per panicle were observed in super basmati, which indicated the potential adaptation. Basmati-2000, Hansraj, Ks-282, Super basmati and Basmati surkh-161 were found to be highly rich in micronutrients (iron, zinc, copper, lead and manganese). The maximum genetic distance was observed in basmati-2000 and basmati surkh 161 genotypes.
Access options
Buy single article
Instant access to the full article PDF.
USD 39.95
Price excludes VAT (USA)
Tax calculation will be finalised during checkout.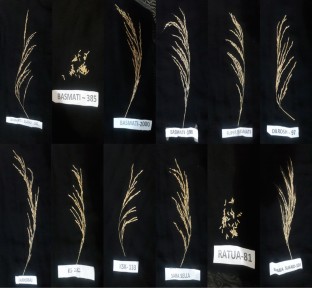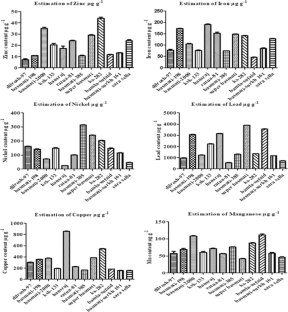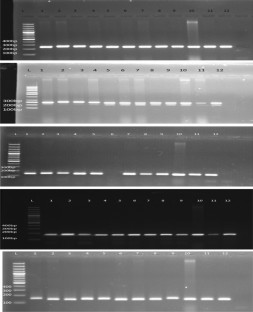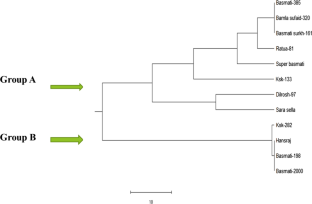 References
Aljumaili SJ, Rafii M, Latif M, Sakimin SZ, Arolu IW, Miah G (2018) Genetic diversity of aromatic rice germplasm revealed by SSR markers. Biomed Res Int 14(1):1–11. https://doi.org/10.1155/2018/7658032

Arumuganathan K, Earle ED (1991) Nuclear DNA content of some important plant species. Plant Mol Biol Report 9(3):208–218. https://doi.org/10.1007/BF02672069

Ashfaq M, Khan A (2012) Genetic diversity in basmati rice (Oryza sativa L.) Germplasm as revealed by microsatellite (SSR) markers. Russian J Genet 48(1):53–62. https://doi.org/10.1134/S1022795411120027

Ashfaq M, Rasheed A, Sajjad M, Ali M, Rasool B, Javed MA, Mubashar U (2022) Genome wide association mapping of yield and various desirable agronomic traits in Rice. Mol Biol Rep. https://doi.org/10.1007/s11033-022-07687-5

Beena R, Kirubakaran S, Nithya N, Manickavelu A, Sah R, Abid PS, Siddique KH (2021) Association mapping of drought tolerance and agronomic traits in rice (Oryza sativa L.) landraces. BMC Plant Biol 21(1):1–21. https://doi.org/10.1186/s12870-021-03272-3

Benton Jones J Jr (1991) Plant tissue analysis in micronutrients. Micronutr Agricult 4(2):477–521. https://doi.org/10.2136/sssabookser4.2ed.c13

Cao Z, Mou R, Cao Z, Lin X, Xu P, Chen Z, Chen M (2017) Nickel in milled rice (Oryza sativa L.) From the three main rice-producing regions in China. Food Addit Contam Part B 10(1):69–77. https://doi.org/10.1080/19393210.2016.1250822

Chang TT (1976) The origin, evolution, cultivation, dissemination, and diversification of Asian and African rices. Euphytica 25(1):425–441. https://doi.org/10.1007/BF00041576

Cheng C, Motohashi R, Tsuchimoto S, Ohtsubo YPH, Ohtsubo E (2003) Polyphyletic origin of cultivated rice: based on the interspersion pattern of sines. Molecular Biol Evol 20(1):67–75. https://doi.org/10.1093/molbev/msg004

Cui JL, Zhao YP, Lu YJ, Chan TS, Zhang LL, Tsang DC, Li XD (2019) Distribution and speciation of copper in rice (Oryza sativa L.) From mining-impacted paddy soil: Implications for copper uptake mechanisms. Environ Intern 126(3):717–726. https://doi.org/10.1016/j.envint.2019.02.045

Fao (1998) The state of the world's plant genetic resources for food and agriculture edition.

Gaballah MM, Attia KA, Ghoneim AM, Khan N, El-Ezz AF, Yang B, Al-Doss AA (2022) Assessment of genetic parameters and gene action associated with heterosis for enhancing yield characters in novel hybrid rice parental lines. Plants 11(3):266. https://doi.org/10.3390/plants11030266

Gao LZ, Innan H (2008) Non independent domestication of the two-rice subspecies, Oryza sativa ssp. Indica and ssp. Japonica, demonstrated by multi-locus microsatellites. Genetics 179(2):965–976. https://doi.org/10.1534/genetics.106.068072

Hay FR (2021) New technologies to improve the ex situ conservation of plant genetic resources. Plant genetic resources. Burleigh Dodds Science Publishing, Cambridge, pp 185–216

Healey A, Furtado A, Cooper T, Henry RJ (2014) Protocol: a simple method for extracting next-generation sequencing quality genomic DNA from recalcitrant plant species. Plant Methods 10(1):1–8. https://doi.org/10.1186/1746-4811-10-21

Hussain S, Huang J, Huang J, Ahmad S, Nanda S, Anwar S, Zhang J (2020) Rice production under climate change: adaptations and mitigating strategies. In: Environment, climate, plant and vegetation growth. Springer. Cham, pp. 659–686. doi: https://doi.org/10.1007/978-3-030-49732-3_26

Ishikawa R, Castillo CC, Fuller DQ (2020) Genetic evaluation of domestication-related traits in rice: implications for the archaeobotany of rice origins. Archaeol Anthropol Sci 12(8):1–14. https://doi.org/10.1007/s12520-020-01112-3

Islam MA, Anik TR, Hossain MM, Imtiaz M (2018) Genetic diversity analysis of some Bangladeshi aromatic rice (Oryza sativa L.) using simple sequence repeat markers (SSRM). Arch Agricult Environ Sci 3(3):297–303. https://doi.org/10.26832/24566632.2018.0303013

Joshi BK (2017) Conservation and utilization of agro-biodiversity advanced from 1937 to 2017 in Nepal. Krishi Sanchar Smarika In: F Devkota (ed). Agricultural information and communication center (AICC), moad, pp. 181–208

Karimah AZ, Siswoyo TA, Ubaidillah Kim K, M, (2021) Genetic diversity of rice germplasm (Oryza sativa L.) of java island, Indonesia. J Crop Sci Biotechnol 24(1):93–101. https://doi.org/10.1098/rsif.2017.0275

Li YC, Korol AB, Fahima T, Nevo E (2004) Microsatellites within genes: structure, function, and evolution. Mol Biol Evol 21(6):991–1007. https://doi.org/10.1093/molbev/msh073

Liu SR, Li WY, Long D, Hu GC, Zhang JZ (2013) Development and characterization of genomic and expressed ssrs in citrus by genome-wide analysis. PLoS ONE 8(10):e75149. https://doi.org/10.1371/journal.pone.0075149

Mccouch S (1998) Toward a plant genomics initiative: thoughts on the value of cross-species and cross-genera comparisons in the grasses. Proc Natl Acad Sci 95(5):1983–1985. https://doi.org/10.1073/pnas.95.5.1983

Ming HUANG, Ya-hui UV, Xing-xing TAO, Yong-zhu LIU, Gui-li YANG, Zhi-qiang VHEN (2015) Genetic diversity of main inbred Indica rice varieties applied in Guangdong Province as revealed by molecular marker. Rice Sci 22(1):1–8. https://doi.org/10.1016/j.rsci.2015.05.001

Naaz S, Pandey V, Yadav H (2022) Evaluation of genetic diversity in rice (Oryza sativa L. ssp. Indica) accessions using SSR marker. Vegetos. https://doi.org/10.1007/s42535-022-00378-3

Nachimuthu VV, Muthurajan R, Duraialaguraja S, Sivakami R, Pandian BA, Ponniah G, Gunasekaran K, Swaminathan M, Suji K, Sabariappan R (2015) Analysis of population structure and genetic diversity in rice germplasm using SSR markers: an initiative towards association mapping of agronomic traits in Oryza sativa. Rice 8(1):1–24. https://doi.org/10.1186/s12284-015-0062-5

Pooniya V, Shivay YS (2013) Enrichment of Basmati rice grain and straw with zinc and nitrogen through ferti-fortification and summer green manuring under Indo-gangetic plains of India. J Plant Nutr 36(1):91–117. https://doi.org/10.1080/01904167.2012.733052

Prasad K, Sharmila P, Kumar P, Saradhi PP (2000) Transformation of Brassica juncea (L.) Czern with bacterial coda gene enhances its tolerance to salt stress. Molecular Breeding. 6(5):489–499. https://doi.org/10.1023/A:1026542109965

Ramchander S, Leon MAP, Souframanien J, Arumugam Pillai M (2022) Genetic diversity, allelic variation and marker trait associations in gamma irradiated mutants of rice (Oryza sativa L.). Intern J Radiation Biol 98(1):90–99. https://doi.org/10.1080/09553002.2021.1987568

Ranjan P, Brahmi P, Tyagi V, Ranja JK, Srivastav V, Yada SK, Singh K (2022) Global interdependence for fruit genetic resources: status and challenges in India. Food Security. https://doi.org/10.1007/s12571-021-01249-6

Sahebi M, Hanafi MM, Rafii MY, Mahmud TMM, Azizi P, Osman M, Miah G (2018) Improvement of drought tolerance in rice (Oryza sativa L.): Genetics, genomic tools, and the WRKY gene family. Biomed Res Int 1:15–20. https://doi.org/10.1155/2018/3158474

Sakina A, Sofi NR, Shikar AB, Mir RR, Bhat MA, Waza SA, Wani SH (2022) DNA marker based diversity across rice genotypes and advanced breeding lines bred for temperate regions of North-West India. Mol Biol Rep 49(7):7145–7155. https://doi.org/10.1007/s11033-022-07609-5

Salam SA, Sindhumole P, Waghmare SG, Sajini S (2017) Molecular characterization of rice (Oryza sativa L.) Genotypes for drought tolerance using two SSR markers. Electron J Plant Breed 8(2):474–479

Salgotra RK, Gupta BB, Bhat JA, Sharma S (2015) Genetic diversity and population structure of Basmati rice (Oryza sativa L.) Germplasm collected from North Western Himalayas using trait linked SSR markers. Plos One 10(7):0131858. https://doi.org/10.1371/journal.pone.0131858

Saski T, Burr B (2000) International Rice Genome Sequencing Project: the effort to completely sequence the rice genome. Curr Opin Plant Biol 3(2):138–142. https://doi.org/10.1016/S1369-5266(99)00047-3

Shahzadi N, Akhter M, Ali M, Misbah R (2018) Economic aspects of basmati rice in Pakistan. Rice Res 6(2):1–5

Singh V, Singh AK, Mohapatra T, Ellur RK (2018) Pusa Basmati 1121–a rice variety with exceptional kernel elongation and volume expansion after cooking. Rice 11(1):1–10. https://doi.org/10.1186/s12284-018-0213-6

Wang B, Li J (2019) Understanding the molecular bases of agronomic trait improvement in rice. Plant Cell 31(7):1416–1417. https://doi.org/10.1105/tpc.19.00343

Wang ZY, Second G, Tanksley SD (1992) Polymorphism and phylogenetic relationships among species in the genus Oryza as determined by analysis of nuclear rflps. Theor Appl Genet 83(5):565–581. https://doi.org/10.1007/BF00226900

Xuan TD, Anh TTT, Tran HD, Khan TD, Dat TD (2019) Mutation breeding of a N-methyl-N-nitrosourea (MNU)-induced rice (Oryza sativa L. ssp. Indica) population for the yield attributing traits. Sustainability 11(4):1062. https://doi.org/10.3390/su11041062

Yamanaka S, Nakamura I, Watanabe KN, Sato YI (2004) Identification of snps in the Waxy gene among glutinous rice cultivars and their evolutionary significance during the domestication process of rice. Theor Appl Genet 108:1200–1204. https://doi.org/10.1007/s00122-003-1564-x

Zulfiqar U, Maqsood M, Hussain (2020) Biofortification of rice with iron and zinc: progress and prospects. Rice Res Qual Improv Genom Genetic Eng. https://doi.org/10.1007/978-981-15-5337-0_26

Zulfiqar A, Nasee S, Saleem A, Ahmed S, Sardar R (2022) Genetic diversity studies for grain iron and zinc content analysis for Elite rice (Oryza sativa L.) genotype by using SSR markers. J Food Comp Anal. https://doi.org/10.1016/j.jfca.2022.104816
Funding
This research was supported by Higher Education Comission of Pakistan under startup research grant program (Project No. 1932).
Ethics declarations
Conflict of interest
The authors declare that the research was conducted in the absence of any commercial or fifinancial relationships that could be construed as a potential conflflict of interest.
Ethical approval
This article does not contains any study with human participants or animals performed by any of the authors.
Additional information
Publisher's Note
Springer Nature remains neutral with regard to jurisdictional claims in published maps and institutional affiliations.
Rights and permissions
Springer Nature or its licensor holds exclusive rights to this article under a publishing agreement with the author(s) or other rightsholder(s); author self-archiving of the accepted manuscript version of this article is solely governed by the terms of such publishing agreement and applicable law.
About this article
Cite this article
Fazal, U., Ud Din, I., Khan, A.M. et al. Evaluation of agro-morphological traits, seed characterization and genetic diversity of local rice (Oryza sativa L.) varieties of Pakistan. Genet Resour Crop Evol 70, 935–949 (2023). https://doi.org/10.1007/s10722-022-01478-4
Received:

Accepted:

Published:

Issue Date:

DOI: https://doi.org/10.1007/s10722-022-01478-4
Keywords
Genetic diversity

SSR markers

Agro-morphological traits

Oryza sativa