Abstract
Zanthoxylum armatum DC. (Family Rutaceae) is an important species gaining tremendous popularity owing to its multiple uses in diverse medicine systems. The species is harvested from the wild to meet the demand for pharmaceutical and domestic purposes. However, overexploitation of Z. armatum has imposed severe pressure on this species in its natural habitat. Therefore, there is an urgent need of conservation and sustainable utilization of this species. In the present study, population level admixture and genetic variations among 100 individuals collected from 19 distant populations of Z. armatum was investigated using random amplified polymorphic DNA and Inter simple sequence repeats markers. At population level, low genetic diversity (He = 0.298 and 0.346 respectively) was recorded as compared to species level by using both type of markers. Analysis of molecular variance exhibited low among population differences (14 and 11%, respectively) and high intra population variations. The study revealed high genetic differentiation and small gene flow in Z. armatum. Based on the genetic data obtained from this study, we recommend diverse approaches for conservation to efficiently manage this endangered species. To the best of our knowledge, this is the first report on genetic diversity and population genetic structure of Z. armatum from Uttarakhand, a Western Himalayan state of India.
Access options
Buy single article
Instant access to the full article PDF.
USD 39.95
Price excludes VAT (USA)
Tax calculation will be finalised during checkout.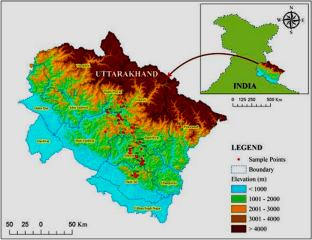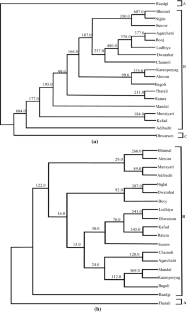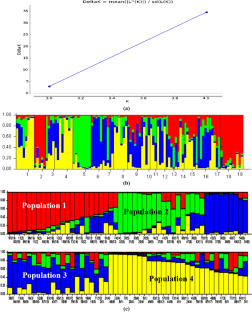 Data availability
All data linked with this MS is available within this Manuscript.
References
Adesina SK (2005) The Nigerian Zanthoxylum: chemical and biological values. Af J Trad Compl Alt Med 2:282–301

Andersan JA (1993) Optimizing parental selection for genetic linkage map. Genome 36: 181–186

Babu CR (1974) The genus Zanthoxylum Linn, (Rutaceae) in India. Bull Bot Surv India 16(1–4): 48–71

Chaaib KF (2004) Investigation Phytochimique d'une Brosse a Dents Africaine Zanthoxylum zanthoxyloides (Lam.) Zepernick et Timler (Syn. Fagara zanthoxyloides L.) (Rutaceae). These de doctorat. Faculte des Sciences del'Université de Lausanne pp. 11–44

Doyle JJ, Doyle JL (1987) A rapid DNA isolation procedure for small quantities of fresh leaf tissue. Phytochem Bull 19:11–15

Earl DA, von Holdt BM (2012) STRUCTURE HARVESTER: a website and program for visualizing STRUCTURE output and implementing the Evanno method. Conser Genet Resour 4(2):359–361. https://doi.org/10.1007/s12686-011-9548-7

Egisdottir HH, Kuss P, Stocklin J (2009) Isolated populations of a rare alpine plant show high genetic diversity and considerable population differentiation. Ann Bot 104:1313–22. https://doi.org/10.1093/aob/mcp242

Esselman EJ, Li JQ, Crawford D, Winduss JL, Wolfe AD (1999) Clonal diversity in the rare Calamagrostis porteri ssp Insperata (Poaceae): comparative results for allozymes and random amplified polymorphic DNA (RAPD) and inter-simple sequence repeat (ISSR) markers. Mol Ecol 8:443–451. https://doi.org/10.1046/j1365-294X199900585x

Evanno G, Regnaut S, Goudet J (2005) Detecting the number of clusters of individuals using the software structure: a simulation study. Mol Ecol 14:2611–2620. https://doi.org/10.1111/j1365-294X200502553x

Felsenstein J (2006) Accuracy of coalescent likelihood estimates: do we need more sites, more sequences, or more loci. Mol Biol Evol 23:691–700. https://doi.org/10.1093/molbev/msj079

Gupta DD, Mandi SS (2013) Species specific AFLP markers for authentication of Zanthoxylum acanthopodium & Zantoxylum oxyphyllum. J Med Plant Stud 1:1–9

Han S, Wang Y, Li J, He C, Zhou Q, Zhao D (2011) ISSR genetic diversity analysis of Zanthoxylum bungeanum in Gansu Province. J Gansu Agricult Univer 46:46–51

Han S, Wang Y, Li M, Li S (2011) Establishment and optimization of ISSR-PCR system in Zanthoxylum bungeanum. J Biol 28:30–33

Holsinger KE, Mason RJ, Whitton J (1999) Genes, demes, and plant conservation. In: Landweber LA, Dobson AP (eds) Genetics and extinction of species. Princeton University Press, Princeton NJ, pp 23–46

Jain N, Srivastava SK, Aggarwal KK, Ramesh S, Kumar S (2001) Essential oil composition of Zanthoxylum alatum seeds from northern India. Flav Frag J J16:408–410

Jugran AK, Bhatt ID, Rawal RS, Nandi SK, Pande V (2013a) Patterns of morphological and genetic diversity of Valeriana jatamansi Jones in different habitats and altitudinal range of West Himalaya, India. Flora 208:13–21

Jugran A, Rawat S, Dauthal P, Mondal S, Bhatt ID, Rawal RS (2013b) Association of ISSR markers with some biochemical traits of Valeriana jatamansi jones. J Ind Crop Prod 44:671–676. https://doi.org/10.1016/jindcrop201209004

Jugran AK, Bhatt ID, Mondal S, Rawal RS, Nandi SK (2015) Genetic diversity of Valeriana jatamansi across habitat types and altitudinal range using nuclear and chloroplast microsatellite markers. Curr Sci 109:1273–1282

Kala CP (2010) Assessment of availability and patterns in collection of Timroo (Zanthoxylum armatum DC): a case study of Uttarakhand Himalaya. Med Plant 2:91–96

Karp A, Kresovich S, Bhat KV, Ayada WG, Hodgkin T (1997) Molecular tools in plant genetic resources conservation: a guide to the technologies IPGRI technical bulletin No. 2. International Plant genetic Resources Institute, Rome, Italy

Lande R (1999) Extinction risks from anthropogenic, ecological, and genetic factors. In: Landweber LA, Dobson AP (eds) Genetics and extinction of species. Princeton University Press, Princeton NJ, pp 1–22

Li WJ, Yang TX (2013) Zanthoxylum bungeanum. Sanqin press, Xian

Li DN, Liu HG, Liu LM, Liu L, Liang S (2009) Nitidine chloride-induced apoptosis of human hepatoma cell SMMC-7721. Med Sci 30:40–43

Li M, Wang P, Sun J, Sun XQ, Cheng P (2013) Establishment and optimization of ISSR-PCR reaction system on Zanthoxylum Dissitum. Guihaia 2:14–17

Maguire T, Sedgley M (1997) Genetic diversity in Banksia and Dryandra (Proteaceae) with emphasis on Banksia cuneata, a rare and endangered species. Heredity 79:394–401

Mahar KS, Ran TS, Ranade SA, Meena B (2011) Genetic variability and population structure in Sapindus emarginatus Vahl from India. Gene 485:32–39. https://doi.org/10.1016/jgene201105036

Medhi K, Purohit BP, Gogoi AJ, Saikia SP, Kanjilal PB, Bhau BS (2009) Molecular marker based genetic diversity analysis of two economically important plants (Zanthoxylum hamiltonianum and Nepenthes khasiana) of North-EastIndia Biodiversity in herbal medicine. IQAC Synod College and Akansha publishing house, New Delhi, pp 47–55

Medhi K, Sarmah DK, Deka M, Bhau BS (2014) High gene flow and genetic diversity in three economically important Zanthoxylum Spp of upper Brahmaputra valley zone of NE India using molecular markers Meta. Gene 2:706–721. https://doi.org/10.1016/jmgene201409009

Meng L, Wang P, Sun J-K, Sun X-Q, Cheng P (2013) Establishment and optimization of ISSR-PCR reaction system on Zanthoxylum dissitum. Guihaia 2:185–190

Negi JS, Bisht VK, Bhandari AK, Bisht R, Negi SK (2012) Major constituents, antioxidant and antibacterial activities of Zanthoxylum armatum DC essential oil. Iran J Pharmacol Therap 11:68–72. https://doi.org/10.1007/s00299-008-0507-z

Patino OJ (2004) Estudio Fitoquímico Parcial de Zanthoxylum quinduensis (Rutaceae). Tesis de grado Departamento de Química, Universidad Nacional de Colombia, Bogota, pp 2–56

Peakall R, Smouse PE (2006) GenALEx 61: genetic analysis in excel: population genetic software for teaching and research. Mol Ecol Note 6:288–295. https://doi.org/10.1093/bioinformatics/bts460

Penner GA, Jauhar PP (1996) RAPD analysis of plant genome In: Jauhar PP (ed), Methods of genome analysis in plant CRC, Boca Raton. pp 251–268

Powell W, Morgante M, Andre C, Hanafey M, Vogel J, Tingey S, Rafalski A (1996) The comparison of RFLP, RAPD AFLP and SSR (microsatellite) markers for germplasm analysis. Mol Breed 2:225–238

Pritchard JK, Stephens M, Donnelly P (2000) Inference of population structure using multi locus genotype data. Genetics 155:945–959

Rawat S, Jugran AK, Bhatt ID, Rawal RS, Nandi SK (2016) Genetic diversity analysis in natural populations of Roscoea procera. Wall from West Himalaya India. Braz J Bot. https://doi.org/10.1007/s40415-016-0260-4

Rawat S, Jugran AK, Bhatt ID, Rawal RS, Nandi SK (2017) Effects of genetic diversity and population structure on phenolic compounds accumulation in Hedychium Spicatum. Ecol Genet Genom 3–5:25–33

Reddy PM, Sarla N, Siddiq EA (2002) Inter simple sequence repeat (ISSR) polymorphism and its application in plant breeding. Euphytica 128:9–17. https://doi.org/10.1023/A:1020691618797

Saitou N, Nei M (1987) The neighbor-joining method: a new method for reconstructing phylogenetic trees. Mol Biol Evol 4:406–425

Song L, Liu YP (2012) Comparative study of HPLC fingerprint between Zanthoxylum bungeanum and Zanthoxylum schinifolium. J Chinese Med Mat 35:39–42

Sun YL, Park WG, Kwon OW, Hong SW (2010) Ribosomal DNA internal transcribed spacer 1, and internal transcribed spacer 2 regions as targets for molecular identification of medically important Zanthoxylum schinifolium. African J Biotechnol 9:4661–4673

Wang X, Hou X, Zhang Y, Yang R, Feng S, LiY Ren Y (2012) Genetic diversity of the endemic and medicinally important plant Rheum officinale as revealed by inter-simple sequence repeat (ISSR) markers. The Int J Mol Sci 13:3900–3915. https://doi.org/10.3390/ijms13033900

Waterman PG, Grundon MF (1983) Chemistry and chemical taxonomy of the rutales. Academic Press, London

Williams JGK, Kubelik AR, Livak KJ, Rafaleski JA, Tingey SV (1990) DNA polymorphisms amplified by arbitrary primers are useful as genetic markers. Nucl Acid Res 18:6531–6535. https://doi.org/10.1093/nar/18226531

Wright S (1951) The Genetical Structure of Populations. Ann Eugen 15:323–354

Yeh FC, Yang RC, Boyle TBJ, Ye ZH, Mao JX (1999) POPGENE: version 132, the user-friendly shareware for population genetic analysis molecular biology and biotechnology centre. University of Alberta, Canada

Yoshida T, Nagai H, Yahara T, Tachida H (2010) Genetic structure and putative selective sweep in the pioneer tree, Zanthoxylum ailanthoides. J Plant Res 123:607–616. https://doi.org/10.1007/s10265-009-0287-8

Young AG, Boyle T, Brown T (1996) The population genetic consequences of habitat fragmentation for plants. Trend Ecol Evol 11:413–419. https://doi.org/10.1016/0169-5347(96)10045-8

Zawko G, Krauss SL, Dixon KW, Sivasithamparam K (2001) Conservation genetics of the rare and endangered Leucopogon obtetus (Ericaceae). Mol Ecol 10:2389–2396

Zeng J (2000) The origin and geographical distribution of Chinese prickly ash. Agriculture History of China 4:68–75

Zhang D, Hartley TG (2008) Zanthoxylum. In: Wu Z, Raven PH (eds) Flora of China, vol 11. Science Press, Beijing, pp 52–63

Zietkiewicz E, Rafalski A, Labuda D (1994) Genome fingerprinting by simple sequence repeat (SSR)-anchored polymerase chain reaction amplification. Genomics 20:176–183. https://doi.org/10.1006/geno19941151
Acknowledgements
The authors are thankful to Dr. Ranbeer S. Rawal, Director, GBPNIHE, Kosi-Katarmal, Almora for facilities and encouragement. Help obtained from the members of BCM & BTA Theme is highly acknowledged.
Funding
This study was supported by UCOST, Dehradun and National Medicinal Plant Board (NMPB), New Delhi (File No. Z.18017/187/CSS/R&D/UK-01/2019-20-NMPB-IV A).
Ethics declarations
Conflict of interest
All authors declare no conflicts of interest in publishing this MS. The authors declare that they have no known competing financial interests or personal relationships that could have appeared to influence the work reported in this paper.
Ethical approval
This MS is the authors' own original work, which has not been previously published elsewhere. The paper is not currently being considered for publication elsewhere. The paper reflects the authors' own research and analysis in a truthful and complete manner.
Additional information
Publisher's Note
Springer Nature remains neutral with regard to jurisdictional claims in published maps and institutional affiliations.
Both Sumit Purohit and Arun K. Jugran shared first co-authorship.
Supplementary Information
Below is the link to the electronic supplementary material.
About this article
Cite this article
Purohit, S., Jugran, A.K., Bhatt, I.D. et al. Genetic variations and population level admixture assessment for conservation planning of endangered Zanthoxylum armatum DC. in Western Himalaya. Genet Resour Crop Evol 69, 1737–1752 (2022). https://doi.org/10.1007/s10722-021-01337-8
Received:

Accepted:

Published:

Issue Date:

DOI: https://doi.org/10.1007/s10722-021-01337-8
Keywords