Abstract
Masson pine (Pinus massoniana Lamb.) is one of the most economically important and widely distributed forest species in China. Understanding the genetic diversity and population structure of masson pine germplasms has crucial significance to effective collection, conservation, and utilization of the resource. In the present study, we explored the characteristics of the genetic diversity (H) and genetic structure between three typical seed orchards in South China and revealed the degree of genetic differentiation between different economic superior traits by 24 EST-SSR molecular markers. All the loci were polymorphic and showed several alleles per locus with a mean of 6 alleles and 168 rare alleles in the population. The mean value of polymorphism information content (PIC) was 0.7011, which indicated that the markers were informative. There were moderate genetic differentiation and genetic diversities (H) among the masson pine subpopulations. Most of the genetic variation existed within the population, and only a small part existed among the populations. However, although the genetic differentiation among populations only accounted for a small part, significant differences in pairwise genetic differentiation in different subpopulations occurred. And the estimated value of the migration coefficient indicated a low gene flow in our populations. STRUCTURE analysis showed 3 clusters grouped similar to the Unweighted Pair Group Method with Arithmetic (UPGMA) clustering and principal coordinates analysis (PCoA). The clusters were neither strictly classified by geographical region nor classified according to the traits, especially for the FG-NN group had a relatively pure structure. These results provided comprehensive information about the collection and protection of these valuable masson pine germplasm resources in southern China.
Access options
Buy single article
Instant access to the full article PDF.
US$ 39.95
Tax calculation will be finalised during checkout.
Subscribe to journal
Immediate online access to all issues from 2019. Subscription will auto renew annually.
US$ 119
Tax calculation will be finalised during checkout.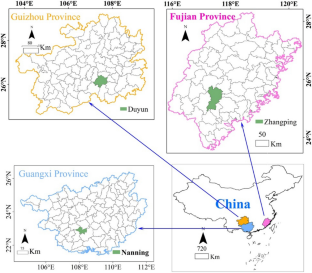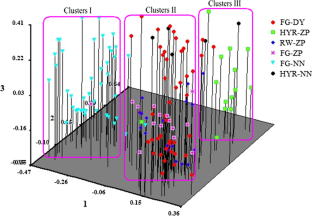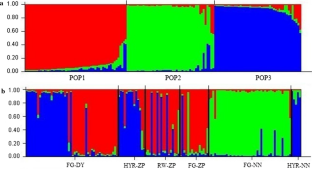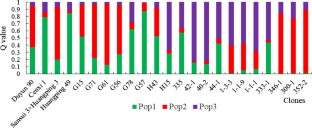 References
Al-Rabab'Ah MA, Williams CG (2002) Population dynamics of Pinus taeda L. based on nuclear microsatellites. For Ecol Manage 163(3):263–271. https://doi.org/10.1016/S0378-1127(01)00584-9

Ali A, Ahmad A, Akhtar K et al (2019) Patterns of biomass, carbon, and soil properties in masson pine (Pinus massoniana Lamb) plantations with different stand ages and management practices. Forests 163(3):263–271. https://doi.org/10.3390/f10080645

Bai TD, Xu LA, Xu M, Wang ZR (2014) Characterization of masson pine (Pinus massoniana Lamb.) microsatellite DNA by 454 genome shotgun sequencing. Tree Genet Genom 10(2):429–437. https://doi.org/10.1007/s11295-013-0684-y

Botstein D, White RL, Skolnick M, Davis RW (1980) Construction of a genetic linkage map in man using restriction fragment length polymorphisms. Am J Hum Genet 32(3):314–331

Boys J, Cherry M, Dayanandan S (2005) Microsatellite analysis reveals genetically distinct populations of red pine (Pinus resinosa, Pinaceae). Am J Bot 92(5):833–841. https://doi.org/10.3732/ajb.92.5.833

Brenner D, Krieg NR, Staley JT, Garrity GM (2005) Volume two the proteobacteria part a introductory essays. Bergey's Manual® Syst Bacteriol. https://doi.org/10.1007/0-387-29298-5

Cabaret T, Boulicaud B, Chatet E, Charrier B (2018) Study of rosin softening point through thermal treatment for a better understanding of maritime pine exudation. Eur J Wood Wood Product 76(5):1453–1459. https://doi.org/10.1007/s00107-018-1339-3

Chen F, Yuan YJ, Yu SL, Zhang TW (2015) Influence of climate warming and resin collection on the growth of Masson pine (Pinus massoniana) in a subtropical forest, southern China. Trees Struct Funct 29:1423–1430. https://doi.org/10.1007/s00468-015-1222-3

Chen W, Cao M, Wang Y et al (2014) 1. A genetic linkage map of Pinus massoniana based on SRAP, SSR and ESTP markers. Silvae Genet 29:1423–1430

Colabella F, Gallo LA, Moreno AC, Marchelli P (2014) Extensive pollen flow in a natural fragmented population of Patagonian cypress Austrocedrus chilensis. Tree Genet Genom 10:1519–1529. https://doi.org/10.1007/s11295-014-0775-4

Cui BW, Fan FH, Ding GJ et al (2016) Development of IRAP markers based on genomic LTR retrotransposon sequences in Masson pine (Pinus massoniana). For Res 29(3):348–353

Dadras AR, Sabouri H, Nejad GM et al (2014) Association analysis, genetic diversity and structure analysis of tobacco based on AFLP markers. Mol Biol Rep 41:3317–3329. https://doi.org/10.1007/s11033-014-3194-6

Dang M, Zhang T, Hu Y et al (2016) De novo assembly and characterization of bud, leaf and flowers transcriptome from juglans regia l. for the identification and characterization of new EST-SSRs. Forests 7:247. https://doi.org/10.3390/f7100247

Dong H, Liu Q, Zhou Z et al (2017) Correlation between heterosis in the growth of progeny and combining ability and genetic distance of the parents for Pinus massoniana. Linye Kexue/Scientia Silvae Sinicae 53(2):65–75. https://doi.org/10.11707/j.1001-7488.20170208

Dzialuk A, Chybicki I, Gout R et al (2014) No reduction in genetic diversity of Swiss stone pine (Pinus cembra L.) in Tatra Mountains despite high fragmentation and small population size. Conserv Genet 15:1433–1445. https://doi.org/10.1007/s10592-014-0628-6

Ellis JR, Burke JM (2007) EST-SSRs as a resource for population genetic analyses. Heredity 99(2):125–132

Fan F, Cui B, Zhang T et al (2014) LTR-retrotransposon activation, IRAP marker development and its potential in genetic diversity assessment of masson pine (Pinus massoniana). Tree Genet Genom 10(1):213–222. https://doi.org/10.1007/s11295-013-0677-x

Feng Y, Li H, Yang Z et al (2017) Construction of second generation breeding population of pinus massoniana in Guangxi. Linye Kexue/Scientia Silvae Sinicae 53(1):54–61. https://doi.org/10.11707/j.1001-7488.20170107

Feng YH, Yang ZQ, Wang J et al (2014) Development and characterization of SSR markers from Pinus massoniana and their transferability to P. elliottii, P. caribaea and P. yunnanensis. Genet Mol Res 13(1):1508–1513. https://doi.org/10.4238/2014.March.12.2

Forsberg NEG, Russell J, Macaulay M et al (2015) Farmers without borders - genetic structuring in century old barley (Hordeum vulgare). Heredity 114:195–206. https://doi.org/10.1038/hdy.2014.83

Gao X, Peng S, Wang W et al (2016) Spatial and temporal distribution characteristics of reference evapotranspiration trends in Karst area: a case study in Guizhou Province, China. Meteorol Atmos Phys 128(5):677–688. https://doi.org/10.1007/s00703-016-0442-4

Ge -MX, Chen -YW-S, Wang (1988) An analysis of population genetic structure of Masson pine by isoenzyme technique. Scientia-Silvae-Sinicae 24(4):399–409

Goudet J (2001) FSTAT, a program to estimate and test gene diversities and fixation indices (version 2.9. 3). Department of Ecology and Evolution, University of Lausanne, Switzerland. Journal of Heredity

Grillo V, Jackson F, Gilleard JS (2006) Characterisation of Teladorsagia circumcincta microsatellites and their development as population genetic markers. Mol Biochem Parasitol 148(2):181–189. https://doi.org/10.1016/j.molbiopara.2006.03.014

Hernandez PA, Graham CH, Master LL, Albert DL (2006) The effect of sample size and species characteristics on performance of different species distribution modeling methods. Ecography 29(5):773–785. https://doi.org/10.1111/j.0906-7590.2006.04700.x

Hu W, Li Y, Han W et al (2018) Meteorological factors and the incidence of mumps in Fujian Province, China, 2005–2013: Non-linear effects. Sci Total Environ 619:1286–1298. https://doi.org/10.1016/j.scitotenv.2017.11.108

Kuang YW, Wen DZ, Zhou GY, Liu SZ (2007) Distribution of elements in needles of Pinus massoniana (Lamb.) was uneven and affected by needle age. Environ Pollut 145(1):146–153. https://doi.org/10.1016/j.envpol.2006.05.033

Labra M, Grassi F, Sgorbati S, Ferrari C (2006) Distribution of genetic variability in southern populations of Scots pine (Pinus sylvestris L.) from the Alps to the Apennines. Flora Morphol Distribut Funct Ecol Plants 201:468–476. https://doi.org/10.1016/j.flora.2005.10.004

Li D, Peng S (2000) [Genetic variation of geographical provenance of Pinus massoniana–review and analysis]. Ying yong sheng tai xue bao = The journal of applied ecology / Zhongguo sheng tai xue xue hui, Zhongguo ke xue yuan Shenyang ying yong sheng tai yan jiu suo zhu ban 11(2):293–296

Li X, Pan Y, Mo Z (2018) Joint effects of several factors on cloud-to-ground lightning and rainfall in Nanning (China). Atmos Res 212:23–32. https://doi.org/10.1016/j.atmosres.2018.05.002

Lim KJ, Paasela T, Harju A et al (2016) Developmental changes in scots pine transcriptome during heartwood formation. Plant Physiol 172(3):1403–1417. https://doi.org/10.1104/pp.16.01082

Liu J, Muse SV (2005) PowerMarker: integrated analysis environment for genetic marker data. Bioinformatics 21(9):2128–2129

Liu QH, Zhou ZC, Fan HH et al (2013) Variation for oleoresin yielding capability and growth among families and early selection for superior families in Pinus massoniana. For Res 26(6):686–691

Liu QH, Xie Y, Liu B et al (2020) A transcriptomic variation map provides insights into the genetic basis of Pinus massoniana Lamb. evolution and the association with oleoresin yield. BMC Plant Biol 20(1). https://doi.org/10.1186/s12870-020-02577-z

Mao JF, Cui B, Bin, Zhang ZY et al (2014) Development of 36 novel polymorphic microsatellites for the critically endangered tree Pinus squamaia, by transcriptome database mining. Conserv Genet Resour 7:93–94

Mei LN, Fan FH, Cui BW, Wen X (2017) Development of SSR molecular markers based on transcriptome sequences and germplasm identification in masson pine (Pinus massoniana). J Agric Biotechnol 25(6):991–1002

Mongelli A, Rodolfi M, Ganino T et al (2015) Italian hop germplasm: characterization of wild Humulus lupulus L. genotypes from Northern Italy by means of phytochemical, morphological traits and multivariate data analysis. Ind Crops Prod 70:16–27. https://doi.org/10.1016/j.indcrop.2015.02.036

Nei M (1972) Genetic Distance between Populations. Am Nat 106(949):283–292. https://doi.org/10.1086/282771

Nybom H (2004) Comparison of different nuclear DNA markers for estimating intraspecific genetic diversity in plants. Mol Ecol. https://doi.org/10.1111/j.1365-294X.2004.02141.x

Peakall R, Ebert D, Scott LJ et al (2003) Comparative genetic study confirms exceptionally low genetic variation in the ancient and endangered relictual conifer, Wollemia nobilis (Araucariaceae). Mol Ecol 12(9):2331–2343. https://doi.org/10.1046/j.1365-294X.2003.01926.x

Peakall R, Smouse PE (2012) GenALEx 6.5: genetic analysis in excel. Population genetic software for teaching and research-an update. Bioinformatics 28(19):2537–2539. https://doi.org/10.1093/bioinformatics/bts460

Peng SL, Li QF, Li D et al (2003) Genetic diversity of Pinus massoniana revealed by RAPD markers. Silvae Genet 52(2):60–63

Pritchard JK, Stephens M, Donnelly P (2000) Inference of population structure using multilocus genotype data. Genetics 155(2):945–959

Qin GF (2002) Geographical origin and evolution of masson pine. For Res 15:406–412

Rana JC, Chahota RK, Sharma V et al (2015) Genetic diversity and structure of Pyrus accessions of Indian Himalayan region based on morphological and SSR markers. Tree Genetics Genomes 11(1):821. https://doi.org/10.1007/s11295-014-0821-2

Rodrigues-Corrêa KC, da S, de Lima, Fett-Neto JC AG (2012) Pine oleoresin: Tapping green chemicals, biofuels, food protection, and carbon sequestration from multipurpose trees. Food Energy Sec 1:81–93. https://doi.org/10.1002/fes3.13

Rong WC, Zhou ZC (1989) A study on genetic variation among masson pine natural population ion by isozyme distributions in Daiyun mountain area of Fujian province. For Res 2(6):556–581

Shen Y, Cheng Y, Li K, Li H (2019) Integrating phylogeographic analysis and geospatial methods to infer historical dispersal routes and glacial refugia of Liriodendron chinense. Forests 10(7):565. https://doi.org/10.3390/f10070565

Shiferaw E, Pè ME, Porceddu E, Ponnaiah M (2012) Exploring the genetic diversity of Ethiopian grass pea (Lathyrus sativus L.) using EST-SSR markers. Mol Breed 30(2):789. https://doi.org/10.1007/s11032-011-9662-y

Smith DN, Devey ME (1994) Occurrence and inheritance of microsatellites in Pinus radiata. Genome 37:977–983. https://doi.org/10.1139/g94-138

Solouki M, Mehdikhani H, Zeinali H, Emamjomeh AA (2008) Study of genetic diversity in Chamomile (Matricaria chamomilla) based on morphological traits and molecular markers. Sci Hortic 117:281–287. https://doi.org/10.1016/j.scienta.2008.03.029

Tang S, Dai W, Li M et al (2008) Genetic diversity of relictual and endangered plant Abies ziyuanensis (Pinaceae) revealed by AFLP and SSR markers. Genetica 133:21–30. https://doi.org/10.1007/s10709-007-9178-x

Vásquez-Mayorga M, Fuchs EJ, Hernández EJ et al (2017) Molecular characterization and genetic diversity of Jatropha curcas L. Costa Rica PeerJ 5:e2931. https://doi.org/10.7717/peerj.2931

Westbrook JW, Resende MFR, Munoz P et al (2013) Association genetics of oleoresin flow in loblolly pine: discovering genes and predicting phenotype for improved resistance to bark beetles and bioenergy potential. New Phytol 199(1):89–100. https://doi.org/10.1111/nph.12240

White TL, Huber DA, Powell GL (2003) Third-cycle breeding strategy for slash pine by the cooperative forest genetics research program. Silvae Genetica 42(6):359–371

Wilkins AP, Stamp CM (1990) Relationship between wood colour, silvicultural treatment and rate of growth in Eucalyptus grandis Hill (Maiden). Wood Sci Technol 24(4):297–304. https://doi.org/10.1007/BF00227050

Wright S (1978) Variability within and among natural populations. In: Evolution and the genetics of populations, vol 4. Univ Chicago Press, Chicago

Wu D (1999) Investigations on the natural distribution of red heart-wood pinus massoniana in zhangping, Fujian. J Fujian For Sci Tech 26(1):70–73. https://doi.org/10.13428/j.cnki.fjlk.1999.01.017

Wu K, Liu H, Yang M et al (2014) High-density genetic map construction and QTLs analysis of grain yield-related traits in Sesame (Sesamum indicum L.) based on RAD-Seq techonology. BMC Plant Biol 14. https://doi.org/10.1186/s12870-014-0274-7

Yan Y, Dai Q, Yuan Y et al (2018) Effects of rainfall intensity on runoff and sediment yields on bare slopes in a karst area, SW China. Geoderma 330:30–40. https://doi.org/10.1016/J.GEODERMA.2018.05.026

Zhang Y, Yang Q, Zhou Z, Jin G (2013) Divergence among Masson pine parents revealed by geographical origins and SSR markers and their relationships with progeny performance. New For 44(3):341–355. https://doi.org/10.1007/s11056-012-9340-x

Zhao H (2013) Genetic structure analysis of natural populations of Pinus bungeana in different geographical regions. J Plant Genet Resour 3:395–401
Acknowledgements
The project was supported by grants from the National Key R&D Plan, P. R. China (2017YFD060030304), the Innovation Talent Program of Guizhou Province, P. R. China (2016–4010), as well as the Postgraduate Research Project of Guizhou Province (YJSCXJH 2018-048).
Ethics declarations
Conflict of interest
The authors declare that there are no conflicts of interest. All the authors read and approved the manuscript in its final form.
Additional information
Publisher's note
Springer Nature remains neutral with regard to jurisdictional claims in published maps and institutional affiliations.
Supplementary information
Below is the link to the electronic supplementary material.
About this article
Cite this article
Mei, L., Wen, X., Fan, F. et al. Genetic diversity and population structure of masson pine (Pinus massoniana Lamb.) superior clones in South China as revealed by EST-SSR markers. Genet Resour Crop Evol 68, 1987–2002 (2021). https://doi.org/10.1007/s10722-021-01112-9
Received:

Accepted:

Published:

Issue Date:
Keywords
Pinus massoniana

Genetic diversity

Genetic structure

EST-SSR

Seed orchard

Economic superior traits