Abstract
Ethiopia is at the edge of the distribution for African wild rice, Oryza longistaminata. Here, chloroplast (cp) and simple sequence repeat (SSR) markers were applied to wild rice accessions in Ethiopia to evaluate how they differ from control O. longistaminata, O. barthii and O. glaberrima accessions which originated from African countries. Based on the cp genomes of African wild rice species, maternally inherited cpINDEL markers were developed. The cp indels helped to elucidate 20 plastid types. African cultivated rice shared a particular plastid type with one of annual O. barthii. Parts of northern wild rice in Ethiopia shared Type 6 with control O. longistaminata. The north group shared another type with parts of the south group. The 16 SSR markers amplified a total of 155 alleles in 215 rice accessions, with mean allelic richness of 9.688 per locus, observed heterozygosity of 0.241, expected heterozygosity of 0.724, polymorphic information content of 0.700, and a significant genetic differentiation of 0.215. Both cpINDEL and nuclear markers analyses suggested that wild rice in Ethiopia belongs to O. longistaminata. However, they carry both a unique plastid type and different population structure from control O. longistaminata collected from other areas in Africa. We concluded that the edge of its distribution maintains unique variation. These populations are regarded as valuable genetic resources for future rice breeding.
Access options
Buy single article
Instant access to the full article PDF.
US$ 39.95
Tax calculation will be finalised during checkout.
Subscribe to journal
Immediate online access to all issues from 2019. Subscription will auto renew annually.
US$ 119
Tax calculation will be finalised during checkout.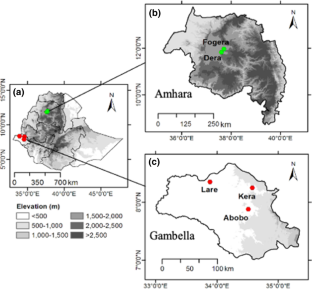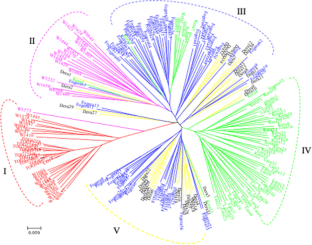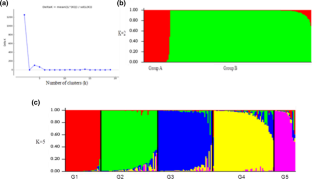 References
Chen J, Dellaporta S (1993) Urea-based plant DNA miniprep. In: Freeling M, Walbot V (eds) The maize hand book. Springer, New York, pp 526–527

Dadi T, Engels JMM (1986) Exploration and collection of wild rice in Ethiopia. PGRC/E-ILCA. Germplasm Newsletter. https://www.researchgate.net/publication/256311731

Dangia M, Dara PK (2020) Analysis of climate variability and adaptive strategies of rural household: the case of Abobo district and Itang special districts, Gambella Region State, Ethiopia. Asian J Agric Extension Econ Sociol 38(4):82–93

Degife AW, Zabel F, Mauser W (2018) Assessing land use and land cover changes and agricultural farmland expansions in Gambella Region, Ethiopia, using Landsat 5 and Sentinel 2a multispectral data. Heliyon 4:e00919. https://doi.org/10.1016/j.heliyon.2018.e00919

Dika G (2018) Impacts of climate variability and households adaptation strategies in Lare district of Gambella Region, South Western Ethiopia. J Earth Sci Clim Change 9:480. https://doi.org/10.4172/2157-7617.1000480

Evanno G, Regnaut S, Goudet J (2005) Detecting the number of clusters of individuals using the software STRUCTURE: a simulation study. Mol Ecol 14:2611–2620

Ferris KG, Barnett LL, Blackman BK, Willis JH (2017) The genetic archi-tecture of local adaptation and reproductive isolation in sympatry within the Mimulus guttatus species complex. Mol Ecol 26(1):208–224

Fuchs EJ, Martinez AM, Calvo A, Munoz M, Arrieta-Espinoza G (2016) Genetic diversity in O. glumaepatula wild rice populations in Costa Rica and possible gene flow from O. sativa. PeerJ 4:e1875. https://doi.org/10.7717/peerj.1875

Getahun M (2015) Characterization of agricultural soils in CASCAPE Intervention Woredas of Amhara region. Bahir Dar University-CASCAPE working paper 12, p 90

Girma G, Kassahun T, Endashaw B (2010) Inter simple sequence repeat (ISSR) analysis of wild and cultivated rice species from Ethiopia. Afr J Biotechnol 32:5048–5059

Hao Y, Akimoto M, Kaewcheenchai R, Sotowa M, Ishii T, Ishikawa R (2015) Inconsistent diversities between nuclear and plastid genomes of AA genome species in the genus Oryza. Genes Genet Syst 90:269–281

Huang L, Du YS, Zheng XM, Liu R, Zhou HF, Ge S (2013) Nucleotide diversity of 11S seed storage protein gene and its implications for ecological adaptation of Oryza nivara. J Syst Evol 51(6):641–651

Jena KK (2010) The species of the genus Oryza and transfer of useful genes from wild species into cultivated rice O. sativa. Breed Sci 60:518–523

Kaewcheenchai R, Promnart U, Soontrajarn K, Chotechuen S, Chitrakon S, Yuki H, Saito S, Sato YI, Ishikawa R (2018) Diverse genetic variation in maternal lineages with high heterogeneity among in situ-conserved wild rice (O. rufipogon Griff.) developed in Thailand. Breed Sci 68(5):614–621

Khush GS, Esperanza B, Ogawa T (1990) A new gene for resistance to bacterial blight from O. longistaminata. In: Oka HI, Khush B (eds) Rice genetics newsletters 7. IRRI, Manila, pp 121–122

Kiambi DK, Newbury HJ, Ford-Lloyd BV, Dawson I (2005) Contrasting genetic diversity among O. longistaminata (A. Chev et Roehr) populations from different geographic origins using AFLP. Afr J Biotechnol 4(4):308–317

Kiambi DK, Newbury HJ, Maxted N, Ford-Lloyd BV (2008) Molecular genetic variation in the African wild rice Oryza longistaminata A. Chev. et Roehr. and its association with environmental variables. Afr J Biotechnol 7(10):1446–1460

Kumar S, Stecher G, Tamura K (2016) MEGA7: molecular evolutionary genetics analysis version 7.0 for bigger datasets. Mol Biol Evol 33(7):1870–1874

Kwon SJ, Lee JK, Hong SW, Park YJ, McNally KL, Kim NS (2006) Genetic diversity and phylogenetic relationship in AA Oryza species as revealed by Rim2/Hipa CACTA transposon display. Genes Genet Syst 81:93–101

Lam DT, Buu BC, Lang NT, Toriyama K, Nakamura I, Ishikawa R (2019) Genetic diversity among perennial wild rice Oryza rufipogon Griff., in the Mekong Delta. Ecol Evol. https://doi.org/10.1002/ece3.4978

Linares FO (2002) African rice (O. glaberrima): history and future potential. PNAS 99(25):16360–16365

Liu K, Muse SV (2005) Power marker: an integrated analysis environment for genetic marker analysis. Bioinformatics 21(9):2128–2129

Liu R, Zheng XM, Zhou L, Zhou HF, Ge S (2015) Population genetic structure of Oryza rufipogon and Oryza nivara: implications for the origin of O. nivara. Mol Ecol 24(20):5211–5228

McCouch SR, Teytelman L, Xu Y, Lobos KB, Clare K, Walton M, Fu B, Maghirang R, Li Z, Xing Y et al (2002) Development and mapping of 2240 new SSR markers for rice (Oryza sativa L.). DNA Res 9:199–207

Melaku G, Feyissa T, Haileselassie T, Kiboi S (2013) Genetic diversity of the African wild rice (O. longistaminata Chev. et Roehr) from Ethiopia as revealed by SSR markers. Genet Resour Crop Evol 60:1047–1056

Melaku G, Zhang S, Haileselassie T (2018) Comparative evaluation of rice SSR markers on different Oryza species. J Rice Res Dev 1(1):38–48

Melaku G, Liyu H, Shilai Z, Guangfu H, Jing Z, Tesfaye K, Haileselassie T, Fengyi H (2020) Genetic relatedness among Ethiopian Oryza longistaminata populations and other AA genome Oryza species. Plant Growth Regul 91:175–183

Ndjiondjop MN, Wambugu P, Dro T, Mufumbo R, Sangare J, Karlin G (2018) O. longistaminata A.Chev. and Rohr. In: Mondal T, Rober H (eds) The wild Oryza genomes, compendium of plant genomes, Switzerland, pp 165–176

Nei M (1978) Estimation of average heterozygosity and genetic distance from a small number of individuals. Genetics 89(3):583–590

Nonomura KI, Morishima H, Miyabayashi T, Yamaki S, Eiguchi M, Kubo T, Kurata N (2010) The wild Oryza collection in National BioResource Project (NBRP) of Japan: history, biodiversity and utility. Breed Sci 60:502–508

Oka HI (1988) Origin of cultivated rice. Japan Scientific Societies Press, Tokyo, p 254

Orn C, Shishido R, Akimoto M, Ishikawa R, Htun TM, Nonomura KI, KoideY SM, Vang S, Sophoany S, Ishii T (2015) Evaluation of genetic variation among wild rice populations in Cambodia. Breed Sci 65:430–437

Park KC, Kim NH, Cho YS, Kang KH, Lee JK, Kim NS (2003) Genetic variations of AA genome Oryza species measured by MITE-AFLP. Theor Appl Genet 107:203–209

Peakall R, Smouse PE (2012) GenAlEx 6.5: genetic analysis in excel. Population genetics software for teaching and research-an update. Bioinformatics 28(19):2537–2539

Pritchard JK, Stephens M, Donnelly P (2000) Inference of population structure using multi-locus genotype data. Genetics 155(2):945–959

Reuscher S, Tomoyuki F, Kanako BU, Michele C, Kshirod KJ, Atsushi T, Asao F, Nori K, Motoyuki A (2018) Assembling the genome of the African wild rice Oryza longistaminata by exploiting synteny in closely related Oryza species. Commun Biol 1:162. https://doi.org/10.1038/s42003-018-0171-y

Sanchez PL, Wing RA, Brar DS (2014) The wild relative of rice: genomes and genomics. In: Zhang Q, Wing RA (eds) Genetics and genomics of rice, New York, pp 2–25

Sandamal S, Tennakoon A, Meng QL, Marambe B, Ratnasekera D, Melo A, Ge S (2018) Population genetics and evolutionary history of the wild rice species O. rufipogon and O. nivara in Sri Lanka. Ecol Evol 8:12056–12065

Sharma SD (1983) Conservation of wild species of Oryza. In: IRRI Rice germplasm conservation workshop IRRI-IBPGR, Philippines, pp 21–25

Sotowa M, Ootsuka K, Kobayashi Y, Hao Y, Tanaka K, Ichitani K, Flowers JM, Purugganan MD, Nakamura I, Sato Y-I et al (2013) Molecular relationships between Australian annual wild rice, Oryza meridionalis, and two related perennial forms. Rice (N Y) 6:26

Sow M, Ndjiondjop MN, Amir S, Cédric M, Mark L, Gilles B (2013) Genetic diversity, population structure and differentiation of rice species from Niger and their potential for rice genetic resources conservation and enhancement. Genet Resour Crop Evol 61:199–213. https://doi.org/10.1007/s10722-013-0026-9

Tadesse TF, Dechassa NR, Bayu W, Gebeyehu S (2013) Impact of rainwater management on growth and yield of rainfed lowland rice. Wudpecker J Agric Res 2(4):108–114

Temnykh S, Park WD, Ayres N, Cartinhour S, Hauck N, Lipovich L, Cho YG, Ishii T, McCouch SR (2000) Mapping and genome organization of microsatellite sequences in rice (Oryza sativa L.). Theor Appl Genet 100:697–712

Thomas E, Tovar E, Villafane C, Leonardo JB, Rodrigo M (2017) Distribution, genetic diversity and potential spatiotemporal scale of alien gene flow in crop wild relatives of rice in Colombia. Rice 10(13):1–16

Vaughan DA (1994) The wild relative of rice. A genetic resources handbook. IRRI, Philippines, pp 1–137

Veltman MA, Flowers JM, van Andel TR, Schranz ME (2019) Origins and geographic diversification of African rice (Oryza glaberrima). PLoS ONE 14(3):e0203508. https://doi.org/10.1371/journal.pone.0203508

Wambugu PW, Furtado A, Waters DLE, Nyamongo DO, Henry RJ (2013) Conservation and utilization of African Oryza genetic resources. Rice 6:26. https://doi.org/10.1186/1939-8433-6-29

Wang YP, Bounphanousay C, Kanyavong K, Nakamura I, Sato Y-I, Sato T, Zhang H-S, Tang L-H, Ishikawa R (2012) Population structural analysis of an in situ conservation site for wild rice in Laos Genes. Genet Syst 87:311–322

Waters D, Nock CJ, Ishikawa R, Rice N, Henry RJ (2012) Chloroplast genome sequence confirms distinctness of Australian and Asian wild rice. Ecol Evol 2:211–217
Acknowledgements
This research was supported by the Japan International Cooperation Agency (JICA) through the EthioRice Project. This work was funded by a Grant-in-aid B (Overseas project, No. 16H05777), partly by a Grant-in-Aid for Scientific Research on Innovative Areas (15H05968), partly by a Grant-in-Aid for Scientific Research on Innovative Areas (19H00542), and partly by a Grant-in-Aid for Scientific Research on Innovative Areas (19H00549). The valuable Core collections of O. longistaminata and O. barthii used as controls in this study were provided by the National Institute of Agrobiological Sciences (NIAS), Japan. Wild rice accessions from Ethiopia were collected with kind cooperation of research technicians at the Gambella and Fogera research centers.
Ethics declarations
Conflict of interest
The authors declare no conflicts of interest.
Additional information
Publisher's Note
Springer Nature remains neutral with regard to jurisdictional claims in published maps and institutional affiliations.
Electronic supplementary material
Below is the link to the electronic supplementary material.
About this article
Cite this article
Lakew, T., Tanaka, K. & Ishikawa, R. Genetic diversity of African wild rice (Oryza longistaminata Chev. et Roehr) at the edge of its distribution. Genet Resour Crop Evol 68, 1769–1784 (2021). https://doi.org/10.1007/s10722-020-01080-6
Received:

Accepted:

Published:

Issue Date:
Keywords
Chloroplast

Oryza longistaminata

Ethiopian wild rice

Diversity