Abstract
Understanding the genetic diversity of various rice (Oryza sativa L.) cultivars cultivated over time in China is of great significance for the selection of parent materials for targeted rice breeding and the cultivation of new desirable varieties. In this study, 36 pairs of SSR markers were used to compare and analyze the genetic diversity of 1610 rice varieties bred in China from the 1980s to the 2010s. A total of 1568 allelic mutations were detected, with each locus varying having from 16 to 115, with an average of 44 per marker. The average gene diversity index and the polymorphism information content (PIC) of each locus were 0.8403 and 0.8243, respectively. The genetic diversity parameter values of japonica (Oryza sativa L. subsp. japonica Kato) rice varieties were higher than those of indica (Oryza sativa L. subsp. indica Kato) varieties. Over time, original unique alleles are lost, and new unique alleles are added. The total number of alleles, the number of unique alleles, and the number of varieties with unique alleles tend to increase over decades of breeding. In all ages, indica rice contained the largest number of unique alleles (19) in the 2000s, and japonica rice contained the largest number of unique alleles (11) in the 2010s. The trends of gene diversity index and PIC values increased first and then decreased. Gene diversity indices and PIC for indica rice reached their maximums (0.698 and 0.664 respectively) in the 1990s and japonica rice reached its highest values for these diversity metrics (0.791 and 0.766 respectively) in the 2000s. Analysis of molecular variance showed that genetic variation was primarily derived from differences of varieties that were bred during a given period. Most of the pair-wise Fst comparisons between different periods were at a statistically significant level. Cluster analysis shows distinctions in the genetic relationship of varieties bred in the twentieth century and the twenty-first century, but the genetic relationship between the varieties is relatively close when comparing within the twentieth or twenty-firs century, respectively. Our study will provide a scientific basis for the effective protection and efficient use of rice germplasm resources.
Access options
Buy single article
Instant access to the full article PDF.
US$ 39.95
Tax calculation will be finalised during checkout.
Subscribe to journal
Immediate online access to all issues from 2019. Subscription will auto renew annually.
US$ 119
Tax calculation will be finalised during checkout.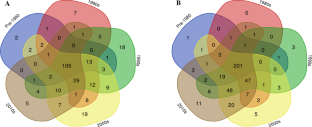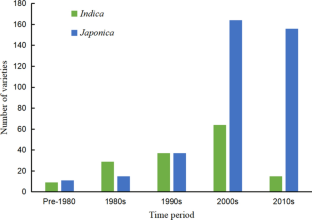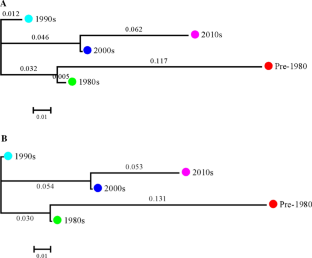 References
Cao Y, You S, Jiang K, Zhang T, Yang L, Yang Q, Guo X, Qin J, Wan X, Luo J, Li Z, Gao L, Zheng J (2017) Genetic diversity analysis of core rice restorer lines of China and south Asia and southeast Asia based on yield loci related markers. J Plant Genet Resour 18:396–403

Cheng S, Hu P (2008) Development strategy of rice science and technology in China. Chin J Rice Sci 22:223–226

Choudhary G, Ranjitkumar N, Surapaneni M, Deborah DA, Vipparla A, Anuradha G, Siddiq EA, Vemireddy LR (2013) Molecular genetic diversity of major Indian rice cultivars over decadal periods. PLoS ONE 8:e66197

Clerc VL, Bazante F, Baril C, Guiard J, Zhang D (2005) Assessing temporal changes in genetic diversity of maize varieties using microsatellite markers. Theor Appl Genet 110:294–302

Cui D, Li J, Tang C, Xinxiang A, Yu T, Ma X, Zhang E, Cao G, Xu F, Qiao Y, Dai L, Han L (2016) Diachronic analysis of genetic diversity in rice landraces under on-farm conservation in Yunnan, China. Theor Appl Genet 129:155–168

Das B, Sengupta S, Parida SK, Roy B, Ghosh M, Prasad M, Ghose TK (2013) Genetic diversity and population structure of rice landraces from eastern and north eastern states of India. BMC Genet 14:71

Donini P, Law JR, Koebner RM, Reeves JC, Cooke RJ (2000) Temporal trends in the diversity of UK wheat. Theor Appl Genet 100:912–917

Doyle JJ, Dickson EE (1987) Preservation of plant samples for DNA restriction endonuclease analysis. Taxon 36:715–722

Fan WQ, Gai HM, Sun X, Yang AG, Zhang ZF, Ren M (2016) DataFormater, a software for SSR data formatting to develop population genetics analysis. Mol Plant Breed 14:265–270

Fu Y (2006) Impact of plant breeding on genetic diversity of agricultural crops: searching for molecular evidence. Plant Genet Resour 4:71–78

Gehan EA (1965) A generalized Wilcoxon test for comparing arbitrarily singly-censored samples. Biometrika 52:203–223

Henkrar F, Elhaddoury J, Ouabbou H, Nsarellah N, Iraqi D, Bendaou N, Udupa SM (2015) Genetic diversity and its temporal changes in improved bread wheat cultivars of Morocco. Roman Agric Res 32:19–25

Khlestkina EK, Huang X, Quenum FJ, Quenum FJB, Chebotar SV, Roder MS, Borner A (2004) Genetic diversity in cultivated plants-closs or stability? Theor Appl Genet 108:1466–1472

Kumbhar SD, Kulwal PL, Patil JV, Sarawate CD, Gaikwad AP, Jadhav AS (2015) Genetic diversity and population structure in landraces and improved rice varieties from India. Rice Sci 22:99–107

Li JR, Hsieh YP (2004) Traditional Chinese food technology and cuisine. Asia-Pac J Clin Oncol 13:147–155

Li HY, Hou YM, Chen YH, Xu ZJ, Chen WF, Zhao MH, Ma DR, Xu H, Wang JY (2009) Evaluation on genetic diversity of the commercial rice varieties in northeast China by microsatellite markers. Chin J Rice Sci 23:383–390

Liu K, Muse SV (2005) PowerMarker: an integrated analysis environment for genetic marker analysis. Bioinformatics 21:2128–2129

Liu CG, Zhang GQ (2010) SSR analysis of genetic diversity and the temporal trends of major commercial inbred indica rice cultivars in south China in 1949–2005. Acta Agrono Sin 36:1843–1852

Liu D, Li HY, Sun J, Xu ZJ (2011) Evaluation on genome structure in different periods northeast China rice (Oryza sativa L.var. japonica) by SSR marker. Heilongjiang Agric Sci 7:1–6

Ma J, Sun JC, Wang XS, Yang SL (2011) Genetic diversity and genetic relationship of inbred japonica rice varieties in Ningxia. Acta Bot Boreali-Occidentalia Sin 31:929–934

Malyshevaotto L, Ganal MW, Law JR, Reeves JC, Rode MS (2007) Temporal trends of genetic diversity in European barley cultivars (Hordeum vulgare L.). Mol Breed 20:309–322

Nachimuthu VV, Muthurajan R, Duraialaguraja S et al (2015) Analysis of population structure and genetic diversity in rice germplasm using SSR markers: an initiative towards association mapping of agronomic traits in Oryza sativa. Rice 8:30–30

Peakall R, Smouse PE (2012) GenAlEx 6.5: genetic analysis in Excel. Population genetic software for teaching and research—an update. Bioinformatics 28:2537–2539

Qi YW, Zhang DL, Zhang HL, Wang MX, Sun JL, Liao DF, Wei XH, Qiu ZE, Tang SX, Cao YS, Li ZC (2006) Genetic diversity of rice breeds in China and their trends in the past 50 Years. Chin Sci Bull 51:693–699

Roy CD, Singh N, Singh AK, Kumar S, Srinivasan K, Tyagi RK, Ahmad A, Singh NK, Singh R (2014) Analysis of genetic diversity and population structure of rice germplasm from north-eastern region of India and development of a core germplasm set. PLoS ONE 9:e113094

Roy S, Marndi BC, Mawkhlieng B, Banerjee A, Yadav RM, Misra AK, Bansal KC (2016) Genetic diversity and structure in hill rice (Oryza sativa L.) landraces from the north-eastern Himalayas of India. BMC Genet 17: Article ID107

Salgotra RK, Gupta BB, Bhat JA, Sharma S (2015) Genetic diversity and population structure of basmati rice (Oryza sativa L.) germplasm collected from north western Himalayas using trait linked SSR markers. PLoS ONE 10:e0131858

Singh NK, Choudhury DR, Tiwari G, Singh AK, Kumar S, Srinivasan K, Tyagi RK, Sharma AD, Singh NK, Singh R (2016) Genetic diversity trend in Indian rice varieties: an analysis using SSR markers. BMC Genet 17:127

Sun J, Cao G, Ma J, Chen Y, Han L (2012) Comparative genetic structure within single-origin pairs of rice (Oryza sativa L.) landraces from in situ and ex situ conservation programs in Yunnan of China using microsatellite markers. Genet Resour Crop Evol 59:1611–1623

Tamura K, Stecher G, Peterson D, Filipski A, Kumar S (2013) MEGA6: molecular evolutionary genetics analysis Version 6.0. Mol Biol Evol 30:2725–2729

Tang Z, Yang J, Wang X, Cai K, Li X (2012) Temporal change in diversity of grain quality traits in major conventional rice varieties in Guangdong province, China. Chin J Rice Sci 26:669–676

Wang Y, Wang Y, Sun X, Caiji Z, Yang J, Cui D, Cao G, Ma X, Han B, Xue D, Han L (2016) Influence of ethnic traditional cultures on genetic diversity of rice landraces under on-farm conservation in southwest China. J Ethnobiol Ethnomed 12: Article ID 51

Xu DY, Zhong H, Zhou F, Chen TM, Chi M, Li J, Wan JM (2011) Genetic diversity of mid-ripen japonica varieties III. comparison of variety diversity in different breeding periods with SSR markers. Acta Agric Zhejiangensis 23:8–14

Yan H, Dong C, Zhang E, Tang C, XX A, Yang WY, Yang YY, Zhang FF, Xu FR (2012) Analysis of genetic variation in rice paddy landraces across 30 years as revealed by microsatellite DNA markers. Hereditas 34:89–96

Yong-Bi F, Gregory WP, Graham S, Brian R, Daniel JS, Ken WR (2003) Allelic diversity changes in 96 Canadian oat cultivars released from 1886 to 2001. Crop Sci 43:1989–1995

Yuan X, Wei X, Hua L, Yu H, Wang Y, Xu Q, Tang S (2007) A comparative study of SSR diversity in Chinese major rice varieties planted in 1950s and in the recent ten years (1995–2004). Rice Sci 14:78–84

Zhang LN, Cao GL, Han LZ (2012) Analysis of genetic diversity of japonica rice landrace in China with microsatellite marker. Sci Agric Sin 45:405–413

Zhao Y, Li Z, Lu H, Ni S, Zhang Z, Li X, Mao T, Zhang L, Liu Y (2014) Evolution and genetic diversity of rice founder parents in Liaoning province. J Henan Agric Sci 43:28–33

Zou J, Lv C (2005) Practice and thinking on rice breeding for high yield. Acta Agron Sin 31:254–258
Acknowledgements
This work was supported by the National Key Research and Development Program of China (2016YFD0100301, 2016YFD0100101), the National Natural Science Foundation of China (31671664), the National Natural Sciences Foundation(31670326), Technology Innovation and Application Development Program in Chongqing (cstc2019jscx-msxmX0353), CAAS Science and Technology Innovation Program, National Infrastructure for Crop Germplasm Resources (NICGR2018-01), Protective Program of Crop Germplasm of China (2018NWB036-01, 2018NWB036-122).
Ethics declarations
Conflict of interest
The authors declare that they have no conflict of interest.
Ethical approval
This article does not contain any studies with human participants or animals performed by any of the authors.
Additional information
Publisher's Note
Springer Nature remains neutral with regard to jurisdictional claims in published maps and institutional affiliations.
Electronic supplementary material
Below is the link to the electronic supplementary material.
About this article
Cite this article
Tang, R., Cui, D., Zhou, J. et al. Comparative analysis of genetic diversity of rice (Oryza sativa L.) varieties cultivated in different periods in China. Genet Resour Crop Evol (2021). https://doi.org/10.1007/s10722-020-01073-5
Received:

Accepted:

Published:
Keywords
Rice

SSR marker

Different years

Genetic diversity