Abstract
The Coffea genus includes about 124 species, of which Coffea arabica L. and Coffea canephora Pierre ex A. Froehner are the most commercially important, supplying 63 and 37% of the world coffee production, respectively. C. arabica L. is associated with better cup quality, but presents serious problems with pests and diseases, potentiated by climate change. The development of new varieties of C. arabica L. requires the inclusion of genetic diversity, looking for incorporating new genes to tolerate or resist the most important pests and diseases, maintaining or improving yield and cup quality of the new materials. The technology of diversity arrays based on sequencing (DArTseq™) allows the rapid identification of the single nucleotide polymorphism (SNP) for a genomic approach of genetic diversity. The objectives of the present study were: (1) to evaluate the diversity and genetic structure of a central coffee collection of the Mexican National Bank of Coffee Germplasm; (2) assess the reproducibility and error rates of the markers and their broad representation in the genome and (3) to propose a new collection with representative and divergent promising genotypes for stablishing a coffee breeding program in Mexico. 87 coffee accessions of three different species of the Coffea genus were sequenced and 16,995 SNP markers were derived from 34,000 unique sequences obtained by the DArTseq™ method. After removing the markers with more than 10% of missing data and the MAF < 5%, we end up with 1739 polymorphic SNP markers for the analysis. A dendrogram was generated which divided the accessions into five divergent groups where promising genotypes were identified. In conclusion, there is genetic diversity among the accessions of Coffea spp. for use in future breeding programs.
Access options
Buy single article
Instant access to the full article PDF.
USD 39.95
Price includes VAT (USA)
Tax calculation will be finalised during checkout.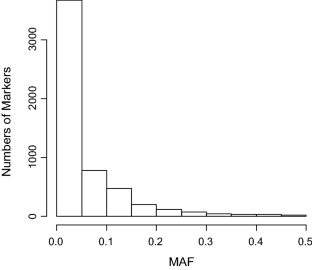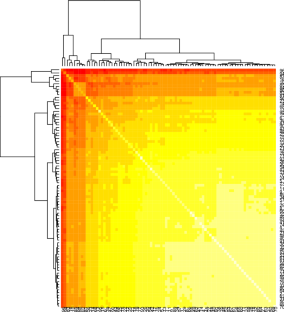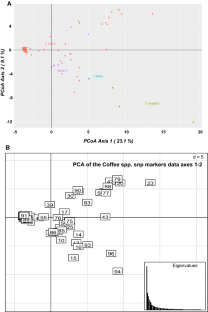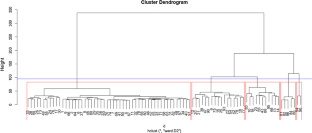 References
Akbari M, Wenzl P, Caig V, Carling J, Xia L, Yang S et al (2006) Diversity arrays technology (DArT) for highthroughput profiling of the hexaploid wheat genome. Theor Appl Genet 113(8):1409–1420. https://doi.org/10.1007/s00122-006-0365-4

Anagbogu CF, Bhattacharjee R, Ilori C et al (2019) Genetic diversity and re-classification of coffee (Coffea canephora Pierre ex A. Froehner) from South Western Nigeria through genotyping-by-sequencing-single nucleotide polymorphism analysis. Genet Resour Crop Evol 66:685. https://doi.org/10.1007/s10722-019-00744-2

Avelino J, Cristancho M, Georgiou S, Imbach P, Aguilar L, Bomemann G, Läderach P, Anzueto F, Hruska AJ, Morales C (2015) The coffee rust crises in Colombia and Central America (2008–2013): impacts, plausible causes and proposed solution. Food Secur 7:313–321

Berdugo-Cely J, Valbuena RI, Sánchez BE, Barrero LS, Yockteng R (2017) Genetic diversity and association mapping in the Colombian Central Collection of Solanum tuberosum L. Andigenum group using SNPs markers. PLoS ONE 12(3):e0173039. https://doi.org/10.1371/journal.pone.0173039

Bikila BA, Sakiyama NS, Caixeta ET (2017) SNPs based molecular diversity of Coffea canephora. J Microbiol Exp 5(1):00136. https://doi.org/10.15406/jmen.2017.05.00136

Carvalho A, Krug CA (1949) Agentes de polinização da flor do cafeeiro (Coffea arabica L.). Bragantia 9(4):11–24. https://doi.org/10.1590/S0006-87051949000100002

Crossa J, de los Campos G, Pérez-Rodríguez P, Gianola D, Burgueño J et al (2010) Prediction of genetic values of quantitative traits in plant breeding using pedigree and molecular markers. Genetics 186:713–724

Cruz VMV, Kilian A, Dierig DA (2013) Development of DArT marker platforms and genetic diversity assessment of the US collection of the new oilseed crop lesquerella and related species. PLoS ONE 8:e64062. https://doi.org/10.1371/journal.pone.0064062

Cubry P, Musoli P, Legnate H et al (2008) Diversity in coffee assessed with SSR markers: structure of the genus coffea and perspectives for breeding. Genome 51:50–63. https://doi.org/10.1139/G07-096

Davis AP, Tosh J, Ruch N, Fay M (2011) Growing coffee: Psilanthus (Rubiaceae) subsumed on the basis of molecular and morphological data; implications for the size, morphology, distribution and evolutionary history of Coffea. Bot J Linn Soc 167:357–377. https://doi.org/10.3389/fpls.2017.00138

Egea LA, Mérida-García R, Kilian A, Hernández P, Dorado G (2017) Assessment of genetic diversity and structure of large garlic (Allium sativum) germplasm bank, by diversity arrays technology "Genotyping-by-Sequencing" platform (DArTseq). Front Genet 8:98. https://doi.org/10.3389/fgene.2017.00098

Escamilla E, Ruiz O, Díaz G, Landeros C, Platas DE, Zamarripa A, González VA (2005) El agroecosistema café orgánico en México. Manejo Integr Plagas Agroecol 76:5–16

Ferrão LFV, Caixeta ET, Pena G et al (2015) New EST–SSR markers of Coffea arabica: transferability and application to studies of molecular characterization and genetic mapping. Mol Breed 35:31. https://doi.org/10.1007/s11032-015-0247-z

Garavito A, Montagnon C, Guyot R, Bertrand B (2016) Identification by the DArTseq method of the genetic origin of the Coffea canephora cultivated in Vietnam and Mexico. BMC Plant Biol 16:242. https://doi.org/10.1186/s12870-016-0933-y

Gruber BU, Berry P, Georges OA (2017) dartR: an R package to facilitate analysis of SNP data generated from reduced representation genome sequencing. Mol Ecol Resour. https://doi.org/10.1111/1755-0998.12745

Hoisington D, Khairallah M, Gonzalez-de-Leon D (1994) Laboratory protocols, CIMMYT applied molecular genetics laboratory, 2nd edn. CIMMYT, Mexico

ICO (2017) International coffee organization. https://www.ico.org/prices/po-production.pdf. Accessed 6 April 2017.

Kaufman L, Rousseeuw PJ (2005) Finding groups in data: an introduction to cluster analysis. Wiley, New York

Kilian A, Wenzl P, Huttner E, Carling J, Xia L, Blois H et al (2012) Diversity arrays technology: a generic genome profiling technology on open platforms. Methods Mol Biol 888:67–89. https://doi.org/10.1007/978-1-61779-870-2_5

Lashermes P, Combes MC, Robert J et al (1999) Molecular characterization and origin of the Coffea arabica L. genome. Mol Gene Genet 261:259–266. https://doi.org/10.1007/s004380050965

Lashermes P, Combes MC, Ansaldi C et al (2011) Analysis of alien introgression in coffee tree (Coffea arabica L.). Mol Breed 27:223–232. https://doi.org/10.1007/s11032-010-9424-2

López-Cruz M, Crossa J, Bonnet D, Dreisigacker S, Poland J, Jannink LL, Singh RP, Autrique E, de los Campos G (2015) Increased prediction accuracy in wheat breeding trials using a marker × environment interaction genomic selection model. G3. https://doi.org/10.1534/g3.114.016097

López-García FJ, Escamilla-Prado E, Zamarripa-Colmenero A, Cruz-Castillo JG (2016) Producción y calidad en variedades de café (Coffea arabica L.) en Veracruz, Mexico. Rev Fitotec Mex 39(3):297–304

Mace ES, Xia L, Jordan DR, Halloran K, Parh DK, Huttner E et al (2008) DArT markers: diversity analyses and mapping in Sorghum bicolor. BMC Genom 9(1):1

Mishra MK, Sandhyarani N, Suresh N, Satheesh Kumar S, Soumya PR, Yashodha MH, Bhat A (2012) Genetic diversity among indian coffee cultivars determined via molecular markers. J Crop Improv 26(6):727–750. https://doi.org/10.1080/15427528.2012.696085

Moncada P, McCouch S (2004) Simple sequences repeat diversity in diploid and tetraploid Coffea species. Genome 47:501–509

Moncada MDP, Tovar E, Montoya JC et al (2016) A genetic linkage map of coffee (Coffea arabica L.) and QTL for yield, plant height, and bean size. Tree Genet Genom 12:5. https://doi.org/10.1007/s11295-015-0927-1

Moreno RLG (2004) Obtención de variedades de café con resistencia durable a enfermedades, usando la diversidad genética como estrategia de mejoramiento. Rev Acad Colomb Cienc Exact Físic Nat 28(107):187–200

Murtagh F, Legendre P (2014) Ward's hierarchical agglomerative clusterion method: which algorithms implement Ward's criterion? J Classif 31:274–295. https://doi.org/10.1007/s00357-014-9161-z

Pailles Y, Ho S, Pires IS, Tester M, Negrão S, Schmöckel SM (2017) Genetic diversity and population structure of two tomato species from the Galapagos Islands. Front Plant Sci 8:138

Pritchard JK, Stephens M, Donnelly P (2000) Inference of population structure using multilocus genotype data. Genetics 155:945–959

R Core Team (2018) R: a language and environment for statistical computing. R Foundation for Statistical Computing, Vienna. https://www.R-project.org/.

Raman H, Raman R, Kilian A, Detering F, Carling J, Coombes N et al (2014) Genome-wide delineation of natural variation for pod shatter resistance in Brassica napus. PLoS ONE 9:e101673. https://doi.org/10.1371/journal.pone.0101673

Sant'Ana GC, Pereira LFP, Pot D, Ivamoto ST, Domingues SD, Ferreira RV, Leroy T (2018) Genome-wide association study reveals candidate genes influencing lipids and diterpenes contents in Coffea arabica L. Sci Rep 8:465. https://doi.org/10.1038/s41598-017-18800-1

Sousa TV, Caixeta ET, Alkimim ER, Baião de Oliveira AC, Pereira AA, Sakiyama NS, de Resende JMFR, Zambolim L (2017) Population structure and genetic diversity of coffee progenies derived from Catuaí and Híbrido de Timor revealed by genome-wide SNP marker. Tree Genet Genome 13:124. https://doi.org/10.1007/s11295-017-1208-y

Steiger DL, Nagai C, Moore PH, Morden CW, Osgood RV, Ming R (2002) AFLP analysis of genetic diversity within and among Coffea arabica cultivars. Theor Appl Genet 105(2–3):209–215. https://doi.org/10.1007/s00122-002-0939-8

Vaiman D, Mercier D, Moazai G (1994) A set of 99 cattle microsatellite, characterization, synteny mapping and polymorphism. Mamm Genome 5:288–297

Van Hintum ThJL, Brown AHD, Spillane C, Hodgkin (2000) Core collections of plant genetic resources. IPGRI Tech Bull 3

Von Mark VC, Kilian A, Dierig DA (2013) Development of DArT marker platforms and genetic diversity assessment of the US collection of the new oilseed crop lesquerella and related species. PLoS ONE 8(5):e64062. https://doi.org/10.1371/journal.pone.0064062

Xia L, Peng K, Yang S, Wenzl P, De Vicente MC, Fregene M et al (2005) DArT for high-throughput genotyping of cassava (Manihot esculenta) and its wild relatives. Theor Appl Genet 110(6):1092–1098. https://doi.org/10.1007/s00122-005-1937-4

Xie WG, Zhang XQ, Cai H, Liu W, Peng Y (2010) Genetic diversity analysis and transferability of cereal EST-SSR markers to orchard grass (Dactylis Glomerata L.). Biochem Syst Ecol 38(4):740–749. https://doi.org/10.1016/j.bse.2010.06.009

Yang X, Ren R, Ray R, Xu J, Li P, Zhang M et al (2016) Genetic diversity and population structure of core watermelon (Citrullus lanatus) genotypes using DArTseq-based SNPs. Plant Genet Resour 14(03):226–233

Zhou L, Vega FE, Tan H, Lluch AER, Meinhardt LWF, Mischke WS, Irish B, Zhang D (2016) Developing single nucleotide polymorphism (SNP) markers for the identification of coffee germplasm. Trop Plant Biol 9:82–95. https://doi.org/10.1007/s12042-016-9167-2
Funding
This work was supported by the FONDO SECTORIAL SAGARPA-CONACYT [2016-01-277838].
Ethics declarations
Conflict of interest
The authors have no conflicting interests, and all authors have approved the manuscript and agree with its submission to the Genetic Resources and Crop Evolution—An International Journal.
Ethical approval
This material has not been published in whole or in part elsewhere; the manuscript is not currently being considered for publication in another journal; all authors have been personally and actively involved in substantive work leading to the manuscript, and will hold themselves jointly and individually responsible for its content.
Additional information
Publisher's Note
Springer Nature remains neutral with regard to jurisdictional claims in published maps and institutional affiliations.
About this article
Cite this article
Spinoso-Castillo, J.L., Escamilla-Prado, E., Aguilar-Rincón, V.H. et al. Genetic diversity of coffee (Coffea spp.) in Mexico evaluated by using DArTseq and SNP markers. Genet Resour Crop Evol 67, 1795–1806 (2020). https://doi.org/10.1007/s10722-020-00940-5
Received:

Accepted:

Published:

Issue Date:
Keywords
Coffea canephora
Coffea arabica
Coffea liberica

High throughput genotyping

Molecular markers

Plant breeding