Abstract
This work represents an ethnobotanical and ethnomedicinal study focused on recording autochthonous pear varieties of the Polimlje region in southwest Serbia. The purpose of the study was to highlight genetic resources of pear varieties in situ and emphasize aspects of ethnodiversity and traditional knowledge. A special feature of the research area is the great diversity of indigenous varieties of pear, which have been cultivated for hundreds of years. Forty-six respondents from 25 to 78 years of age residing in 23 villages were interviewed, and 26 autochthonous pear varieties were recorded in the field. Among them 11.5% are widely available, 26.9% are rare, and 61.5% are very rare. For ethnomedicinal purposes, pear is used as a remedy against hypertension, diabetes, high cholesterol, and constipation; for reduction of body mass; as a uroseptic and/or an antirheumatic; and for cancer prevention. Pears are consumed as fresh fruit and in numerous food products. Depopulation of the investigated rural area is directly responsible for depletion of the gene pool of pear varieties and for loss of traditional knowledge. Preservation can be achieved by in situ methods such as raising awareness of the local inhabitants and ensuring support of the State.
Access options
Buy single article
Instant access to the full article PDF.
USD 39.95
Price includes VAT (USA)
Tax calculation will be finalised during checkout.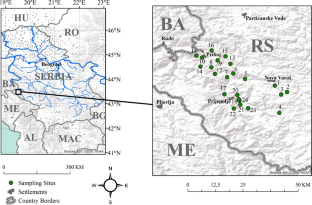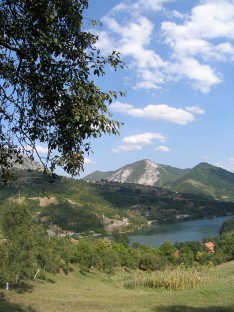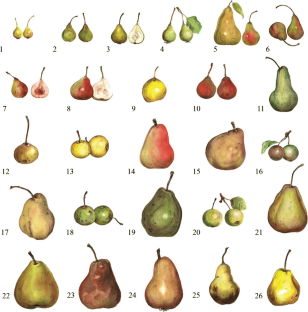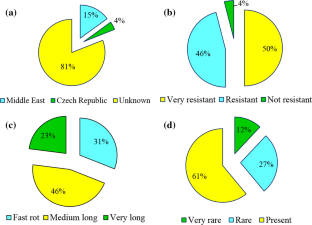 References
Beširević V (2009) Indigenous varieties of apples and pears from Bosnia and Herzegovina. Harvo-graf doo, Tuzla (in Bosnian)

Carbonaro M, Mattera M, Nicoli S, Bergamo P, Cappelloni M (2002) Modulation of antioxidant compounds in organic vs conventional fruit (Peach, Prunus persica L., and Pear, Pyrus communis L.). J Agric Food Chem 50:5458–5462

Country report on the state of plant genetic resources for food and agriculture (2016) Republic of Serbia. http://webrzs.stat.gov.rs/WebSite/Public/ReportResultView.aspx?rptKey = indId%3d130102IND01%26102%3dRS%2cRS1%2cRS11%2cRS12%2cRS2%2cRS21%2cRS22%262%3d%23last%233%2639%3d03000%2c05001%2c07000%2c08000%2c11000%2c12000%2c13000%2c14000%2c15000%2c16000%2c17000%2c18000%2c19000%2c20000%2c20001%2c20002%2c20003%2c21000%2c22000%2c25000%2c26000%2c27000%2c29000%2c30000%2c31000%2c32000%2c33000%2c34000%2c35001%2c39000%2c40000%266%3d1%2c2%2c3%26sAreaId%3d130102%26dType%3dName%26lType%3dSerbianCyrillic.

Dajić-Stevanović Z, Petrović M, Aćić S (2014) Ethnobotanical knowledge and traditional use of plants in Serbia in relation to sustainable rural development. In: Pieroni A, Quave CL (eds) Ethnobotany and Biocultural Diversities in the Balkans. Springer, New York, pp 229–252

Gasi F, Kurtović M, Kalamujić B, Pojskić N, Grahica J, Kaiser C, Meland M (2013) Assessment of European pear (Pyrus communis L.) genetic resources in Bosnia and Herzegovina using microsatellite markers. Sci Hortic 157:74–83

Guo X, Yang B, Tang J, Jiang JJ, Li D (2017) Apple and pear consumption and type 2 diabetes mellitus risk: a meta-analysis of prospective cohort studies. Food Funct 8:927–934

Haas G (2012) The state and framework of crop agro-biodiversity in organic agriculture in the EU—conclusion and perspectives for Serbia. Research and Development Center, Novi Sad (in Serbian)

Imeh U, Khokhar S (2002) Distribution of conjugated and free phenols in fruits. J Agric Food Chem 50(22):6301–6306

Jarić S, Popović Z, Mačukanović-Jocić M, Djurdjević L, Mijatović M, Karadžić B, Mitrović M, Pavlović P (2007) An ethnobotanical study on the usage of wild medicinal herbs from Kopaonik Mountain (Central Serbia). J Ethnopharmacol 111:160–175

Jarić S, Mitrović M, Karadžić B, Kostić O, Djurdjević L, Pavlović M, Pavlović P (2014) Plant resources used in Serbian medieval medicine. Ethnobotany and ethnomedicine. Genet Resour Crop Evol 61:1359–1379

Jarić S, Mačukanović-Jocić M, Djurdjević L, Mitrović M, Kostić O, Karadžić B, Pavlović P (2015) An ethnobotanical survey of traditionally used plants on Suva Planina mountain (Southeastern Serbia). J Ethnopharmacol 175:93–108

Kaur R, Arya V (2012) Ethnomedicinal and Phytochemical Perspectives of Pyrus communis Linn. J Pharmacogn Phytochem 1(2):14–19

Khare CP (2007) Indian medicinal plants: an illustrated dictionary. Springer, Berlin

Li X, Zhang JY, Gao VVY, Wang HY, Cao JG, Huang LQ (2012) Chemical composition and anti-inflammatory and antioxidant activities of either pear cultivars. J Agric Food Chem 60(35):8738–8744

Li X, Li X, Wang T, Gao W (2016) Nutritional composition of pear cultivars (Pyrus spp.). In: Preedy VR, Simmonds MSJ (eds) Nutritional Composition of fruit cultivars. Academic Press, San Diego, pp 573–608

Mahammad MU, Kamba AS, Abubakar L, Bagna EA (2010) Nutritional composition of pear fruits (Pyrus communis). Afr J Food Sci 1(3):76–81

Menković N, Šavikin K, Tasić S, Zdunić G, Stesević D, Milosavljević S, Vincek D (2011) Ethnobotanical study on traditional uses of wild medicinal plants in Prokletije Mountains. Montenegro J Ethnopharmacol 133:97–107

Mratinić E (2000) Pear. Veselin Masleša, Belgrade (in Serbian)

Mustafa B, Hajdari A, Pajazita Q, Syla B, Quave CL, Pieroni A (2012a) An ethnobotanical survey of the Gollak region, Kosovo. Genet Resour Crop Evol 59:739–754

Mustafa B, Hajdari A, Krasniqi F, Hoxha E, Ademi H, Quave CL, Pieroni A (2012b) Medical ethnobotany of the Albanian Alps in Kosovo. J Ethnobiol Ethnomed 8:6

Myers N, Russell A, Mittermeier RA, Mittermeier CG, da Fonseca GAB, Kent J (2000) Biodiversity hotspots for conservation priorities. Nature 403:853–858

Parle M, Arzoo (2016) Why is pear so dear. Int J Res Ayurveda Pharm 7:108–113

Pavlović M, Šabić D, Vujadinović S (2009) Natural resources as a of socioeconomic development factor of Polimlje region. Bull Serb Geogr Soc 89(2):1–26

Pieroni A, Giusti ME, Quave CL (2011) Cross-cultural ethnobiology in the Western Balkans: medical ethnobotany and ethnozoology among Albanians and Serbs in the Pešter Plateau, Sandžak South-Western Serbia. Hum Ecol 39:333–349

Pieroni A, Rexhepi B, Nedelcheva A, Hajdari A, Mustafa B, Kolosova V, Cianfaglione K, Quave CL (2013) One century later: the folk botanical knowledge of the last remaining Albanians of the upper Reka Valley, Mount Korab, Western Macedonia. J Ethnobiol Ethnomed 9:22–40

Pieroni A, Cianfaglione K, Nedelcheva A, Hajdari A, Mustafa B, Quave C (2014) Resilience at the border: traditional botanical knowledge among Macedonians and Albanians living in Gollobordo, Eastern Albania. J Ethnobiol Ethnomed 10:1–31

Pieroni A, Ibraliu I, Abbasi AM, Papajani-Toska V (2015) An ethnobotanical study among Albanians and Aromanians living in the Rraicë and Mokra areas of Eastern Albania. Genet Resour Crop Evol 62:477–500

Premović M (2013) Middle and Lower Polimlje and Upper Podrinje in the Middle Ages. Dissertation, Faculty of Philosophy, Univesity of Belgrade, Serbia

Reiland H, Slavin J (2015) systematic review of pears and health. Food Nutr Today 50(6):301–305

Salta J, Martins A, Santos RG, Neng NR, Nogneira JMF, Justino J, Ruter AP (2010) Phenolic composition and antioxidant activity of Rocha pear and other pear cultivars—a comparative study. J Funct Foods 2:153–157

Šarić-Kundalić B, Dobeš C, Klatte-Asselmeyer V, Saukel J (2010) Ethnobotanical study on medicinal use of wild and cultivated plants in middle, south and west Bosnia and Herzegovina. J Ethnopharmacol 131:33–55

Šarić-Kundalić B, Dobeš C, Klatte-Asselmeyer V, Saukel J (2011) Ethnobotanical survey of traditionally used plants in human therapy of east, north and north-east Bosnia and Herzegovina. J Ethnopharmacol 133:1051–1076

Savić A (2014) Indigenous varieties of Polimlje fruit, the richness of nature and man: the results of field research. Mileševa Writings 9:295–306

Savić A (2016) Autochthonous fruit varieties in Serbia: importance, diversity, heritage. Plants and herbs in traditional Serbian culture. Serb Folklorist Assoc 2:153–165

Šavikin K, Zdunić G, Menković N, Živković J, Ćujić N, Tereščenko M, Bigović D (2013) Ethnobotanical study on traditional use of medicinal plants in South-Western Serbia, Zlatibor district. J Ethnopharmacol 146:803–810

Selamovska A, Miskoska-Milevska E, Najdenovska O, Canev I (2015) Fruit characteristics of some traditional pear varieties in the Prespa region. Acta Agric Serb Vol XX 40:107–1151

Trotter R, Logan M (1986) Informant consensus: a new approach for identifying potentially effective medicinal plants. In: Nina L (ed) Etkin. Plants in indigenous medicine and diet: biobehavioral approaches. Redgrave Publishers, Bedford Hills, pp 91–112

Vasić M, Milošević M, Savić A, Petrović A, Nikolić Z, Terzić S, Gvozdanović-Varga J, Vladimir S, Adamović D, Červenski J, Maksimović L, Đalović I, Popović V (2013) Agrobiodiversity preservation as a chance for sustainable and rural development. Institute of Field and Vegetable Crops, Novi Sad

Weckerle C, De Boerb H, Purid R, Van Andele T, Bussmanng R, Leontih M (2018) Recommended standards for conducting and reporting ethnopharmacological field studies. J Ethnopharmacol 210:25–132

Wolko L, Antkowiak W, Lenartowicz E, Bocianowski J (2010) Genetic diversity of European pear cultivars (Pyrus communis L.) and wild pear (Pyrus pyraster (L.) Burgsd.) inferred from microsatellite markers analysis. Genet Resour Crop Evol 57:801–806

Zlatković BK, Bogosavljević SS, Radivojević AR, Pavlović MA (2014) Traditional use of the native medicinal plant resource of Mt. Rtanj (Eastern Serbia): ethnobotanical evaluation and comparison. J Ethnopharmacol 151:704–713
Acknowledgements
The authors are grateful to Bora Milićević for drawings of Pyrus varieties. They are also grateful to Mr. Raymond Dooley for proofreading the text and improving the English. This work was supported by the Ministry of Education, Science, and Technological Development of Serbia (Grants 173018, 173029, TR 31005).
Ethics declarations
Conflicts of interest
The authors declare no conflict of interests.
Ethical approval
The ethnobotanical research "Ethnobotanical study and traditional use of autochthonous pear varieties (Pyrus communis L.) in Southwest Serbia (Polimlje)" and related activities, including collecting of plants, compiling databases, images, data recordings, gathering information on the uses of traditional knowledge or other elements of biocultural heritage found in the study area, were undertaken in compliance with the ISE Code of Ethics (http://ethnobiology.net/code-of-ethics/).
No harmful consequences (biological or cultural) for the local people and local communities arose from this research and its related activities. Each information has been recorded with the approval of the informants. During research, all principles of the Code of Ethics were adhered to including intellectual property rights and support to the development of local people's cultures.
Informed consent
Informed consent was obtained from all individual participants included in the research "Ethnobotanical study and traditional use of autochthonous pear varieties (Pyrus communis L.) in Southwest Serbia (Polimlje)". Each information has been recorded with the approval of the informants.
Additional information
Publisher's Note
Springer Nature remains neutral with regard to jurisdictional claims in published maps and institutional affiliations.
About this article
Cite this article
Savić, A., Jarić, S., Dajić-Stevanović, Z. et al. Ethnobotanical study and traditional use of autochthonous pear varieties (Pyrus communis L.) in southwest Serbia (Polimlje). Genet Resour Crop Evol 66, 589–609 (2019). https://doi.org/10.1007/s10722-018-00734-w
Received:

Accepted:

Published:

Issue Date:
Keywords
Diversity of pear varieties

Ethnobotany

Ethnomedicine

Traditional knowledge